You, the eternal sunworshipper, dash about the city on a rainy October day mourning the end of summer, getting your trouser legs splashed by buses ploughing through puddles, and wonder why some people (including your husband) actually declare that they not only like autumn but consider it their favourite season. They obviously know something you don't, but you're open to being convinced, and when you hear about Farmstead Lodges in Suffolk through a friend, you decide that hunkering down in this tranquil corner of England might be the best place to convince you that all the hype about cosy log fires and misty mornings is not only well founded but what you need to experience in order to appreciate this season.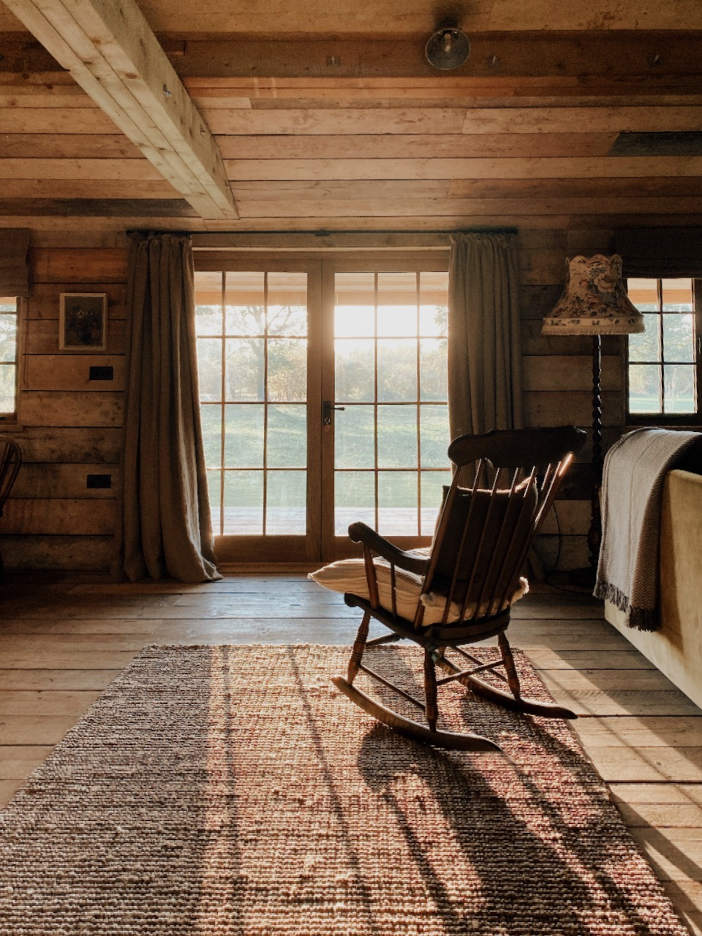 It's inherent in most city-dwellers to want to ditch the 9 to 5 routine for a back-to-nature break come the post-summer slump, when café culture starts to lose its appeal and we miss the longer days when it was light coming out of work. Cities are simply not the most conducive environment to feeling jolly when you have to succumb to layering, only to feel like you've stepped into a sauna the moment you enter the tube or a department store that's already bursting at the seams with glitter-encrusted baubles and imported junk destined to be relegated to the attic for eleven months of the year, and we haven't even seen out Halloween yet. And then there's the London news that you refuse to switch on, but which is forced upon you at every turn, from angry tirades on Twitter and discarded dailies left behind by equally disgruntled tube passengers, to the doctor's surgery waiting room where the radio, turned up for all the deaf pensioners, blares out their top of the hour headlines, infuriating you with news of the latest Prime Minister to be coming or going. Why not do yourself a favour and take a week off? It seems that everyone in government has.
Driving a couple of hours north-east from London finds you in the charming village of Easton, where the comical-looking curvy red brick walls, thatched cottages and makeshift stalls at the bottom of driveways advertising 'free windfall apples' instantly puts you in a better mood, so your husband is relieved to see. And so does the spacious open plan accommodation of the two-bedroom lodge, which you don't intend to invite guests to enjoy despite it featuring a fully equipped kitchen with rangemaster and Grind coffee machine, a dining and sitting area with large L-shaped sofa and a Smart TV which you both agree to only turn on for films or cookery programmes. By the time husband has the log burner blazing and you're laughing at yourself for trying not to spill a mug of tea whilst foolishly taking up the rocking chair, you're both feeling at home and all 'Little House on the Prairie'. Could anything compare with standing on the veranda in your cable knit socks, your head on his shoulder while the sun sets behind the trees, accompanied by a rainbow following a recent downpour?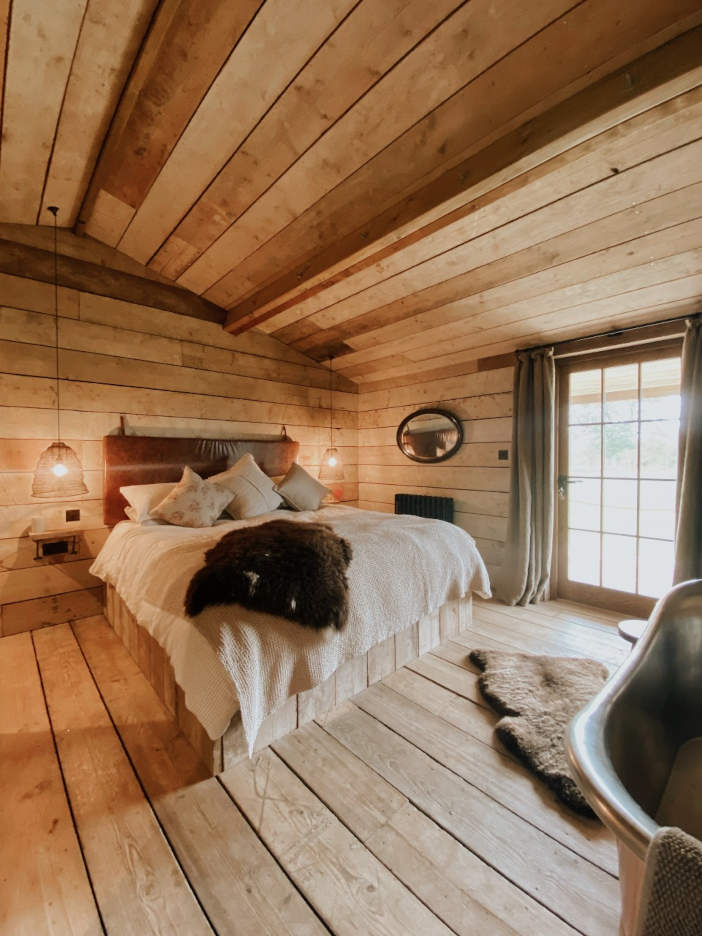 The meadow before you, not yet grown up, suggests the newness of the Farmstead Lodges site, destined to become even more attractive as the wooden cabins weather and the newly planted trees offer not only a more matured landscape but somewhere for local birds and wildlife to nest and congregate year-round. Opened in 2022, the eight handsome self-catering lodges, with either one or two bedrooms, were built by local workmen on former farmland, using sustainable and reclaimed materials to offer guests a haven in complete harmony with nature – the vision of Ali and Sian Kerr who own the neighbouring Easton Grange wedding venue. The spacious yet cosy interiors were meanwhile designed by Angie Ashby-Hoare who, working with Suffolk furniture-makers and upholsterers, whilst sourcing and curating finishing touches from local vintage and charity shops, antiques markets and auction houses, from paintings to crockery, has ensured that each of the cabins has a unique, homely feel.
This is far from glamping, however, nor do you feel cut-off (unless you want to be) thanks to the fast wi-fi and internet radio which you set to something classical whilst trying to decide which of the two copper tubs to try first – the one in the master bedroom or the outdoor tub on the veranda? There are also two ensuite shower/wcs inside and a generous supply of fluffy white towels and Norfolk Living toiletries throughout. You'll even find waffle bathrobes like you would in any self-respecting boutique hotel. Oh, but the best thing is the radiators! And not just because they're the aesthetically pleasing retro kind. If you're used to five-star hotels and have always liked the idea of glamping without enjoying the reality of having to wash the dishes after dinner, get out of bed in the morning shivering until the fire gets going, or feel terrified when a gale wakes you up in the middle of the night, threatening to uproot the tent and carry you into the next farm, then Farmstead Lodges is for you.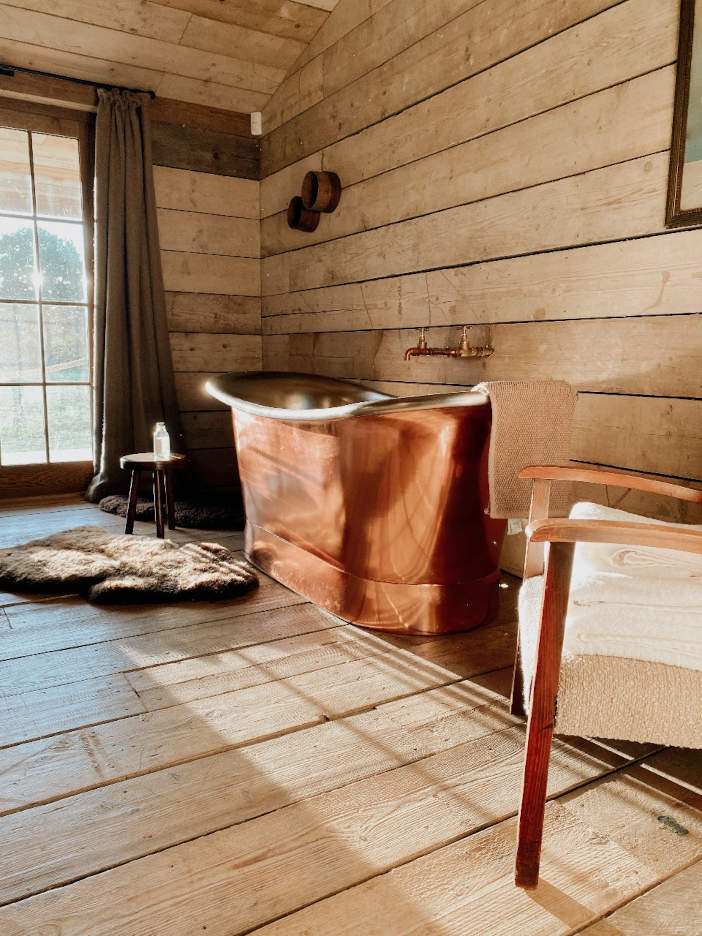 Having gone from barely noticing the sky, save from occasions calling for an umbrella, you find yourself mesmerised by the light each changing hour; from detesting the British weather you scorn brollies and find yourself drawn to standing outside bareheaded – refreshed by the rain, invigorated by the bluster and restored by the sun. In just a few days, you've witnessed the glory of waking up to clear, deep blue skies, spooky mists enshrouding the ghostly guests sitting at the outside table and chairs on the lawn and torrential rain beating down on the lodge as unexpected thunder and lightning passes overhead and you wonder whether your intended plan of lunching at Sole Bay restaurant at Southwold Harbour was such a good idea. Just then, the storm starts to clear and by the time you arrive at this popular coastal spot, just a forty-minute drive away, the sun is breaking through as if smiling down on you and the lifeboat crew heading out in their orange speedboat. When you're through with gorging on oysters, dressed crab and lobster and chips, you take a stroll to see the rainbow-coloured beach huts, lighthouse and the town itself where you can't resist picking up 'dessert' of chocolate fudge cake from Two Magpies Bakery to bribe husband with/enjoy when watching Great British Bake-Off.
In addition to the inspiring countryside and Heritage Coast walks there are many historic landmarks to explore close to Farmstead Lodges including the Sutton Hoo burial site which has become even more of a destination since the Netflix film adaptation of John Preston's historical novel of the same name, 'The Dig' – based on the true characters who led the excavation project and the perfect read for this trip. History continues to abound at Framlingham Castle and the town of Woodbridge, while Snape Maltings on the River Alde (which gives the town of Aldeburgh its name), an arts and shopping quarter converted from Victorian buildings, is surrounded by an area of Outstanding Natural Beauty.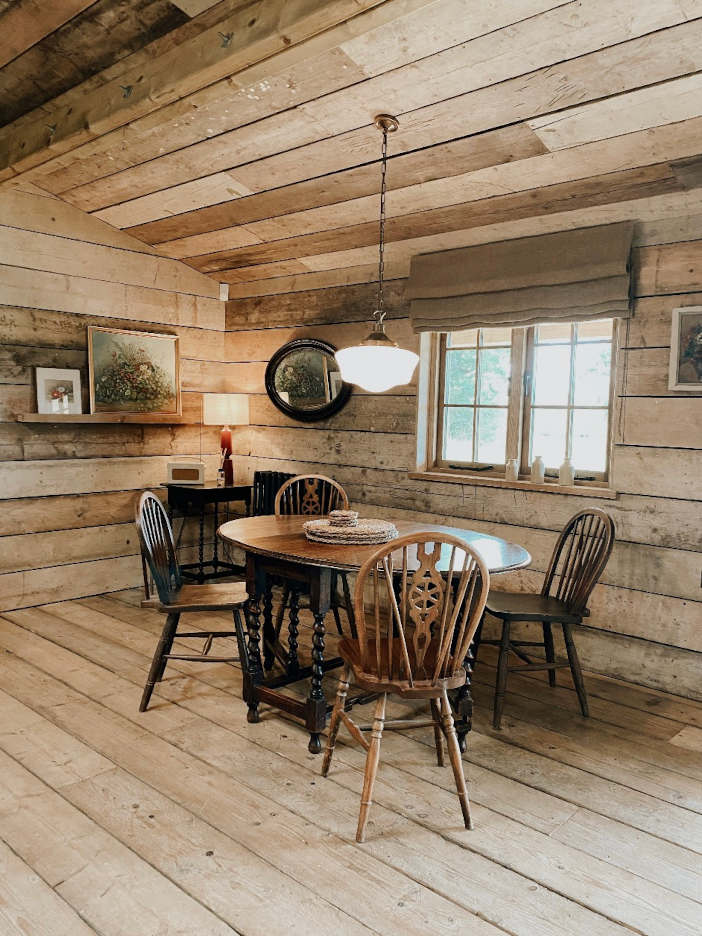 To keep you nourished for your adventures, there are many excellent eateries in the area, including our favourite, The Unruly Pig, voted No.1 Gastropub UK 2022, with chef/patron Dave Wall and head chef Karl Green fully deserving of the acclaim. Lunches are the perfect option when you want to spend your evenings at the lodge soaking in the tub or cosying up by the fire, with midnight feasts nibbling on the local food delights like the smoked brie and charcuterie which the lovely Farmstead team kindly stocked our fridge with for just such an eventuality.
It's impossible not to jealously guard every moment of your stay at Farmstead Lodges and prefer the atmosphere in your temporary abode to anywhere else – from choosing the novelty of cooking in an unfamiliar kitchen with unfamiliar pots and pans over dining out, waiting for the kettle to boil on the range rather than going out for tea, or reading a book in favour of sightseeing. When it comes to the last day neither of you can bear to leave and are elated when your request to stay another night is granted. Farmstead Lodges have achieved everything and more that they intended by creating a home from home, combined with the magic and escapism of being away – allowing you to pause and appreciate the seasons from the comfort of your rocking chair.
Farmstead Lodges Suffolk. For more information and bookings please visit the website..
Photography (c) Rebecca Lipkin