"There are very few villages that are a time warp like Gittisham," says Ruth Hunt, co-owner of Combe House in South Devon. "Very few places where there's a picture postcard scene with cob and thatch." She's right. We'd just driven along a narrow, winding country lane walled in with high, colourfully flowered hedgerows to get to Gittisham, a small and very English country village; little more than a church and a few thatched cottages.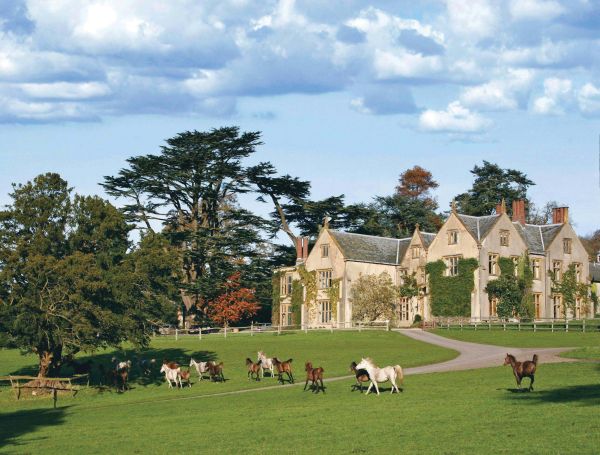 As we passed through the gates and up the long drive through fields of tall grass and buttercups, that English feel continues. Set in 3500 acres of country estate, with Arabian horses roaming, and pheasants strutting through the grass, Combe House is a classic English sight. Like something from a BBC costume drama. Carina, my Brazilian companion, describes it as, 'like an English castle.' Only a few minutes inside and I know we'll want to do this time warp again.
In fact, I knew I'd like Combe House even before I arrived. A friendly member of staff phoned to confirm our approximate arrival time, ask what hour we might like dinner and answer any queries; making me and my travelling partner feel we were in good hands from the start. The welcoming staff here can't do enough to help. After check-in and being shown to our room, any other time we pass by reception someone asks, "Anything we can do for you?" The only thing I can think of, "A map of the house." The corridors of the Grade 1 Elizabethan country manor might be perfect for an English room-swapping farce or affairs between servants and masters, but it takes me a few trips between suite and front door before I know my way around.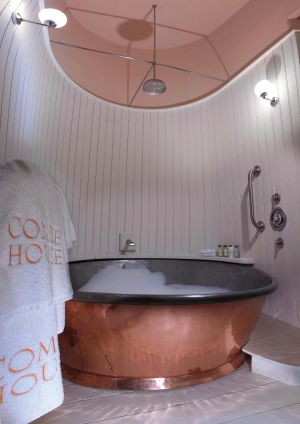 We stay in one of the Signature Suites, the Linen Room, set within the Victorian servant's quarters, complete with its original hanging rack still dominating the ceiling and a stove with traditional heavy irons resting on it as part of the furniture. The room, like much of the hotel, combines the old feel and history of the house with modern fixtures. "Simple elegance," as Ruth described it as we chatted over champagne in one of the hotel's lounge areas.
The Linen Room is mainly white and cream, light and airy; spacious, with a comfy lounge area of its own boasting a television and entertainment system and big sofas to loaf on. A large and comfortable bed too. But the best room might have to be the bathroom. Similarly white and clean-looking, with Thomas Crapper toilet and Penhaligon's toiletries, it's dominated by a very classy 6ft diameter copper tub, for a good rain shower, a bath, or some hot tub action. (Combe didn't win the Conde Nast award for 'Most Romantic Hotel in UK & Ireland' for nothing.)
After settling in, we look around the old house. There's a long history here. The land was given to Bishop Odo, half-brother of William the Conqueror, after the Battle of Hastings. And the house, in various forms, has been owned by many families across the centuries before becoming a hotel and restaurant in the 1960s. Portraits of past owners remain on the walls throughout, in rooms elegantly furnished with lamps and shelves full of old books.
We spend an afternoon outside in the peaceful garden, just down from the herb and vegetable patch that supplies much of what's served in the restaurant, drinking wine at a wooden table surrounded by giant twisted centuries-old trees. The food that doesn't come from the gardens (including the eggs from Combe's own chicken coop) hasn't travelled far. A provenance list is proudly displayed on the reception desk, naming the local suppliers of meat, seafood, bread, cheese, fruit and veg. "Many people say 'local'," Ruth explained, "but often what it actually means is 'bought locally from Sainsbury's'. We try to walk the walk."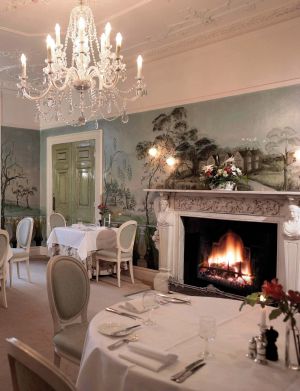 Dinner demonstrates clearly why people are prepared to travel here, not just the food, but also the friendliness of the staff who know the menu well. And the location, with a view out of the window capturing a slice of very English countryside; sun shining over rolling green hills.
After appetisers of mini cheese and ham toasties, silver spoons of creamy goat's cheese and very tart rhubarb and olive sticks, we move through to the pink dining room. It's small, intimate and quite quiet. My starter of smoked sea trout rillette with asparagus, quail eggs and caviar is arranged very prettily on the plate, like a mini work of art. Very tasty, too. Carina enjoys beef carpaccio with watercress cream, beetroot and radish. While I go for monkfish with roasted peppers for my main, she chooses the Ark chicken with celeriac puree and asparagus; both finishing with rich lemon cheesecake and the honeycomb ice-cream it's hard to get away from in this part of the world. All washed down with a bottle of good French red, as, through the window, the sky turns pink as the sun sets over the Quantocks.
The next day starts well and in classically English style with a tray of tea and a copy of The Times delivered to the room. We sit on the big white sofas for a leisurely leaf through the magazines, guidebooks and histories of the area to plan our day, before heading down to breakfast; which is every bit as good as the dinner, if not better. We help ourselves to juice, cereals and incredibly smooth creamy yoghurt, then more tea and warm homemade bread is delivered to the table. A plate of very large smoked kippers defeats Carina, but there's not a chance I'd leave a mouthful of the excellent smoked haddock
The Linen Room has been booked by someone else for the night, so we move to the Boswell Room at the front of the house. Our new accommodation has a grander, more classic feel than the modern Linen Room, and although the bathroom isn't quite as cool or romantic as last night's, the wide window with a fantastic view out onto the hills compensates. We look out onto distant fields filled with cows, grass and flowers waving gently with the breeze; the only sound in this peaceful part of the countryside coming from the birds tweeting sweetly in the nearby woodland.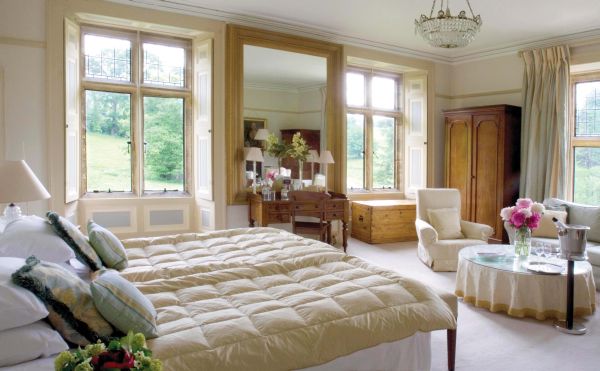 From the hotel, we drive south to explore the coast not far away. It's the best of British weather, bright and sunny, with blue skies and a refreshing sea breeze. At the upmarket coastal town of Budleigh Salterton, there are whitewashed seafront houses, colourful beach huts and reddish cliffs. The gulls call out and the sea crackles through the round pebbles as we walk along the beach.
Further along the coast, we look around the popular village of Beer, with small art galleries and souvenir shops. Down at the front, in a bay of chalk cliffs, is a picturesque English scene of fishing boats and lobster pots. There are Union Jack flags everywhere. Our trip took place just before the Jubilee celebrations which, as no great fan of monarchies, happily passed me by. A lack of interest in athletics too means the upcoming Olympics also leaves me feeling, at best, lukewarm. But there's nothing like these classic seaside towns and the very English landscapes around Combe House to inspire a bit of national pride.
Combe House Hotel, Restaurant & Gardens, Gittisham, Honiton, Devon, EX14 3AD. Tel: 01404 540 400. Website.