I don't golf. Or is it I don't play golf? I don't even know how to describe the fact that I don't play golf. I don't putt, I don't chip, I don't drive. I don't even drive cars. I've never been in a clubhouse. To me, a tee is what American clothing brands call t-shirts, a bunker is a war thing and fore comes after three (but before five). I had believed all of this to be crucial to my enjoyment or otherwise of any trip to the Algarve, regularly elected Europe's best golf destination.
I was mistaken.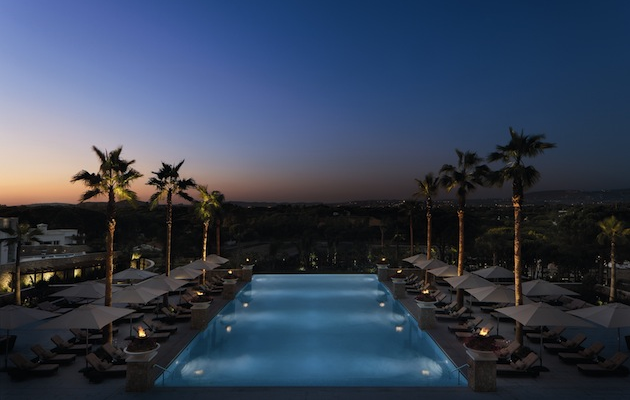 My previous experiences of Portugal centred on a lost, rainy weekend in Lisbon, heavy on steak and Super Bok and short on sleep. This time the 6am flight means I am, again, sleep-deprived as I fly into Faro, which in part explains my confusion at the greenery. This is a place of lush vineyards, aggressively irrigated golf courses, wild herbs and palm trees. It's verdant in a way that Andalusia just over the border simply isn't, and the Atlantic breeze moderates the temperature beautifully.
Against the backdrop of all this fragrant foliage, the Conrad Algarve rises, a massive white fortress of luxury a couple of miles inland, the Quinta do Lago golf resort separating it from the sea. The approach takes us down its long, fountain-flanked drive, with five floors of rooms on each side leading to the main building and its enormous atrium, through which I can see an inviting infinity pool and rows of palms, tumbling away to another pool and then the evergreen landscape beyond, striped by plots of watercress growing in the sun.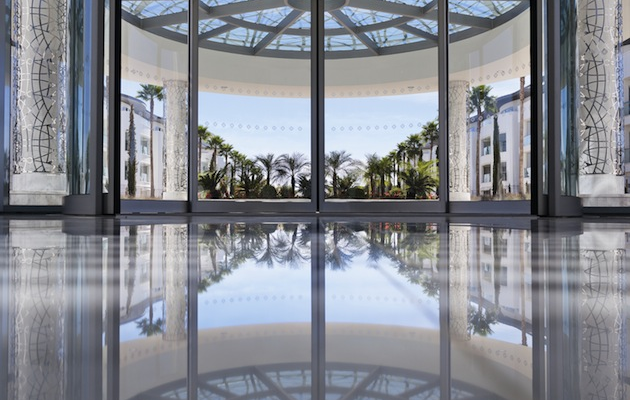 I stride into the hotel, which looks a little like the White House – the atrium's curved exterior is not dissimilar to the iconic South Portico – and the whole place is flooded with natural light. I can feel the stress of the 3am airport cab melting away. A glass of refreshing locally cultivated orange juice appears in my hand, sealing the deal, and I'm shown to my room. Artworks by Cristina Bergoglio adorn the hotel walls, mainly serene scenes from prominent cities, perhaps soon to be visited by the artist's great uncle Jorge Mario Bergoglio. (You may know him better as the Archbishop and Metropolitan of the Roman Province, the Primate of Italy – the Pope, to you and me.)
One advantage of locating your hotel in a sprawling sunny clime (as opposed to a congested city) is space. Every single aspect of the hotel has yielded to the temptations of spaciousness. My room is at the end of a long, long corridor, I'm struck by the silence. The hotel was full during my stay, but throughout I had a sense of splendid isolation once the hand-carved door to my room swung shut. The rustle of the curtains in the wind, the odd splash from one of the pools, a dog barking somewhere far away – otherwise, tranquillity, a remarkable achievement given that there are 154 rooms and 20 suites.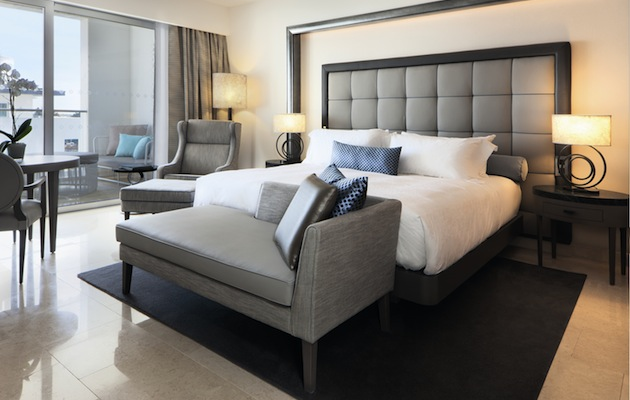 The room itself is a genuine haven. The generous bed, sofa, desk, television and sun-drenched balcony are nothing less that I'd expect from a Conrad, but so much more has been packed into the space. The Nespresso array offers various decaf options. A Blu-Ray player slides out from above the minibar and an iPod dock is reachable from the bed. A panelled sliding door reveals the bathroom, behind which sits a separate shower room, finished in marble from Portugal and Italy. There's a TV sealed inside the wall for bathtime viewing. The abundance and variety of soft towels almost makes me embarrassed to be travelling alone. Even the electronic bathroom scales are inexplicably kind to me.
A potential pitfall, of course, of such distance and space is that a guest may feel a little abandoned. One can slip in and out of a hotel side door and to and from one's room without passing the lobby. Staff are clearly conscious of this and work hard to make you feel like a guest and not simply a tenant; periodic enhancements show up in the room at regular intervals, whether in the form of a traditional pastry, some chocolate fruit, a midday refresh of the coffee options if you (like me) plough through them at a rate of knots. When I idly bring a towel and gown back to the room with me from a swim, I'm presently supplied with some poolside slippers and an in-room bathmat.
For leisure, there's an array of pools, infinity and otherwise. The roof garden suite (300 square metres inside and another 180 square metres outside) has perhaps the most impressive pool, with spectacular views and a removable roof, alongside its private Turkish bath and sauna. For serious relaxation, the award-winning Conrad Spa is impressive, offering a huge range of suites and treatments, including a VIP couple's spa suite, oxygen infusion, 'experience' showers and a massage pool. I can testify to the restorative effects of the facials on offer, which sent me floating back to my room in a veritable moisture-trance.
Beyond the smooth marble of the hotel, of course, there's a whole region to be explored. A short catamaran ride through the natural canals of the Rio Formosa bears me to Ilha Deserta, the very southernmost tip of Portugal. If you're after a quiet beach, you can't say fairer than an actual desert island, with 11km of utterly unspoiled white sands and gentle swells. Boats make the trip regularly to and from Faro, and aside from the spectacular scenery and bird-watching, Ilha Deserta plays host to Estaminé, an eco-friendly restaurant. From the outside it has something of the Bond villain lair about it, a crab-shaped wooden construction on a barren, inaccessible tundra. It serves preposterously fresh, wild, muscular fish – the chargrilled sea bass I had seemed an entirely different species to any bass I've had before – alongside clams, octopus, whatever the boats have been bringing in. Only Cadiz down the coast has come anywhere close in my experiences with Iberian seafood.
Another option is an exploration of the local viticulture. Portugal has a great reputation for fortified wines but its table wines are underrated, with the Algarvian climate, and the breeze coming in off the Atlantic, rolling over the hills inland, making for superb vineyards. Local winemaker Quinta do Barranco Longo has an interesting range and offers tours of its facilities with generous tastings.
Cork trees, eucalyptus and wild herbs dominate the landscape, and can be toured in 4x4s for an adventurous excursion. And, of course, there's the golf. Iconic courses at San Lorenzo, Vale do Lobo, Pinheiros Altos, Nick Faldo's Oceanico are all in driving distance, and the Quinta do Lago courses next to the Conrad Algarve are breathtaking in their serenity and splendour. The hotel has an in-house golf coach and can arrange whatever club-swinging excursions you desire. There's also a Conrad-serviced beach five minutes from the hotel.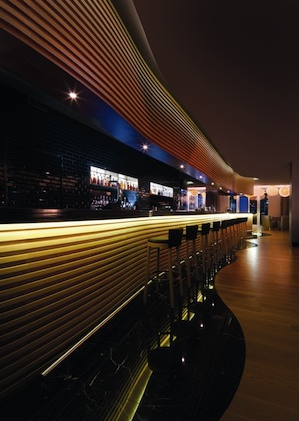 Of course, as a non-golfer, I prefer dining to spoiling a good walk. The hotel's three restaurants occupy three different levels and offer three different experiences. Down by the lowest pool, Dado offers South American-influenced barbecue fare, with the monkfish a particular highlight; at infinity pool level, Louro is the best place for a shady breakfast with a stunning view; and up on the terrace, superstar chef Heinz Beck's Gusto has a blockbuster seven-course tasting menu that left me a changed man.
I find myself back in my room drinking coffee on the balcony, agonising over which pool to frequent, watching a lithe Scandinavian couple stretch out in the late afternoon sun. I could see how one could easily fail to leave this hotel, flitting from the spa to the pool to Gusto to one of four bars back to the pool, then perhaps a tennis match on the hotel court. Maybe order up some refreshment from anywhere in the hotel to your location with the Conrad Concierge app (it's moreish). In some ways the place reminds me of a Vegas casino – not in terms of gaudy décor or questionable morals, but in that the attractions within make the idea of leaving relatively unappealing. There are clocks and daylight, but with the long corridors and the multitude of in-hotel and in-room leisure options, it can be difficult to escape the sheer scale and thoughtfulness of the comforts on offer. Of course, that's precisely what Conrad Hilton had in mind, and if you do find yourself enveloped by this gleaming citadel, ensconced in luxury, I doubt you'll try too hard to escape. I certainly didn't.