When it comes to finding an idyllic country-house hotel, there's nowhere like the verdant hills of England to solve your problem. Up and down the length of the country – we're awash with them. What were once manor houses for the idle rich are now cosy corners for weekending out-of-towners – Coworth Park, Luton Hoo, Barnsley House, Calcot Manor, Stapleford Park… the list goes on. Each boast manicured grounds, lofty rooms filled with antiques and spruced-up restaurants, giving us all the opportunity to pretend we're landed gentry for a night or two.
On first approaching the latest property to hit the UK scene – Dormy House – I wasn't surprised to find the essential country-house ingredients in place. Located in the dreamy village of Broadway in the Cotswolds, there was the satisfying crunch of gravel, a buttery, creamy stone façade and clipped box trees. But this is where the similarity to the majority of other country hotels stops. And I was delighted – a fresh approach to the concept has been long overdue.
Smaller, and therefore more intimate than many of its competitors, the once 17th century Cotswold farmhouse – a traditional hotel for many years – underwent a multi-million pound renovation, opening late last year, which saw its rooms and spaces updated for a new era of country house guest. Nothing new there. But what stands Dormy House apart, are its funked-up and utterly gorgeous interiors by Todhunter Earle, the London-based interior design duo renowned for their cool, quirky, Scandi touch. The hotel having been owned by the Danish Philip-Søresen family since 1977, the collaboration is a match made in heaven, with their modern sensibility weirdly translating well against the 17th century backdrop.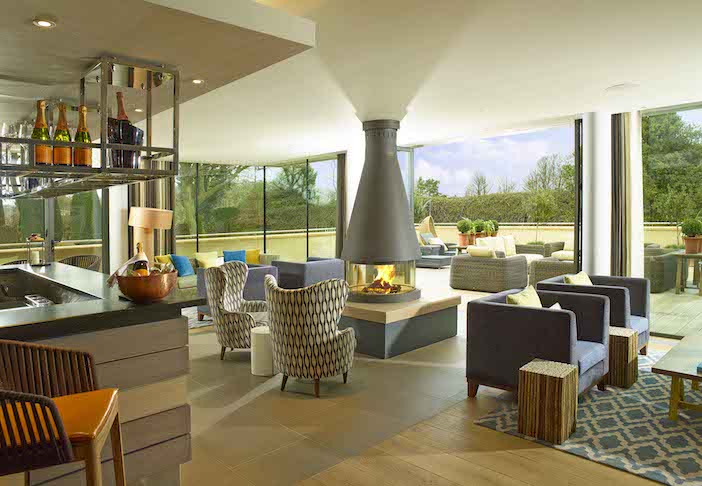 While many original features have been kept – oak paneled beams, flagstone flooring and roaring fires – rooms and public spaces have been bought bang up to date with a laid-back glamourous approach and feature eclectic pieces made exclusively for the hotel by Emily Todhunter. A navy and cream pin-striped 1950s oyster chair, textural ceramic lamps and antique, wall chandeliers were already on my wish-list – and I hadn't even made it to my room yet.
Talking of which, each of the 40 guest rooms and suites are all individually designed. My 'cottage-style' Splendid Room (there are four room categories to choose from) in the Danish Court area – a stand-alone wing of the hotel – was Scandi-design meets the Hamptons – in other words 'I want to take all of this home with me now'. This is not the usual off-the-peg, chintzy country house interiors. My room, for instance, had a pale, jade Chinese sideboard, chic velvet armchairs and geometric rug contrasted against a retro-print wallpaper and a bold, upholstered bed all in shades of blue. Doors led out to a courtyard garden (nice bonus) and the all-white bathroom was small but was top-notch in its fixtures and finishing. All the other rooms in the hotel follow suit – with varying gentle, colour schemes, unique pieces of furniture and welcoming touches – such as kilner jars filled with cookies, fresh meadow flowers and in-room iPads.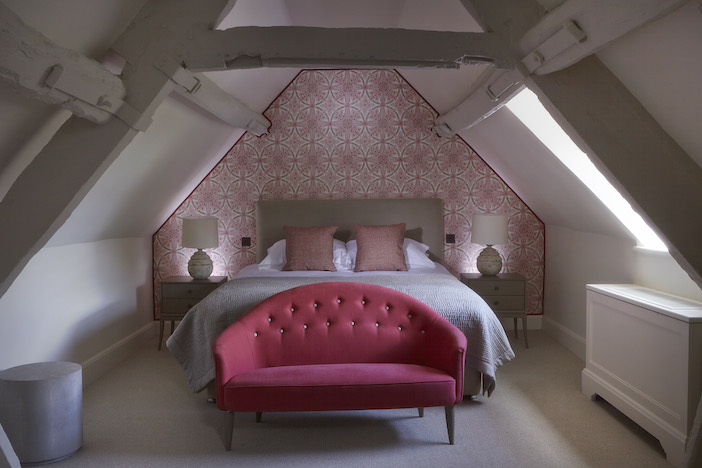 As you'd expect, dining here is also an experience to savour and will no doubt be one of the pulls for guests decamping in the Cotswolds for a day or two. There's the relaxed and rustic Potting Shed – for easy-breezy family lunches or unstuffy dinners. Hearty pies, traditional puddings and classic British comfort food is served in a cosy dining room – it's a take on an upmarket gastro pub. Head chef Jon Ingram also oversees the much smarter The Garden Room – an elegant space overlooking the hotel's gardens, with an emphasis on locally sourced produce. Dishes such as 'Cauliflower' (which turns out to be a surprisingly delicious cauliflower risotto) may be cryptic in their description but go with it – the simple menu style, which seems to inexplicably in-vogue at the moment, works as a ruse to hide the many complex and accomplished dishes on offer.
Last, but definitely not least, is the final jewel in the crown at Dormy House – the new House Spa, which opened in February this year. Cementing its position as leader of the country house hotel pack, this is seriously impressive. It is based around a central glazed spa lounge – which serves fresh cake and hot drinks (my kind of spa) and has a wonderful, wood-burning stove and an adjoining roof terrace garden (straight out of Miami). The spa echoes the rest of the hotel in its eclectic styling – there are sweet hand-mirrors on the walls of the changing room, butterfly art and knowing, witty signage ("Please slip on these very attractive overshoes"), not to mention oversized terracotta pots filled with lavender by the outside hydrotherapy pool, large day beds throughout and contemporary nods, such as the wooden, chartreuse lighting.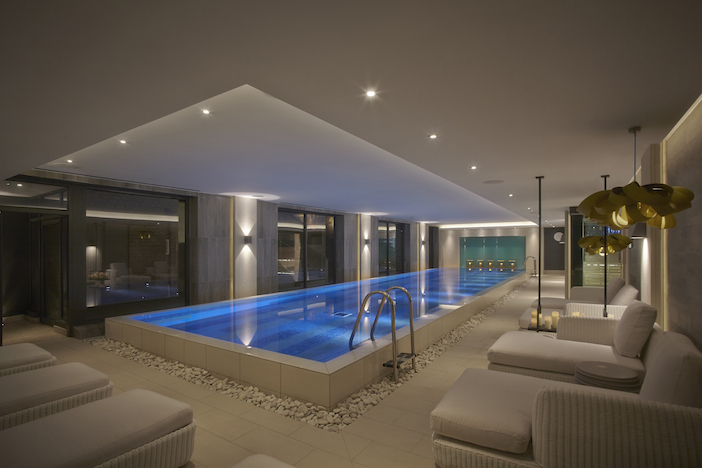 The facilities, too many to list, are exemplary and include a Veuve Clicquot Champagne Nail Bar, a 16m infinity pool (lit by candlelight after sundown) and a dedicated thermal area features a Lavender Infusion Sauna, Hot Juniper Finnish Cabin, Salt Steam Room and Ice Experience. All this in a Cotswolds' cottage. Treatments are by the natural, botanical brand Temple Spa with an emphasis on massage. Therapists here are trained with London-based massage expert Beata Aleksandrowicz, who pioneered the Pure Massage method, which incorporates stretching of limbs – leaving you thoroughly relaxed.
I craved indulgence, however, and I couldn't resist the Champagne and Truffles radiance facial, which uses the Temple Spa's award-winning Skin Truffle product (containing an oligarch's essentials of champagne, silk, diamonds, gold and black truffles). A warm, melting mask, a special face massage and a finishing iced blend works as an instant rescue remedy – leaving skin plumped-up and glowing. Much like the rest of you after a night here.
Rates at Dormy House start from £230 per room, per night, based on two sharing and including breakfast. For more information visit: www.dormyhouse.co.uk; 01386 852711.
New for Mothers' Day 2015: Enjoy a 60-minute spa treatment each, a light Champagne lunch in The Greenhouse, and full use of the spa facilities to totally relax. There will also be a delicious dinner in The Potting Shed before a deeply comfortable night's sleep and breakfast the next morning. The 'Timeless Spa Break' at Dormy House costs £210 per person based on two sharing a twin room. www.dormyhouse.co.uk; 01386 859910.