The Scottish coastline of St Andrews is supposedly one of the driest in the country. But not today. I wake up to the sound of lashing rain. The Atlantic Ocean is barely visible from my sea view room at the Fairmont and only a few miserable golfers have braved it on to the course.
Weeks of planning had gone in to today. We were to drive to the Cameron reservoir for a spot of fly fishing with Steve Brazendale , aka, the Scottish Countryman.
Chris Niven, the hotel's head chef was going to barbecue our freshly caught trout on the grassy shores, for an out-of-world culinary experience.
I open the window and an icy gale blows in, just as my phone pings through with a message.  'It's too cold and wet to go fishing.' Reads the text.  But Steve has other tricks in his box. ' We are going to have a falconry lesson instead.' I quietly curse. My Scottish grandfather was rarely seen without waders and I am keen to learn the sport.  Besides which I am not too keen on getting too close to our feathered friends.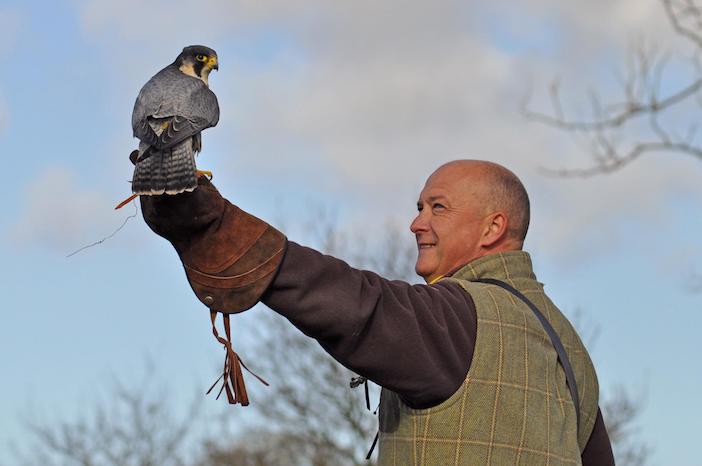 An hour later I am introduced to a collection of birds of prey and, despite my reservations, find them fascinating. There is a Harris Hawk called Murray whose deep gurgling cry almost drowns out Steve's telling of how each bird is weighed daily. Every ounce is significant to flying performance. Fergus, a European eagle owl is 28 years old was introduced to his female companion, Ailsa, two years ago, but they have not hit it off.
There is Logan, a peregrine falcon –the fastest birds on the planet. They can move at 260 miles an hour and, such is their eye-sight, they can spot a rabbit 4 kilometres away. Evertone's favourite though is Argyle, a snowy owl, of the same variety as Hedwig in Harry Potter.  But while Hedwig is brilliantly clever. Argyle is hapless and stupid. He is scared of heights and if he manages it to make it onto a branch, he is physically sick. Steve coaxes him on to my hand where he promptly falls asleep. Owls apparently sleep for 23 hours a day.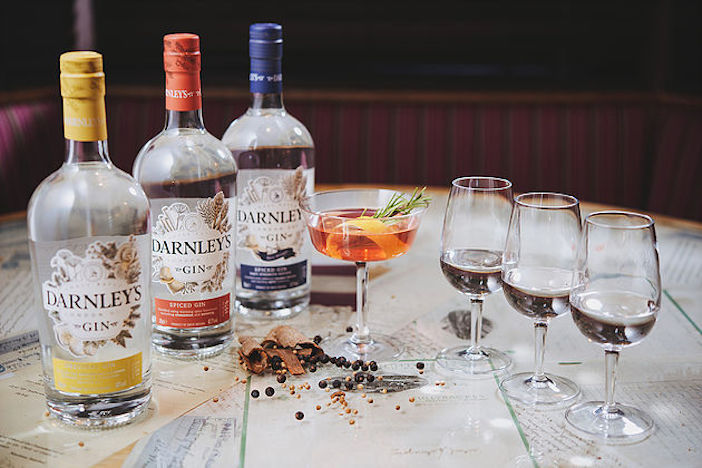 Next stop is Kingsbarns to discover how they make gin. Margo takes us expertly through the history of the Wemyss family. Darnley, whom the gin is named after, was the second husband of Mary Queen of Scots. They were not married long, and by all accounts he was not a very nice man, but they had a son Lord Boswell.
We are guided through the different flavours and which Fever Tree tonic, or ginger ale goes with each one.  I am convinced I am in the company of the greatest gin connoisseur until Margo reveals she has only tried it twice and both times it made her cry.  Talk of an unexpected punch line.
St Andrews is of course famous for two things; the home golf and for Scotland's oldest seat of learning, where of course William and Kate met. There are photos of the couple in the bars, restaurants and coffee houses where there romance blossomed.
It is in fact a tiny town with only really four main streets running parallel to West Sands Beach, featured in Chariots of Fire. Tourists migrate to the ruins of the Cathedral and Castle with its underground mines and bottle dungeon giving visitors a taste of medieval Scotland.  A more recent installation is a statue of Hamish McCamish, the town cat who died three years ago.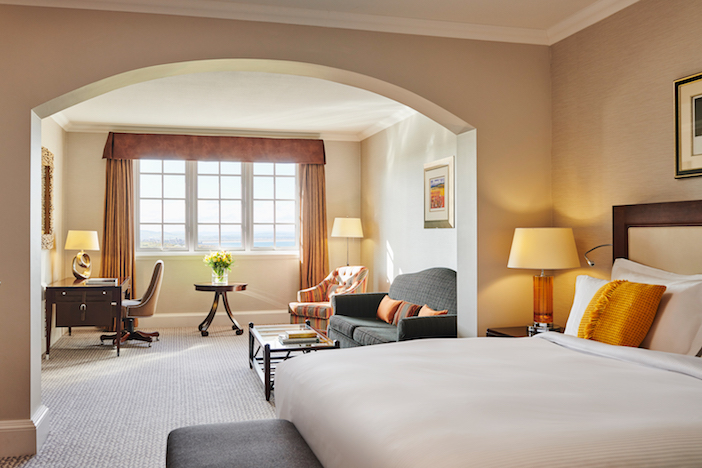 On Sunday morning I follow the church bells and find myself being warmly welcomes into the University's chapel with its youthful congregation.
The students at Andrews University are not the usual mob. Elsewhere student populations are a boon to staffing local hotels. But St Andrews' students are more likely to be found using the Fairmont's upmarket spa than waiting on tables.
It is a gorgeous cliff top 90-minute walk back to the Fairmont  from town much of it alongside the hotel's two courses the Torrance and Kittocks.
The 230 room is a replica of an American chateau inexplicably admired by its owners, but its rather stark exterior is in contrast to the bold interiors.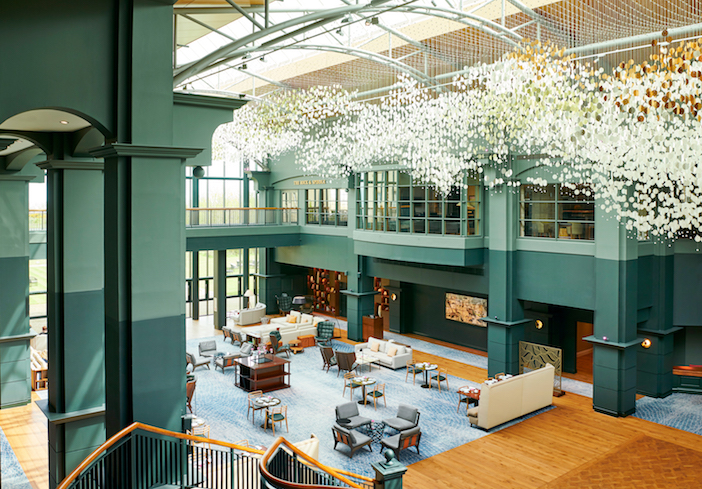 The reception opens up into a huge atrium, edged at either side by floor to ceiling glass from which diners can see and be seen.
A sculpture of thousands of hanging glittering metal discs stretches the whole length of the hotel like a school of fish. The overall effect is suitably dramatic – though thank goodness it's not my job to do the dusting.
As with all Fairmont hotels the current mantra is on sustainability. Luxury travellers are these days also socially conscious and expect environmentally sustainable practises that support local culture.
The hotel sources all its fresh produce locally including lobster and brown trout in St Andrews bay. Last year it established a beehive which now has 20,000 bees, and they grow their own vegetables and herbs for the kitchen.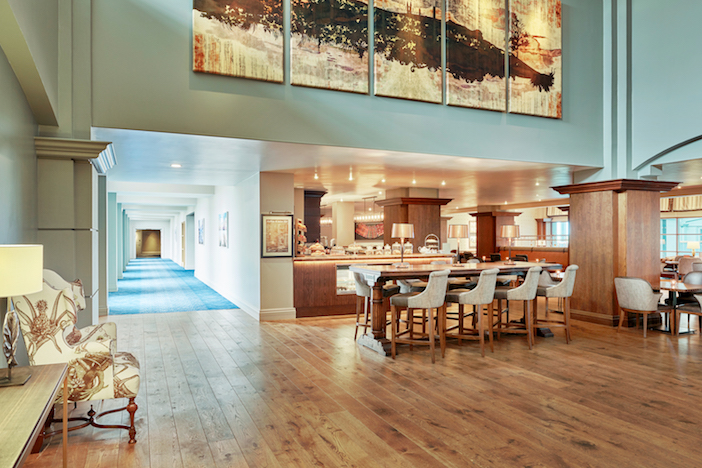 There is a good range of places to eat: Kittocks Bar serves coffee and snacks all day in its dimly lit, clubby, bar area; the sports club is, unusually, vegan; La Cucina, Italian ( mostly pizza and pasta);and the atrium offers a vast serve yourself buffet breakfast and fine afternoon teas.  The best place though for both the food and the views is the St Andrews Bar and Grill.  Steak, seafood and the most amazing lobster ravioli.
Weekend over, the rain stops, the sun comes out and  as we pass through the pretty East Neuk villages of Fyfe I vow to come back and catch that trout.
Prices start at Fairmont St Andrews start at £189 for a standard double room. For more about the hotel, including more details on the destination, visit www.fairmont.com. More details on Darnleys gin can be found at www.darnleysgin.com.