Rather like Asian ladies, although calm on first glance, Langkawi is actually prone to sudden and arresting tantrums. At the Four Seasons resort, which flirts with then unravels from 1.5kms of Wailea beach's blonde sands, riveting downpours and urgent winds alarm palms, ripple private plunge pools and foam the Andaman's emerald waves on the cusp of the rainy season.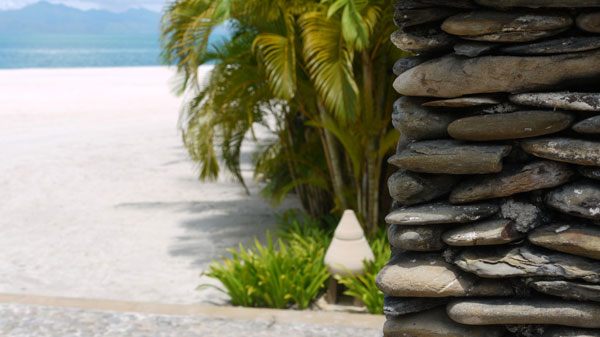 Nearly 50 acres of sultry coconut, frangipani and banana trees, and showy hibiscus, camouflages a kampong, or village-like jamboree of 91 residences. Bevelled by handmade dry stone walls, whose components evoke neatly stacked mussel shells, these delicately and spaciously depict Moorish, Asian and Indian influences. Their features include high, wood-strutted ceilings, terrazzo baths so depthful that the four-year-old daughter of 6'4" resort manager and raconteur, Alastair McAlpine, requires a Barbie life ring to feel secure when bobbing about, and 12 inch thick mattresses which go some way towards banishing jetlag.
Embracing its situation against a backdrop of limestone, the resort edges South East Asia's first UNESCO geopark. Ancient rainforest and mangrove – a mysterious, teeming writhe – is signalled by the markers of the locally nicknamed, hunching, Gorilla Rock, and anti-smuggler radar. Drifting into the misty mangroves bound for a photographic safari with resort naturalist and self confessed 'tree hugger', Abde Abdullah, who once ate a rattlesnake on a bet, I fast become blasé when sighting dashing eagle, the Brahminy kite. It is Langkawi's official mascot. Abdullah also teaches how the 'society' of watery trees fuse roots with one-another, leading to leaves which 'cry' salt – "good for a tequila cruise one day" according to island 'adventurer' Farly Khalid.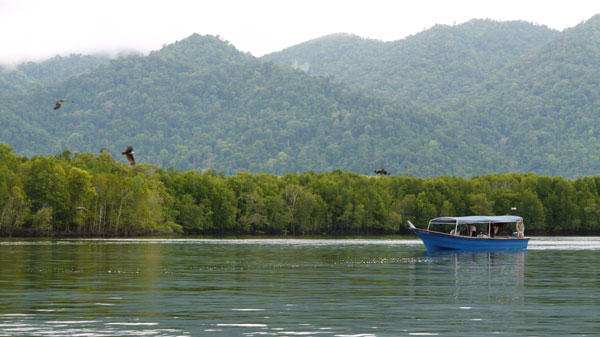 Formerly cabin crew with Malaysia Airlines until his wife eloped with a pilot, Khalid advises "please be aware of caterpillars" when I cling to slippery ropes, climbing then descending to a percussion of cicadas, on a hike to a Jurassic swamp. It is a route undertaken by fewer than 100 a year. On another occasion, we amble on bikes to meet world-renowned masseur (by occasional governmental appointment) Jamal Samad, at a tepid spring. Our journey occurs to the drifting serene call to prayer, painted on the late afternoon's humid air.
After invigorating and adept reflexology with warming sea cucumber oil, Samad tries hard to sell me penis enlargement oil made from mudskipper fish, which unnervingly itch this archipelago's riverbanks. Unfortunately, I have forgotten my wallet. Samad's firm fingers prove forgiving compared to those encountered the following day in the resort's signature departure massage in the almost divine spa, bringing your correspondent out in a near swearing sweat, but leaves him feeling duly new.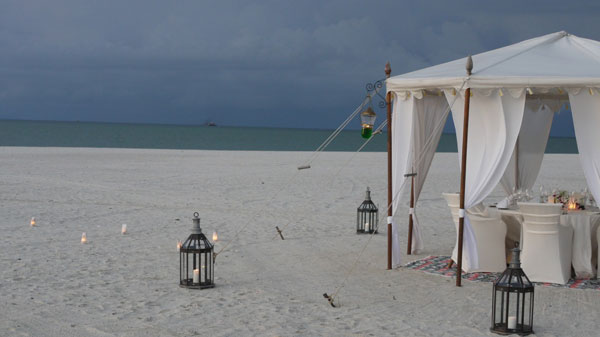 However hard one hits the nature and activity trail, I advise against ordering a scale from room service because Billy Akuna from New Orleans, resort Executive Chef for five years, is super fine at feeding. Apart from teatime treats brought to the room, such as the bright, banded rice cakes (kuih sum sum), I enjoy his dishes using island-made water buffalo Mozzarella, like pizza baked in the island's only pizza oven. But, acknowledging his flattery to be true that "the British have the most adventurous palates", it was the local, fragranced food which captured my imagination.
Beside my villa, and inspired by a traditional Malay-style home ('lima'), Ikan-Ikan restaurant, teak and open-air, is the setting for a 'family-style' dinner where dishes include baked steamed Langkawi coral grouper, and textured honeycomb cake with coconut. Akuna also arranges a beachside BBQ on the final night, which would be supremely romantic, taken under candlelit, lightly rain splattered gazebo, were I not sharing it with three other journalists, one of whom falls asleep in his wine…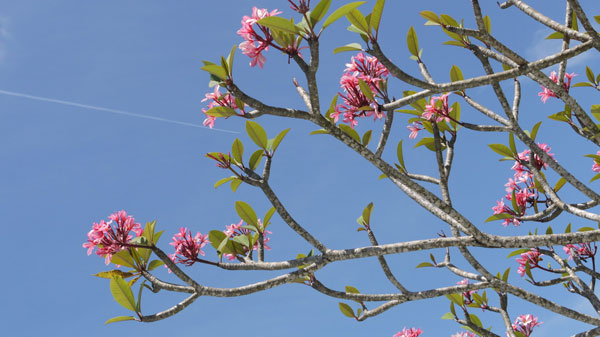 Nonetheless, shuffling sand into the air back to my villa, my way guided by unconventional streetlamps of illuminated palms, I wonder whether l can legitimately offer McAlpine my services as writer in residence…
View Hotel Info, Rates & Availability
Photography (c) Douglas Blyde