When offered a chance to visit Lake Como this summer, my reaction was one of gleeful, girlish excitement. But then a burning fear ensued: my luggage is in no way smart enough for a swish hotel on Lake Como. The porters will refuse to touch it. And I don't have a thing to wear. Those glamorous Italian women will outdo me a billion to one and I'll be shunned into a corner.
Luckily, the Grand Hotel Tremezzo happens to be the warmest and most kind-hearted, wrap-you-up-in-a-bear-hug-and-slap-a-great-big-kiss-on-your-cheek place imaginable, and I can't envisage being made to feel so at home anywhere else in the world. The fact that the hotel is dripping in golden, glossy five-star finery is rather a nice cherry on top.
A couple of hours from Gatwick and you are at Milan Malpensa, to where the hotel will send their lovely driver to pick you up. He even brought bottles of water for our journey; the hotel thinks of what you need throughout your stay well before you have. The drive from the airport takes less than an hour, during which time you coast along the lake up to Tremezzo on the western bank. It is opposite the idyllic, cobbled town of Bellagio and, so I am told, about half an hour from George Clooney's villa. Lining the lake is thick green forestry and harshly jagged hill faces, with terracotta roofs peeking out that seem alight in the sunshine. At the beginning of summer, snow is still atop the mountain peaks, which means that your eyes have quite a job taking everything in. Beautiful is a hopeless word in this case as it barely does justice to the multifarious, unique and dramatic splendour of the lake, but nothing else will do.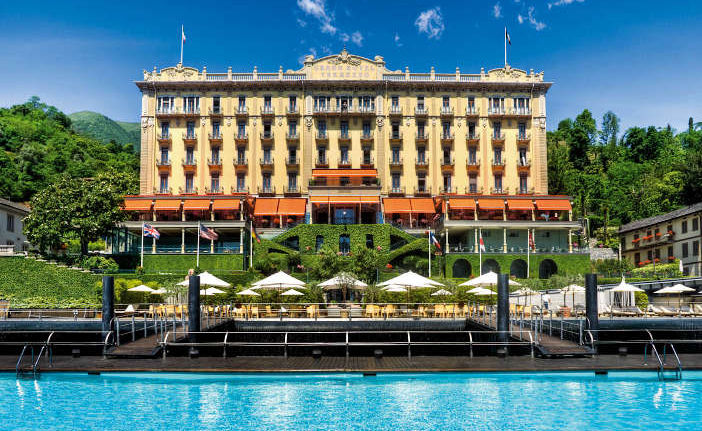 One arrives at the Grand Hotel Tremezzo without really realising it; there you are, basking in the lake's scenery and then, all of a sudden, the car turns into a tiny gravel driveway at a seemingly random point along the main coastal road. Standing at the base of the hotel, it is deceptively understated if you don't happen to look up around you. There is a lift in the middle where you might expect a door to be, that looks like the gateway to some secret garden. Butterflies start prancing about in your stomach as the elevator's glass walls float you up above the water to enhance the view, before the doors open with a ping onto the grandeur of a lobby bedecked in red velvet with gold trimmings. A peek through to the bar reveals sofas of every pastel colour in a tall drawing room lined with paintings, leading to a canopied terrace just screaming out for an Aperol spritz and a good book. To your other side, a dining room with white linen tablecloths also looks onto the lake with floor-length glass windows. Quirky little touches are everywhere, like the golden sweetie table topped with a huge film-star mirror and giant glass jars of candy treats. If you search hard enough, there is also a billiard room with a full-sized nineteenth century table at your disposal.
First opened in 1910, the Grand Hotel Tremezzo isn't just another converted villa – it was built specifically to be the most palatial, luxurious hotel on the lake. Located next to the famous Villa Carlotta and its gardens, it has 80 bedrooms and 12 suites, and has been frequented by many a Hollywood film star. In fact, it was immortalized by Greta Garbo in her 1932 film, Grand Hotel. Little wonder Garbo has a suite named after her. The hotel has always been family-run (though it has changed hands occasionally) and prides itself on the consequent sense of intimacy, and of humour. For instance, if you amble through the gardens and up the hill to the back of the hotel, you will stumble upon Bobo, the hotel's mascot. He used to belong to Valentina, who is the daughter of the owner and now the CEO. There Bobo sits, up at the top, plopped on a tree stump, guarding the guests from his first-rate vantage point. I found him purely by accident one morning, and the ridiculous but adorable sight of him made me laugh out loud.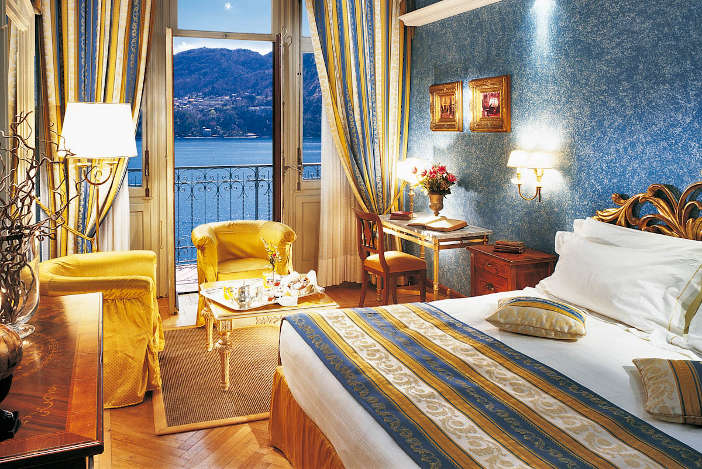 Inside, I walked along the vast corridors to my room, which was opened by a great big key – none of these soulless new-fangled swipe cards here, thank you very much. Within, it was achingly pretty, the soft colours cooing out with comfort, and led out to a balcony overlooking the lake. The ornate rooms may be lavish in style and colour but the top floor contrasts the richness of such décor, housing a set of super-suites that are modern, clean-cut and glassy creations with far-out views. They have great big balconies and state of the art bathrooms, some even with heated Jacuzzis out on the rooftop, and they all benefit from a 24-hour butler service. However, the other rooms are most certainly not neglected: when the hotel is closed during wintertime, one floor is refurbished each year, so you can imagine what fine condition everything is perpetually in. Every single floor has a historic suite slapped bang in the middle and at the front, each one dedicated to an iconic woman with some sort of relation to the establishment.
If you can drag yourself out of your room and down the majestic central staircase, I strongly advise placing yourself in the safe hands of head barman, Max. Donned in a white dinner jacket, Max mixes a mean Negroni, which tastes all the better for the sun-kissed terrace at early evening time and the sound of a piano tinkling in the background. Playing romantic old songs from the Thirties and Forties, the pianist harked back to the glamorous days of the hotel's past, quite drowning out the modern world.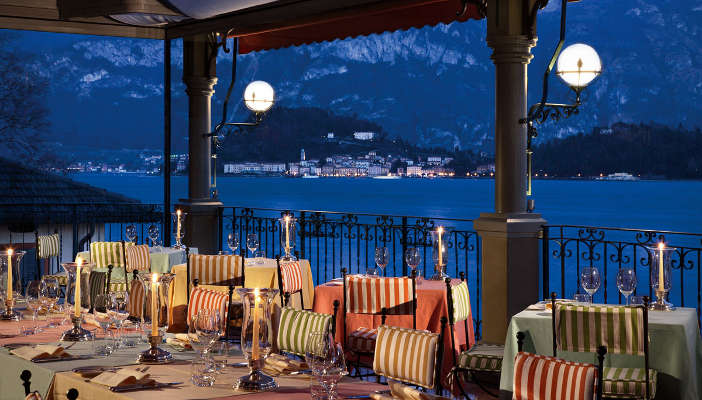 The hotel's culinary pride and joy is La Terrazza Restaurant. It is overseen by Gualtiero Marchesi, who is generally considered to be the founder of modern Italian cuisine. This avant-garde chef is also a staunch proponent of traditional Italian food, and so the menu here is the very best that the country has to offer, making the most of local and seasonal ingredients. Our dinner consisted of perhaps the most lavish dish I have ever devoured: a perfectly al dente and delicately flavoured saffron risotto topped with a square of real gold leaf. Yes, I literally ate gold – that's just what happens at the Grand Hotel Tremezzo. My main course was a melt-in-the-mouth fillet of veal topped with foie gras and black truffle, accompanied by salted spinach, pine nuts and raisins. I would not be surprised if I never dined in such decadence again in my life. Desserts and petit fours are whooshed in front of you with addictively bitter coffee, as Crepe Suzettes flash in the pan at nearby tables. This is incomparable food served with some serious flair.
If you can't hack such opulent cooking every night, there is also a fondue restaurant downstairs and, outside, a pizza venue with its own wood-burning oven. As of this year the new T Beach restaurant offers a sort of über surf-and-turf, with succulent meats and fresh fish done in barbecue style right on the lake's edge, surrounded by the sand and sun loungers of the hotel's private beach.
There on the beach, you can take a dip in the 'Water on the Water' pool; suspended in the waters of Lake Como, the hotel's now famous swimming pool is a floating island-come-infinity pool that undulates with every ripple of the lake. It is mesmerizing to look at, but just watch out for the big boats! And if alfresco swimming isn't your thing, there is an indoor option located in the spa, where you can enjoy treatments such as the hot stone massage with personalised aromatic oils that sent me into a cosmic trance. It is reasons such as this why the stresses of everyday life trickle away so easily at the hotel.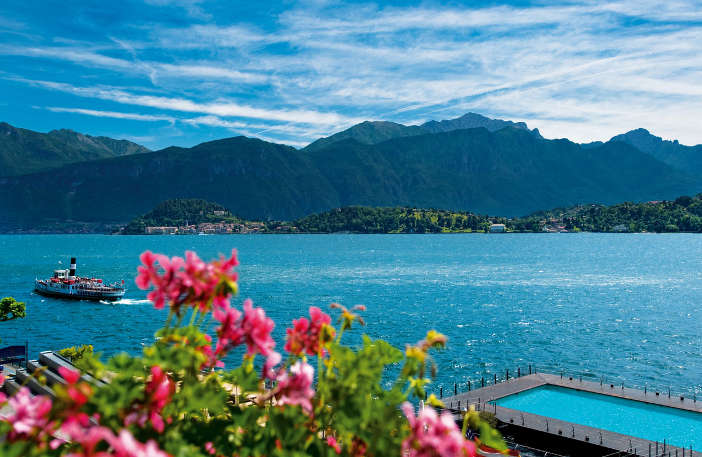 The staff at the GHT are happy, willing and eager to suggest all manner of excursions and pastimes during your stay. I would make sure to take at least one journey in the hotel's Limousine boat, named Ruy, where another charming driver can take you up and down the lake, and I would especially recommend a visit to its only island, where you will find pure, rustic food and absolutely barmy staff at Locanda dell'Isola Comacina. Photographs of the owner alongside visiting movie stars and fashion designers adorn the wall, but I doubt they got treatment any different to mine, or that which you would get; it's a six-course set menu for any diner, and the utterly hilarious experience makes this a must-do stop.
My perceptions of life on Lake Como were both confirmed and overturned in the best possible ways by my stay at the Grand Hotel Tremezzo. Yes, it is supremely beautiful and other-worldly, and there is the genuine risk of arriving home covered in bruises from the constant pinches required to believe in the reality of this heavenly little place on Earth. But it doesn't matter if you're not royalty, nor famous. And no one cares what your suitcase looks like. You are one of the family as soon as you walk in, and the sumptuous surroundings, impeccable service and quality of every doorknob all seamlessly combine into what can only be described as a state of bliss. As Greta Garbo said of it, "It will be sunny in Tremezzo. I'll take a vacation. I'm going to live like a real woman…perfectly simple, perfectly quiet, perfectly happy."
View Hotel Info, Rates & Availability
The hotel also offers unique spa packages in the T Spa from ESPA. For couples, mothers and daughters or just friends, the T Spa Suite is an ideal place to relax together in complete privacy. Hidden in the beautiful gardens at Grand Hotel Tremezzo the T Spa Suite offers guests their own private whirlpool, sauna, steam room, a cascade shower and couples treatment room. Enjoy this Suite Time Together from Euro 400 / £320 per couple, which includes 1-hour couple's massage.
 T Spa for Two is another unique opportunity for couples to experience ultimate privacy and relaxation, by reserving the T Spa Infinity pool after hours for an evening poolside cocktail or champagne with strawberries. From 8.30 – 10.30pm T Spa is yours to enjoy in complete privacy from Euro 450 / £360 per couple.