When I first moved to London emerging from King's Cross station coincided with keeping a cautious arm over one's handbag and an eye on potential people threats. It was a means to get somewhere else, better. ASAP. Roll on seven years later and ol' KC is the last one laughing, for it's become a go-to destination in its own right.
It started with the re-opening of the ridiculously grand St Pancras Renaissance hotel in 2011, and has been quietly engulfed in a whirlwind of further clean-up and construction since. The summer 2012 Olympics spurred on a restoration of the station, revealing its beautiful Victorian façade for the first time in 150 years. And from that it seems to be getting better and better. Google's £650m European headquarters land there circa 2017, and we know what trendsetters they are, and Louis Vuitton will be joining the One St Pancras plot this year, moving from its upmarket spot on Bond Street. And! At the time of press, planning application had been submitted for an open air natural swimming pool.
A short walk up from the station along King's Boulevard, an area busy being formed into apartments and said offices, is Granary Square. There lies tables fit for picnicking, synchronised water shoots – a magnet for giggling toddlers – top eating and drinking spots in the form of Bruno Loubet's Grain Store and Caravan, and a strip of Regent's Canal to sit by on sunny days, bordered with beautiful small bricked industrial buildings of old, and the recently relocated Central St Martins School of Arts and Design. A lovely, buzzing place to escape from the hustle-bustle, wait for that delayed connection, or just to head to for a breath of fresh air, with glimpses of The Shard and red London double-deckers, to remind you where you are.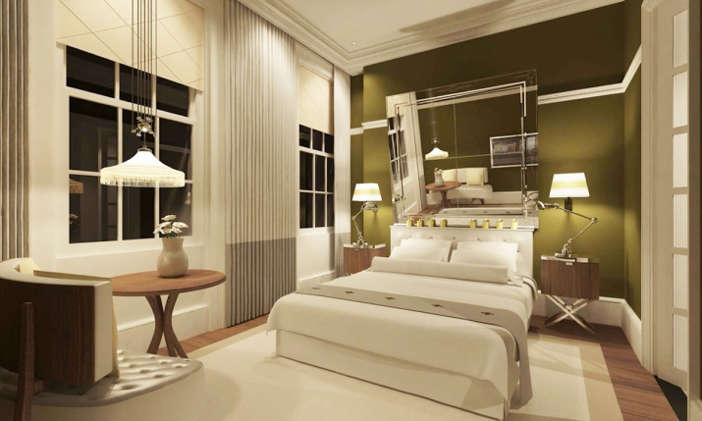 I take all this in on an overnight stay at the five-star Great Northern Hotel, 'the world's first great railway hotel'. Glowing grandly in all its £40 million restored glory, it's as if it's only just arrived on the scene, rather than being there all along, since 1854, when it served the high class clientele of the Great Northern Railway Company.
Saved from a 12-year derelict slumber it re-opened last year, keeping true to Lewis Cubitt's original design, whilst introducing plenty of modern touches. The attention to interior design, detail and finish is superb – this isn't a slap-dash get the punters in as quick as possible affair; a great deal of care and effort has been put in, with seemingly no expenses spared. From the bespoke bedside tables, designed to evoke the vanity cases ladies used to travel with, to the station lamps that sit atop. All while meeting the strict Grade II guidelines, which meant room formations had to stay the same. Ours, one of the Cubitt's, was a brilliant use of space, with tall, sound-proofed twin sash windows, flooding the room with light, looking out to the comings and goings of St Pancras taxi rank, yet, blocking out all engines and chatter. A cosy palette of Farrow & Ball olive green and white; slate floors in the Lefroy Brooks kitted out bathroom, vintage etched glass above the headboard, and bundles of other touches to swoon over: 500 thread count linen, the silky soft sort that makes getting out of bed a challenge; Hypnos mattress (Royally-appointed, don't you know); in-room entertainment in the form of 72 complimentary movies and 20 audiobooks, double headed showers and Malin & Goetz goodies. You'll be wishing for a downpour for an excuse to stay in and lounge around.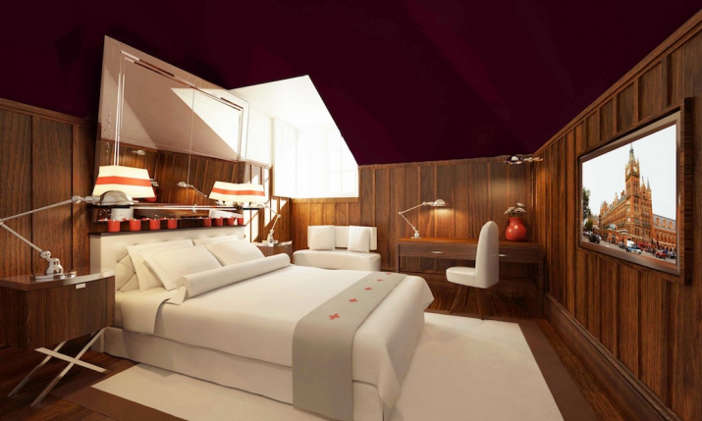 Refreshingly the room also boasts that rare thing as a fairly-priced mini bar. Usually the one guaranteed rip off, here a full-size can of Coca-Cola will set you back an acceptable 80p. But, perhaps the best treat of all is The Pantry, at the end of the hall on every floor. A dainty, duck egg blue, French country kitchen style galley stocked with an industrial-sized Nespresso machine, canisters of Teapigs teas, jars of pear drops, Tunnocks wafers and Wagon Wheels; hotel-made jellies and macaroons mid-morning, and a freshly baked cake of the day late afternoon, plus the daily newspapers fanned out and ready to be plucked and taken back to your room, 24/7. All part of the package.
Outside the bedroom, it's a joyful place to explore: six floors of wide corridors, high, high ceilings, Black American Walnut floors, arranged to look like railway tracks; advertising posters of old; and original features such as wrought iron staircases and a solo stained glass window, making a trip up the stairs a must.
On the ground floor, GNH Bar, designed to evoke the feel of a glamorous railway bar, is a melange of draughts-board tiles, shiny pewter-tops and French oak panelling, with sumptuous red velvet curtains draped over the door at night, grand polished chandeliers you wouldn't let the Trotter brothers anywhere near and staff that know how to whip up a damn fine cocktail. A mezzanine snug, adorned with vintage black and white nudes, overlooks it all. I'd welcome a delayed train, to allow time to enjoy a coffee or tipple in these surroundings; with a door directly into the western concourse of King's Cross station, and 25 metres from the Eurostar terminus, I could scoop up my luggage and make a run for the platform if need be. Tucked around the corner from the bar, the hotel's cleverly tapped into the food-to-go market with Kiosk, a booth serving up hot, pork belly rolls and the like, stuffed with the trimmings for a reasonable £5 a pop. A far cry from the usual train station offerings.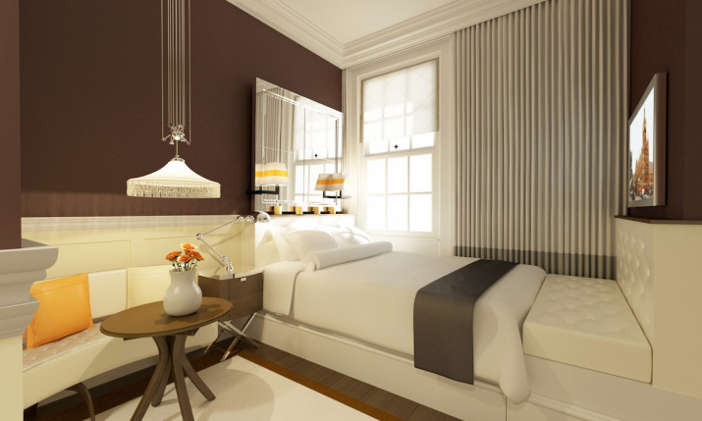 Back inside and up a level sits Plum + Spilt Milk, named after the colours of the dining carriages pulled by the Flying Scotsman. The curved leather banquettes and grand walnut chairs, mis-matched antiques fair-gathered cutlery, and lovely fixtures, such as the 120 hand-blown pendant lights with those delicious filament bulbs, makes for a cosy place to breakfast, lunch or dinner. Like the rest of the hotel, it's mostly covetable and very comfortable. The menu, overseen by chef director Mark Sargeant – Michelin-scoring, former head chef at Claridge's – is very British with hints of classic French, taking you on a journey of the Isles through ingredients such as Folkestone whelks, King's Lynn shrimps, Salt Marsh lamb, Yorkshire rhubarb and Maldon oysters. What you get, is what you want the dishes advertised to be: well cooked, nicely presented, tasty. Not taking over the show, but definitely not disappointing either; just good food, with great ingredients. We enjoyed aubergine dip, made lip-smackingly smoky using an INKA grill, then pear salad and a dressed Dorset crab to start. Cornish lamb and Devon sole followed, accompanied with sides of celeriac with rosemary, current trend-er kale, and thick beef dripping fried chips that tested one's restraint, and proved a severe lack of. The only thing I disliked about the experience was my unadventurous choice of dessert. I went for fail-safe option creme brûlée, when I should've ordered the flaming baked Alaska the table next door was cooing over, while its burnt sugary scent wafted over to laugh me in the face. It would've been the perfect finale.
Less than 12 hours later, we were back there for breakfast at a table overlooking King's Cross Plaza, tucking into loose leaf tea and granary toast, sitting next to an Australian couple who proclaimed their serving of Burford Blues, "hands down the best eggs we've ever had".
Similarly, the Great Northern Hotel is one of the best city hotels I've ever had. It had me at the impressive façade, shortly followed by the Wagon Wheels and weekend papers on tap. But it could've fallen down in so many areas; there's almost always something that lets a place down – usually a wonky toilet roll holder or swelteringly hot bedroom – yet it was truly faultless. Bravo to the team involved, from Jeremy Robson, for kicking off the project, to the becloaked doorman who warmly greets you on arrival, and to King's Cross for finally realising its potential.