"I think it's somewhere down there," said Her Ladyship, raising her voice above the growling V6 engine as our open-topped sports car burbled its way along picturesque country lanes. Her navigational skills had been impressive, taking us on a scenic route that carved its way through the Home Counties, but then we came to a T-junction that chéri didn't recognise, and touching her lip as if to silence someone…she announced that we were lost. As if on cue, the car stereo began to taunt us with Road to Nowhere by Talking Heads: "We're on a road to nowhere…"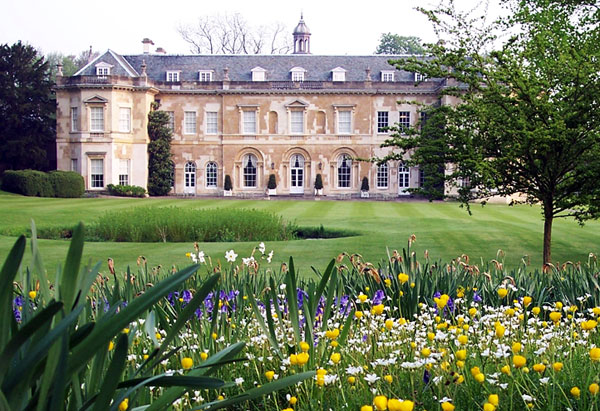 A quick consultation with the bossy Mrs Satnav told us that we were in fact just a mile from the gates of our country manor destination, and a few minutes later we idled along the driveway, over a couple of speed bumps, and into the car park of Hartwell House (a less rash and excitable driver would have listened to his softly spoken lady and first pulled up outside the house itself, allowing the porter to help with the baggage).
Hartwell House is owned by the National Trust in their collection of Historic House Hotels, which also includes Bodysgallen Hall in North Wales and Middlethorpe Hall in York. Hartwell, in Buckinghamshire, is a short hop away from Chequers, and has often been graced by those in power, as well as by those in pop (a rather well known rap artist is rumoured to have stayed here, but don't let that put you off).
The house's history is impressive, playing abode to the likes of William Peveral (son of William the Conqueror), France's Louis XVIII, Richard Hampden (one of Queen Elizabeth I's inner-circle) and more recently, Dr John Lee, the ancestor of our beloved home-grown Dracula, Sir Christopher Lee. Dr Lee is said to haunt the library, but we supposed he wouldn't be quite as suave or menacing as his younger Hammer Horror descendant.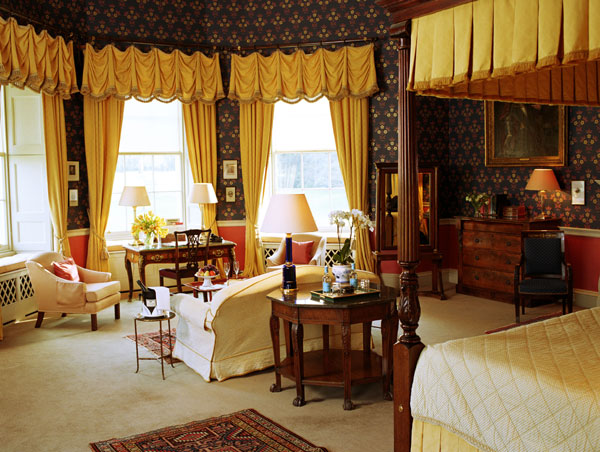 After checking in, the green besuited porter gave us a tour of the manor en route to our room, and a brief history of everything along the way. Ascending the imposing central staircase, adorned with wooden gargoyles and soldiers bearing arms, we came upon the Duc de Berry Suite, our home for the night. With a charming separate living room sporting a writing desk, plush sofas, window seats, and a television, it provided more than enough space to while away the hours should the weather prove untenable for outdoor pursuits. It was such a comfortable room that one could've happily had a picnic on the carpet.
The bedroom was huge and spacious, featuring a grand Lord-and-Lady sized bed, another television, dizzyingly high ceilings, and an ensuite bathroom with a large bathtub that one could swim a length of if one were feeling aquatic. The décor of the suite, and indeed the house at large, was traditional and welcoming, with a cosseting atmosphere that imbued one with a sense of staying in someone's home rather than in a hotel.
The windows of our room overlooked the surrounding gardens, and to my delight they opened fully; none of this ridiculous window-stopper malarkey that you find in most hotels, permitting one to creak the window open only enough to let a small fly through. At Hartwell, you could fly a hot air balloon through the open window, and I dare say there'd be enough room in the suite to park it too (or you could store it in the cavernous walk-in wardrobe).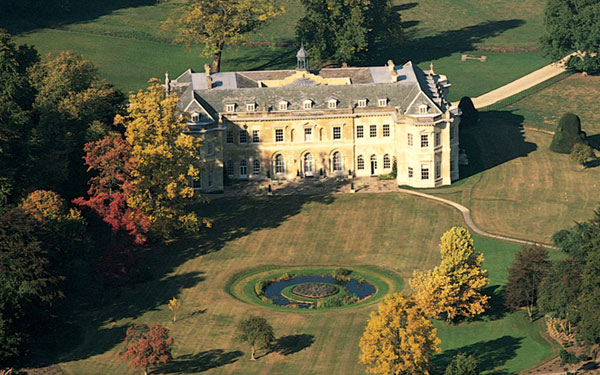 Having explored our delightful chamber, we set about adventuring around the grounds of Hartwell, landscaped in 1738 by Richard Woods, a contemporary of Capability Brown. We strolled past the pretty lake, waved to the ducks, then toddled up along a pleasing tree-lined driveway, moseyed through some light woodland overlooking a meadow of daffodils and snowdrops, and eventually landed upon the Gibbs Pavilion – a relic from the more ornate original garden thought to have been designed by James Gibbs (the influential architect whose work includes St Martin's in the Fields) – where we sat and gazed back towards the lake from the comfort of a little bench.
Next was a trip to view the spa, housed beside the former coach house of Hartwell Court, where further rooms and suites are available. The spa features a lavish Grecian styled pool and a number of treatment rooms for pampering pleasure, but we were too busy meandering to book ourselves in for any therapies. Besides, we had our own mini-pool in the bathroom.
The dreamy nature of Hartwell was such that time ran away from us and we soon found ourselves being summoned by our valet (Mr Blackberry) to dress for dinner. We perched in the drawing room and enjoyed a pre-prandial glass of bubbly, admiring the beautifully ornate Rococo plasterwork ceiling with a large chandelier that swayed ever so slightly due to the vibrations of the house (we were assured that it was very secure).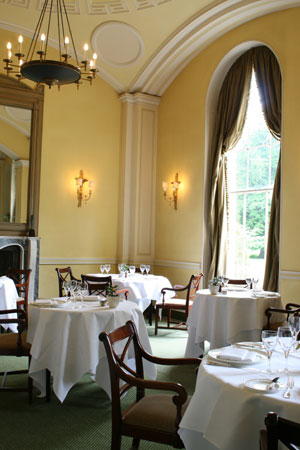 Presented with menus, featuring a feast of modern British cuisine providing something delectable for everyone, we set about studying our options. I rather like the procedure of ordering one's food in the drawing room before being summoned to the dining room, which in this instance is styled after a room at 11 Downing Street as a tribute to John Soane. It seems that everywhere you look in Hartwell there is a room or an object that features some sort of hidden history, ready to surprise and impress you.
After much deliberation, I eventually settled upon a starter of pan fried belly of suckling pig with homemade black pudding, smoked apple puree and crackling, while chéri plumped for a chicken and duck liver parfait with golden raisin jelly and brioche. Main courses took the shape of a loin of venison with swede puree, croquette potatoes, sauté Brussel sprouts and chestnuts for me; and a pan fried fillet of sea bass with leeks and artichokes, fondant potato and a red wine fish sauce for Her Ladyship. All this was washed down with an elegant plonk recommended by the sommelier from their ample wine list, and we just about struggled through a dessert of Valrhona Manjari chocolate fondant and a passionfruit soufflé with white rum and coconut sorbet, before declaring ourselves sated and ready to pop!
After dinner, we took coffee and petit fours in the warm and welcoming library for a game of Backgammon, in the hope of spotting the ghost of Dr Lee. But this was the least scary haunted room I'd ever been in; Sir Christopher would not be impressed. Snuggling against the cushy sofa in front of the open fireplace, we became fully immersed in our game and forgot all about the ghost we were supposed to be keeping vigil for. Having won the first match, I sat back smugly while Her Ladyship – who taught me how to play Backgammon – fixed me with that unimpressed look she sometimes gets when something doesn't go her way (which isn't very often). "It just means you're a great teacher," I said, trying to placate her. She harrumphed and glanced around the library. "Dr Lee didn't make an appearance," she said thoughtfully, "I suppose he saw that we were too engrossed to notice him."
The next morning we were treated with a breakfast in our private living room – sausages, bacon, eggs, black pudding, croissants, toast, tea, coffee, juices and yoghurt! This was one Lord and Lady whose stomachs wouldn't need much more satiating that day.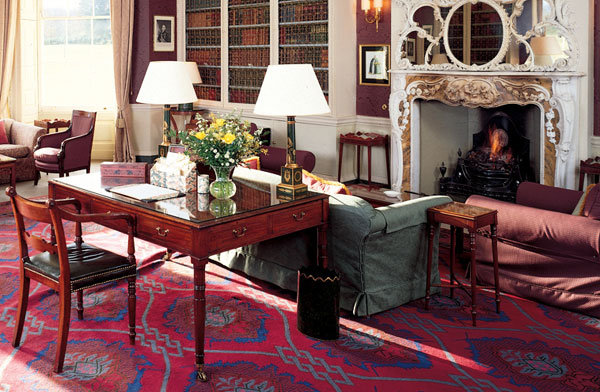 We reluctantly dragged ourselves to checkout, trying to think of an excuse to stay for another night. Hartwell House had grown on us, as it must have grown on its many illustrious inhabitants over the years. A house like this is a living thing, a character in its own right which is grander than even its grandest occupant. A person never really owns a house like this; one is simply its keeper and carer, a mere guest for the brief corporeal spell in which we find ourselves on this planet – and if you're lucky enough – in a house like this. No wonder Dr Lee doesn't want to leave the place. The road to Hartwell certainly isn't a road to nowhere. It's a road to a place you might call home, even if it's just for one night.