Hartwell House in Buckinghamshire, situated on the edge of the Chilterns, is one of just three hotels in the National Trust-owned Historic House Hotels collection, offering guests the rare chance to step into their very own period drama without any fear of pine cones on chairs indicating that they shouldn't sit down – you can even sleep in the beds!
Unless you hail from a country seat of your own, you are bound to find it something of a novelty to stay in a hotel that might otherwise be open to the public, and which would therefore never feel remotely lived in thanks to an army of volunteers ready to pounce with their laminated information cards which they very insistently demand that you return (regardless of the fact you didn't ask for one) at the end of your visit as if they were precious heirlooms. This does tend to be a mood-killer when it comes to imagining what it was like to have lived in an English stately home a hundred or more years ago – making the impeccably restored Jacobean and Georgian Grade I listed Hartwell House (once home to the exiled French royal family) the ultimate way to time travel.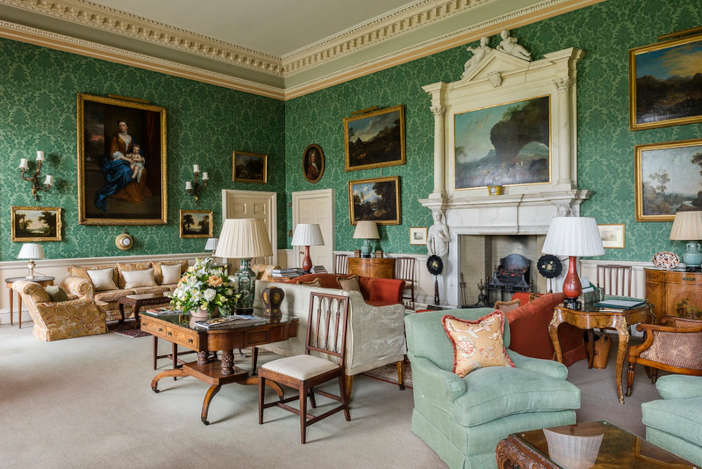 I was instantly transported back, not only to the days of my last romantic stay at Hartwell House with my husband when we were first courting, but to the time of the property's heyday the moment we entered our spectacular Royal Room, one of forty-eight rooms and suites. No.12 is an impressively proportioned bedchamber overlooking the leafy estate on two sides and lined with priceless antiques and fine art. Furthermore, I was wooed by the opulently draped four poster bed, marble fireplace, window seats, comfortable living area, a frilly dressing table where any French queen would happily powder her nose, and a mahogany desk with beautiful Hartwell House stationary to encourage guests to pen illicit love notes to slip under your lover's pillow as a romantic souvenir you certainly wouldn't find in a National Trust gift shop. Due to the feminine, French design of the room, with ornate gilded furniture, it didn't take much of a leap of the imagination to step into the 'court' shoes of the one-time resident of this room, Queen Marie Jospehine of Savoy (wife of Louis XVIII) who stayed here when she was in exile during the Napoleonic Wars. I say, if you have to be in exile anywhere, let it be at Hartwell House!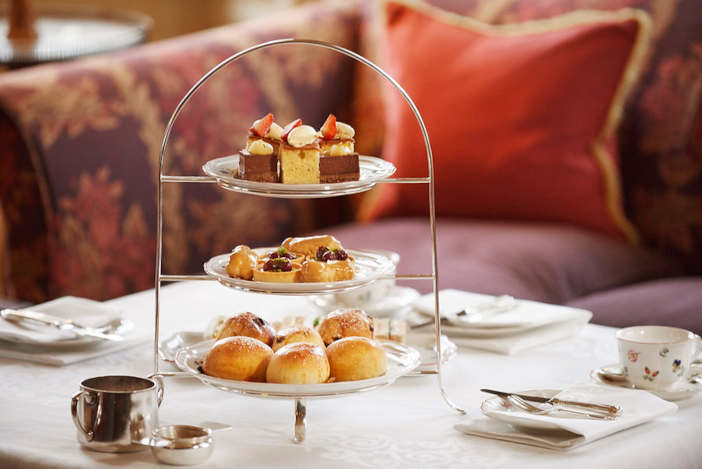 I do hope that the king and queen dined as well as we did, with an elegant afternoon tea awaiting us in the ornate Morning Room shortly after our arrival, followed (after a snooze in the four poster) by drinks and canapés in the Library, where Louis XVIII eventually signed his accession to return to the French throne. Dinner in Hartwell's 2 AA Rosette restaurant is certainly an opportunity to dine like a king, with Executive Head Chef Daniel Richardson having worked at many prestigious establishments including Michel Roux Jnr's Le Gavroche in Mayfair before he arrived here in 1994. Richardson's passion for Hartwell House is obvious from the fact that he decided to settle here and work his way up to the top job – years which allowed him to acquire a deep understanding of the local environment and producers, not to mention the desires of his discerning customers. As you would hope from such a beautiful countryside setting, the homegrown (many from Hartwell kitchen garden) and local ingredients are showcased throughout the menu, while Richardson's classical cookery style perfectly compliments the grandeur of Hartwell's dining room, where convex mirrors reflect all corners of the high-ceilinged candlelit room.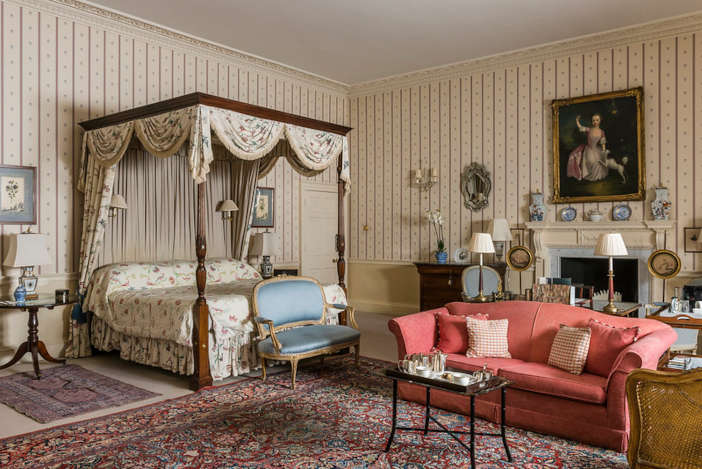 Some guests choose to spend their leisure time at nearby Bicester Village, a designer outlet, but those with a greater love of nature will either explore the Chiltern Hills or take advantage of Hartwell's supremely beautiful tree-lined walks, landscaped gardens and parkland, guaranteed to feed the soul. Formally designed in the 18th century by a contemporary of Capability Brown, the ninety acres of parkland features a romantic bridge over a lake and various follies and garden ornaments including picturesque temples, columns, an obelisk and statuary. Head Gardener, Richard Jones, who joined Hartwell House after working on the Waddesdon Estate, gives regular garden tours which offer an insight into his ambitious plans to restore the original 18th century parkland, whilst maintaining the existing landscape and gardens including the vegetable plots and orchard that ensure the kitchen is always supplied with the finest fresh produce. It really is wonderful to see that Hartwell House still functions in much the same way as when it was built, yet with far more guests able to enjoy it than originally intended.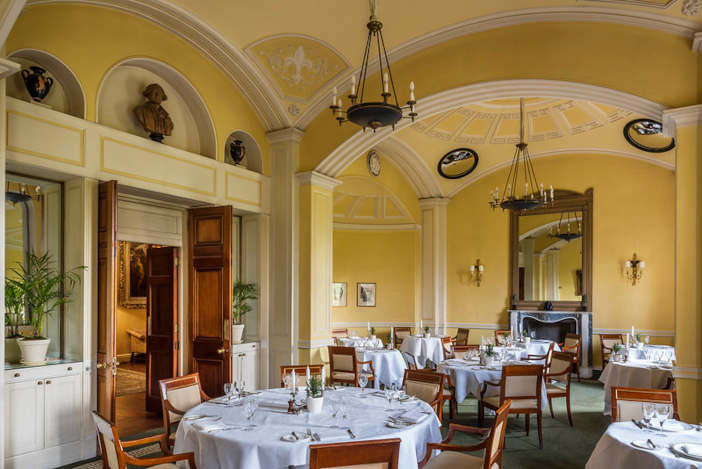 When you're in the midst of such a serene setting it's easy to forget that you're only forty miles northwest of London. To forget further, head to the Hartwell Spa located in a separate orangery designed in a Regency style, with an indoor heated swimming pool, spa bath, steam room, gym and treatment rooms offering a variety of restorative therapies by Aromatherapy Associates. The Hartwell Café and Bar, located in a pleasant gallery overlooking the pool, offers guests and members of the spa a complimentary selection of refreshments. You always know a wonderful hotel when you find yourself utterly torn about how to make the most of your stay, but fortunately there are no shortage of spectacular rooms in which to sit and ponder the question, writing in the visitor's book in block capitals "I heart Hartwell".
Hartwell House Hotel & Spa, Aylesbury, Buckinghamshire. For more information and reservations please visit the website.