Local gin, local pubs, local sausage and even localler honey. Lydia Manch goes native in North Devon…
There's a point about halfway to Highbullen when we're thinking about turning back.
363 days of the year, Highbullen's estate in North Devon is a brisk and pretty drive away. Near enough London to be easy weekending distance after work, far enough to feel that you've shaken off the city.
This Friday, though, it's been the coldest night in the UK for seven years. Amber warnings across southern England from the MET office. As somebody who's packed exclusively eveningwear, lingerie and Hobnobs for this weekend, it's a frosty dose of reality for me to find that Sam's quietly, stoically packed the boot with: blankets, a shovel, high-vis, bottled water, energy bars, an emergency radio.
So there's the risk that we'll get stuck circling endlessly around improbably beautiful, snowy country lanes. Cars have been abandoned in the middle of roads, halfway up hills. There's a post-apocalyptic vibe to the drive. And there's the risk that even if we make it to Highbullen, we'll be snowed in there. We've both wedged this weekend away in between two weeks of heavier-than-usual work, and the thought of being stuck in North Devon's rolling hills, a dreamy one at any other time of year, feels like cause for second thoughts.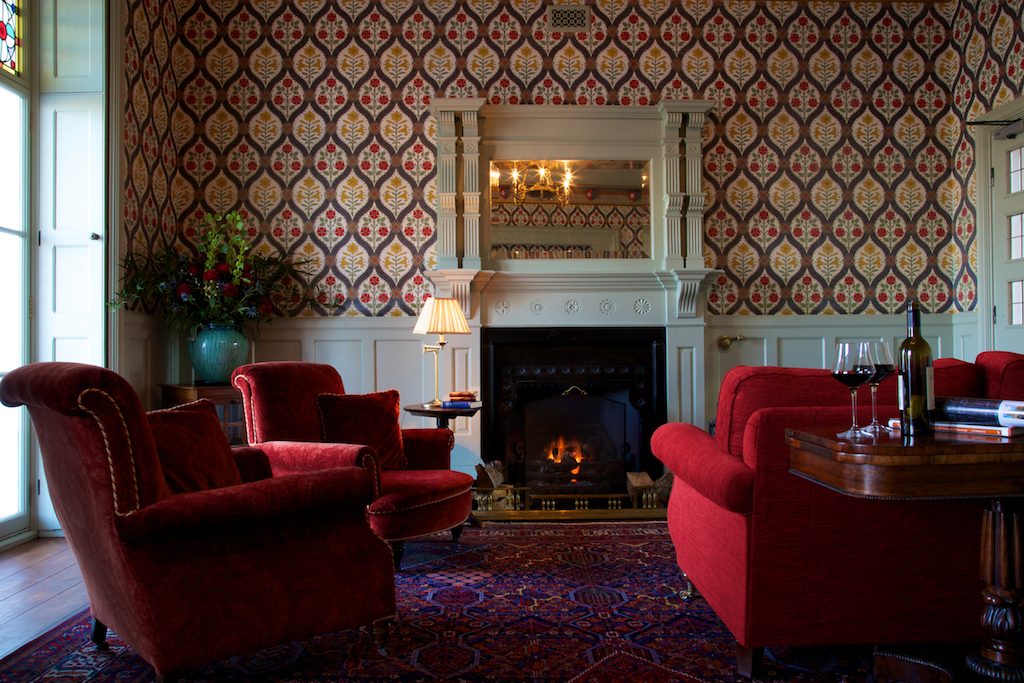 Thank Jesus for the Devon View Restaurant at Highbullen, waiting calmly for us at the end of the journey. It smooths away the chill with its elegant cocoon of a restaurant, a thick layer of snow outside, and inside the warmth of deep chairs and fireplaces everywhere, and terrines and lamb cannon and golden-roasted root vegetables and gravies the colour of deep chocolate. About four minutes after sitting down (*about two minutes after we find out just how sprawling, lovely and accessibly-priced the Highbullen wine cellar is), it feels like the six hours of channelling Ice Road Truckers was worth it.
There are plenty of recognisable, traditional luxuries scattering the hotel and our stay. That wine list, for a start, and the restaurant's cheeseboard. The public rooms, covered with chandeliers and crests and embossed wallpaper and deep, velvet sofas. Or our suite, ornate with four poster bed and golden latticing inlaid with turquoise wood, like a 70s Bond villain's guest room. But it's the quiet, less-vaunted ones that leave us most dazzled: the breakfast view nonchalantly smiting you with a panorama of snowy hilltops and bright skies when we walk into the dining room. The fireplaces peppered throughout the hotel, stoked high, late into the night, armchairs in front of all of them.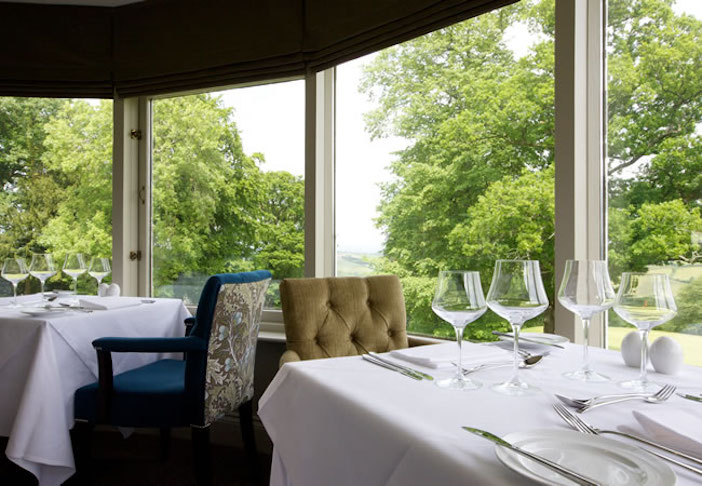 One of the major draws of Highbullen for non-golfers has to be the location, a short, hilly drive to some of the UK's loveliest beaches. Woolacombe and Ilfracombe are calling, with their beautiful, windswept stretches and world famous surf. Reportedly beautiful, anyway. But we don't make it to either beach. We barely make it out of the Highbullen estate. It's not something we can blame on the weather; by Saturday lunchtime the snow's starting to melt away. 
We also fail to hit the gym or the Highbullen ELEMIS Spa, for which I blame, in order: a frosty ten minute walk to Chittlehamholt, after which it seems wise to warm up in the Highbullen hot tub for 1-2 hours, and then the allure of the Highbullen's on-site temple to afternoon tea.
We're bracing ourselves for something a bit twee from the Laura Ashley Tea Room. Needlessly bracing ourselves, it turns out; better preparation would've been loosening every item of clothing and maybe sticking to just the one round of Full Devon breakfast a few hours earlier. There's not a hint of chintz in the Tea Room. There is, however: a hell of a lot of champagne flowing; stacks of cake everywhere; the same panoramic views (snowy hilltops, rolling hills, occasional golf flag poking out) as in the Devon View Restaurant; some truly magnificent scones; some cream that lives up to the way that cream teas feel like they should be better, somehow, when you head to the West Country. More like a pastel-coloured banqueting hall than the frilly Edwardian job we'd been prepared for.
And Saturday evening we've got big plans to leave the warm embrace of Highbullen.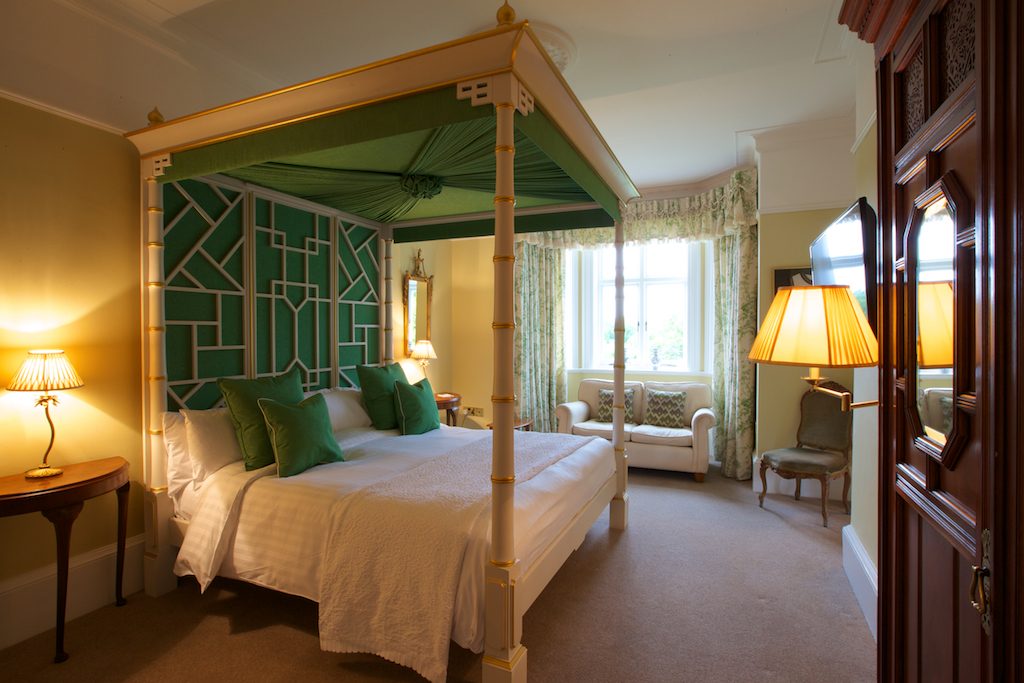 But baby, it's Arctic outside. And Highbullen's bar is a well-stocked tour of Devon – and if we're drinking Exmoor gin and Dartmoor tonic, isn't that nearly like we're exploring the county? As a stalling tactic, we take the billiards table for a gentle pre-dinner several-hour spin. The billiards room has seen better days – but hey, it's also surely seen better players. Our fond hope is that everybody walking back and forth the big windows from the bar beneath assumes we're playing game after game, instead of just the one slapstick marathon of incompetence. 
When we do eventually pry ourselves out of Highbullen, it's worth it. The Grove Inn in Kings Nympton's the platonic ideal of a village pub: crackling fireplaces (multiple), great beer and wine list (at North Devon village pub prices; if you're fresh from Zone 2 London drinking it feels like being quietly, elegantly trolled), and lovely, unflashy stews and scotch eggs that somehow make us hungry like we weren't still brushing off scone crumbs about three hours ago.
It's been a weekend of fireplaces and armchairs and hot tubs, of local gin and local pubs and localler honey. 
By the time Sunday morning rolls around, we're not dreading the idea of being snowed in for days to come anymore.
We're sort of hoping for it.
Manor House Feature Rooms start at £318 a night in spring for two people, including breakfast. Highbullen Hotel, Chittlehamholt, Umberleigh, Devon, EX37 9HD. Website.