Last week I had the misf-…occasion to go to the Costa Blanca. I know, I don't know what possessed me either. In many ways I should have known what I was letting myself in for. I'd seen ten minutes of the BBC's comedy 'Benidorm' – that was ten minutes too many – and, spotting its proximity on the map, a shiver of trepidation set in.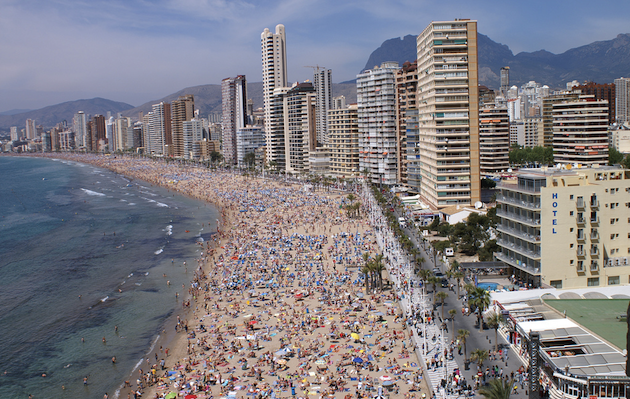 My misfortune began, predictably, at Gatwick airport when I joined the thirteen members of "Petes (sic.) Stag Do" in the check-in queue. I should add that this was not my means of going. I don't know Pete, nor the twelve other members of his testosterone-fuelled troop. Clad in tight-fitting pink T-shirts featuring an image of a naked man in a jacuzzi – whom I can only imagine was Pete better attired than on this occasion in his blue hot pants and lycra crop top (his friends' choice, I'm assuming) – and emblazoned with the call to arms 'We're on it till we vomit', these were our travel companions for the flight.
The first 24 hours saw Alicante in a depressed state. The people were depressed. The buildings were depressed. The fronds of the palm trees lining the seafront sagged, lacklustre. Even the sun was depressed, straining through a murky soup of cloud that didn't seem to be there as we came in to land. The residents shuffle and drag their feet, the buildings sigh, layered in grime and indifferent to the graffiti, their street level shop fronts fatigued, their signage past caring, in spite of much of those in the old town still proudly proclaiming this as a once significant city. A stray cat that passed me gave me a look of ambivalence and shuffled past, without even the effort of appealing for a scrap of food.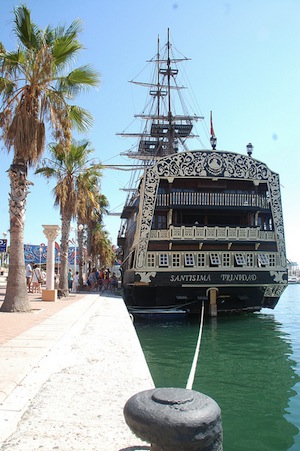 We caught a taxi from the airport to our hotel. As we approached the marina, I spotted a trio of tall masts which, as we neared (for they were opposite the hotel), formed the engine room of an impressive-looking replica galleon. "That is a restaurant," my driver told us. I raised an eyebrow with interest. "But it is very expensive and the food is very bad." Crikey, even the cab drivers barely bother with ambassadorial duties in this town.  He wheeled at the roundabout opposite the inevitable casino at the end of the marina and pulled up outside the Hotel Melia.
They say you can't judge a hotel by its lobby – well, they don't say that but it's a good hook – and it's true. Melia's lobby is clean, well-appointed and fastidious in design. Our room, however, is none of these; it's tired, the furniture sags and the blankets – yes, blankets – don't look like they've been changed in the hotel's 40 year history.
That 40 year history, I should add, came to me as I jogged the length of the beach's promenade that afternoon. Weaving amid Pete's cousins, tattooed and shirtless and strutting like they'd done something unmentionable in their shorts, I saw the hotel proudly announcing its heritage in massive signage across its top floor. It's a bit late, I thought. Forty years and you haven't changed a bit. In the floors below, netting disguised the construction underway. It was netting that was above our room, I noticed.
We ventured out for dinner, to the main street from the town centre to the seafront, the 'Rambla'. It was to be tapas, of course. But the sorry offerings that we sampled don't even bear mentioning: patatas bravas that were no more than sautéed potatoes doused in tomato ketchup, broad beans with ham that had been microwaved to a near-powder and chicken croquettes that were lucky if they'd seen a bird, let alone contain any. It was frightful. And it demotivated any appreciation of the lights, palms and fountains that would otherwise have not been too indelicate a dressing to the marina front as we walked back. That night, a cockroach scuttled across the bathroom floor.
But that wasn't the last straw. After all, you might half expect that in Thailand. The last straw came at ten to eight the next morning, the sound of relentless drilling from the floor above. All this and I still managed to feel guilty when I mentioned these to the front desk. We checked out that morning, having been due there for three nights. And I still felt like the one in the wrong when I guiltily accepted 10% off the rate in compensation.
That first 24 hours painted a bleak, bleak picture. Tripadvisor had the Melia in Alicante's Top Ten. Top Ten what? Buildings ear-marked for demolition? It rated it among the city's best hotels. In fact, I understand they're a reputable brand. Evidently their properties suit the cities they're in. I scrolled to the top of the list and I recognised the top entry immediately. Hospes. A small group of boutique Spanish hotels, even the name conjures up connotations of recuperation, salvation even, and here was one in Alicante; the Amerigo. I called, disguising the desperation in my voice. Fortunately, being early in high season, they had a room and within minutes of crossing the threshold our shoulders visibly relaxed.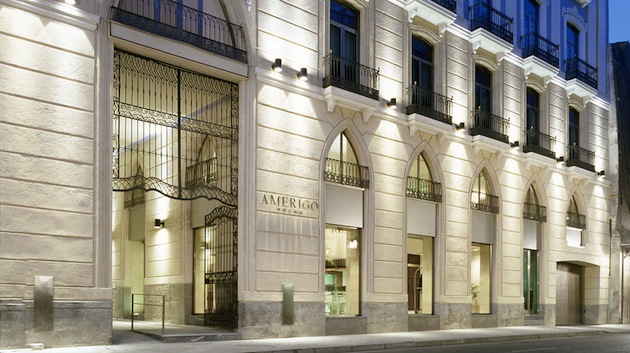 An atrium lobby, with modern lines and polished marble hewn from what was a Dominican monastery, its sanctuary was not lost on us as we sank into their shabby chic armchairs and sipped on a glass of honey-infused lemonade as we awaited our room. Outside, the sun peered through the ceiling-high windows from the street opposite.
This move marked a sea-change in the visit. We gave the beach a second go and I noticed a distinct lack of Pete and his cousins. Rather, baked Spaniards played volleyball in the sand, the colour of which had become a warm yellow from the muddy silt it seemed to be the day before. My imagined 'egg and chips' eateries along the waterfront were non-existent. Instead, awnings covered tables where couples sipped cocktails. A wander round town revealed some proud heritage; gleaming limestone churches and courtyards opposite tastefully cut new-builds, including the modern art museum – worth a look for its works on Spanish abstract alone – and, above it all, the massive 11th century Moorish fortress. As we wandered, beached and imbibed I noticed, too, how few English voices there were, at least those beyond calmer, older couples. This was a Spanish seaside town. The gateway to the 'costa' its airport may be, it seems Alicante's sleepiness – and lack of egg and chips – moves Pete and his pals up the coast to Benidorm as soon as they arrive, keeping Alicante as it should be: 'Madrid's Beach'.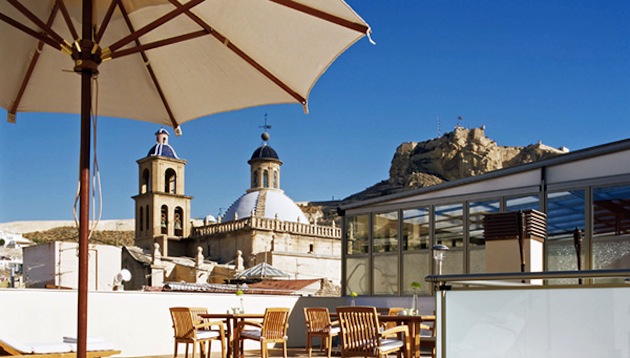 As the sun sank on our second day, it too had smiled on us, as had the town. We dined at Monastrell, the signature restaurant of Maria Jose San Roman, the 'Saffron Queen', and the next day at her sister eatery round the corner for some spectacular tapas. Having stayed, it felt like we'd passed a test; a conspiratorial attempt by everything and everyone to move the Brits – at least those of us clamouring for chips – up the costa. 'You won't like it here', they said, 'pop on up the coast, it's more your thing'. And, once out of the way, the shuffling facade is peeled away and the real town springs to life.
It's certainly helped by the Hospes. Admittedly, it's not without its limitations; the wi-fi keeps dropping out, the art's a token gesture, the pool's not worth mentioning and they could use another waitress at breakfast – one poor rushed-off-her-feet woman was tending to a dozen tables all bleating for more coffee – but the pluses far outweigh these trifles. The warmth of the staff, the unfussy, spacious rooms with high ceilings and balconies that embrace the action outside, the double showers and Korres consumables, and the joys of a pitch perfect bed are easy to see why this is leagues above its competitors in the area.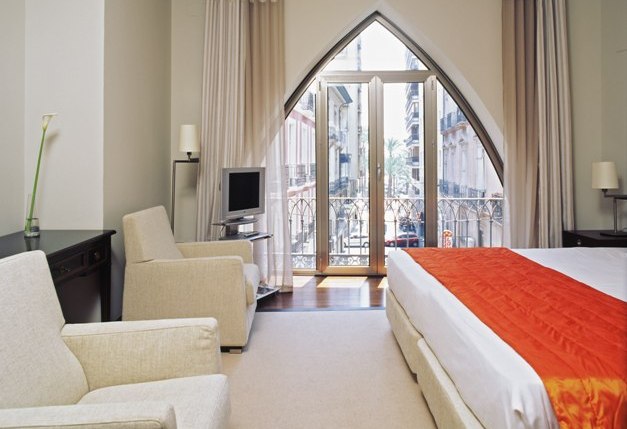 I could have sworn we caught the same taxi back to the airport, and I asked the cabbie what he thought of the British, "We love the British!" he said gleefully. It's good to see the famous Spanish sarcasm in full flight. But he may have been right. He didn't have to handle Pete and his merry men. Here in Alicante those Brits that decide to stay tend to be aware of and avoid those others that give us the reputation. It's refreshing to come to a 'costa' and not see wall to wall 'pubs', 'egg and chips' and stag parties – they wouldn't like it anyway. Those of us that come here paint a prettier picture. You just need to stay longer than 24 hours to appreciate it.