In spite of the AWOL sun and the bustling clouds – a very British welcome to the South of France – the first thing you notice on arriving at the famed Byblos hotel, St Tropez is the bellhops' gleaming white teeth and unforced smiles that complement their beige cotton pinstriped suits. Smart but relaxed, the scene is set and an idea immediately sold; this is a great place to be.
The exotic hanging garden, the size of a tennis court, punctuated with red and purple flowers, is casually breath-taking, and the lipstick red Ferrari parked on the drop-off curb looks like an over the top publicity stunt to remind guests of how special their stay is about to be.
For such a deceptively large space, the reception ceiling is surprisingly low but the warmth continues to emanate, still not from the sun but from the reception staff; all very happy to see us. Further into the hotel you go, down some stairs, past more of an art shop than a gallery, with mini day glow, balloon-knotted Koons, a couple of Banksy's, not prints but originals on cardboard and what look like Damien Hirst skulls but actually aren't. Opposite is a small but pristine, wall-hung cabinet selling LA rockstar Chrome Hearts sunglasses, and then outside, an empty sunbathing area with azure pool, a mean reminder of the contrary sky.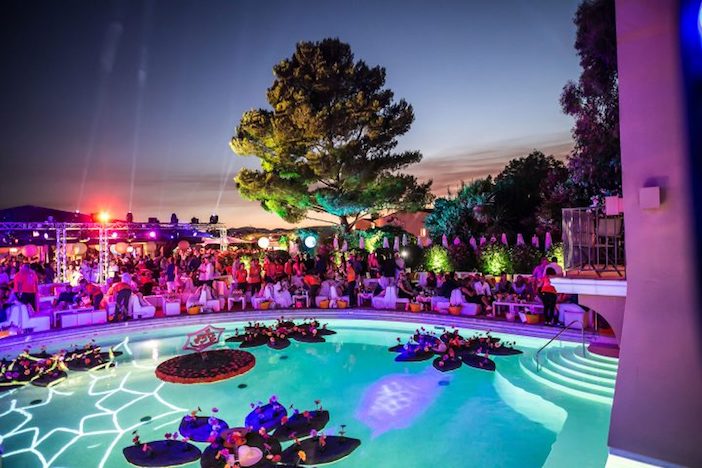 Radiohead creeps out of Restaurant B's unobtrusive sound system and an older guest (leather trousers, leather face, scraggly hair, Johnny Halliday's not-so-handsome nephew) suggests, just by being there, by looking like he does, that there might be more to this luxury hideaway than meets the casual eye. And as if to prove a final point, in the suite, bright, white and light blue everywhere, ceramic faux wooden stripped floor, all cool touches for a balmy climate, a Byblos Group magazine lies proudly on the suite's coffee table. It's front cover? Globe-trotting sable-clad Sexagenarians, U2.
Byblos wants to be Rock and Roll. Is Rock and Roll. And has the DNA of Rock and Roll. Not the grimy, sweaty, spittle and sawdust type found in skanky basements with desperados struggling to make their intoxicated voices intoxicating but the world-dominating, brand-baiting, empire-grabbing stadium type, the best of the best, the rags to riches creators of the songs that form the soundtracks to our lives.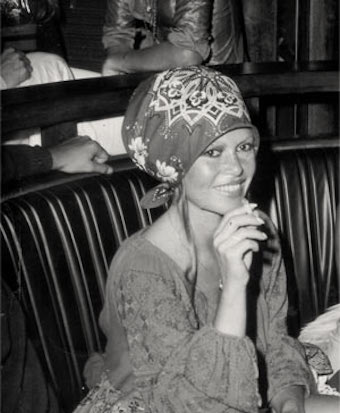 It wouldn't be unfair to say, in fact, that this Byblos city was built on Rock and Roll. Or at least Brigitte Bardot, which is pretty much the same thing; a global superstar in her prime.
During 1955 she filmed And God Created Woman in the then unknown village of St Tropez, putting it on the map and inspiring a Lebanese/French businessman, Jean-Prosper Gay-Para, to build the hotel in an attempt to woo her. Note to any other budding romantic entrepreneurs out there: hotels take years to plan, design and build and there may be a more immediate way to seduce the lady (or gentleman) of your dreams.
Twelve years later, Gay-Para did not end up with BB but an impressive (non) booby prize; the marvel that is Byblos. It was only four years later that its reputation was well and truly sealed in the global Je Ne Sais Quoi arena when Mick married Bianca, stayed in the hotel's largest suite and threw a party at the now (in)famous hotel club Les Caves du Roy. Other guests? Well, the Rolling Stones, of course, and half the Beatles (McCartney and Starr), Julie Christie, Roger Vadim, etc etc. The then Mrs Jagger was later to say "My marriage ended on my wedding day", but maybe if they'd never left the Byblos, their honeymoon would have carried on forever.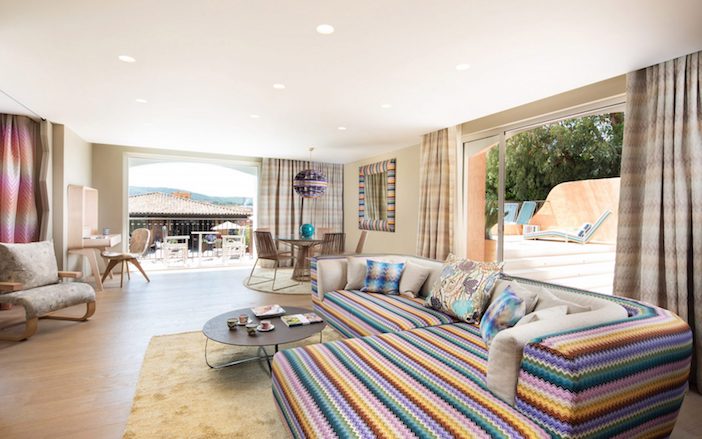 Their suite is very much still intact today (and overlooks the swimming pool) but to celebrate the hotel's 50th birthday a few years ago, its name changed to the Missoni suite, having been re-decorated by Rosita Missoni and her team. At 180sq metres, the three main rooms are defined by a barrage of happy multicoloured zig-zags, breezy and bright, with an Op art type bedspread in its main chamber that could have been a work by Bridget Riley if she'd ever ventured into such territory. Since then, the hotel has become a haven for the rich and famous, film stars and musicians, from Grace Jones to Jack Nicholson, Lady Gaga to George Clooney, all the usual mega-magnificent multi-millionaire superstars.
The prices reflect this, not only in the rooms but maybe even more so in the restaurants – with club sandwiches tickling 40 Euros and burgers just in excess thereof. The cheapest marguerita pizza comes in just under 30. This, of course, is small change for your average globally known Rock n Rolla and, in all fairness, three out of the four meals I ate were top notch. Inventive, exuberant, bursting with flavour, proudly presented and all sustainably sourced from either the hotel's own gardens or from nearby farms or seas. A personal favourite was the starter at the B restaurant – chunks of lobster on top of slices of orange, infused with a subtle seafood flavouring and adorned with small slices of black olive and basil leaf.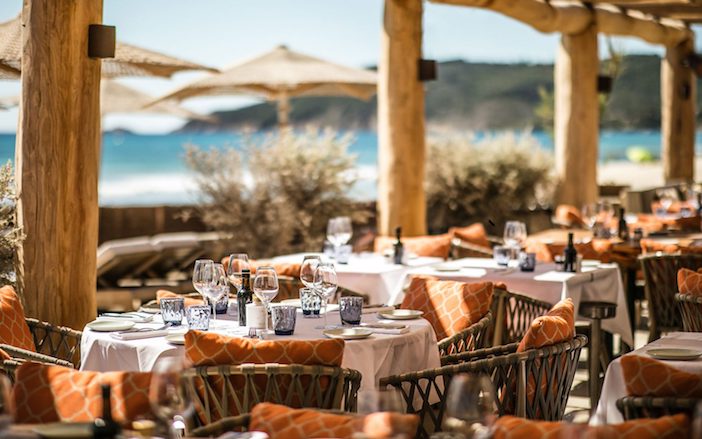 The Ramatuelle is the hotel's newest glittering jewel in its star-studded crown; a newly constructed beach club made entirely of wood so new you can still smell it, the hulls of old sailing ships its inspiration. Neatly fitting into a sandy and stunning bay, the not-so-soothing but crashing Mediterranean in front, green vegetation to the sides, this is the perfect location to wear those Chrome Hearts and eat and drink yourself silly (but not too silly) or just luxuriate on one of the hundred softly padded beach loungers.
The place you want to save the real silliness for is Les Caves Du Roy nightclub, also redesigned on the hotel's 50th birthday by Francois Rossard, the designer of the Ramatuelle. Managing to be familiar yet funky, more of a reassuring old friend than a dynamic new one, it doesn't open until midnight and so continues until a Gallic 5am. The crowd ranged from glamorous grannies who probably wished they didn't know better to underage teenagers who wished they did. The occasional sequin glimmered, and dry ice surprised as a naturalistic crowd danced to modern house disco beats with the occasional burst of the perennially popular Queen or Eurythmics.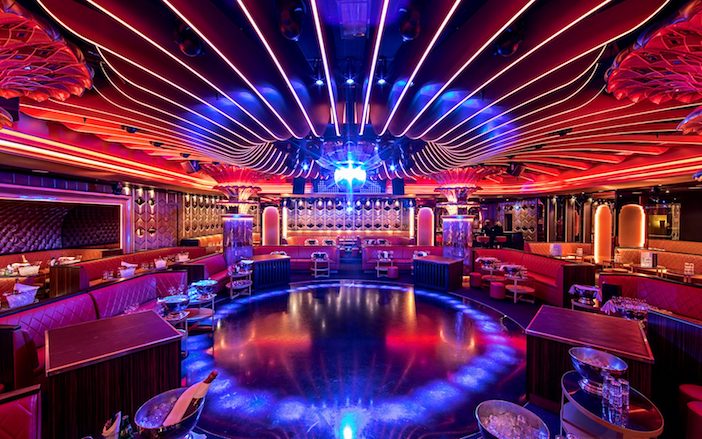 And, if you do happen to find yourself with Bono, The Edge, Beyonce or Leonardo, you can point them to the unique menu where they can order 100 bottles of champagne for 50,000 Euros. At 500 Euros a bottle, this doesn't seem so steep but must surely be for that special person either with very short sight or very many friends. Or quite possibly both. Apparently in one night in 2009, the club sold a staggering 2million Euros worth of champagne; hopefully the sparklers didn't fizzle out.
In spite of all this mouth-to-mouth-grinning opulence which, actually, in this charming village doesn't seem smug, just quotidian, just a shoulder shrugging c'est la vie, my favourite moment was a little thing that will probably pass most guests by. After the food, the swimming, the sunning, the star-gazing, the dancing, the exhaustion of it all that relaxing, it's worth taking a discreet trip to the spa, which offers most things that most spas offer. But. In between the massage rooms and the steam rooms is a shower room. I'd almost call it a wow-er room.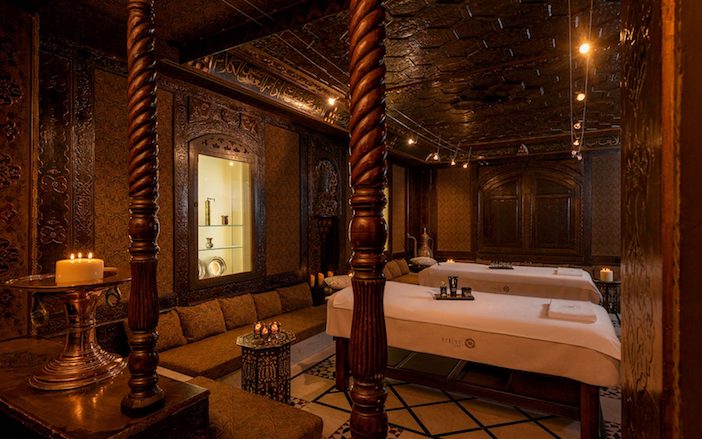 One shower with three buttons; Tropical, Mediterranean and St Tropez Fun. With chirping bird noises, the Tropical starts off with a light drizzle and green/red ambient lighting and then a more energetic shower fall. The Mediterranean starts sporadically with thunder strike audio and flashing white lights before a stronger more constant rainfall. But it's the St Tropez Fun that really takes the Michelin biscuit and produced screams of delight from the woman before me and extraneous guffaws of shock and pleasure from yours truly.
A sultry and soulful Barry White type voice serenades, welcoming you to St Tropez as high energy disco house pumps away, the shower lights pulsating in time to the rhythm for a good thirty seconds before someone suddenly throws a freezing bucket of water over you. In a nightclub!? Or that's what it feels like anyway, such is the immersive experience. The speakers sound muffled like they too have been drenched. Cue hysterical shrieks of laughter and, as the label says, unexpected St Tropez Fun. Amuse-Bouche anyone? Well, yes, I'd love one, thanks. but I think I'll go with the Amuse-Douche.
It's only Rock and Roll, but I like it!
Hotel Byblos, 20 Avenue Paul Signac, Saint-Tropez. Prices start at €480 for a Classic Double Room, which includes breakfast. For more information, including details of events and special packages, visit www.byblos.com.