Croatia's five-star boutique Hotel Monte Mulini was quite an understated first sight for this shamefully quick to judge traveller. A momentary opinion, thankfully, swiftly dispelled by the view that filled my eyes as I walked past the concrete-heavy façade into the reception. An audible gasp escaped and my pupils widened with arousal as a three-floor wall of glass, through which scenes straight out of a Bond film with speedboats and turquoise sea props to boot, unfolded before me.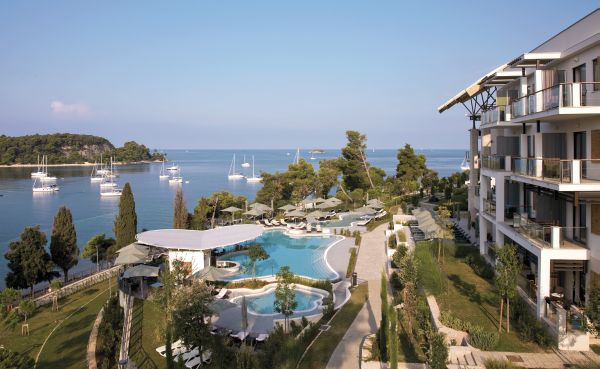 No baddies here though, or martinis for that matter. The only things to be hunted on this trip were black and white truffles, shaven and stirred-in to all manner of bites, even ice cream. And the drink of choice, largely malvazija, the native white grape, happily supped any which way it came – mixed with pinot noir and chardonnay to champagne-like effects or straight up, young and fruity. Unlike a certain sharp-suited secret agent, my fellow trippers and I were a far from fastidious bunch…
Our taste buds were ravished on more occasions than Pussy Galore, Plenty O'Toole and Holly Goodhead put together, and as usually happens with this hopeless foodie romantic, it was love at first bite. From the comfortable confines of our base Monte Mulini, the group's mission was to discover Istria's food and wine offerings, with the tasting assistance of vino master Tom 'WineChap' Harrow; a task we powered through to successful completion. M would be proud.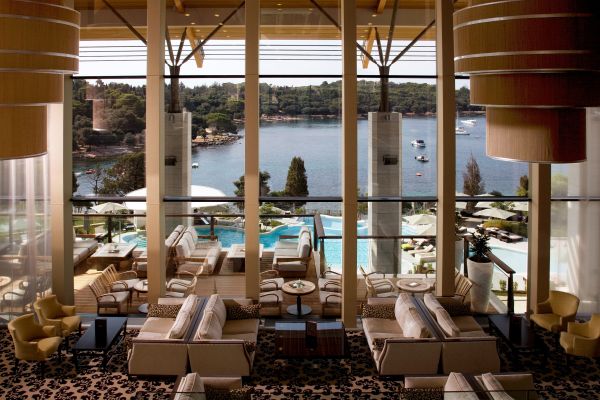 The long weekend's gastro-proceedings kicked off with a fizzy flute of Misal on the sun drenched terrace, handed to us by a tall dark stranger, moments after that powerful entrance. One of many delicious Croatians devoured over the three days. The region's been producing wines since Ancient Greece, so why on earth they aren't taking up more space on Britain's supermarket shelves, I don't know. From the native red terans we sampled, which had a soft vanilla body to rival a good merlot, to the orange-hued biodynamic malvazijas – floral and tasty, made for lazy, cheeseboard-accompanied afternoons – there are many hoard-worthy bins to be had in this land.
'The New Zealand of European wine regions,' says Wine Chap of Croatia, in that unlike what other areas have fallen foul of, they don't make bad wines to sell commercially. 'Always drink what the locals make, not what they drink,' he adds wisely, with a tilt and a sniff. Even the notorious paint stripper of a spirit, grappa, is good here. And the sweet wines, made from Muscat grapes and dried in wooden boxes in attics, are mighty fine dessert tipples.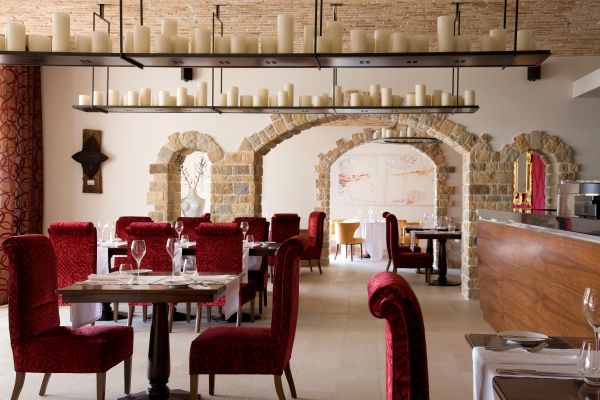 With 90% of the hotel's 600-strong tome of a wine list dedicated to Croatian labels, those wishing to explore the fruits of the region should make a beeline for the basement Wine Vault, where they serve up a beautifully executed French-Mediterranean menu and champion the importance of pairing food and wine to perfection.
Monte Mulini's Leading Hotels of the World status, as of June 2012, matches the award-worthy immediate landscape of the Golden Cape hillside which the hotel is built into and surrounding cypress and fir filled Zlatni Rt Park Forest. Tucked around the corner, sits the photogenic main city, close enough to stroll to in heels, but far enough to feel like you're staying on a private piece of the island. And the surrounding Adriatic sea boasts some of the cleanest and inviting waters I've witnessed on my worldly travels, with an abundance of plant life and secluded rocky coves to please naturalists and naturists alike; the latter casually mooning to us as we travelled by boat along the estuary to Lim Fjord one morning, in search of some freshly netted oysters and a cool glass of, you guessed it, malvazija. With water so pure and warm, it seems wrong to swim in anything other than one's birthday suit, so I can see the attraction.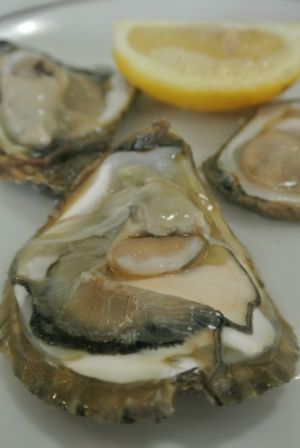 For gastronomes, just a short drive from the hotel there are all manner of Istrian wineries to visit and local products to discover. In Livade, an area famed for the discovery of the world's largest truffle in 2000, we joined a seasoned hunter and his dogs to search for our own and, to much excitement, stumbled upon a golf ball of a black truffle less than five minutes in. After many attempts to photograph our findings in the dark and quite enough traipsing through the forest in unsuitable shoes, we headed to the warm haven of nearby Restaurant Zigante where four courses of truffle-filled heaven were laid out before us; taste buds no doubt heightened by our successful woodland jaunt.
Another morning brought olive oil tasting at Chiavalon in Vodnjan – family-run producers of exquisitely smooth peppery oils made to be soaked up with warm bread and eaten in unacceptably gluttonous proportions. The afternoon, wine tasting and tours of Roxanich and Trepan, and a paired down, authentic meal at one of the region's popular konobas (translation: tavern). For a real taste of local life and cuisine, these are the places to seek. Konoba Milan, home to the biggest room of hanging proscuitto I've seen, introduced us to simple homely dishes, offering a relaxed contrast to the haute cuisine we enjoyed elsewhere on the trip. All recommended additions to Istrian foodie trip itineraries.
But rather than gallivanting around the region you could, you know, just stay in and soak up Monte Mulini's immediate offerings. I wouldn't blame you. They had me at the welcome dish of dried figs and chocolate covered nuts in my room, whereas the balcony views – something all 113 rooms boast – a massive just-the-right-soft/hard-ratio bed and velvet chaise lounge, kept me comfortable and switched into vacation mode for the duration. The communal areas, doused in specially-commissioned art, ranging from punchy abstract oil paintings and surrealist Murano glass light fixtures, to a gargantuan gold sofa at the spa entrance, also equate to surroundings that are simultaneously soothing and invigorating.
I lost a morning and half a paperback to my suntrap of a balcony, and if an 11am meet to go to the aforementioned olive oil tasting hadn't beckoned me, I'd quite possibly have spent the rest of the day there, looking up periodically to absorb the tireless sparkling views and ordering room service if I got peckish.
If you do choose the lazy option, I recommend you go the whole hog and allocate at least an hour and a half to breakfast each day – drag yourself down to the royal spread of a buffet on that first morning and you'll see what I mean. The Art Wellness Spa too, if only to lounge in the sauna and sip chamomile tea in the colour-changing relaxation room – although the vinotherapy facial (yes people, I even wined and dined my face!) is worth a booking if you fancy an indulgent hour of glow-giving massage and masks. Rent out one of the hotel bikes and cycle leisurely until you find a quiet cove to bathe in – naked or not – and then head back to the lounge bar for an Aperol Spritz aperitif. In short, do all of the things I desperately want to be back there doing right this minute. Go on. After all, you only live once twice…
View Hotel Info, Rates & Availability
Just announced: For the first time in its history, the Red Bull Air Race World Championship will bring an adrenaline-fuelled spectacle to Rovinj, from 12th to 13th April 2014, and Hotel Monte Mulini is offering  a two-night package, including front-row Race Club VIP tickets to enjoy the event in style.
Race Club guests will be treated to unrivalled views of the competition and luxury hospitality in an exclusive setting, as the world's best race pilots, including British World Champion Paul Bonhomme, fly between 15 and 25 metres above the sea, at speeds of up to 370kph.
Hotel Monte Mulini package:
A two-night package for two adults sharing a double room at Hotel Monte Mulini, a member of The Leading Hotels of the World, includes breakfast, unlimited use of the spa, access to the Race Club VIP zone, and transport to the event area. Prices start at €1440 (per couple) and the package is available from 11-14 April 2014.