With the winter 'season' well under way, Lydia Manch takes a trip to a Dolomites hotel offering a slice of Slim Aarons life…
Italian friends – more southerly ones, with no pro-Dolomites agenda – tell me nothing compares to the Dolomites. They tell me to prepare to be dazzled.
After two years of not nearly enough snow in my life, I'm liable to be dazzled by any mountain range. The Dolomites are something else, though.
Part of that's down to the enrosadira – Ladin for 'the blushing'. At sunrise and sunset the Dolomites do a very literal glow-up, the mountains turning pinkish red, deepening into violet. Something to do with the high presence of magnesium carbonate in the rocks, or, according to local folklore, the work of a Ladin prince and a magic goblin. Opinion's divided. But the surreal loveliness of the mountains here, that's a fact. This is a mountain range that Corbusier famously said was the most beautiful architecture in the world.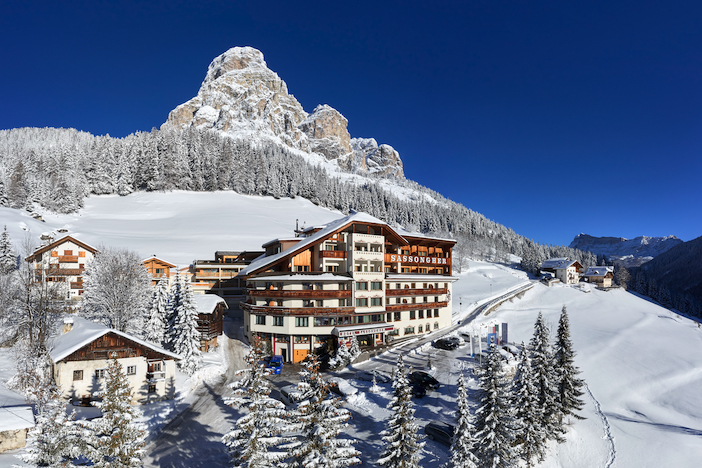 Hotel Sassongher, then, could get away with being just okay and still leave visitors enchanted. The location's already doing so much heavy lifting. Tucked into the side of the mountain it's named for, nested just a bit above the valley of Corvara, the Sassongher's in a crazily beautiful setting – and the hotel leans in hard.
All of the rooms from standard double to suites have balconies – big ones, running the length of the rooms, and all with mountain views. Evening sees my balcony bright with the pale radiance of the peaks. Morning sees a little group of deer grazing casually a few metres below my bedroom. Kind of idyllic, is what I'm saying. 
You know, idyllic if you're into being in the centre of the largest ski area in the world – the Dolomiti Superski; 1200km of slopes, 450 lifts, 16 resorts, with some of the longest continuous runs in Europe – all tethered together by one skipass. Kind of dazzling, if scaling sheer rockfaces on the highest concentration of via ferratas in the world sounds dazzling to you.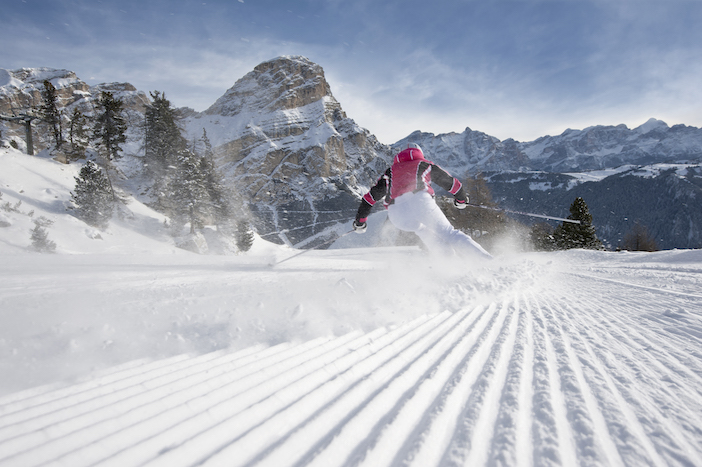 Or if you're into ice climbing on frozen waterfalls, or snowshoeing treks that wind you through forests and slopes that'd be inaccessible to all but the best skiiers, steering you from one craggily beautiful mountain osteria to another. More crosscountry circuits than you can shake a ski pole at. And more recently, Alta Badia's started running Biathlon sessions, if you feel like a shot at Milano-Cortina 2026. 
All of those reasons to be dazzled by the Dolomites are giving Hotel Sassongher no particular need to be as nice as it is. But it is. It's that stereotypical idea Brits have of Italian hospitality, made very real and dialled up even further: warm welcomes, huge beds, perilously generous breakfast buffets, expansive four-course dinners, passionately enthusiastic bartenders – and a lot of pride in the region and the Ladin traditions, that seeps through into the decor, the wine list and the menus.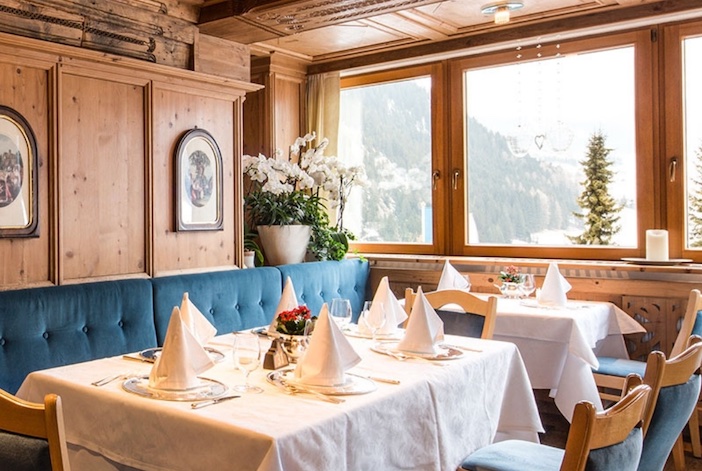 The food's a holy matrimony of all the things you want on an Italian mountain holiday: carbs, ragu, a no-tomorrows approach to how many courses a meal should have, and how many of them in a row should be pasta. The restaurant spaces in the hotel range from the more formal dining room to the small, wooden-panelled Stube restaurants – a take on the traditional mountain dining rooms of the region that, at Hotel Sassongher, crams the original 16th century panelling and carvings with a nicely chaotic mix of flourishes: big crucifixes jostle for wall space with twenty deer skulls and art in gilded frames and old school porcelain dolls. It's a look that plays out around the hotel, that for a lack of a dedicated Aesthetics Wiki I'm going to call mountain maximalism: corridors lined with wolfskins and shag carpets and heavy carved antiques.
It's hard to put an age on the hotel, owned by the Pescosta family for just under a century. It's had a lot of updates over that time – but loving ones, that haven't erased the hotel's history so much as just layering newer flourishes on top. The end result feels like a palimpsest of whatever five star luxury meant in any given era: running from the bar downstairs, with its pianist and big booths and gentle Ratpack vibes, through to a rooftop hot tub fringed with mountain views that could have been lifted straight out of the Slim Aarons archive, and a spa and massage clinic that's all Scandi simplicity and textural richness.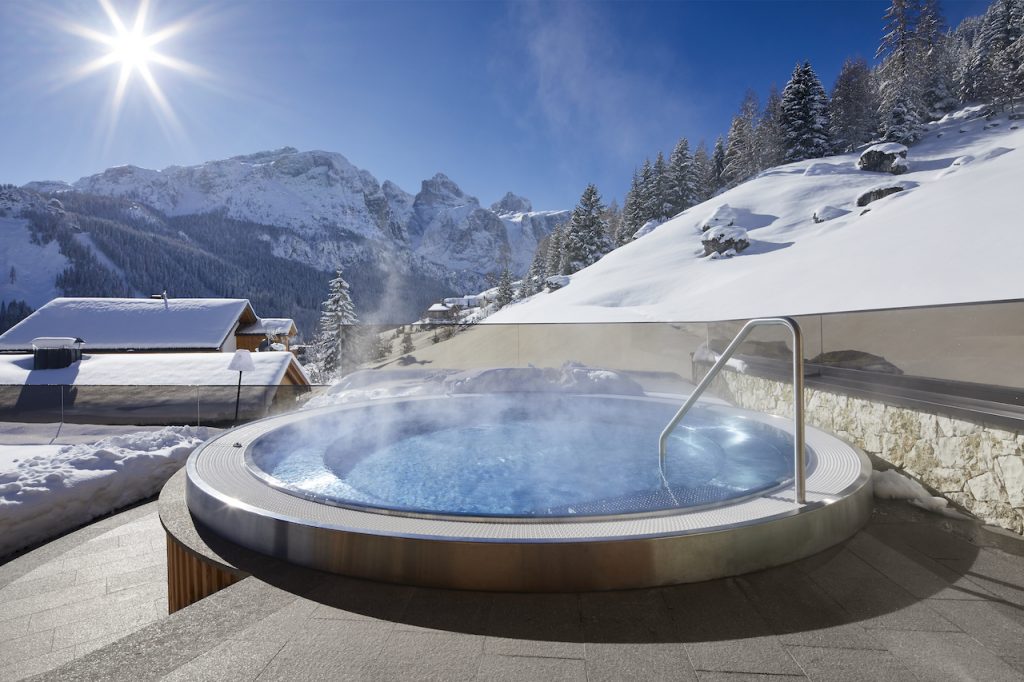 We spend the days on the slopes, making a tiny dent in the Dolomiti Superski's expanse of lifts and mountains, and a significantly larger dent in the mountain restaurants' supplies of cheese and South Tyrolean wines. We spend the evenings listening to fifties swing curling through the piano bar, eating spätzle and mozzarella and venison stew in a warm alcove of the Stube, getting ferociously, perfectly punishing vervain oil massages in the wellness rooms, and nightcapping on the balcony, lit by the moonlight glancing off the snow. 
And it gets very, very easy to see why Hotel Sassongher's thrived for so many decades. 
British Airways flies from London Heathrow to Venice Marco Polo airport, which is a three hour drive from Corvara. Other flight options include London Stansted to Innsbruck in Austria with Easyjet, and a new Sky Alps route planned to start this year from London Gatwick to Bolzano. Rooms at Hotel Sassongher start from EUR 280 per person per night, including half board. For more information, visit www.sassongher.it.