Six horses and four hours travel is what people once endured to bathe in the thermal radon-rich springs of Bad Gastein, a spa town at the head of Austria's Gastein valley. Fast forward to the 21st century and a considerably smoother flight to Salzburg and an hour-long, picturesque drive south is all it takes to get there.
The journey takes us through the mountains, literally; tunnel after mountain-drilling tunnel, popping out the other side to spy broken glimpses of forest, streams, and alpine peaks forming silhouettes that take on characters in the afternoon haze, like the head of a bearded Viking spotted just before approaching the first of the region's trio of towns, Dorfgastein. Finally, after passing through the second, Bad Hofgastein, we reach Bad Gastein and wind carefully through the narrow streets, up and up, round and round, passing pole-wielding walkers here and there, wondering which one of the buildings is our hotel. Neither it transpires, as we continue further up and back on to a tree-lined road, past a giant gold-painted picture frame perched on the edge of a narrow curve, through which the town's Belle Époque beauty and the surrounding Hohe Tauern National Park, Austria's largest, can be sufficiently absorbed and photographed. The grand Hotel Weismyr taking centre stage as it has done since the late 19th century when tourism first found these parts.
Five minutes of more of the same and we arrive at Gruner Baum, the sprawling four-star, Blumschein-family run, spa hotel village oozing Bavarian charm, set in 78 acres of curvaceous Kotschach Valley; grass so perfectly green it looks like something invented by Playmobil. Surrounded by tall pine covered mountains, shrouded like Gorillas in the Mist, with a sign of pending autumn revealed in the copper leaves, and snow up on the highest peaks hinting that the winter season is almost upon us; the area will soon be full of piste-seekers. But for now, the cloudless sky is bluer than Paul Hollywood's eyes and a last hint of summer is felt in the gentle warm breeze; perfect conditions for our weekend alpine escape.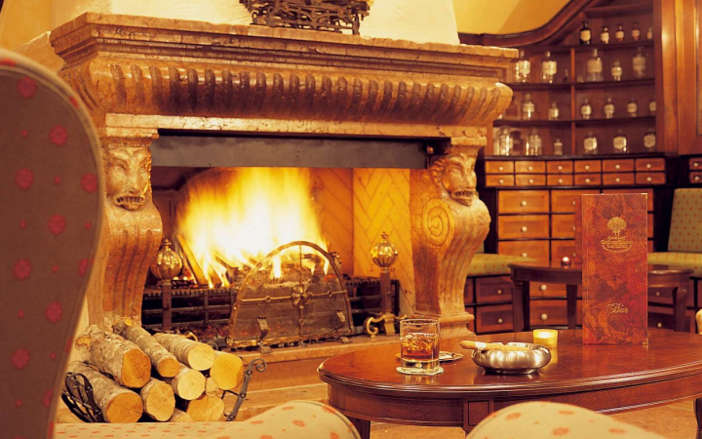 We're handed a hefty wooden-fobbed key and directed to Haus Lindy across the way from the main building, where rooms are fairy tale cottage cosy with parquet floors, solid wood beds and floral curtains; feather duvets and pillows in soft, grandma's house crisp, white cotton. Degas's The Dancing Class hangs on the wall of ours, number 38 aka 'Maria Worth', complimented by a beautifully painted antique wardrobe that looks like it harks from the same era.
After an afternoon of unwinding with a book, comforted by the Gruner Baum soundtrack: rush of river, bleating of sheep and a dull clonking of cow bells, we head to the main building for a buffet dinner in the Panorama Restaurant, so called for its views of the resort and beyond. Proper hearty fare: leg of veal, blood sausage; trout wrapped in cabbage, so good I want the recipe; something with sliced cucumber that took it to another level; an array of moreish cheeses and criminally good fresh bread; pear strudel and custard to completely finish us off, and red wine from Vienna way, rich and delicious. Much of it organic; in fact, by May 2014, the hotel will be well on its way to becoming the Gastein valley's first entirely organic hotel (Salzburg's third), with all consumables, right down to the salt and pepper, meeting the strict Austria Bio Garantie guidelines. The final phase completes in January 2015, when all cleaning products and electricity will be green.
Breakfast tempts with similar scale. Food to fuel the lengthy walks the majority of guests looked ready-dressed to be embarking on, though not necessarily needed for our comparatively lazy day plans. First stop, Gasteiner Hellstollen, or 'Cure Gallery', the town's world-famous healing caves, which boast a 90% success rate of eradicating a multitude of ailments, from joint pain to psoriasis. It's a hit with the locals and has attracted people from far and wide, since 1952, with around 10,000 a year taking the trip underground on the promise of restored vitality. After a brief consultation with a physician, we change in to swimwear and robes and join a queue to our prescribed train.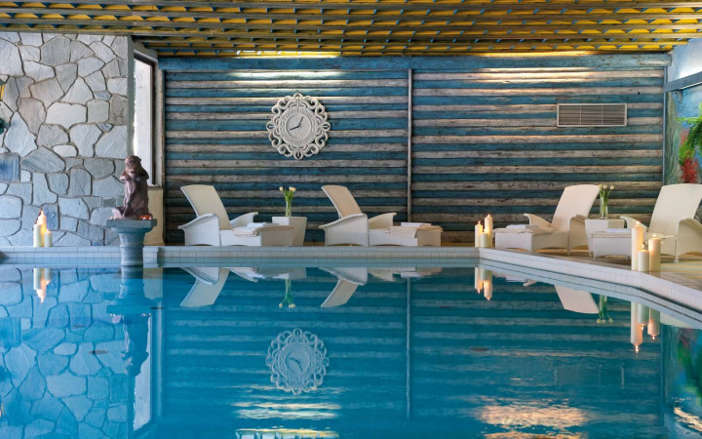 Sitting knee to knee, surrounded by people in varying states of old age, we descend the two kilometres below ground, the air getting gradually hotter and more humid; a familiar dankness that takes me back to a primary school trip to Dolgellau Gold Mines. Silence is interrupted only by heavy wheezing and the screech of old tracks, and I focus, eyes closed, on long, concentrated breaths, until my high school German tells us we've reached our stop. The men and women split up into their respective caves to take up one of the wall-side beds, peel off robes and lie back to sweat in the 38 degree heat and 80% humidity. After the bizarreness of the situation subsides, it's so relaxing I drift off for the duration, stirring groggily at the alarm that indicates it time to get back on the train.
The perfect blue sky, blissfully fresh air and a smiling Florian Blumschein, our ever-jolly drive for the duration, greets us as we exit, ready and waiting to whisk us off to Dorfgastein for the second activity of the day, tandem paragliding. A cable car glides us 1200 metres up where the beauty of the region can be properly appreciated and the awesome views include the mighty Grossglockner, Austria's highest mountain at 3798m. Enjoyed over a coffee at the café would have been fun enough, but strapped into a harness with instructor Lois Grugger, running down a slope and taking off to explore the vicinity from a bird's eye view, was something else entirely. Fear quickly turned to ear to ear grin as we interchanged smooth gliding sweeps with, rollercoaster twists and turns, taking in the sights for almost an hour, before landing smoothly back down by the cable car station.
After the Cure Gallery experience, we continued to absorb more radon in three days, than in our lifetime, soaked up in the spa and through drinking water, and returned clearer-minded for it. Rather than the usual after lunch slump, I wanted to, and did, run up the mountain path I'd viewed from the table. Being in Austria does that to you, or the radon, perhaps. An urge to keep looking out the window or heading out to explore the vicinity: thermal outdoor pool, steaming and beckoning; bunnies to go see, hopping over as if you're their favourite person in the world; ping pong table to wiff waff on; and if you're done with walking, Segways to cart you around. There's also wi-fi throughout the resort for those with no-techno phobias. It's a great place for children to be children – with a bouldering park, arts and craft-y kids' club, petting zoo… – and adults in need of finding their long-lost-in-the-9-5 inner child.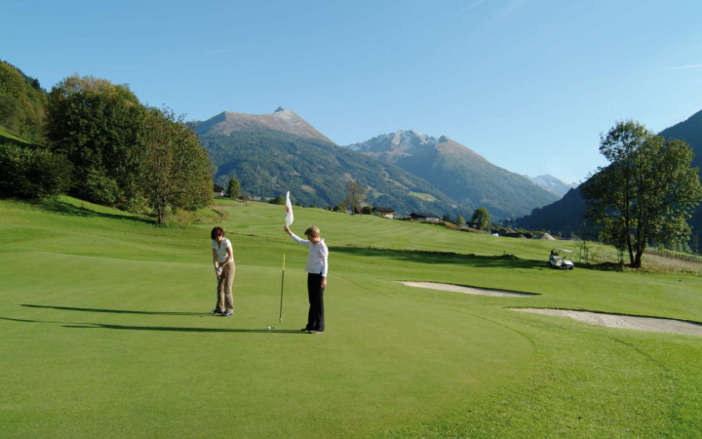 If you arrive all knotted up and in need of some kneading, the 650m2 spa will soon untwist and put you right. Soothing the mind and body is Austria's forte, as a morning at the spa reaffirmed: a Gastein radon bath, enjoyed in tandem, so instantly relaxing that when the 20-minute alarm kicked in, we were almost asleep. The Mr was then summoned for a goat butter cream bath perfectly prescribed to soothe his psoriasis, while I was whisked off for a spa pumpkin facial, using the organic fermented fruit to heal, soothe, soften and shine, aided with massage, pressure points and an eye-wateringly excruciating extraction round, that I wish to never repeat. That aside, it was lovely! A piled high plate of the traditional Kaiserschmarrn, a delicious dish of cinnamon and raisin-dusted pancake strips, in the Garden Restaurant, followed shortly after, and all was forgiven.
Gruner Baum is steeped in artefacts with their own story to tell: the 'k.u.k. Hofapotheke' bar, features the furnishings of the Royal & Imperial pharmacy in Innsbruck, salvaged by Hannes Blumschein, and carefully reconstructed in its entirety. The little drawers once holding various medicines, now adorned with the nameplates of regular or VIP guests for them to fill with, as Hannes says, 'the necessities of daily life, such as lingerie, sweets, hiking maps or other souvenirs until their return to the Gruner Baum'. One name that pops out is Jude Law, who inside has stashed an adorable collection of crafts made by his children when he visited with Sadie Frost and the clan in 2008. Not the only celebrity to walk the halls over the years, with a seemingly never-ending roll call of screen, sport, literary, music and society names gracing the guest book, including Douglas Fairbanks, Billy Wilder, Gregory Ratoff, Niki Lauda, Hassan II, King of Morocco, Franz Beckenbauer, Liza Minelli, Dirk Benedict and Vanessa Mae, I imagine the walls must have some tales to tell too.
In fact, there's enough history in Gruner Baum to fill a book, and that they have. Poachers, Foxes and Womanisers, tells the hotel's 100-year story to 2013, covering its origins as a hunter's lodge; births, marriages, deaths and divorces; a great fire that burnt it to the ground; a tragic avalanche; its time as a field hospital during WWII… Hotels often refer to their family-run roots and rich history, but here at Hoteldorf Gruner Baum, they epitomise it, and the warm, welcoming feel is the by product that has guests returning year after year like loyal disciples.
Hoteldorf Gruner Baum, Kotschachtal 25, A-5640 Bad Gastein. For more information and bookings, click here.

Gasteiner Heilstollen, Heilstollenstrase 19, A-56-45 Bockstein, Bad Gastein. For more information and bookings, click here.

Lois Grugger, Tandem Flying, 5630 Bad Hofgastein.