Travelling abroad with young kids is always such a faff. Add in a global pandemic and the stress of organising PCR tests, politicians flipflopping over a red list, and long airport queues, and the thought of leaving the UK for a family holiday becomes almost unbearable.
Don't get me wrong. I would LOVE a holiday. I NEED a holiday. A change of scenery really would be just the tonic after the upheaval of the past two years, not to mention the arrival of the January gloom.
But, for now, we're satisfying ourselves with trips closer to home. We did Wales over half-term, and in early November we travelled just 40 minutes on public transport into central London for a stay at a luxury hotel.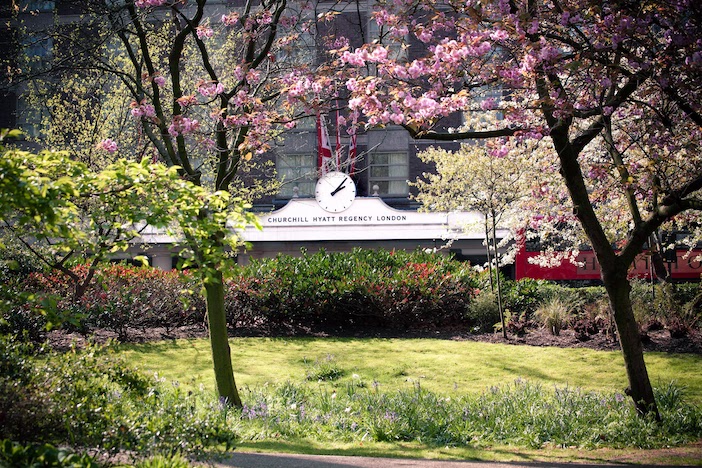 Our four-year-old son loves getting the bus and tube so this was immediately better than negotiating airports and airplanes… and infinitely better than five hours in the car to north Wales.
The Hyatt Regency London – The Churchill is located in Portman Square, just behind Oxford Street and a short stroll from Hyde Park. It's a smart hotel, with a sophisticated yet homely feel. Elegant artwork fills the reception, and there's a vague Sir Winston Churchill theme.
We were greeted with a warm welcome, as our children jumped up and down to try and be tall enough to get their temperature read on the video display. Our son grabbed the keycards, and we were off! Well, up to the second floor anyway.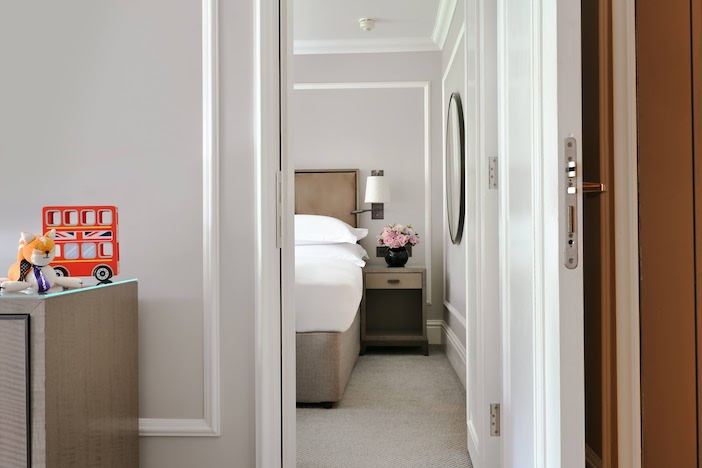 It was our first time having interconnecting rooms, and frankly, it spelled endless fun for our son and 3-year-old daughter. Which keycard opened which door?! Wait for the light to go green! Where's Mummy gone? Oh, she's in the other room! *runs around and around and around*
Once they'd calmed down, we noticed the thoughtful touches in the kids' room. There were activity books and colouring pencils, a cuddly cat (modelled on the Churchills' own, Jock) on each of their beds, and even children's toiletries. The "parents' room" contained Molten Brown goodies, fancy popcorn and plush dressing gowns.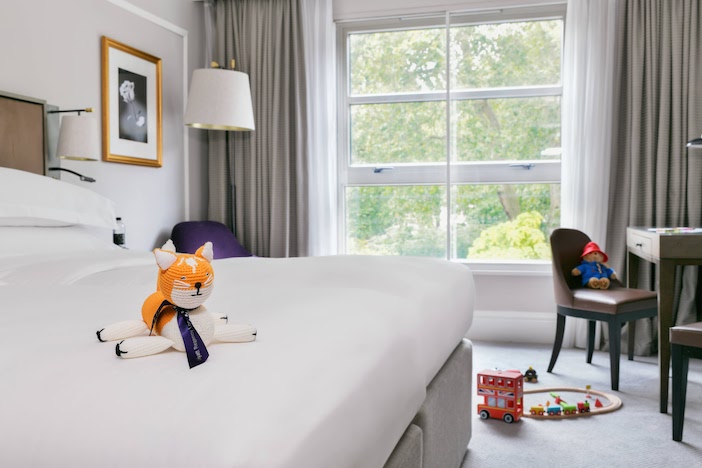 Our son was most interested in the Japanese-style toilet though, and proceeded to press every button to see what might happen, while his little sister watched on. The delighted shrieks coming from the bathroom made my husband and I smile, and soothed our weary hearts after a busy week of work. We were also grateful for the distraction: the keycards, toilet and activity books meant they hadn't clocked the TV and demanded Peppa Pig.
Time for dinner. We made our way down to the Montagu Kitchen. It's a relaxed and comfortable restaurant, with attentive staff who seem just as at ease serving their youngest diners as they do dealing with high-powered business executives or tourists from overseas.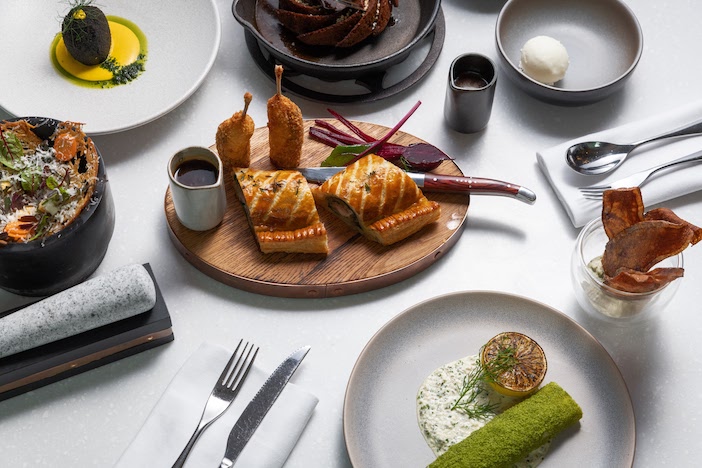 Headed up by executive chef Roger Olsson – who we spot in the open kitchen – the menu is modern and British, with playful touches. Designed to be a culinary journey as you travel through the "harvested", "hooked" and "farmed" chapters, the dishes are medium-sized, lending themselves to social dining. Which is brilliant, as my husband and I were famished – and it all sounded delicious – so we ordered numerous dishes to share.
Olsson previously held positions at The Ritz London and The Dorchester, and it shows. The rosemary sourdough with whipped pumpkin seed butter was a hit with the whole family, while my husband declared the homestead farm leek (accompanied by an amazing Lancashire Bomb souffle) his favourite. Highlights for me included the crispy bubble and squeak bites with a soft, squidgy filling, and the tender baby chicken with sweetcorn ribs.
There were a few interactive elements too, which added a sense of fun, and elevated the meal up a notch. For example, with the "mortar & pestle" dish, you had to drop the pestle on top to crack the sourdough crackers, revealing the tartar of beef sirloin and wood sorrel below.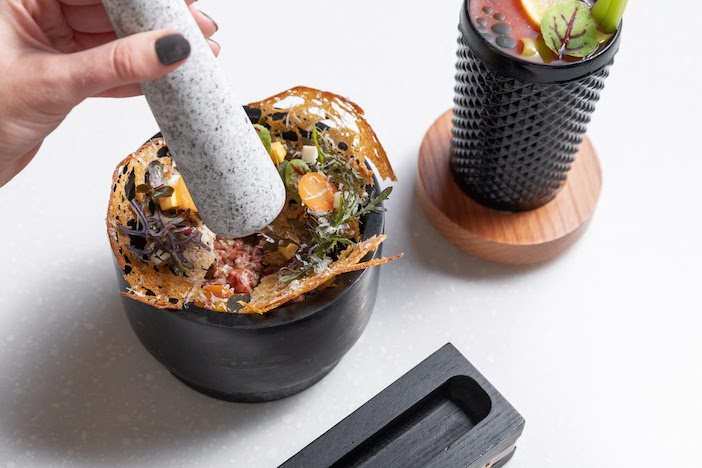 The kids' meals (burger and chips / fish and chips) kept them occupied long enough for us to toast a glass of champagne, discuss whether dessert was on the cards (always: yes), and have our eternal debate about what to watch on Netflix later.
Our wonderful waiter left our son speechless when he asked if he'd like something else, reeling off a long list: "perhaps a hot chocolate with cookies? Or some ice-cream? Or how about some cheesecake, sir?" I had to reply for him, with a hot chocolate and cookies request, but then the pastry chef decided to whip up something more special than cookies: a trio of indulgent chocolate brownies. I was relieved when our son promptly said he would share them with us… otherwise we'd have been dealing with a four-year-old bouncing off the walls fuelled by a sky-high sugar level.
It was getting late, so we ordered an adult pudding ("Valrhona and hazelnut", which was truly exceptional) to our room, as a post kids' bedtime treat. And after some further discussion, we settled on Atypical on Netflix. My husband, an engineer, wants me to point out that you could cast Netflix from your phone to the hotel room TV using some neat system where you type in your room number…I'm not au fait with the technical details, but he was impressed.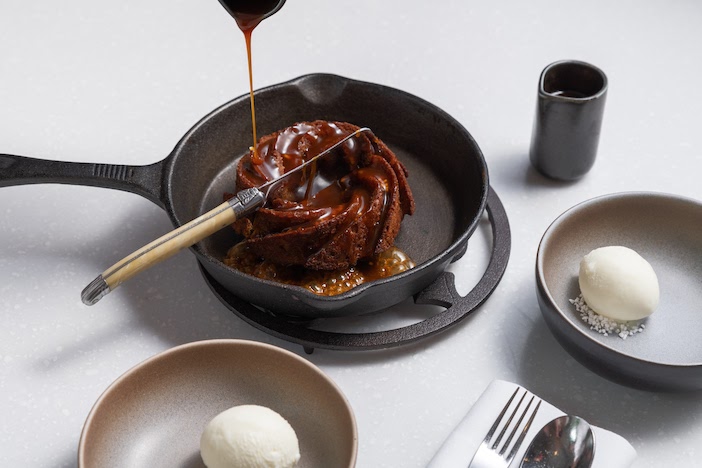 And so, we slept well in our ginormous bed, showered well in our sparkling bathrooms, and at 8am trooped back down to the Montagu Kitchen and ate exceptionally well for breakfast. Our son was wildly excited; his first hotel buffet since he was a baby, which obviously doesn't count. After half a dozen round trips to see what was on offer, he made his choice: Coco pops, a kiwi fruit, a mini croissant and a mini pain au chocolat. And some sausage he pinched from my full English. Our daughter was in heaven eating a chocolate chip muffin. My husband took a healthier route, opting for yogurt, fruit salad, and lashings of coffee.
And then it was time to check out and say farewell. Thank you Hyatt Regency London – The Churchill for a lovely stay. It fulfilled our criteria of being relaxing and luxurious, child-friendly, and with little or no faff involved. And you can't say that about many mini breaks, can you?
For more information about the Hyatt Regency – The Churchill, including details of offers and what to see and do in the area, please visit www.hyatt.com.