After you've ducked under the fronds of the potted palm trees, traipsed over discarded leaves and brushed against a rainbow of blooms, you'll find the newly opened Moxy Chelsea. In the heart of New York's garden district, it offers so much more than its affordable price point suggests, with its many nods to the botanical feel of its location, played out in an industrial-meets-orangery feel.
The entrance is framed by a three-story glass atrium – reminiscent of a garden conservatory – framing the verdant interior walls inside. You actually enter the hotel via a florist – the hip Putnam & Putnam flower shop (its owners are one of the city's most in-demand floral designers with clients including Gwyneth Paltrow, Harper's Bazaar and the Frick Collection) and it's a pretty welcome.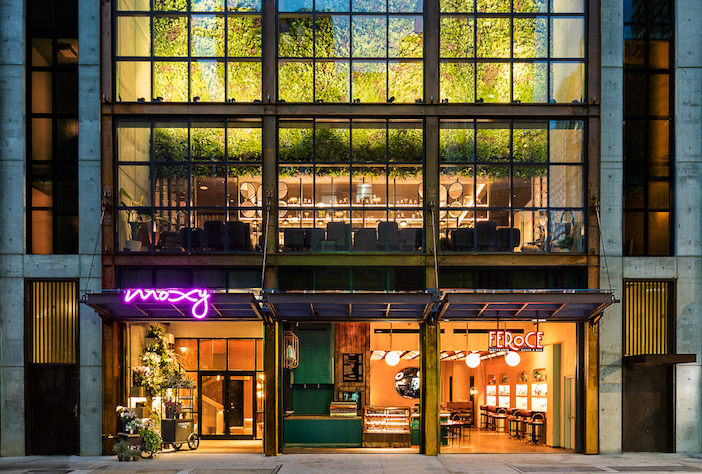 Beyond this, the micro lobby – with its neon lettering – give a glimpse into the hotel's target guest. Moxy is perfect for those travellers who want a sense of destination and not just a place to rest their heads. Moxy Chelsea delivers this and more. This is Marriott International's younger, affordable 'experiential' hotel brand – but that's not to say it has skimped on the style factor. Check-in and check-out, therefore, is either via an App on your phone or by a no-nonsense approach that is rapid and efficient (giving you more time for the business of exploring).
Rooms may be small but, designed by the dynamite Yabu Pushelberg, they are full of flair. Metal-framed Crittal-style windows stretch from floor to ceiling (book a room on one of the top floors – it rises 35 stories – for fantastic rooftop views) and the colour palette enhances the light-filled spaces. Sage green, cream and sunshine yellow echo the garden theme, with lantern-style reading lights and taps that look like hose reels adding an outside feel. Much of the furniture has a dual purpose so the rooms don't feel cluttered – the safe is kept under the bed, for example, where there are also drawers for clothes, while a writing desk and chair can be folded and kept on wall pegs when not in use.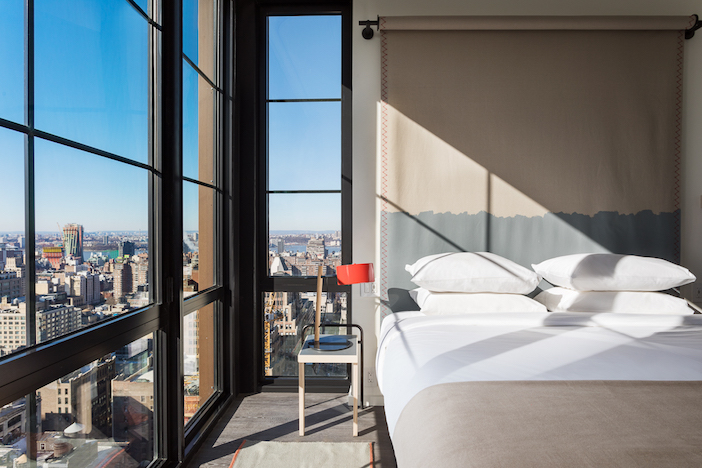 The tiled shower slogans, such as 'Grow', and the retro phone you can use to dial up a bedtime story offer a sense of fun, and power showers, crisp linens and soft towels add a touch of luxury, although more of a premium ambiance is best felt in the public spaces, which have all been designed by the Rockwell Group. The hotel, for instance, has collaborated with the TAO Group and brothers Francesco and Lorenzo Panella, who own Antica Pesa, the legendary trattoria in Rome and its Brooklyn outpost, for the dining offering – Feroce Ristorante and Feroce Caffe.
Representing quintessential Italian hospitality, Feroce Ristorante offers a glamorous dining space and a menu that is a modern interpretation of Roman classics. Terrazzo floors, vintage Italian posters and upholstery based on vintage Ferraris give a sense of old-school restaurants. Waiting staff have 50s style uniforms, designed by Brooks Brothers, while an outdoor terrace has a living wall and bold monochrome striped seating. Jewel colours and dimmed lighting add a chic atmosphere, while private banquettes transport you to a timeless trattoria in Rome.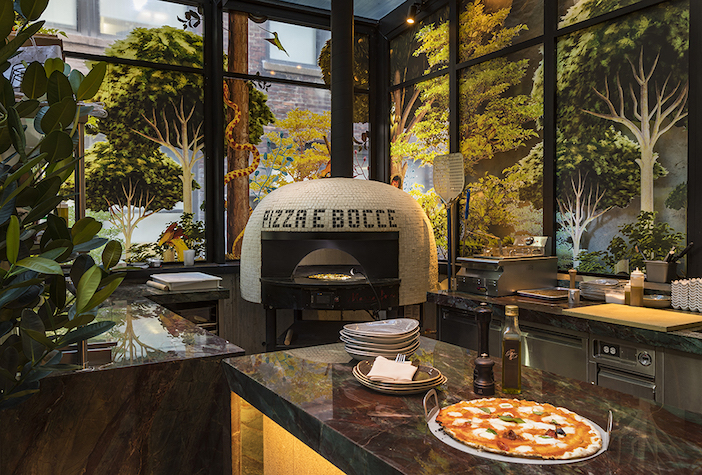 Seasonal and artisan-sourced ingredients form the basis of the menu, which includes starters of Millefoglie di Melanzana and Fritto di Paranza (crispy fried seafood and vegetables with a saffron mayonnaise). Homemade pastas include Fettuccine all'Astice, with lobster, Martini Bianco and cherry tomatoes, and a highlight – Casarecce alla Luciana, with octopus, tomatoes, olivers and capers. Secondi include Cotlotetta Milenese and Black Bass with king oyster mushrooms, rainbow chard and salsa verde. It's basically one of those menus that has you drooling at every dish.
Feroce Caffe, meanwhile, is a neighbourhood – and hotel – pitstop for breakfast. For those on the go, there's counter-style dining, where you can order a cappuccino with a cornetto (an Italian croissant) or a warm doughnut from the vintage doughnut machine. There's also larger dishes available – like avocado on toast or bacon sandwiches – ideal to fuel up before a day exploring the city.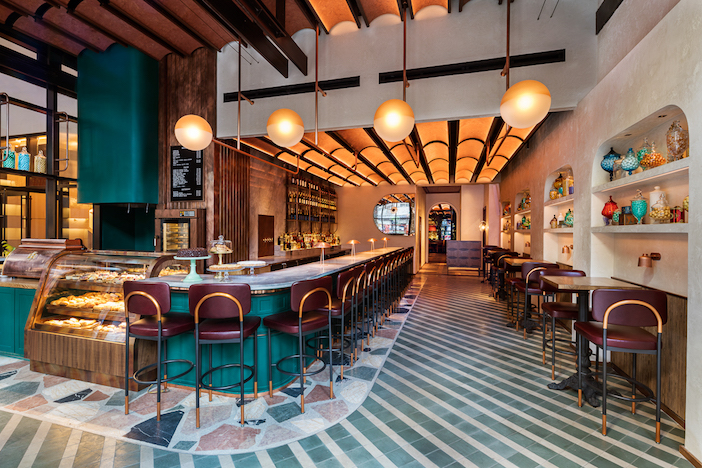 The rooftop Fleur Room is another gem – its design also refers to the 'flower district' with a statement copper bar and a glam chandelier based on water droplets. An ideal after-hours spot, it has a retractable roof to expose a star-laden city night, DJ sets and quirky art. More relaxed, is the second floor Conservatory and Bar Feroce – which acts much like a round-the-clock 'living room' for guests. Offering lounging and work spaces, with floral-printed chairs and jewel tones – you can order Italian-style snacks and craft cocktails. Come night-time, there's chill-out tunes, freshly-baked pizzas and buzzy scene. How refreshing.
Moxy Chelsea, 105 West 28th Street (6th Ave) New York NY 10001. Rooms at the Moxy Chelsea start from $159 per night. For more information, including details of events, specials and Putnam & Putnam Flowers, visit moxychelsea.com.