'Please don't say I work hard. Nobody is forced to do this job and if they don't like it, they should do another one.' These words are not the bossy but ultimately modest utterance of your correspondent, valiantly battling the battle of the burgeoning beltline, but those of Karl Lagerfeld, Chanel's brilliant designer. Their flagship store, window of which contains a mannequin in a blouse of pearls, neighbours Hotel Le Castille on Rue Cambon. Some bedrooms even look to the fourth floor atelier, says deputy general manager, Erwan Sarre (in the job for a day shy of a year).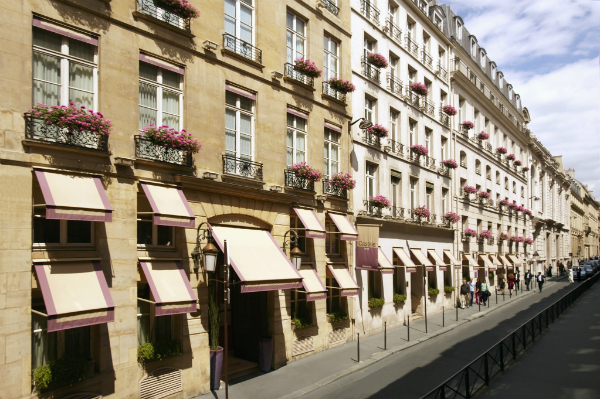 I awaited Sarre in reception. Here, near a phone rather too modern for its bureau, a lady loudly citing connections with the Houston Grand opera thanks concierge for directions to the station last September, before expressing, at length, woes of not wanting to wear really expensive shoes on the street ("more expensive than anything else I own"). They are stilettos, and must bear considerable gravitas.
I wander. There is a Dutch still life of fruit and mirrors everywhere, as well as a bare-chested tambourine player in bronze. The hotel, says Sarre is formed of three buildings, all full tonight in anticipation of fashion week. His phone is his personal gnat.
The first wing started as a private bank, but now has 20 rooms arranged as one suite and three rooms per floor, and very popular with sheikhs and entourage. These are styled in 'Coco style' – black and white, with distressed mirrors and busy headboards. Almost architectural photographs by Robert Doisneau, including the Rivoli arcade, line corridors. The Italian owners, the Fabri family, have kept the original lift, running between wrought-iron balustrades.
To the second building, I pass another food-themed still life of a ruddy lobster. Sarre says the Fabri family wanted to engender a homely feel. Despite the seven year, €20m refit, that sentiment still seeps through in buildings which feel slightly scuffed, in the old aristocratic sense. Bedrooms face the ministry of justice, undergoing its own refurbishment, ditto The Ritz, where Coco Chanel actually lived, despite keeping apartments on the third floor of her own building.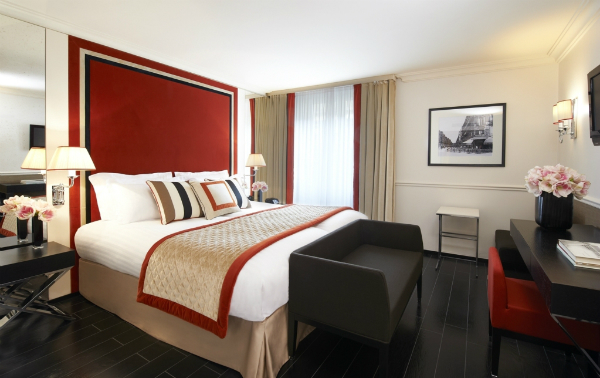 Rooms feature wood-ridged slate slabs, night lights, which Sarre says is a function guests 'particularly like', and considering the measure of fashion check-ins, almighty wardrobes. 'Chanel is our top client, for "session Chanel"' he says. Sales representatives are among those who come to the Rue Cambon to uncover the latest collections: haute couture and prêt-à-porter. Of the experience, Sarre is naturally positive. '80 people will have lunch every day for nine days.' Sarre pauses to quell his phone. 'We can feel business is back.'
Sarre, recently returned from a holiday at a Starhotel in New York, formerly spent five years with Hilton and six with Starwood. He unclicks the dense door to one of 20 two-tiered suites – 'a famous product in Paris because it's like having your own apartment.' Costing around €1,100 per night, walls are given depth with attractive photos of models head-to-toe in Chanel. Fashion books form a small library; bonbons are by Giraud, drawers have steamer trunk-like handles.
Nearby, in the gym, which neither Sarre nor I hold a particular fascination for (he pats his tummy as we enter), the view is of a harmless, armless maiden in marble. Top takers are the Americans. But in terms of clients in general, Sarre is interested in the increasing amount of Chinese travellers – 'a new market for us', as well as Russians and Brazilians. We take another lift (there are so many – all seemingly poles apart) to the patio. A waterfall cascades beside an original frieze of tiles ascending to tromp l'oeil. Through Skype, a Hispanic lady coos to her kids who are singing in Panama. But Sarre is more fascinated by the rounded 'typical Italian privets.'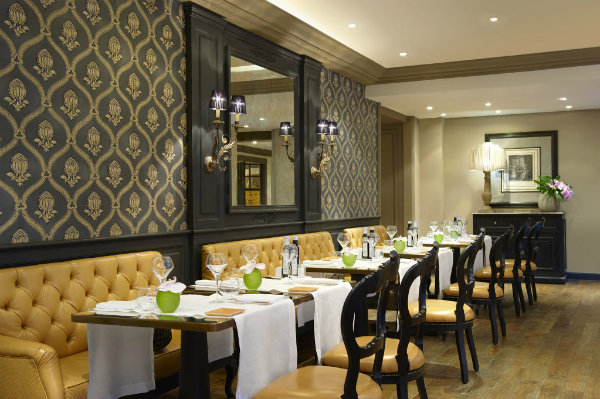 Tables from L'Assaggio, the Italian restaurant where only Italian chefs, headed by Guilio Freschi, focus on a maximum 30 covers. Sarre recalls the American guest who came here to propose. 'We gave him a special table behind a screen.' Did such an exclusive vantage work? 'Yes. But now the rest is down to him…'
Freschi calls his cuisine 'secret-free.' But why is he here? 'Paris doesn't have great Italian chefs,' he responds, adjusting salt and pepper hair. But Sarre must press on. 'In 15 minutes you'll forget you're in Paris.' He leaves my fashion buyer friend and I with the drinks list, which includes interesting sounding teas like "Sweet Love" (featuring pink pepper). She asks me why the nearby Ritz, parts of which have already closed, will take three years to refurbish. 'In China we'd build more than a city in that time – remember the big earthquake in Szechuan in 2008? Eight on Richter scale; 86,633 died.'
A morbid silence now hangs in the air. A graceful waiter, who holds glasses in his hands, but never seems to wear them, brings a Champagne cocktail. Oddly, it misses the fizzing sugar cube but tastes totally the part. We order sharp vitello tonnato with pickled vegetables, and olives, dill, rich, oozing burrata from Puglia with chicory, pear and balsamic, then rabbit and tagliata. Freschi takes the order personally, treading the wood floorboards to fulfil it. Walls are grey, buttoned banquettes are toffee, linen is as fine as lingerie and the focaccia fluffy; the flower in the vase looks like a camp grenade. In the background, fairground music alternates with sultry jazz. There are few reds in the buildings.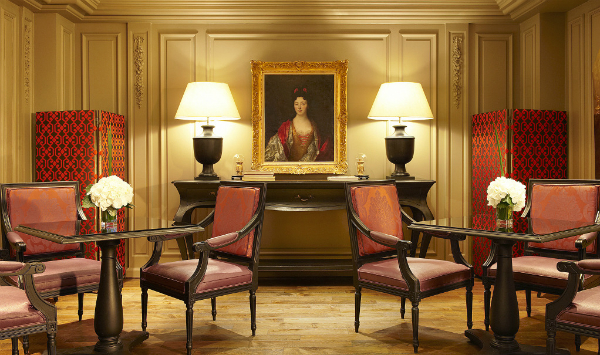 'We cannot talk about our suffering,' said Lagerfeld, not your correspondent, at the end of an interview, and I think of his words at the end of this meal. 'People buy dresses to be happy, not to hear about somebody who suffered over a piece of taffeta.'