Total mayhem. That's the only way to describe my arrival in Marrakech. It's mid-afternoon, school's just got out and I'm in Place Moukef, a bustling market square in the old part of the medina. My airport driver hands me over to a man in a red football shirt who chucks my suitcase in a wooden cart and hurries off. I can just about make out the collar of his shirt before he takes a corner and vanishes. Jeers erupt from a group of gangly children. An open-topped van carrying crates of bald chickens swerves past. The sun is searing. Buildings glow red. There are donkeys. Mopeds. Smells I can't even begin to put my finger on. First I panic and then I laugh. I'm Kathleen Turner in Romancing the Stone asking for the bus to Cartagena. This trip has been such a long time coming (three aborted attempts due to Covid), I'd almost forgotten how to be somewhere else – and this somewhere else is so exotic, I experience a euphoric thrill.
Eventually I catch up with my escort (loose term) and we make our way along ancient cobbled streets dodging potholes and people until we arrive at a heavily studded wooden door. It's the entrance to Le Farnatchi, one of the oldest and smartest riads in the medina. I'm greeted by a gushing pea-green fountain. Correction, swimming pool. And orange trees. And birdsong. And mint tea. The trellised courtyard is one of the prettiest I've ever seen, and after being shown around, I'm handed a room key – and actual key not a plastic card – and I know I'm in the right place.
There are ten suites, all of which are vast, high-ceilinged and filled with Moroccan art and antiques. Each comes with some form of outside space be it a balcony or a terrace, and parts of the riad date back 450 years. Such is the civilised charm of the place, I find myself immediately relaxed and eager to explore. Location-wise, you can't fault it. The souk is minutes away. The main square, Jemaa el-Fnaa, is a 15-minute stroll, and the newly re-opened 16th-century Ben Youssef Madrasa is literally around the corner – and well worth the 20 dirham entrance fee (that's about £2).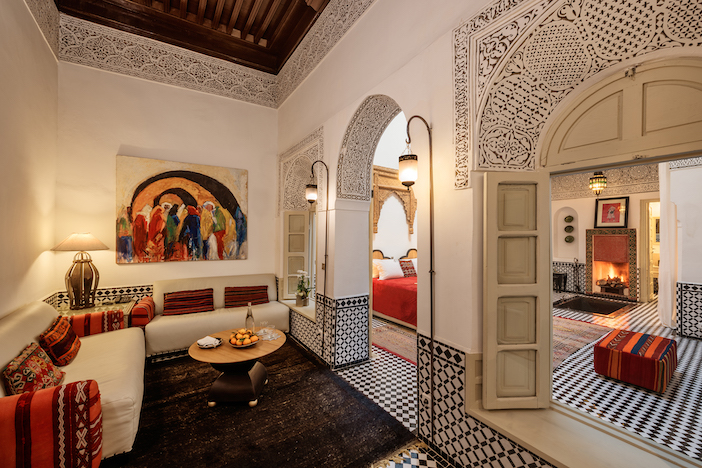 'We like to call ourselves a private guesthouse,' says James Wix, owner of Le Farnatchi, as we sip cocktails later on in the courtyard. He's a charming ex-Marlburian who moved from London to Marrakech 12 years ago to take the reigns from his father who bought the riad 'on a whim' in 2001. Over the past two decades, Le Farnatchi has grown slowly and organically, acquiring neighbouring buildings to do so. An iLa spa was added in 2016 followed by Le Trou au Mur, a chic rooftop restaurant regularly cited as one of the best places to eat in the city. More on this later.
Despite having a young family, Wix is on site every day and meets 99 per cent of guests. His dedication shows. Staff are immaculate. Nothing is too much trouble. Breakfast can be taken in your room, in the courtyard or on the rooftop overlooking a sea of ochre and the ever-prominent Koutoubia Mosque. Arrangements can be made for grand taxis, petit taxis, restaurant tables, excursions into the Agafay desert, you name it. Wix's wife runs a high-end adventure outfit and has every type of adrenalin-fuelled day-out at her disposal.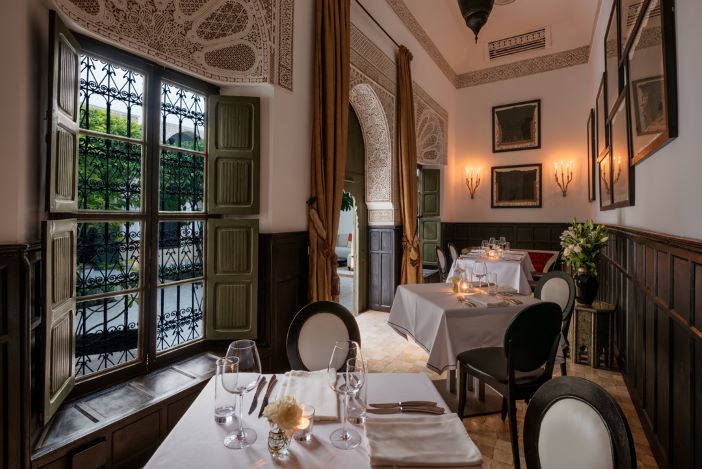 Dinner is at the aforementioned Trou au Mur (translation: hole in the wall). The menu is largely Moroccan and highlights 'less ordinary' dishes or recipes 'locals loved growing up'. Think sardines cooked in a herby tomato sauce or Meshoui (leg of lamb cooked so long and slow, you'll groan when you put your fork in it). There's always a 'tagine of the day' and for anyone who's had their fill of couscous, there's a handful of European favourites such as grilled steak, Greek salad or fish and chips. Despite it being Ramadan at the time of this journalist's visit, the atmosphere remained one of effortless buoyance with staff only stepping away briefly at sunset for iftar (the evening meal Muslims break their daily fast with).
To ensure guests wouldn't get lost the moment they stepped foot outside the hotel, ever-thoughtful Wix employed a French cartographer to map out the whole of the medina. Following careful instructions, it's easy to find the very best rattan lampshades, pom-pom cushions and babouche slippers the souk has to offer, but be warned, it's all so colourful, intoxicating and affordable, it's impossible not to get carried away. Seasoned visitors bring an extra suitcase.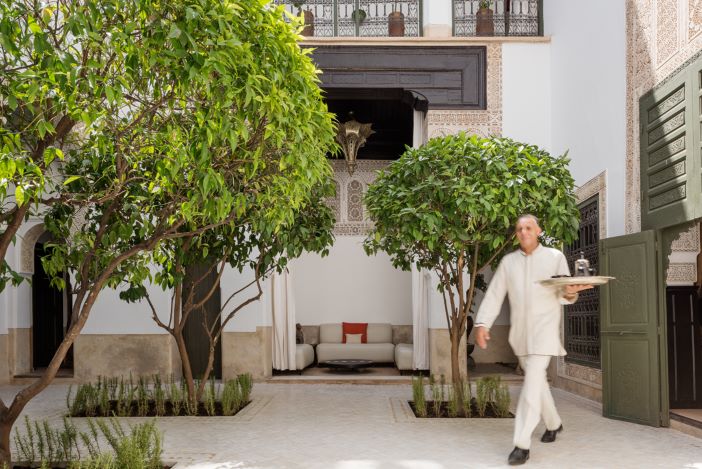 If it hasn't already been made abundantly clear, this writer had a really good time as a guest of Le Farnatchi. There's no denying it's a special place, and if you don't take our word for it, ask Daniel Craig. The James Bond actor fell for it so hard, he hired out the whole pad for his own birthday party. No further details were supplied of course. Wix is far too discreet.
Le Farnatchi is somewhere to kick off your work shoes. To feast next to a roaring fire. To sleep like a Moroccan Lord. And to wake up to azure skies and the sounds of the souk stirring.
More than that. It's a place to reignite your spirit of adventure.
Rates at Le Farnatchi start from 3,100 Moroccan Dirham (approx £250) per night including breakfast and airport transfers. For more information, visit www.lefarnatchi.com. 
Follow Leo on Twitter @leobear or Instagram @leonorabear.