Birthdays. Love them or hate them? I'm with the latter. I'd much rather swerve the entire thing. Let the day pass like any other. Actually, no. That's worse, isn't it? Or is it?
This year, I got ahead of the problem and booked myself (and my daughter Plum, 11) a weekend away at the country-house hotel, Lucknam Park. I chose this particular British Palladian mansion for my 'special day' because it is exactly that, special. Yet it doesn't make a song and dance about it.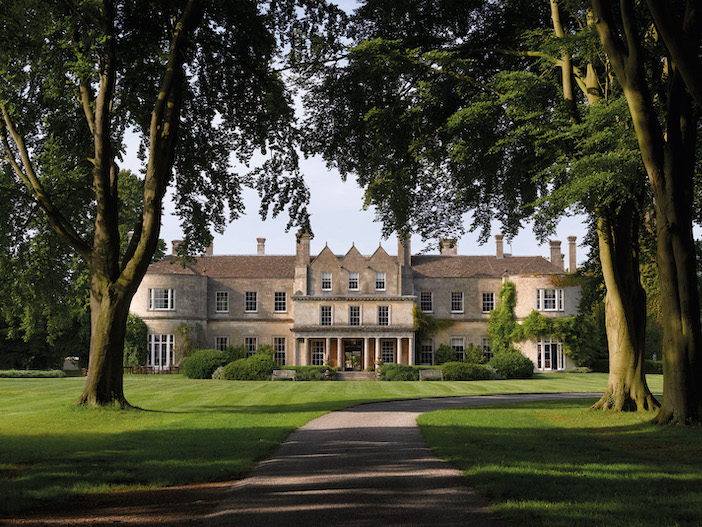 Lucknam Park's mile-long tree-lined drive is one of the things I love most about the place. Iron gates gently buzz open and there it is: long, stately, inviting, flanked by fields of horses and frost-covered lawns. Speed bumps prohibit drivers from making their approach at anything other than a crawl, and the anticipation is only heightened by huge trees leaning in as if to inspect new arrivals. We're forced to slow down even further when we spot a family of deer among the trees. Then, finally, the main house comes into view – and with it, a delicious sense of arrival.
It was December at the time of our visit, and festive cheer was in the air. Wreaths of holly adorned the house's Georgian panelled windows. Chandeliers twinkled, log fires crackled and a Christmas tree weighed down with ornaments stretched right to the ceiling in the main living room. From the outside, with its windows all lit up, the hotel was the picture of a traditional advent calendar. But it isn't just Lucknam's good looks that make it special. Order tea and it will be served with Wedgwood china. Take a walk in the gardens and you'll encounter sculptures by British contemporary artists such as Hamish Mackie or Maurice Blik. There's an equestrian centre. A cookery school. A library. But with only 42 rooms, it never feels anything but cosy and warm.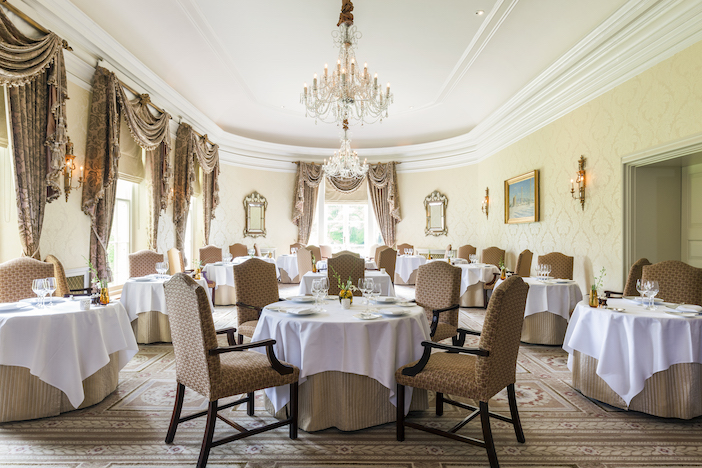 I'm pleased to report that absolutely no fuss what so ever was made of my birthday. Not even a candle in a chocolate pudding. And yet I am quite certain my daughter and I will remember this birthday for many years to come. Why? Because dinner at Restaurant Hywel Jones is a show-stopper. Every course – of which there are seven – is something to write home about.
We both opted for the vegetarian menu and, among the highlights, were a glistening Roscoff onion risotto, an ornate puff-pastry pie filled with sage-infused squash and a trio of wafer cones oozing heavenly mushroom mousse. Every morsel prompted culinary discussions of the deepest variety but, be warned, you'll likely be dining for three hours. At least.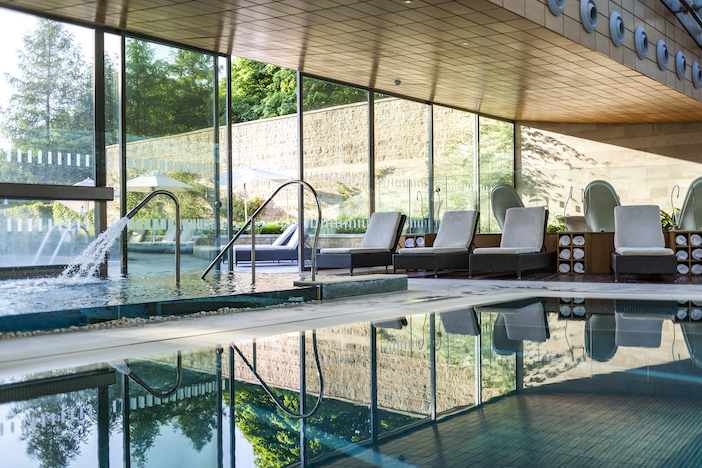 A hangover was a given. Wine pairings came with the meal. But Lucknam's spa came to the rescue with the perfect perk-me-up programme. We thawed and soaked and surrendered ourselves to healing hands. We did laps of a 20-metre heated pool lined by real flames (unthinkable gas bill). We tried the amethyst room, the Japanese salt room and the rosemary-infused sauna… Best of all, we submerged ourselves in a ferocious hydrotherapy pool (heated to Vesuvian levels) which, in British winter, spelled absolute bliss. Press a button and a glass panel slides across allowing one to swim outside into a frozen steaming hinterland.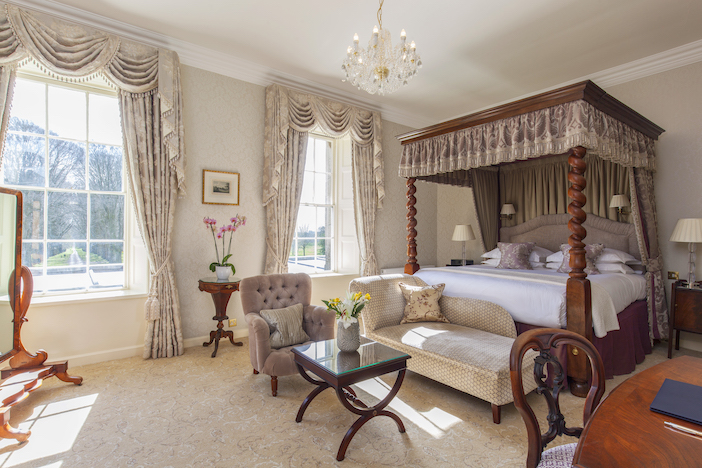 Suffice to say, Lucknam provided the ultimate birthday swerve. We were so well looked after, there was literally nothing I could think of that could have bettered our experience. But then, on our final day when we drew the curtains, we were greeted by a scene from Raymond Briggs' The Snowman. Three feet of snow – the first major dump of the season – had fallen while we'd slept. And guess what? Sparkling in the early morning sun, unblemished by man or beast, Lucknam's 500 acres looked even more beautiful than ever. And for a few precious hours, we had the grounds to ourselves. What a gift.
Rooms at Lucknam Park start from £375 (not including breakfast) with a minimum stay of two nights. For more information, and to book the Inner Balance Spa Day, please visit www.lucknampark.co.uk.
Follow Leo's adventures on Instagram @leonorabear or Twitter @leobear