Bed and Breakfasts; they ain't what they used to be. The image of matronly landladies with all the charm and hospitality of a Stalag guard setting nine o'clock curfews and serving up breakfasts that made your arteries pack their bags and leave for France is gone. These days they're like staying in mini hotels or being houseguests of the nicest people on the planet. The fact that Pentillie Castle, the drawing room of which we're sitting in, drinking cognac in front of an open fire, has been voted Britain's best B&B, therefore speaks volume for just how very, very lovely this place is.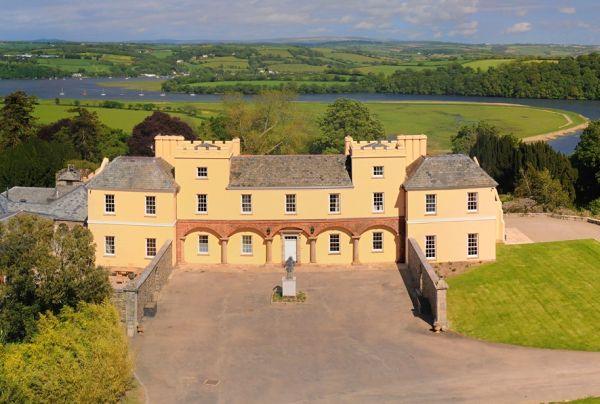 On one of the tables in the room is a book titled Eden. If I were a hackneyed, cliché-loving writer devoid of imagination, I'd use this conveniently-placed prop as a literary tool and say how it described Pentillie perfectly. As it is, I'm imaginative enough to crowbar that in without completely destroying my credibility.
The place is almost unspeakably beautiful. Again, far from the traditional terraced house, Pentillie Castle is a 15th century country home set in 2,000 acres of grounds on the banks of the river Tamar; which means that, from our room (Coryton), we are looking from Cornwall to Devon across the counties' natural border. And what a room – or rooms. The bedroom is lovely: spacious and tastefully decorated, but the bathroom is the bathroom of the gods, with a large rainfall shower and roll top bathtub, comfortably big enough for two; unable to dominate the huge wooden-floored space.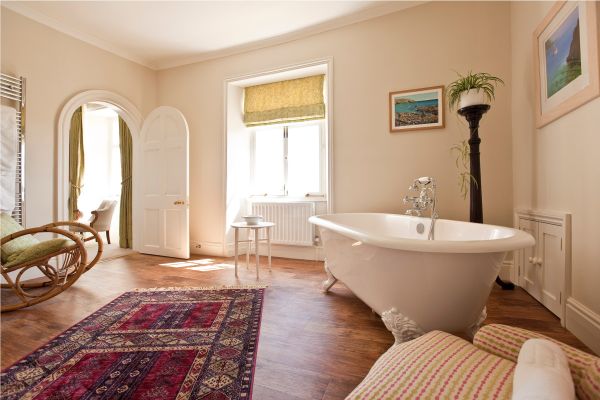 Our cognac, from a well-stocked honour bar (so trusting), is a pre-dinner winter warmer that follows a friendly but unfussy welcome to the house after the long drive from London. As this is a bed and breakfast, there is no evening meal (though they sometimes make exceptions for full houses and large groups), which is why we find ourselves in a taxi on our way to Plymouth's rather plush Royal William Yard. Here we spend some time tasting wines at Le Vignoble, a wine bar and vintner with an ingenious device that allows you to have tasting-size samples of perfectly-kept wine, serving up an attractive alternative to the whole-glass commitment and catering for those who believe that variety is the spicy bouquet of life. All accompanied by staff who know their tannins from their flowery notes.
Nicely oiled, we walk round the corner to the newly-opened River Cottage Canteen; the latest outlet for the rustic culinary goodness of Hugh Fearnley-Whittingstall. If, like us, you've salivated over HFW's ability to rustle up something delicious from a dead stoat and a shrub, you'll understand our excitement at seeing what he could do with proper ingredients. Better, it turns out, than even we imagined.
Starting with splendidly light mackerel fishcakes and crispy pig cheek, we then move on to a perfectly-cooked spiced gurnard with lentils and braised venison with mash. It's all washed down with a 'natural' red and surrounded by a relaxed, convivial atmosphere that reflects HFW's own languid personality and passion for food.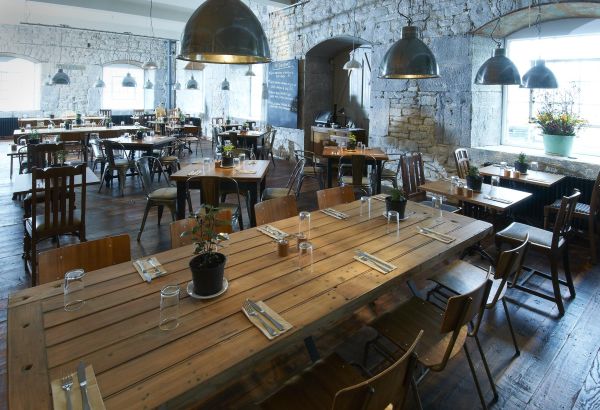 A very good night's sleep in our giant, fluffy cloud of a bed is followed by a run around Pentillie's grounds, which include tree-lined paths, the 200-year-old American Garden and a stunning Bathing Hut, which juts out onto the Tamar as if it's about to set sail. All the time we're being watched by some pheasants with a tragically false sense of security.
Pentillie Castle is an idyll; close to perfect. Even the cooked breakfast we have before we leave is just the right size between avoiding disappointment and avoiding falling asleep at the wheel on the long drive home. It's romantic, hospitable without being intrusive, and on a misty winter morning, even a bit magical. Was the Eden line clichéd? You bet. Was it true? Ditto.
Pentillie Castle, Paynters Cross, St Mellion, Saltash, Cornwall. Tel: +44 (0)1579 350044. Website.