All aboard the Renaissance Hotels express… You could travel the world through this well turned out child of Marriot International, spanning over 155 outposts in 35 countries, from Dublin to Denver, listed buildings to laidback beach bungalows; its tag line, 'Live Life to Discover', the perfect motto for such frivolity. With only a long weekend jaunt to fill, I kept it relatively short haul, kicking off the journey in style with a night at London's St Pancras Renaissance, before heading down to the south of France, 30km north of Marseilles, to the Renaissance, Aix-en-Provence. A journey through architectural time zones, travelling from 19th century gothic to 21st century cool.
The mighty St Pancras Renaissance is a strong contender for finest building in the world – I adore it, and have wanted to sleep in it since it reopened in 2011, in our brief dalliance it didn't disappoint. Sir Gilbert Scott certainly had fun designing this beauty, with its extra wide corridors made to cater for the generous dresses of Victorian folk, allowing ladies to walk side by side; vaulted ceilings towering overhead, making one feel like a Borrower; granite and limestone carvings, intricate wrought iron balustrades and gothic grandeur. There's so much history in this building, I spent a good hour soaking it up from a big book in the bedroom, while also admiring my bird's eye view of the Eurostar concourse. It's survived attempts to destroy it, occupied soldiers who whitewashed areas of it, and has its fair share of film credits under its belt, as well as a cameo role in the Spice Girls' Wannabe video.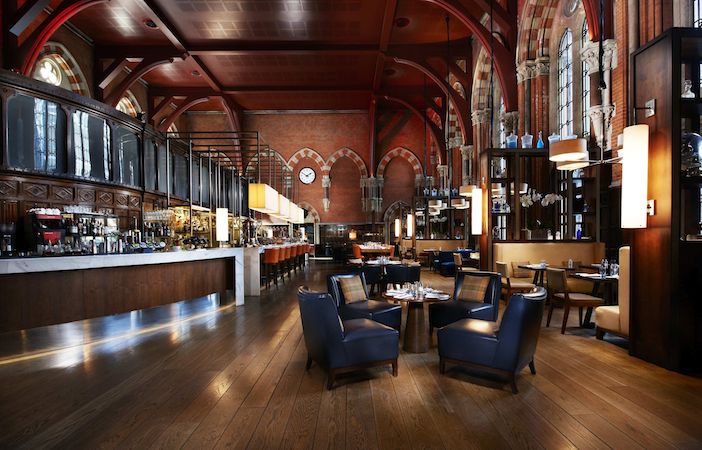 Stepping foot inside is like wandering into a different era, with original features shown off in all their glory. The Booking Office bar and restaurant, inside the station's original ticket office, is a fine example and equally fine place to while an eve, catching up with friends over a gargantuan Victorian punch bowl floating with fruit and fizzing with sherbet and a whole bottle of champagne, while snacking on baba ganoush and the like from the sharing plates menu. With the threat of a very early start the next morning, the gaiety of this particular eve was cut short and it was up to the Chamber Suites to bed. My room cosy with the scented remnants from the 'Journey on the Silk Road' I took a little earlier, in the form of the hotel's Bath Ritual; one of the complimentary treats for guests in these premium rooms (the Chambers Club Lounge, I sadly didn't have time to do as such in, and wet shaves for gents, are two others). Run by my butler, accompanied with a wooden tray of potted oil and scrub, it was a grand way to end the work day and begin a weekend of play.
Perfectly run baths aside, the Chamber Suites' butlers are also security cleared to check guests on to the Eurostar, so as not to have to lower oneself to queuing with the general public. But really, jokes aside, it's just lovely to be able to spend a little longer lounging in the hotel's comfort, rather than shivering on the platform. With breakfast bags bursting with delicious granola, pastries, yoghurt and fruits to takeaway – far more than the greediest person could muster – there's no need to get up to squeeze that in either.
In a matter of a few short hours, I was standing outside the Renaissance Aix-en-Provence, and through to a lobby, met with a lovely fresh scent and an extension of the aforementioned tagline projected on to the floor – "You spend your life working; discover the world as you go" – in case, through the crossing of channels and time zones, you might have forgotten.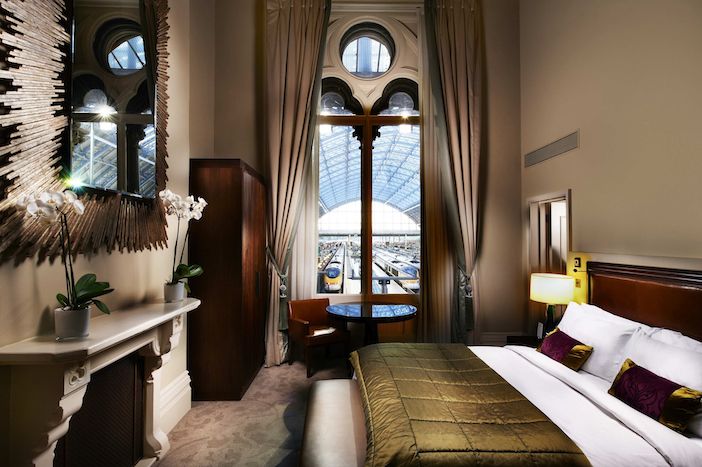 Opening its doors in January 2014, the Renaissance Aix-en-Provence is the latest addition to a new, 'modern', part of the city known as the Cultural Forum, dedicated to the arts; sharing the block with the Grand Theatre de Provence, Pavillon Noir for ballet; a protruding diamond-shaped dance, music and drama school designed by the acclaimed Japanese architect Kengo Kuma, and the giant work of art that is a waterfall bridge, under which two lanes of busy traffic speed through, the occasional one stopping for a selfie with it. Quite a sight, especially at night, in all its illuminated glory.
The creative theme is carried into the hotel where every twist and turn seemingly houses a sculpture, illustration, interesting piece of furniture or painting, with over 400 exclusive artworks from 16 contemporary artists. A witty trio of little lithographs by Marseille artist Karine Rougier mark the entrance to each bedroom. In the basement spa and pool area, the walls are decorated with the canvases of Jean-Francois Bene, echoing the nearby mountains. On the 2nd floor opposite the lifts, there's a wood sculpture by another Marseille artist, Luc Dubost: 'Promeneur Meneur' – rubbed with the local soap to preserve it. A grand spiral staircase journeys down to an events and lounging space, with birdcages hanging from the ceiling, various works of chair art, and zinc houses by Piotr Klemensiewicz.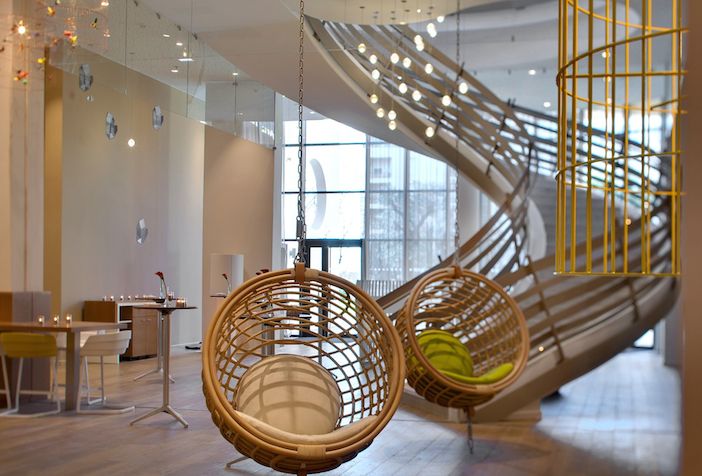 Textures reign throughout, with every wall beckoning you over for a stroke, with various tile arrangements and patterns. Every little detail has been thought through, with further nods to Provence in the 133 bedrooms, through a yellow, grey and white palette: the almond shape of the local confectionary, Calissons, appears subtly on the carpets, head boards and mirrors; yellow denoting the sweet marzipan centre; white representing the thin layer of crunchy royal icing that sits atop. The soft grey floor tiles in the bathroom, which look like velvet from afar, echo the craggy peaks of the Saint Victoire Mountain visible in the distance, made famous as a regular feature in Aix's equally famous child, Paul Cezanne's work – he dedicated over 80 pieces to it.
At the rear of the hotel, a pristine green lawn sprinkled with deckchairs is made for lounging with a book or relaxing after a session at the spa, the scent of lavender wafting over delicately by the Mistral breeze. At the front, Le Comptoir de Clos bistro, where we headed every day for either a long breakfast, brunch or lunch – the spread, so varied and tempting, we spent a couple of hours gently grazing at each session. The hotel lobby bar, L'Avant-Scene, became the place to meet up for a cocktail before dinner, the quirky selection of foodie books dotted around, providing entertainment for when friends were running late.
Five minutes' walk away, the city's historical centre intertwines with cobbled streets, narrow alleys, and Baroque architecture in abundance. It is buzzy, but not over-run with visitors, when we visit late September. With summer still in full swing and the truffle, mushroom and apple season reflected in the dishes, it was a prime time; though with 300 days of sun and a packed calendar of various festivities, prime times are plentiful in Provence. Wandering the streets, admiring the pretty blue shutters, chalk yellow and terracotta buildings, into café lined squares, down tree-lined boulevards, past delicious smelling boulangeries, with baguettes being rolled out and twisted in view; fountain after fountain, around 40 in all,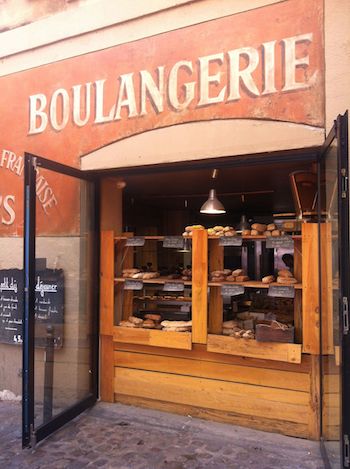 each with a little bit of history to share; exploring the daily markets for flowers, art, vintage books, food; following in the footsteps of its most famous child Paul Cezanne, through his studio on Lauvres Hill (as was, complete with the still life that feature in some of his most notable works) to places he lived, studied and frequented…
Suffice to say, there's plenty to entertain for a long weekend, with an abundance of restaurants serving fine Provencal food and wine. For longer stays, a short drive will take you to Avignon, Cassis, Marseilles and Nice, past vineyards, olive trees and places to sample and purchase fine oil and wine. For something a bit different, the Carrieres de Lumieres is a must-stop. On paper, it sounded a little gimmicky and at 10 euro pp, a slightly overpriced tourist attraction – the cronky YouTube clips don't do it any favours, either. But standing there in the vast limestone caves, manmade from the quarrying that took place to build the adjacent village of Les Baux, onto which trompe d'oeil images of Klimt artworks were projected, to a soundtrack of classical score, it was beautiful and haunting; proper goose pimple stuff; like nothing I've ever experienced before.
On the way back to Aix, we stocked up on some of the local produce: some bottles of red at a small winery we spotted by chance, Mas de la Dame, whose farmhouse has the added bonus of being painted by Van Gogh in 1889. Then, further along the road we ticked off the olive oil box at Moulin CastelaS, where oils are organic and infused with garlic, rosemary, ginger, lemon and mint. With around 20% of the national production made in the area, the real peppery, tasty stuff, good straight from the bottle, it was too good a souvenir to miss. Aside from olive oil and wine, pick up a box of Calissons before you leave. AKA 'little hugs', these almond treats are traditionally served up at Christmas, weddings and the like, and boast their own annual festival in Aix-en-Provence, after once curing the town of the plague (sort of. Long story.).
Back at the hotel, with the benefit of a room not too far away, dinner at the onsite Le Clos, overseen by Michelin-star chef Jean-Marc Banzo, was a must; an intimate 40-seater space serving fine Mediterranean food, with just the right amount of fuss to make it feel like a treat, but not so much you feel like you have to don a shirt or stilettos. Among the small group, there was a vegetarian, a gluten intolerant, a nut allergic, and someone who didn't like fish, all announced to the staff as they brought out some pre-dinner canapes… By rights, we should have been laughed out of the front door, but instead, seemingly unperturbed, the kitchen managed to come up with a delicious and interesting four course menu that catered to us all.
Each dish was revealed with the perfectly choreographed simultaneous lifting of a silver cloche, bringing much oohing, aahing and joyful laughter to the table. Cepes, bursting with new season freshness, lay in a cool, sweet ice cream, sprinkled with Provencal summer truffles and a ridiculously delicious little croque monsieur. Local, naturally, Denti fish was sweet, sour and salty all at once with a crunchy nori crust and trio of carrots; the moistest, plumpest little farmhouse pigeon with tiny cubes of Colonnata bacon arrived somewhere in the middle. Gosh, I'm salivating at the memory, and I haven't even told you about the chocolate 'sphere' we had for dessert yet. The restaurant's motto (they love a saying does Renaissance) is, "the pleasure of the palate", which pretty much sums up my thoughts on the evening. Suffice to say, sleep came easy that night.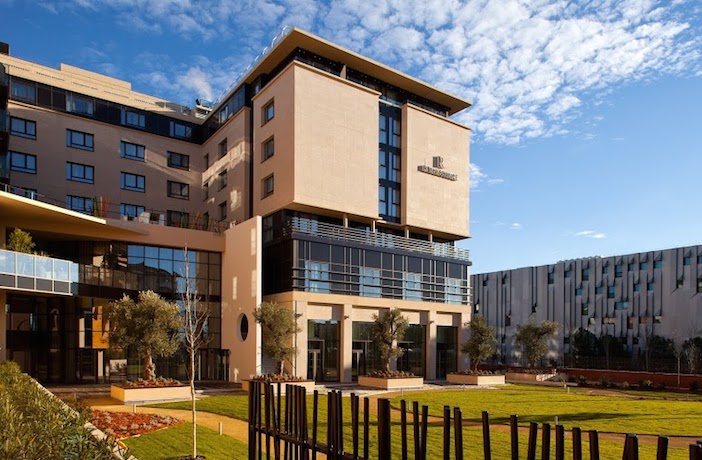 A morning swim in the not too pressing 11 metre pool – blissfully deserted so I could to and fro at leisure, skip over to the steamy hammam to soothe the muscles, before heading in for some more lengths entirely uninterrupted – removed the cloud from the previous night's adventure through Provence's fine whites and reds. A speedy, but effective Ymalia massage loosened me up for another day's sightseeing and plate clearing. But first, it was down to brunch at the respectable time of 12pm – a Sunday ritual round those parts, the GM tells us the night before – a welcome escape from the usual hotel dilemma of lazing in the comfortable bed or jumping up for fear of missing breakfast.
Five pounds heavier, ten times more relaxed and a little bit of my heart left in Aix, it was time to return to London. "When you're born there, it's hopeless, nothing else is good enough" said Cezanne. I know what he means…
For more information on Renaissance Hotels, visit www.renhotels.com