When Christiana Papageorgiou inherited her father's hotel, The Santa Marina Resort in Mykonos, she knew she wanted to make some changes. So – after a three year revamp – out went the chintz and in came a cooler design sensibility.
The new laid-back look is down to the expertise of Silvina Macipe Krontira, a renowned Athens-based interior designer, and (quite handily) a long-time Santa Marina regular. With a reported £10m investment, her touch has given the light-filled hotel an organic and earthy feel with a nod to Indonesia in much of its design ethos.
A breezy entrance beckons you in to the all-white hotel and you make your way up to the lounge-like reception area through a cavernous, cream stone staircase (at night this is lit by huge silver lanterns and is wonderfully evocative).
In the rooms – there are 100 to choose from – a neutral colour palette offset by jet-black accents is the perfect backdrop for the twinkling aquamarine ocean beyond. Bathrooms are a highlight with rough-hewn sinks carved out of tree trunks, shower walls of glossy 'touch-me' pebbles, and sleek limestone floors. Bedrooms feature sexy, black bamboo four-poster beds, artwork made of stark white coral and nice quirky touches, such as travellers' trunks used as bedside tables. A real bonus – and perfect for sunseekers – is that all the rooms have large balconies to soak up the views and the sun. The Cyclades-meets-the-tropics vibe is further carried through in the 11 tucked-away villas, which all come complete with butler service and some with their own swimming pools and gardens.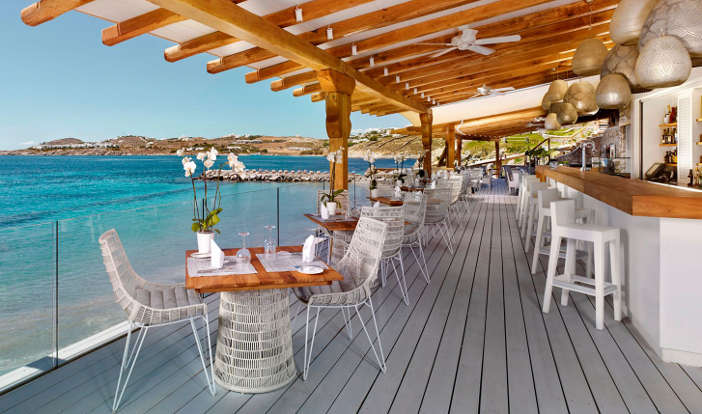 The hotel's heartbeat, though, is the newly formed private beach area. Here, you can kick back, Apple Martini in hand, on oversized wicker-roofed daybeds, to a chilled-out soundtrack that wafts over from the bar on the breeze. When lunch-time waddles around, you can pad up to the new Bayview Beach Restaurant for salads and smoothies and, if that is too much effort, just simply raise a lethargic arm for service-with-a-smile at your lounger.
It has to be said that Bayview really comes into it's own come sundown. The Mediterranean-fusion cuisine is inspired by locally-sourced seafood with Japanese influences – odd, but it works – think oysters and sashimi, traditional Aegean fish soups and spicy king crab tempura all served from a honeyed wood terrace with the ocean swooshing underneath. With the sea as a backdrop and the sound of the waves in your ears, most things taste eminently better than they would inside – but here, it's exceptional. The restaurant's buzz, already pulling in a stylish, just-stepped-off-a-yacht kind of crowd, means you could be in the hottest restaurant in the hippest city. But instead of a glittering skyline laid out before you, you see instead the beckoning Med and the faint outline of the island of Delos beyond. While the eyes feast on that, your taste-buds will be doing cartwheels for some of the many standout dishes served here. The Greek red saffron risotto in langoustine cappuccino, for instance, is meltingly delicious (it's one of those dishes that gives you a vivid taste memory for a long-time after. Yes, I'm still salivating) and the black cod with white miso paste surely has Mr Nobu running for the hills.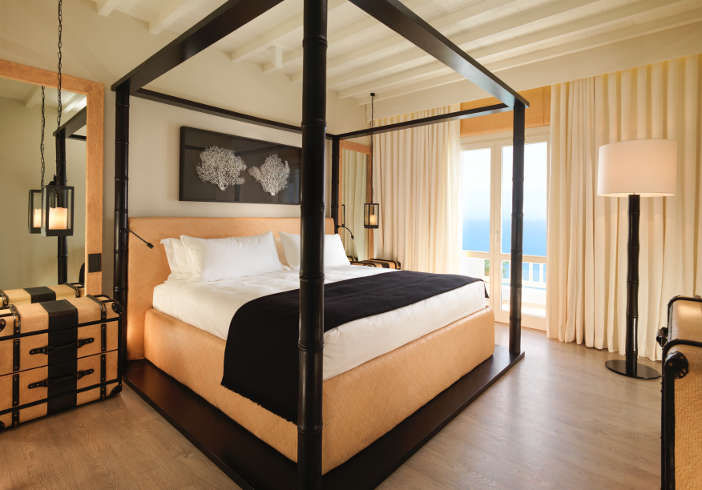 It's hard to be pulled away from the lure of Santa Marina – there's the food, of course, the chic and deeply relaxing surroundings and the cool (but thankfully not pretentious) shoreline scene that sucks you in like the mythical Greek sirens did to Odysseus, making you feel 21 again. It's joyous. If you can bear to break free, and, frankly, why would you want to? But, if you must, then Mykonos town itself is pleasantly authentic and just a short drive away. Winding, narrow streets are lined with independent boutiques, tavernas and gift shops. White on white buildings jostle with each other for space and best of all is that there are hardly any tacky touristy spots that you usually find in most other holiday towns. One lovely gem to be shared is the Interni Restaurant (www.interni-restaurant.gr) found in a hidden courtyard. This dazzlingly pretty restaurant-come-bar not only looks the part (in a kind of Ibiza meets Hoxton way – nearly every man who worked here had a beard) but also delivers on its faultless menu – the signature beef tartare is meltingly good while the lobster burger with wasabi fresh cream and beetroot chips is inspired.
Back at the resort, meanwhile, other tempting diversions include two swimming pools, a gym and the rather good in-house boutique – with its Chloe, Melissa Odabash and Antik Batik beachwear and accessories. Then (and you won't be able to refuse) there's the call of the Lotus Spa, with its exquisite treats on offer – such as the Lava Shells Tropical Massage (a Pacific Ocean-inspired treatment with exotic oils and massage with smooth shells) and the enchantingly-named Golden Veil Lifting – a toning facial which uses gold, myrrh and essence of flowers. It's the stuff of legends.