It was The Killing's Sarah Lund, with her exemplary knitwear and sixth sense for scenting out serial killers and political conspiracies, who first made me fall for Copenhagen. Yes, the sky seemed to be permanently pewter-coloured and streaked with lashing rain, and the murder rate abnormally high, but somehow the mid-century furniture and brilliant jumpers make it all seem not quite so bad. Then comes the cuisine; ever since Noma was elected the world's finest restaurant in 2010, Copenhagen has been the capital on any gourmand's map. The television, the restaurants, the pastries…no wonder Europe's happiest people are supposedly found in this city.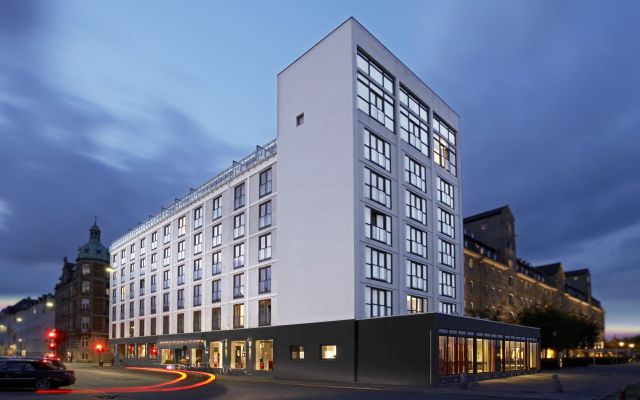 Fortunately, gloomy weather and violent serial killers were nowhere to be seen during my spring break in Copenhagen. Instead, the little mermaid gleamed on her rock, the canals sparkled, and the bridges were lined with an endless parade of cool, beautiful Danish people drinking beers in street-side cafes (while wearing great knitwear, naturally).
Like any good Dane, Scandic Front prides itself on its chic modern design. My room on the fifth floor – decorated in a modish, dramatic palette of deep purple, grey and black – boasted vast, extremely comfortable beds, thick, shaggy carpets, a handy Nespresso machine and stylish mid-century style furniture (although, curiously they'd chosen reproductions of German-American designer Mies van der Rohe's Barcelona chairs, rather than one of scores of iconic Danish chair designs). Floor-to-ceiling windows provided the real highlight, offering a panoramic view over the waterfront. From here I was able to survey two of the city's most iconic contemporary landmarks facing off across the water: immediately beside the hotel is the RIBA award-winning Royal Danish Playhouse, designed by local architects Lundgaard & Tranberg, while Henning Larsen's monumental Opera House stands on the opposite bank.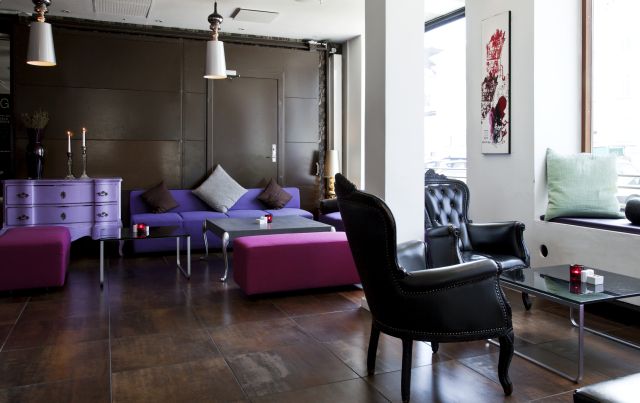 While the hotel backs onto tranquil waterways (I should mention, however, that at the time of my visit there was also the somewhat less attractive prospect of a construction site directly below, as the hotel is in the process of expanding an underground car park and recreational area), it also happens to be slap bang in the middle of the city's historic centre. Nyhavn's picturesque, cafe-lined stretch of canal is just round the corner, and there's the Amalienborg palace – home of the Danish royal family since 1784 – a couple of minutes' walk away.
All bookings at the Front automatically include the generous buffet breakfast in its relaxed, street-facing restaurant/bar. I'm told the hotel's also a popular spot come evening time for its Danish and American diner classics, but I must admit there were too many restaurants in the outside world to tempt me. Noma was, as expected, full to the rafters, so I instead tried seafood favourite Kødbyens Fiskebar in the lively Meatpacking district (the surrounding bars were still going strong at 4am when I eventually dragged myself into a taxi), and Cofoco, an elegant neighbourhood restaurant serving a changing daily menu of contemporary Nordic dishes on a long communal table. The sourdough pizzas and buzzy atmosphere at Mother and the Monday evening supperclub at friendly wine bar Ved Stranden 10 are also not to be missed.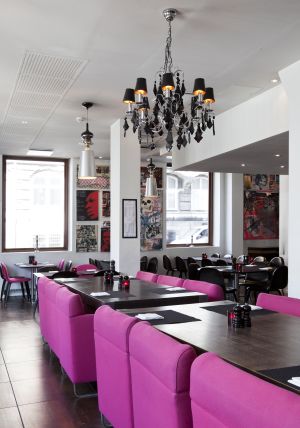 Back at the hotel, a chalkboard drawing wall and table football make the reception an appealingly sociable space – despite being terrible at both I ended up drawing a number of indecipherable chalk 'artworks' and having several heated matches over the course of the weekend. A small sauna on the basement floor, meanwhile, proved a welcome addition after days out sightseeing.
One thing eagle-eyed Sarah Lund would not have failed to notice, however, were the hints of disrepair pervading the hotel's interiors. Much like the smooth, high-ranking politician who's not quite what he seems, much of the hotel's good looks don't stand up on closer inspection. A lot of the furniture was a little battered and scuffed, as was the paintwork on the doors. Generally, I got the impression that it all looked very smart and cutting-edge ten years ago, but it's high time for a facelift now. The lack of attention-to-detail prevents the hotel making the 'luxury' grade in my book.
Similarly, it transpired there weren't any bathrobes provided unless you upgrade to a Superior Extra room, toiletries consisted of shampoo and soap in unbranded wall pumps, and no complimentary bottled water – these touches that I'd expect in a high-end boutique hotel, where cocooning myself in a fluffy robe after a hot shower is one of my foremost and favourite rituals. Admittedly, some of these omissions stem from the Front's staunch greenness: the hotel carries the Nordic Swan label, an accolade that recognises a product or place's eco-friendliness, and as a result it's banished many of the more wasteful features of luxury hospitality. Of course, its eco-efforts are commendable, but striking the right balance between that philosophy and the positioning and pricing of the hotel is essential. It's all about managing expectations. So, if you're after sheer indulgence and pampering, historic five-star hotels Nimb or the d'Angleterre are better bets, whereas the Front is a convenient, welcoming boutique base for anyone wanting as a fuss-free stay in one of Copenhagen's loveliest quarters.