Following his sojourn in Munich, Larry and Mrs L travel two hours south, into the Bavarian alps, and to a castle that's not a castle but could certainly make him feel like a king all the same…
It didn't make headlines when it was announced at the end of January but you'll certainly hear a lot more about Schloss Elmau next year; the luxury hotel in the Bavarian alps has been selected by the German government as the site of the 2015 G8 summit (or G7 if current events are anything to go by). And you can see why; if they wanted some scene-stealing images to flash around the world's media they couldn't have chosen a better place. It sits on a carpet of rich undulating pasture and deep verdant pine forests, the rising crags of the Wetterstein mountains behind giving it a dramatic, iconic backdrop. You couldn't make up a more archetypal image of pastoral Bavaria if you painted it.
It's not just that its setting screams rural retreat, it's the sort of place you would go to get away, to rejuvenate, to leave behind modern life's incessant distractions and get some serious time in – culturally, creatively, culinarily. Funnily enough, it was always intended as such. Built by a Protestant theologian and philosopher Johannes Muller in 1916, Schloss Elmau was designed as a sort of artists' commune. It's had a colourful history since then but, principally, has remained a cultural hideaway; it features an itinerary of activities, events, concerts and gatherings that is unrivalled.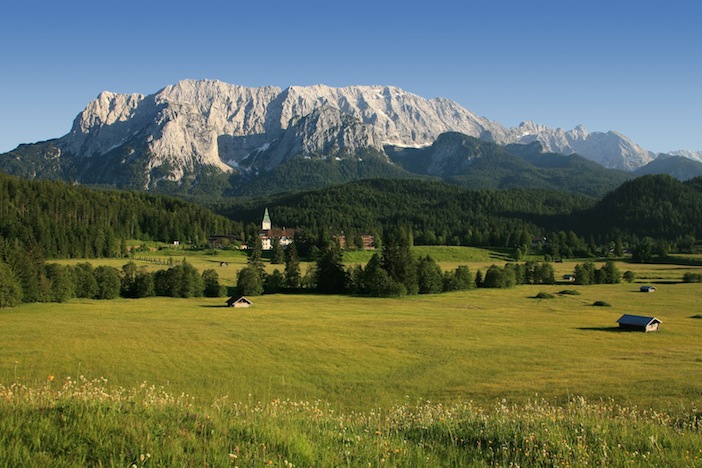 A two-hour drive south from Munich, once escaping the city centre we eschewed the autobahn in favour of the scenic A-road alternative and, in a gentle chug through lower Bavaria, passed the beautiful Lake Walchen – though more romantic-sounding in its German, Walchensee – the mountains always ahead of us paving the way. The lowlands of Krun were our final brush with anything built up; gabled chalets dotted about the countryside, nearly all characteristically daubed by ornate murals advertising wares or, simply, for decoration. Leaving Krun we left the world behind. Once past the last house on the edge of the village, we meandered through pine forest for some three miles. A mist descended – though that could have been my imagination – and for a moment we were enveloped before emerging through open pasture to see the square oxidised-copper tower of what could only be Schloss Elmau dotted against the granite grey of the mountains. Mrs L said, simply, 'wow'.
Let's not get too romantic, however. I hasten not to call it a 'castle' by its German title – if anything it would get labelled a folly here in the UK – it is neither the gothic Disney castle one might expect, nor alpine chalet, but a sort of hybrid of both. Solid, sturdy stone interiors belie the plaster and wood panelling of its exterior but curiously, by contrast, is its decor; there's a far eastern influence, from the ubiquitous elephant motif to the earthy colour schemes, cushions and soft furnishings, bold wooden furniture and the distinctive light fittings providing a golden hue throughout the hotel.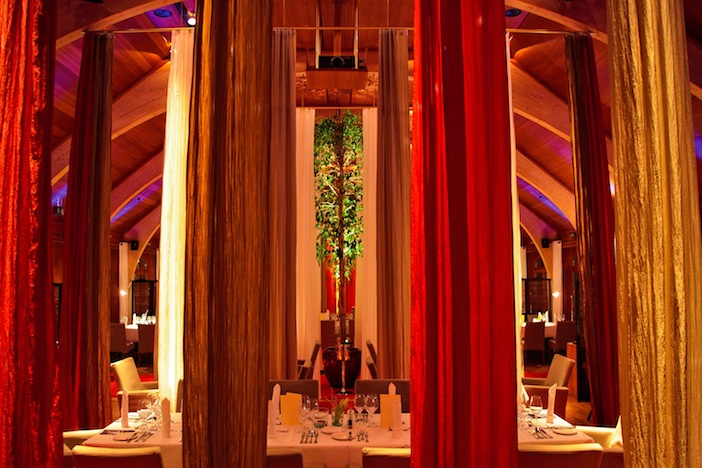 These motifs are perhaps most striking in Fidelio, the hotel's Italian restaurant. The barn-like room is scaled down to an intimate dining experience by the multitude of silken drapes hanging from its A-frame beams, not unlike something from The House of Flying Daggers. Were it not for the delectable menu, ably steered through with due attentiveness by our waiter, I felt I might attempt a circus tumble from the unravelling drapery.
Were dinner at Fidelio our only option I'd have been more than satisfied, but Schloss Elmau's culinary offerings far exceed expectation. We were treated to an extraordinary breakfast buffet in La Salle; an array of juices, breads, jams (strawberry and tahiti vanilla, mango and banana), wild honeys (most likely from the apiary we passed on the walk to Elmau Alm), not to mention the hot food stations. I'm bad enough as it is with the need to try everything but this had me making several sorties. It was over breakfast that I noticed the other distinctly abundant feature of breakfast here: children. Not to eat, obviously – though these Bavarian forests aren't half Brothers Grimm – but virtually every table featured at least one and they would appear under one's elbow at the buffet counters, negotiating some of the trickier culinary elements and indulging some of their more bizarre eating habits (pancakes with cheese and nutella anyone?). The hum and buzz of their omnipresence is not, however, overwhelming; La Salle and, indeed, the hotel is big enough to accommodate the quieter demands of adults as much as it caters for their offspring. And I began to wonder about these cavernous interiors. For at Schloss Elmau you cannot hear the children scream…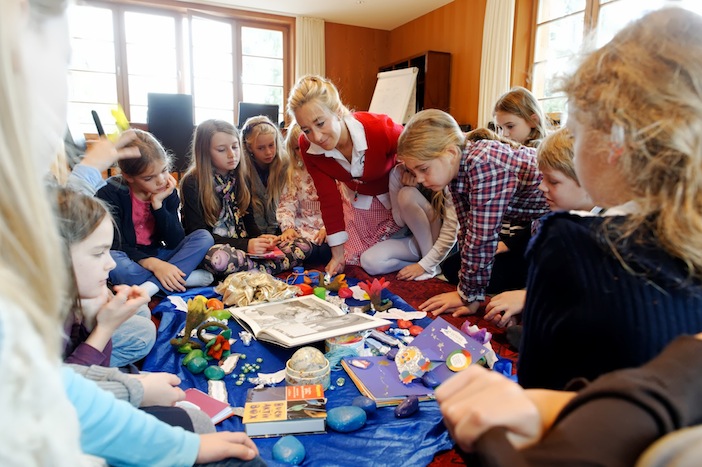 …and we can't hear them because they're absolutely entranced by everything on offer. That Schloss Elmau began life as a sort of artists' commune continues to this day; it's a very inclusive, care-free sort of place and, in the spirit of this bohemian culture, everyone is catered for. In fact, to say it is family friendly is an understatement, with many facilities geared specifically for the little ones, not simply tolerated or tacked on as an afterthought. And in this spirit comes, too, a sense of equality. There is not just the token games room, or series of organised activities; their activities have gone stratospheric, from literature clubs to science labs to chess academies to football camps with leading players, even the spa offering is not overlooked, the children's spa is separate from the adults' and features children's treatments as well as a significant indoor swimming pool. It harks back to its founding principles, the very essence of a creative commune being its inclusivity.
The rooms are not fancy; I'd go so far as to say they're a little basic but they don't need to be anything but – a token television stands on the floor, but it was never turned on – for we were rarely in there in spite of being in rural isolation. Activities for adults are as bountiful as those for the little ones; a bracing spring walk, through Heidi-like pasture and sky-high pines up to Elmau Alm was duly rewarded with a foaming beer in its cosy log cabin confines. The more adventurous might wish to venture higher still, to the peaks of the Wetterstein, for the most spectacular views. I didn't, at least not on this occasion; instead opting for a run through the river valley behind the hotel. This ended with perhaps the most glorious means of recuperation.
Some distance along a winding gravel track through deciduous woodland, I emerged at a lake flanked by the mountains once again. As I considered dousing my beetroot face with the cool meltwater, a pair of cyclists pulled up next to me and in a scene that reminded me of old 1930s films of gallivanting holiday-makers, utterly unabashed, they stripped to the nethers and dived in. I took this as open season, and joined them. Though calm your imagination; British modesty got the better of me as I maintained my shorts but it was, in a word, liberating. Open water lake-swimming may be one option but one is certainly not spoilt for water at the hotel; Mrs L, too, had her mountain lake backdrop dip; the infinity pool on the roof of the Badehaus spa provided much the same though with one crucial advantage; it was at a considerably more comfortable temperature than the lake.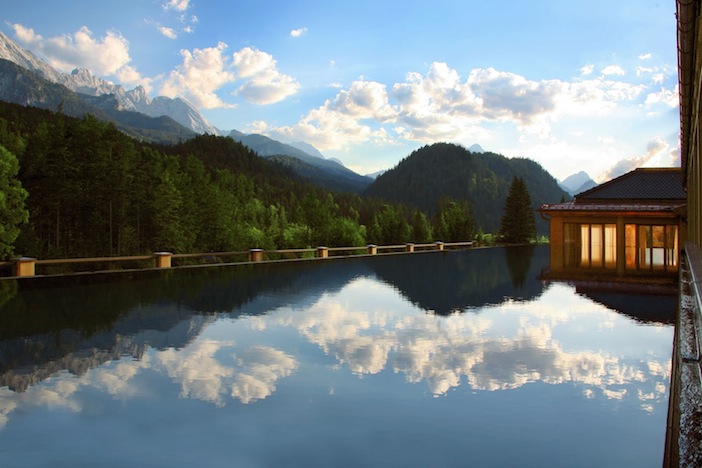 That this hotel is famed for its spa can well be believed. At 32,000 square metres, the Badehaus Spa is so big it's housed in a separate building over three floors and is large enough to get lost in. As I did. As well as the rooftop infinity pool, there's a hot salt walter pool, a cold plunge pool, a huge salt water steam bath, huge sauna, huge tea and fruit lounge, several huge relaxation areas and huge terraces, huge restaurant, huge (yet intimate) yoga room, huge treatment lounge and 15 huge treatment rooms, all with spectacular views of the huge mountains, naturally.
Okay, I'm exaggerating its hugeness but that's not even the extent of it. There's a further 'nature' spa, open in summer, located in the valley below the hotel by a crystal clear creek and features a lap pool, volleyball court, three tennis courts, two boccia courts and a grill restaurant. The Lady Spa – yes, 'lady' spa – is located on the top floor and features a salt water steam bath, secluded Finnish sauna and relaxation areas and – yes, there's more – the 'private' spa takes up the entire top floor of the Badehaus and can be personally reserved if desired. And then there's the hammam. Set in the basement of the hotel, at over 5000 square metres it's enough to rival any the Middle East might boast; indeed, were it not for the fact it featured temperature-controlled steam, it wouldn't have looked out of place as the hotel's lobby with its triple-domed ceiling and living room furnishings. Basically, I needn't have gone to the lake.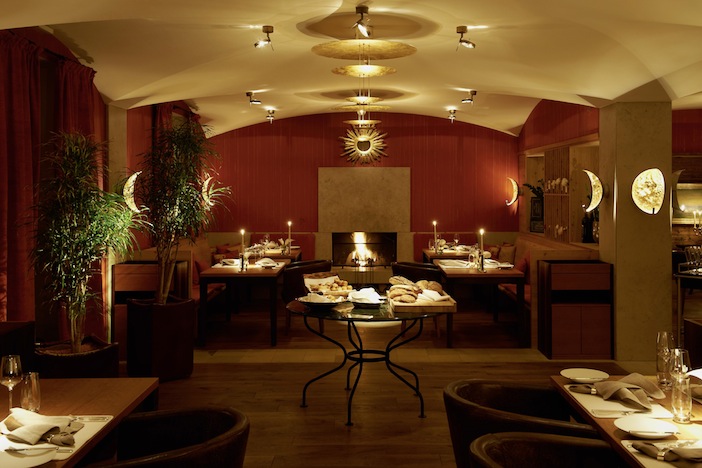 Perhaps, though, Elmau's greatest secret is in its basement. Not the capacious hammam but something more intimate. In a secluded enclave below stairs, bathed in the golden light that illuminates the walls, is the Luce D'Oro. Funnily enough, 'golden light'. This is the hotel's Michelin-starred restaurant. And what a restaurant. Rural isolation certainly does not limit the resources available to the chef, whose creations are, simply, divine. The dishes are presented humbly in the menu; char, cucumber, sour cream. Or pigeon, yellow beet, elderberry. But that's all it needs. These are top, key and base notes if the dish were a perfume. Each complimented by the characteristics of the wine. And they are delivered exquisitely, on crockery that becomes a talking point and with little label cards that remind you of what you're eating. Daft as that may sound, it's a clever, simple touch, meaning you don't have to remember the details from the waiter as he describes your dish. Chef Mario Corti and Sommelier Marie-Helen Krebs have concocted a five-course wine pairing menu that would not be out of place in any city in the world. Except it's here, tucked away in a cellar in a hotel at the foot of the Bavarian Alps, two hours' drive from Munich. And, boy, is it worth the journey.
The world's leaders could not have picked a more spectacular and dramatic destination in which to meet in 2015 and Angela Merkel surely triumphs as the hostess with the mostest, showcasing the best of what Germany has to offer. I imagine David Cameron immersing himself in the spa, Francois Hollande might more than meet his match as far as cuisine is concerned and, who knows, Shinzo Abe might even feel at home among the decor. It's an exquisite destination for such a summit. But therein lies the problem; for at Schloss Elmau I just can't imagine them getting any work done.