Sometimes I still can't believe there is a place called the Stanglwirt. It has a Narnia quality, and how I wish I could retreat to the back of my cupboard and enter into its reception daily. From the very moment I first set foot in this 400-year-old hotel, I was overwhelmed with a sense of otherness, something entirely welcome to this somewhat frazzled Londoner.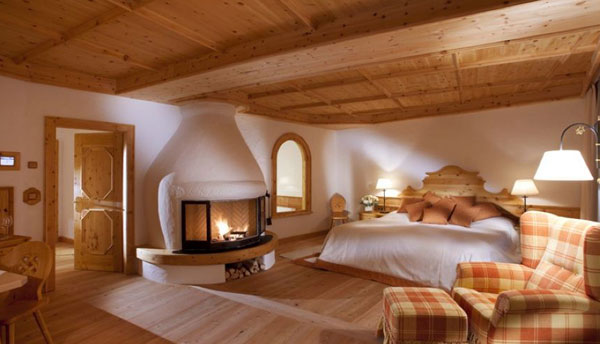 I was shown to my room by a dapperly dressed porter and, on seeing it, was overwhelmed by the sheer amount of pine on display. I know you're imagining a good wooden floor and panelled walls but you would be wrong – I am talking all wood, with a pine phone and television frame. It is a pine palace, a triumph of wood. If the sight of all that timber is too much for you, you can burn some in the fireplace at the end of your bed in a sort of lazy, warm protest.
While all this is the last word in cosiness, upon snooping around it became very apparent that the Stanglwirt has more to offer than the traditional five-star bed and breakfast experience. For a start, a little peek at the cosmetics on hand showed me the Hauser family have thought of everything – each room comes complete with the usual toiletries (all smelling of luscious alpine herbs) and then there was the mysterious, very potent potion in a clear test tube that I mistook for mouthwash. It is designed to help vanquish spots. I sported very fresh breath that day.
Wandering out to the bar, I took the (wooden, of course) lift. It had a schnapps bottle and two shot glasses in it. Excellent. A few lift rides later and I was primed to have a look around the sprawling grounds. If you are wondering what one does in a ligneous resort, you need not wonder too long. There is something here for all, from sports-addict to devoted sybarite.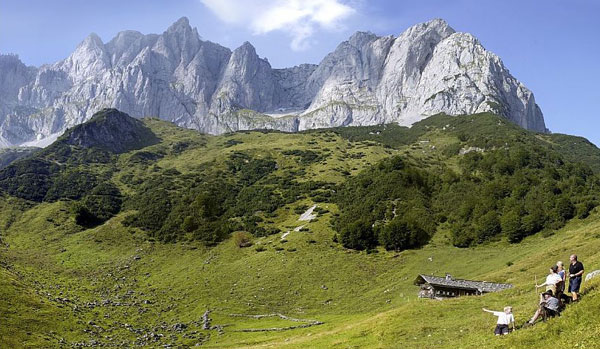 The sporty amongst you can be titillated by the 14 tennis courts (with views of the Wilden Kaiser mountains), the golf school (18 hole), the lipizzaner stable complete with riding school (you can see the stable through a window at the bar – it is surreal) and bowling alley. For those looking for more of a pampering experience, as I was, pop to the leafy gym before taking a few hours (read: an entire day) in the pool and spa area. Once I found this, I was in my happy place. I think I need to paint a picture.
The 'pool area' is in reality a series of stone grottos worthy of hours of your time, with an indoor and outdoor pool as the centrepiece. There are jacuzzis at different levels, salt rooms to steam even the most polluted of lungs to alpine cleanliness, various temperatures of steam and sauna and, the piece de resistance, an ice-water plunge pool. You may think me odd for lauding this but, trust me, once you've taken the plunge and run to the hottest sauna available a few times, you will feel entirely renewed. A word to those easily embarrassed – this area requires nudity, so don't go if you find a conversation with a totally nude open-legged man tricky. I very quickly became blithely unaware of this unabashed nudity, so enticing were the different rooms.
I managed to tear myself out of the relaxation area overlooking the mountains to have a massage in the spa. Usually wary of hotel-masseuses, who tend to think a rub with oils constitutes as deep-tissue, I approached with caution. It was entirely unnecessary. I was happily and heartily squeezed and left feeling pummelled. And hungry. I decamped to the restaurant for the afternoon 'snack', which is in reality a huge buffet.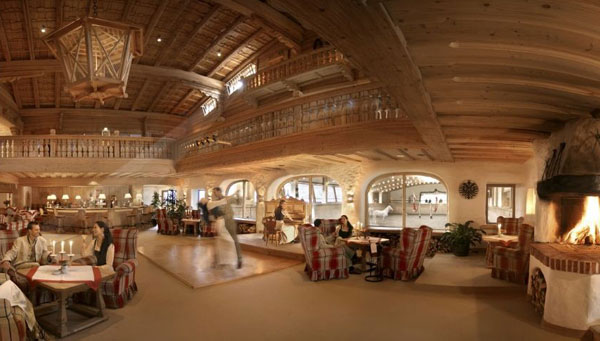 For the foodies amongst you there is the reassurance that no tastebud will remain untickled here. The impressive selection of meats and cheese available during breakfast and the snack all come from the Stanglwirt's own farm and the water from their own spring. This dedication to organic, sustainable ethics is really just the icing on the cake here. This hotel is more of an enchanted palace of childhood fantasy, designed to accommodate traditional design with modern conveniences. Now that's a fairy tale.
N.B. If you aren't as suggestive as I am, try the spectacular cheese board before bed to achieve the wild dreams befitting a Hans Christian Anderson tale – it worked for my companions.
Bio-Hotel Stanglwirt, Kaiserweg 1, A-6353 Going am Wilden Kaiser, Austria. Tel: +43 5358 2000. Website.