From the river itself, the hotel looks a little like a fortress – intimidatingly large, distributed across various towers, dominating the skyline with a giant red sign. But while Swissôtel Bosphorus might be run with military precision, the objectives inside are not defence and conquest. These people are here to make you feel good. And not in the Vegas / Ibiza / 18-30 kind of way. I mean, good. Vital. Healthy. Glowing. Over the next couple of days I will put that to the test – just how good can I feel here at Swissôtel Bosphorus?
Luckily for the hotel, I'm a pretty cheap date – a second glass of red on the flight was a surprise that genuinely thrilled me – so I'm expecting success here. Istanbul is apparently the second most congested city in the world after Moscow, but we breezed through from the airport in 45 minutes and hopped out, just south of Maçka Democracy Park, to check in. Beyond the hotel, down the steep slope, is the river itself; closeby to the west is the Vodafone stadium where Beşiktaş occasionally bother the UK's Champions League teams.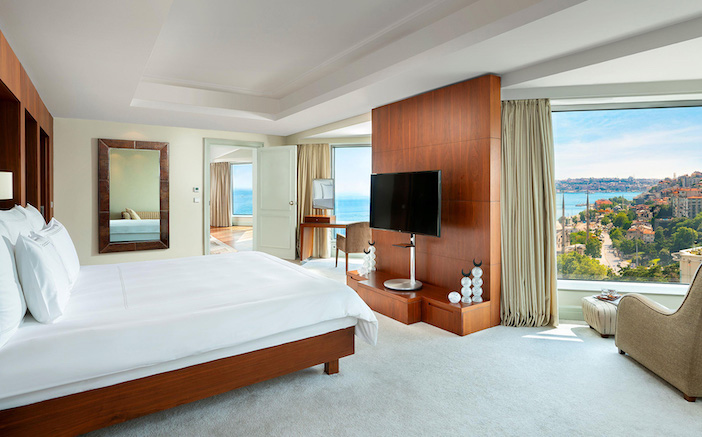 I'm whisked through checkout to a room with a remarkable view, facilitated by floor-to-ceiling windows through which I can peer along the water's edge and across to the other side, but there's no time to enjoy it, because the first event has already started. So I hot-foot it across to the other side of the hotel to check out one of the Loft Suites.
These are concrete and metal-dominated spaces, recently spruced up with luxurious design, where guests can sleep on the mezzanine and enjoy those views from pretty much everywhere in the suite. There's time to whip through a couple of cocktails before we pack the lift and head up to the 16 Roof Bar and Restaurant for dinner.
Needless to say, the view up here is even better, and we politely jostle to get the outward-facing seats around our table. This is our first encounter with the hotel's approach to food; being a fantastically uncultured Brits-Abroad Londoner type of guy, I lazily associate Turkish food with lots of köfte, rice and Efes; thankfully (for my waistline) the folks at Swissôtel Bosphorus take a different approach.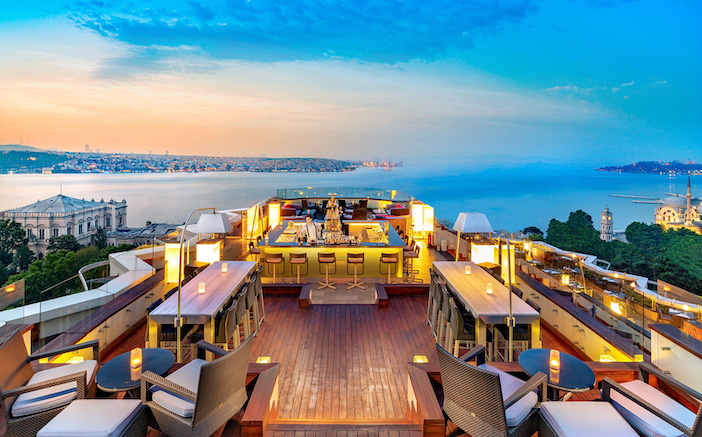 Over the subsequent 48 hours I eat unconscionable amounts of fresh herbs, fresh vegetables and fresh fish; the hotel's executive chef, Ali Ronay, is committed to vitality and makes sure we leave each meal feeling refreshed and restored, rather than semi-comatose and guilt-ridden. Ali is a judge on one of Turkey's most popular TV cooking shows (our own judgement will follow later), and has a flair for presentation – how many Turkish chefs do you know with 50,000 Instagram followers?
It has been an exceedingly long day though, so I retire to my room, grateful for the turn-down, popping the curtains open so I can wake up with the sunshine. This works – just about – and it's a good job, because I need to be breakfasted and out before 8am. For breakfast I whip up to the luxurious lounge upstairs, a sun-drenched space not dissimilar to a high-end airport lounge. Pretty much everything I could possibly desire is there, but I have the coffee blinkers on, throwing down several americanos before heading out to the car.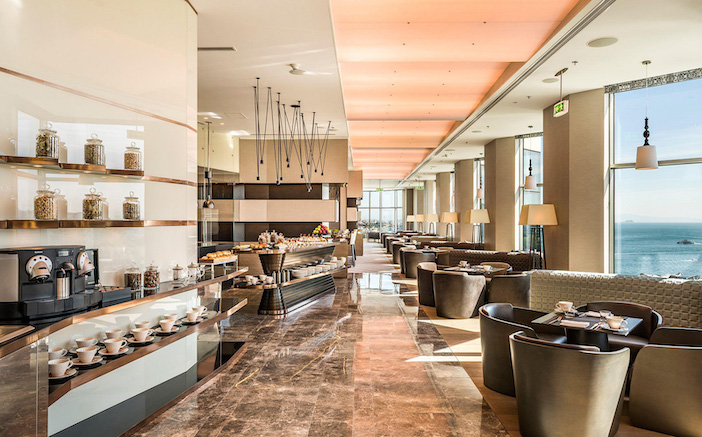 This morning we're heading over the bridge to tour Istanbul's spice bazaar with Ali. Much like the oft-filmed Grand Bazaar nearby, the building is iconic and instantly recognisable, dating back to the 1600s in its current form. Chatting with local merchants, we dig into colourful mounds of intoxicating spice, occasionally distracted by the copious amounts of Turkish delight, rose tea and soap that tourists also seek in abundance.
But it's too early to be stuffing ourselves with sweets, and besides, it would countermand the health kick that this trip is all about. So instead we stroll around the neighbourhood, over which the 17th Century New Mosque looms large, and I partake in the one activity that unites every trip I ever go on (finding cats and trying to convince them to be my friend). Eventually we wind our way towards the river and head back to the hotel for a picnic lunch.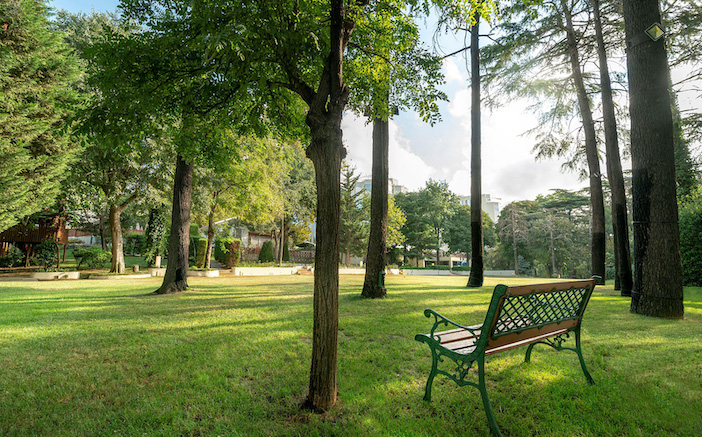 The grounds of Swissôtel Bosphorus are generous and stuffed with activities – there are gardens for walking and jogging, tennis courts, and several pools, one of which even has spin bikes for some in-pool cardio. Tucked away up the hill behind one of the pools is a covered garden, where we find several gentlemen making us fresh juices, with implausibly high ginger content that wakes us all up. For lunch it's fresh red snapper accompanied by crunchy salads and vegetables; low on carbs and high on protein, we're in good shape for the workout we've got coming later.
But first, a massage. While this would ordinarily happen after sport, rather than before it, I will take a decent massage at any and all hours of the day, and this one doesn't disappoint. Swissôtel's spa is enormous, with a huge pool and a gym so well stocked that it needs to be split across several rooms. The massage itself runs for a full hour, in which every appropriate part of my anatomy is renewed with the level of firmness for which Turkish masseurs are famous. Beyond the regular massage, you can opt for various body wraps, facials, and of course the all-in luxury hammam.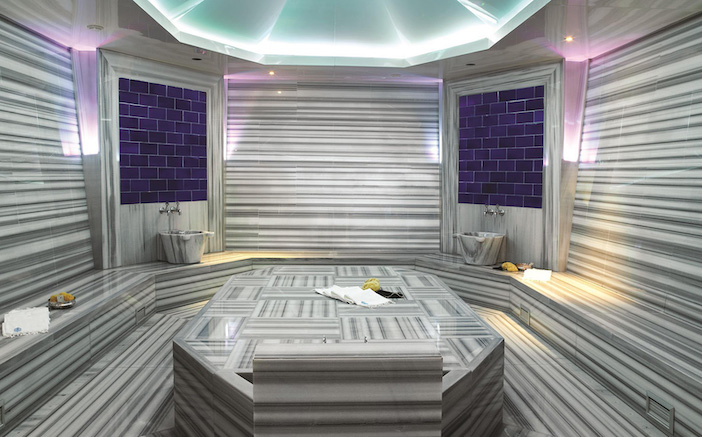 But there's no rest for the wicked, and as such I head straight from the spa to the outdoor 'Vita Parcours' area. For around 40 minutes, spa director Bülent Özdemir leads us through a series of fifteen plyometric and bodyweight-based activities, ranging from squats and chin-ups to hill repeats up through the trees. There's a short, undulating running track to keep you huffing and puffing too – if you're a fitness junkie looking to maintain while you're away, your options are by no means limited to chugging away on a soulless treadmill. Needless to say, powered by fresh fish and vegetables, we all absolutely dominate the workout and cross back to our rooms for a shower and a well-earned drink.
But we're not done. The most fearsome competition is about to start. Chef Ali has curated a 'black box challenge' for us. We all take up an outside cookery station and receive a box of ingredients; we have one hour to make the most delicious meal possible. This activity is to be immediately followed by dinner, so I presume we aren't going to eat them, which is a shame; but nonetheless we dive in.
After an hour of experimentation, education, and frequent monitoring of the 'cooking wine', we submit our dishes for judgement. I'm particularly proud of my bulgar wheat, but amongst our party is one half of a restaurateur / nutritionist power couple, and she deservingly takes home first prize. We follow this with actual dinner, once more dominated by superbly fresh flavours and muscular fish, before turning in at a reasonable hour – once more we're up at the crack of dawn tomorrow.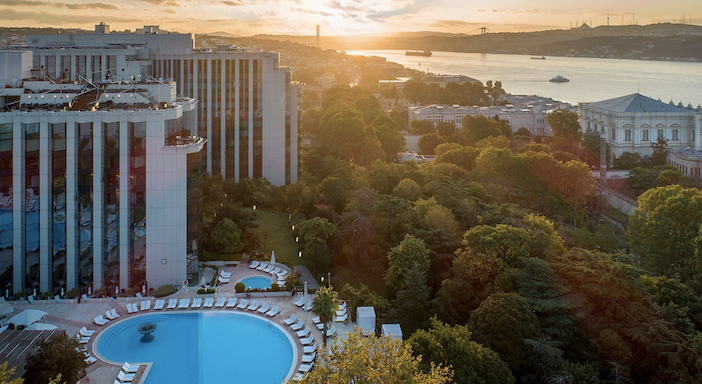 It's worth it though. At first light, we walk down to the shoreline and board a huge boat where we're led through some sunrise yoga, while we cruise down the river between two continents. I come perilously close to drifting off – I'm still behind on sleep – but resist the urge, and emerge feeling limber and revived. Fresh juice and Turkish pancakes follow quickly, while we take in one of the most architecturally diverse shorelines anywhere on earth.
All too quickly we're back at the hotel, packing up and shipping out before lunch. Istanbul is endlessly fascinating and if you're looking to boost your vitality while you take it all in, this is a great place to pitch your tent. Just make sure you stay long enough to make the most of it.
For more information about Swissotel The Bosphorus, including details of promotions, visit www.swissotel.com.