A knock at the door from room service and a small, rectangular object is delivered – not a club sandwich, but a DVD. For a 30-year-old movie, no less. Well, if I'm lodging at a James Bond filming location, it makes sense to clue up on the source material, right? Along with serving a menu of 007-inspired cocktails in the bar downstairs, lending copies of Octopussy to guests is one of the ways Taj Hotel Lake Palace leans into its Bond Girl back story.
Whether you're a fan of the franchise or not, it undoubtedly provides some top-notch travel inspiration. They've featured some of the world's most impressive hotels – among them, Hotel Danieli Venice, Fontainebleau Miami Beach and The Peninsula, Hong Kong – and made international audiences long to visit everywhere from Matera to Jamaica to Norway's Atlantic Road.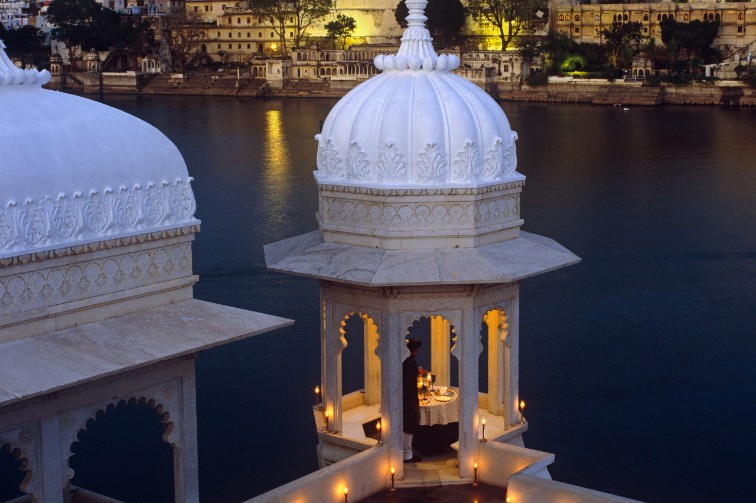 As the credits role on Octopussy, which I've watched from the comfort of my suite's sofa after a day sight-seeing, the real star of the show is clear. No, not Roger Moore's eyebrows, Steven Berkoff's dodgy Russian accent or lines like "You have a nasty habit of surviving, Mr Bond". It's the Indian city of Udaipur and its many royal residences, with Taj Lake Palace moonlighting as the titular villain's lair.
Octopussy hit cinemas in June 1983, but the Lake Palace's story dates much further back. It was built by Maharana Jagat Singh II, part of the Mewar dynasty, in the 1740s. Right in the middle of Lake Pichola, this pleasure-focused summer retreat – then named Jag Niwas – was tucked away from prying eyes. The conversion to hotel happened in the 1960s, with luxury group Taj taking over in 1971 – an ideal match given their record for renovating heritage buildings and delivering VIP-worthy service.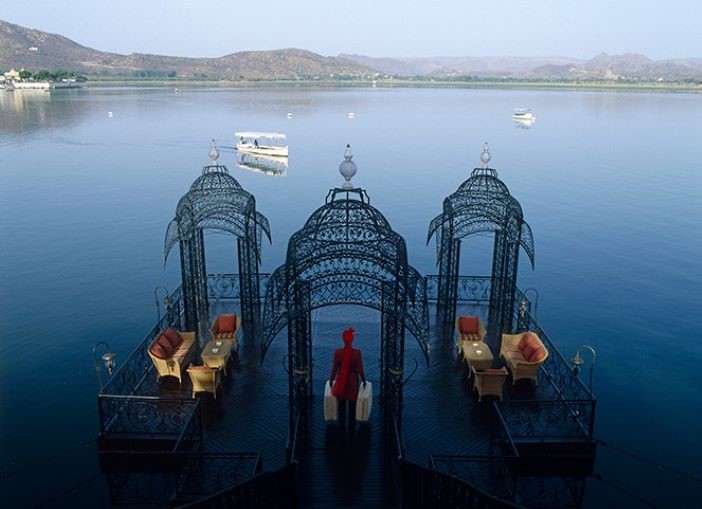 Bond arrives at the palace by swimming across, at night-time, disguised in a mechanic crocodile. Thankfully, guests have the more glamorous option of hopping aboard a private launch from the lake's eastern shore, and five minutes' later I'm ushered along the jetty beneath a sequinned sun parasol while rose petals are scattered in my path. This add-on experience is called the 'Spectacular Arrival' and is certainly fit for royalty, whether they're of the Hollywood, Bollywood or blue-blooded variety.
Its Mughal architecture is beautiful to behold from the city – a structure of pure white shimmering mirage-like above the water. In contrast to its pearly exterior, the courtyards within are a more colourful affair – bursts of bright pink bougainvillea around lily ponds, silver Tarkashi (a Rajasthani metal inlay technique) scrolling across walls, and floors patterned with polychromatic marble tiles.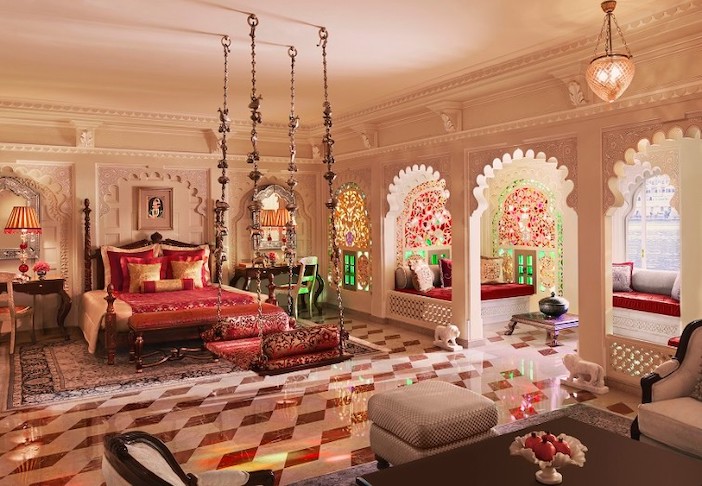 My suite, meanwhile, isn't just fit for a king; it could house an entire royal family, spanning a daybed lounging area, private roof terrace and dressing room that the contents of my carry-on case could never hope to fill, plus freestanding bathtub with rose petals on hand for a decadent post sightseeing soak. The museum-worthy Indian craftsmanship continues, too, including ornate fretwork panels, painted murals and teak furniture.
Given its lake setting, the hotel embraces a watery theme with a 'floating spa' (imagine a barge containing steam room, plunge pool and treatment rooms) and private dining aboard Gangaur, a 150-year-old royal barge that also featured in Octopussy. An equally scenic dining spot is rooftop restaurant Bhairo looks across to 65-room sister hotel Taj Fateh Prakash Palace – with equally sumptuous, art-filled interiors, it's no surprise to learn this spot was built by another Mewar king for hosting state events.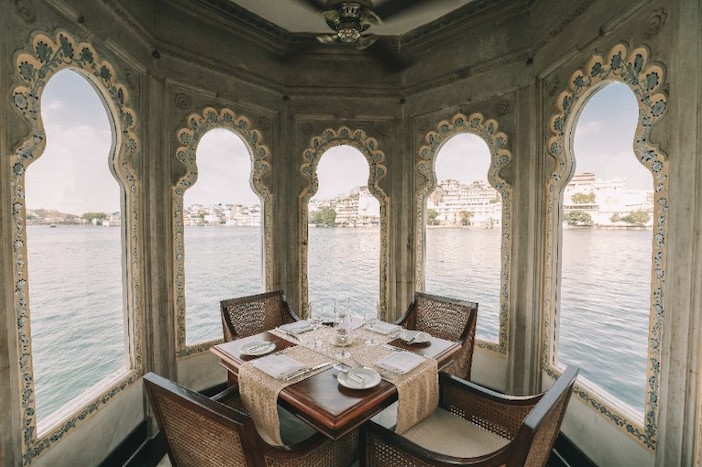 Before supper, time for a cocktail – a Martini, naturally, only with a curry leaf twist to keep things local. Amrit Sagar is the Taj Lake Palace's jewel box of a bar, even preserving the Maharana's 18th century throne, but I head up to the terrace to bask in the last of the day's warmth (knowing I'm imminently returning to a snowy cold snap in England). The sun slips behind the Aravalli hills to the west, while over on the lake's eastern shoreline, the sandstone ramparts of the City Palace become sheets of platinum gold as the light hits them. Thirty years on from its Bond Girl moment, the Lake Palace still has star quality.
Taj Lake Palace, Udaipur, Rajasthan is a signature property in the Taj collection. For more information, including details of holiday packages, membership programme, and other properties in the Taj portfolio, please visit www.tajhotels.com.