Cigar Editor Nick Hammond shakes the dust of Baker Street from his brogues and samples the new menu – and cigar sampling room – at Marylebone's No. Ten Manchester Street Hotel…
I don't suppose it's very cool these days to actually call something cool – but the new cigar sampling room at No. Ten Manchester Street is just that. It's like the study-cum-library-cum-cubby-cum-drinking den you've always wished you had. And it comes complete with an attached walk-in humidor stuffed with goodies that avid cigarophiles will drool over. So what's uncool about that?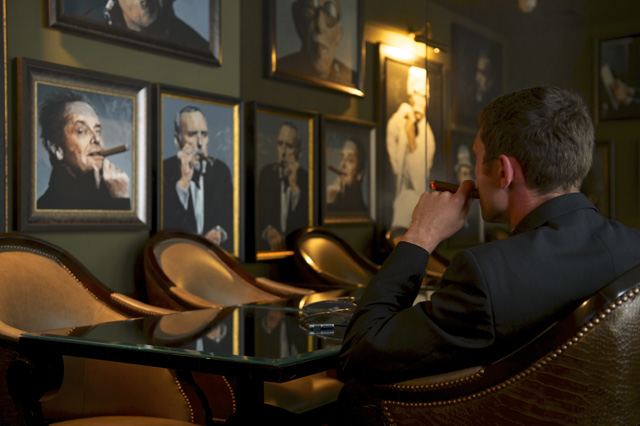 The boutique hotel, which sports 45 stylish and comfortable rooms, has been a favoured bolthole just off Baker Street for some years now. Under the auspices of owner and property developer Khalid Affara, this friendly hotel has always boasted great staff – ergo attentive service – and it was one of the first places in town to build its own, dedicated cigar terrace, so it holds a special place in my heart.
The terrace is still very much a venue worth its salt, by the way, and remains open all day until 9pm at night. It's warm and comfortable, and first-rate food and drinks are served at your table. But due to restrictions over nearby residential properties, late night schmoozing and schmoking are not allowed. And frankly, that can be a bit of a killjoy.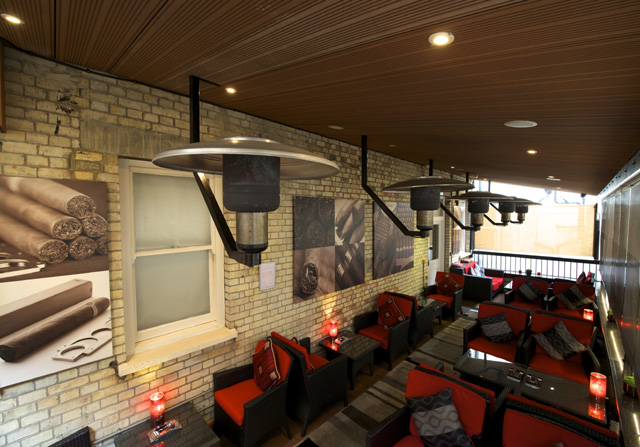 But fear not, intrepid Arbuteer; you now have a whole new experience awaiting you in just the next room. A former guest room has been knocked through and the new lounge artfully developed to include enough tables for a handful of cigar lovers. The walls are painted in a deliciously decadent dark green and adorned with some seriously 'cool' artwork.
Specially-commissioned oil paintings of famous past and present cigar smokers provide the eye candy. 'Name that cigar smoker' is now the habitual game du jour. Expect to see Luciano Pavarotti, George Burns, Alfred Hitchcock, Jack Nicholson, Mark Twain and more, all enjoying the therapeutic benefits of a fine, hand-rolled cigar.
The cigar selection at No. Ten is superb, with everything from current production to aged and vintage sticks available singly or by the box. And tonight, after a meal at the revamped hotel restaurant, Dieci, I choose a huge 2011 Partagas Lusitania. Shrinking violet I am not.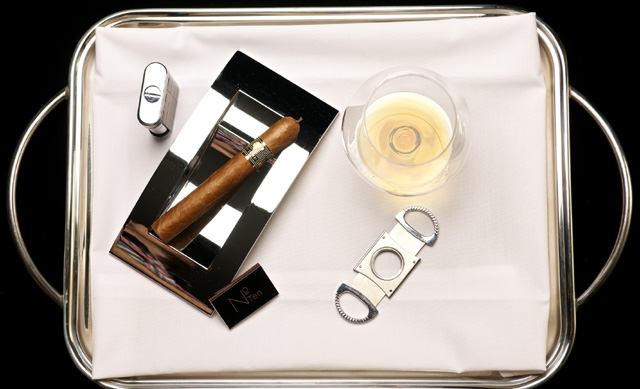 But let's talk first about the restaurant. It is small and intimate, just a few fellow diners eating in agreeable serenity around you. The menu is likewise, with Chef Cristian Gaimarri providing imaginative dishes and flavours straight from his childhood in Italy. My gut feeling – pardon the pun – is that the powers that be at No. Ten Manchester Street believe good Italian food is unsurpassable. And as Annie Lennox once so poignantly emoted; who am I to disagree?
From an exquisite starter of carpaccio of octopus (light, sweet, ozoney and served with saliva-inducing capers) through roast cod with a sauté of exquisite Italian clams to an admittedly 'Marmite moment' black truffle panna cotta, Chef Gaimarri provides a meal of subtle thought and intricacy. If the tapenade on the cod is a tad overpowering, one feels suitably appeased by the rest of the offerings to forgive this minor oversight.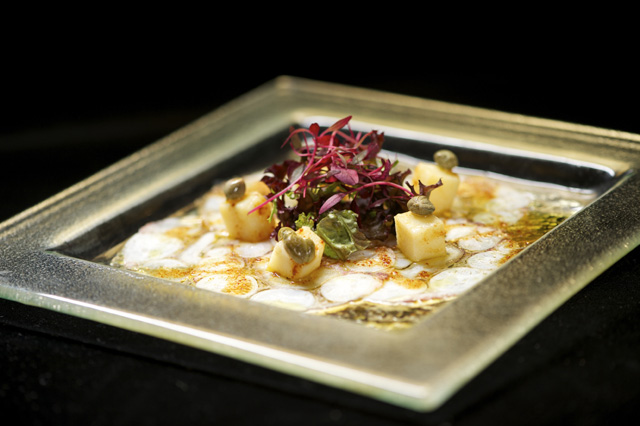 Conviviality such as this has been carefully fostered. Each course of our meal is assuaged with a glass of something suitable, as recommended by the glorious Paola Paolillo, Restaurant Manager. We start with an eye-opening Franciacorta Bellavista Grand Cuvee, a sweet, creamy, froth of palate-preparing delight. There is also Friulano Toh! Recioto Vaolpolicella Nicolis and a sweet but entirely appropriate Sauterne from Chateau Haute-Mayne to finish.
I dash headlong for the sampling room of course (only cigars bought on the premises can be smoked here) and along with an exemplary espresso and a nicely potent Montepulciano, I settle in with my Partagas.
It's a rich, bold smoke, not too powerful, but full-flavoured. And I chat to Paola as she drops in and out to attend to our every need, and I listen to the pulsing 'son' of the Cuban music in the background and I admire the great and the good of the smoking world that adorn the walls around me. And I pray for the day when my den looks even a little like this. It's just cool.