Some five star hotels (or rather the staff) create the impression that you're lucky to be there, as opposed to them being lucky to have you. Efficiency is good, pretentiousness not so much – something that makes the charming, yet never gratingly obsequious, service at The Beaumont all the more admirable. From the greeting on arrival from the doorman who valet parked the car to the porter who saw to the luggage, the attention and warmth we received throughout our stay continued to impress regardless of whether we were interacting with the front of house, concierge, reception, housekeeping or room service. This Art Deco-inspired beauty in the heart of London's Mayfair is as slick as the black and white marble floor on which you could imagine Fred Astaire whirling Ginger Rogers around on their way into dinner at the Colony Grill Room.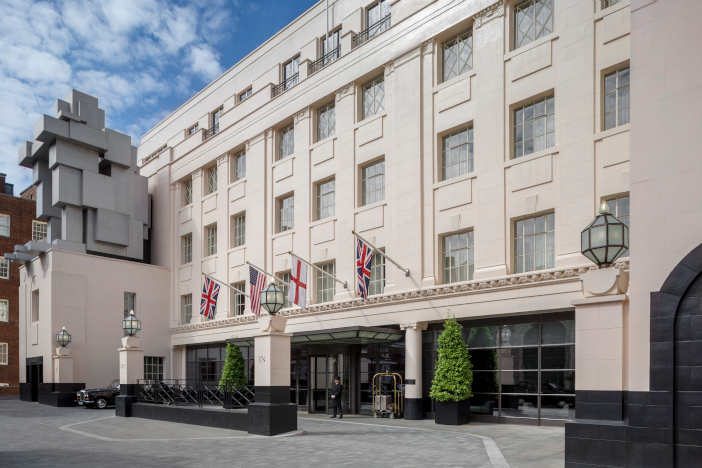 I'm as much in love with this hotel as I was when it first opened in 2014. In fact, it keeps getting better. The Beaumont's Art Deco interiors are glamorous and opulent without any need for gilt, and I defy anyone not to feel entirely pampered and at ease in such surroundings. Because surely, the whole purpose of a luxury hotel is to make guests comfortable? Palace-style hotels with ballrooms and formal fine dining with a fleet of waiting staff resembling an army are all very well, but if you're looking for somewhere with relaxed elegance and some classic food you'll actually want to eat, this is the hotel you'll return to time and again.
The equivalent of a classic car opposed to a fresh-out-of-the-showroom turbo-charged import, it's testament to the hotel's sophisticated aura that you won't find a row of roaring supercars or baying paparazzi outside the revolving door. That's not to say The Beaumont isn't frequented by A-listers, they're just not the kind of stars who tip off the media prior to their arrival.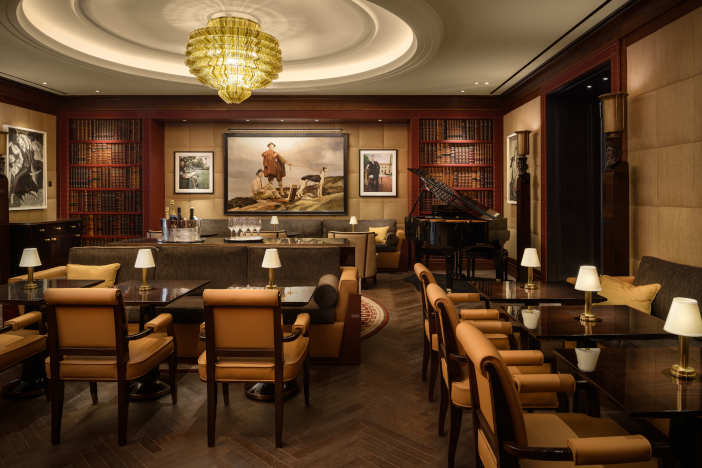 Although the impeccable design and attention to detail makes it hard to believe that The Beaumont is a relatively new hotel, its youth can be appreciated in the gleaming, unblemished surfaces of the polished veneer of the curvaceous Deco furniture. It's the Deco era as though you were actually living through it, as opposed to seeing it slightly frayed around the edges a hundred years on. Gatsby's Room, a smart addition to the hotel following a recent remodelling of the ground floor public spaces by leading New York-based designer Thierry Despontis, is a case in point and offers guests a place to enjoy a drink, all day dining or afternoon tea, with a cosy fire on cold days and live piano recitals which put the newly acquired black lacquered grand to good use. A daily dose of mood music harking back to the Jazz age succeeds in instantly transporting you to the imaginary world of The Great Gatsby. Nick may have said, "There are only the pursued, the pursuing, the busy and the tired," but at The Beaumont there are only the relaxed.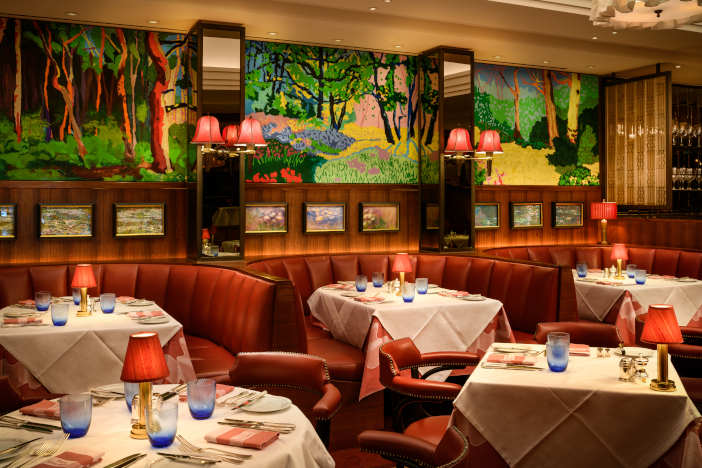 It's certainly relaxing knowing that you don't need to venture out come dinner-time due to the fact that the New York-style Colony Grill Room being one of my favourite restaurants in the city. Serving crowd-pleasers such as shrimp cocktail and buttermilk fried chicken to South Coast Dover Sole (filleted table side if preferred) and perfectly prepared steak, hand-selected and matured in their own salt maturing chamber for at least 42 days and cooked over English charcoal and oak. But please, whatever you do, make sure you leave a little room for dessert!
People travel to The Colony just to sample their build-your-own ice cream sundaes, and it's impossible not to revert to childhood on being presented with a pencil and notepad with tick boxes offering a selection of your favourite gelato flavours, toppings and warm pouring sauce. You definitely won't want to be venturing anywhere after that, so for a nightcap meander across the chequered lobby to the hotel's swanky walnut-panelled bar, Le Magritte, lined with colourful art and amusing black and white photographs of icons. If you fancy sampling one of the limited edition Cuban cigars they even have a heated terrace. They think of everything.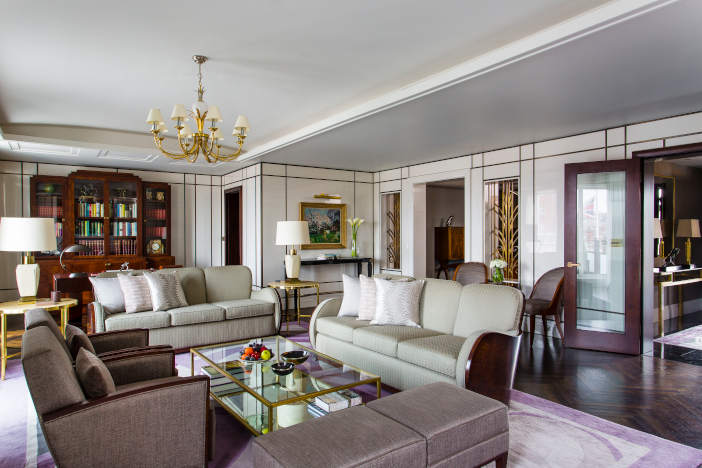 An independent, privately owned hotel that's small enough to feel intimate, yet large enough to offer everything you could possibly want including a deluxe Spa, Hammam & Salon, even the standard rooms are far more generously proportioned than many of London's older hotels, with a king-size bed as standard. Besides an appealing large bed with immaculately pressed white sheets, our expansive fifth floor Superior Studio featured a private hallway, walk-in wardrobe (hoorah), a large eau de nil glass tiled bathroom with sound system and D R Harris products.
And last but not least, a spectacular terrace overlooking Brown Hart Gardens and its striking primary coloured sculpture entitled 'Mother', rooftop views over Mayfair and some of city's most iconic landmarks such as the BT Tower and The Shard on the horizon – a terrific spot to enjoy an al fresco room service breakfast during warmer months, or an evening drink whilst watching the sun set. All mini bar snacks and soft drinks are complimentary, plus room service tea and coffee – just in case you can't be bothered to turn the kettle on! You'll find made-in-house chocolate bars wrapped with a picture of The Beaumont on your bedside after turn-down, confirming what a special place this is.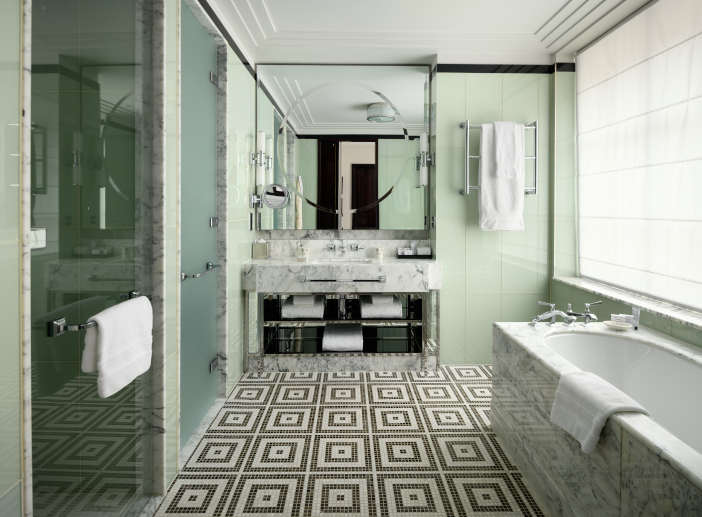 The Beaumont is not the kind of hotel one ought to casually bolt onto a trip if it can be helped, nor should you check in before an early morning flight – it really is a destination in its own right. If you'll allow me, I recommend that you stay at least two nights so you can enjoy both a room service and Colony Grill Room breakfast, and best of all, you don't have to hang a card on your door before retiring for the night – simply decide what you fancy (and where you fancy it) when you wake up. How very civilised.
One of the best breakfasts in London, besides serving perfect freshly baked pastries and a great example of the Full English, the French toast with crispy bacon and maple syrup is obscenely good and worth getting out of bed for – but then you don't even have to! When the guilt kicks in along with the adrenaline rush, head to the gym. I told you they thought of everything. The alternative gym (and far more appealing in my opinion) is Selfridges, just a few minutes' stroll, and after that, Bond Street. If you really overdid the breakfast and fear getting a stitch, the hotel's courtesy car will drop you at your chosen shopping location. If I could only stay in one five star hotel for the rest of my life, The Beaumont would be a good option.
The Beaumont Hotel, Brown Hart Gardens, London. Superior Studio staring price is from £905 per night, including taxes. For more information and reservations please visit the website.