Castle Combe, one of the most enchanting historic villages in England, boasts not one but two Exclusive Collection properties – the prestigious five star Manor House Hotel and the Castle Inn which lies in the very heart of the village, just outside the gates of the Manor House and their idyllic cottage accommodation. Both Exclusive experiences are exquisite in their own way, with grandeur on the one hand and a cosy Cotswold vibe on the other. Guests typically enjoy sampling the attributes of both the hotel and the inn during their stay – those lording it at the manor delighted by the less formal setting of the inn and vice versa!
Having previously stayed at the Manor House in the summer, arriving at the 12th century Castle Inn on a clear day in December proved an ideal location for a romantic Christmas getaway. An especial benefit of a mid-week stay was being able to explore this idyllic village after visitors on the Cotswold tour depart – for Castle Combe is one of the most important delights for visitors from far and wide, many of whom enjoy that it has appeared in countless TV and Film productions such as Poirot and Warhorse. Like something out of Laurie Lee's Village Christmas, on a clear-skied twilight, when the lattice windows of the cottages glow in chocolate-box style, you truly appreciate just how unspoilt Castle Combe is, and being alone to stroll each and every winding lane is akin to imbibing Alice in Wonderland's magic potion and suddenly finding yourself shrunk into a model village – one with ribbons of cheerful smoke emanating from chimneys and scenting the air with an intoxicating sense of times past.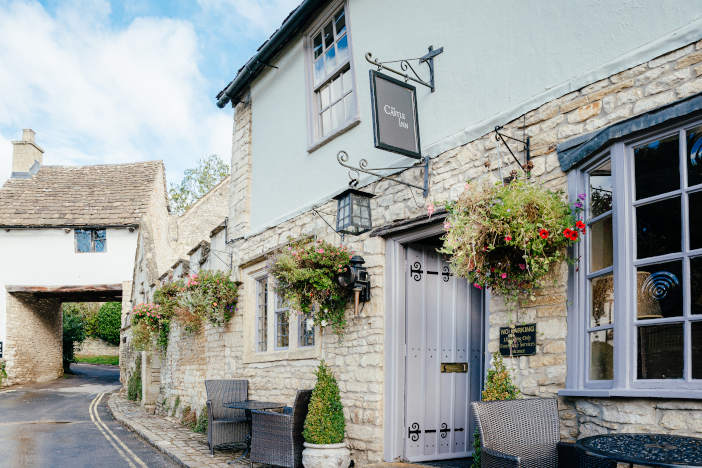 We were so absorbed in peeping into the library-styled front rooms of cottages (I defy anyone not to peep!) and admiring the Christmas decorations and natural foliage wreaths on ancient doors, that we might have missed dinner altogether had not the heavenly-sounding church bell striking seven summoned us to return to our own inviting dwelling, where we took advantage of the Castle Inn's own roaring fire in the original bar. Far from being the spit and sawdust setup one imagines of yesteryear inns, the Castle Inn is a smart gastropub affair with new head chef Jamie Barnett's indulgent menu offering diners elevated interpretations of well-loved pub classics and the very best seasonal and local produce.
A member of Top 50 Gastropubs, from a perfectly fluffy double barrelled twice baked cheese soufflé served in a dinky cast iron pot, to a main of local duck breast with potato terrine, juicy roasted plums, sprout tops and chestnuts, my dessert of white chocolate cheesecake with gingerbread puree and cinnamon ice cream was delightfully festive, with nostalgic flavours that went hand in hand with the setting in which I was enjoying them. Comfort food in a comfortable location is always a good idea!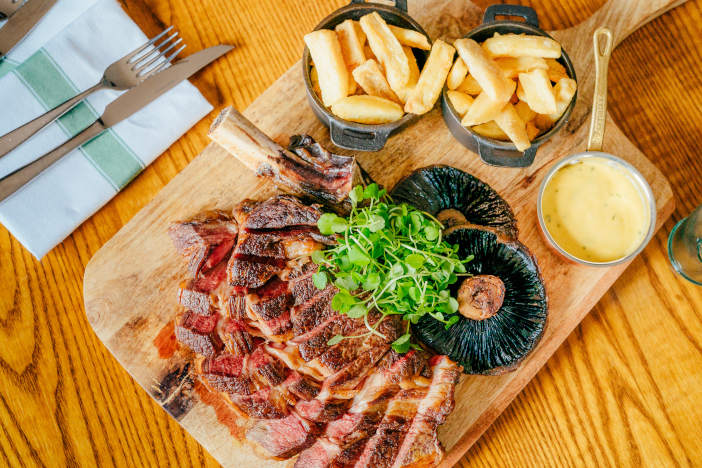 'Twas the kind of evening that brings out the 'goodwill to all men' in you, but much as I was tempted to exercise my vocal chords and carol-sing around the village, husband assured me that this sleepy haven would not appreciate my bellowing. And so to bed. But what a bed! For those who appreciate character and uniqueness, each of the 12 rooms have been designed in luxury coaching inn style befitting Mr Pickwick and enhancing the beautiful beamed structure of the building.
Our own four poster chamber offered views of the quaint stone village that were reminiscent of the magical-looking illustrated editions of Charles Dickens. I certainly felt as well fed as Mr Pickwick and slumbered like a contented cherub, drifting off and awakening, in what seemed like a blink of an eye, to the jolly church bells. All I needed was to open my curtains and find the village covered in snow, as crisp and white as my high thread count bedsheets and I should have expected either Sam Weller or the Ghost of Christmas Past to appear and join me for morning coffee. Breakfast is served in the conservatory, with a Full English that is worth taking a walk (or run) around the village beforehand! A stay at the Castle Inn is a fortifying experience indeed.
The Castle Inn, Castle Combe. For more information, please visit the website.