The best view in Venice is, without doubt, from the roof terrace of the Danieli Hotel. At breakfast, under a blue August sky, an equally blue lagoon stretches out before you, busy with morning traffic. This must be the only place on earth where watching traffic is beguiling: vaporetti, cargo barges, one-man pleasure boats, water taxis, the occasional massive cruise ship and, of course, gondolas glide by. It's like a moving Canaletto. Well, except for the cruise ships – though rumour has it that these may soon be outlawed from the Grand Canal.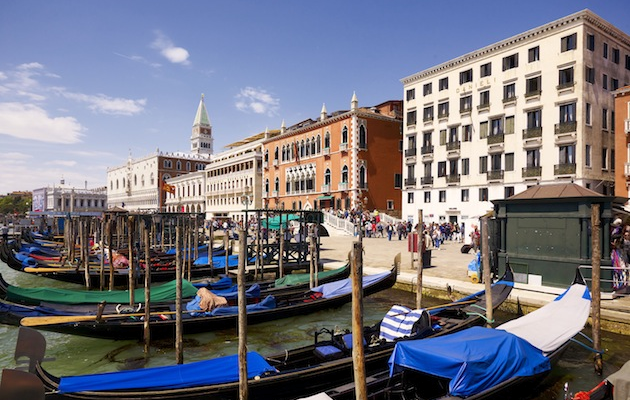 Across the water the massive church of San Giorgio Maggiore sits on its own island. Even closer is the Basilica of Maria della Salute on the tip of Accademia. The campanile of the duomo in St Mark's Square – a minute's walk away – soars above one corner of the terrace. It would be easy to stay all day, especially in August when the heat and the crowds can be overwhelming.
In fact, the crowds stick very firmly to the centre. St Mark's Square (the Doge's palace, St Mark's itself, the campanile, criminally expensive cafes) is heaving and if you want to get into any of the principal sights here, be prepared to queue. If you don't want to queue, go in winter – you won't quite have the place to yourself but you will be able to see everything at your leisure and walking in the rain across duckboards over the world's most famous square has its own charms. Just beyond the square are the designer shops, packed with label junkies. But Venice doesn't have to be this way.
Getting lost in Venice is the best way to get to know it. Head towards the Rialto Bridge via the back streets and prepare to be entranced; here, a shaft of sunlight illuminating the milky green water; there, a tiny gated courtyard shaded by a single tree. There are narrow alleyways, tiny bridges, quiet squares known as 'campos' rather than piazzas – essentially 'fields' where Venetians used to grow their veg. The shops specialise in hats, books, fans and masks of all descriptions. Venice does love its carnival.
Over the Rialto Bridge in Accademia, the crowds thin out remarkably. You can sit in the Campo San Stefano surrounded by glorious palazzi and have a Bellini; peach juice and prosecco is the cocktail in Venice, where it was invented in Harry's Bar. Or go the other way from the Danieli towards the Arsenale and you'll see a very local kind of Venice with few tourists. There are people buying fruit and veg from a couple of gondolas lashed together at the canalside, shady gardens, Casanova's favourite convent, gondola boatyards and numerous leaning towers – sinking Venice puts Pisa in the shade when it comes to buildings falling down. Fine medieval and Renaissance churches rub shoulders with pavement cafes. Beautiful painted houses sit with their feet in water that eats away at their plaster. A height chart on a house wall shows the levels of record floods.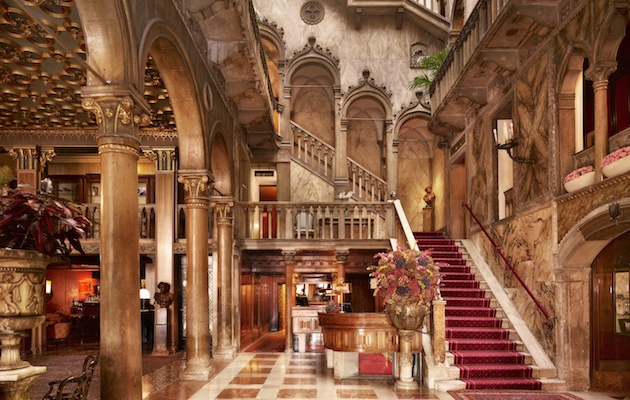 It is, of course, a city that defies nature to survive and could only have been conjured out of remarkable wealth. The merchants and bankers of Venice travelled the world to return with fabulous goods – spices, silks, tea, porcelain – that they sold at great profit. Compared to them, the self-styled masters of the universe in the City or Wall Street, are still in short trousers. What modern-day banker has had the imagination to build the most beautiful city in the world – and build it on water?
So, of course, all that wealth went on display – art, churches and, especially, palazzi. The Danieli is comprised of three of them. The oldest is the early 14th century Palazzo Dandolo, where princes, kings, cardinals and ambassadors were entertained over the centuries.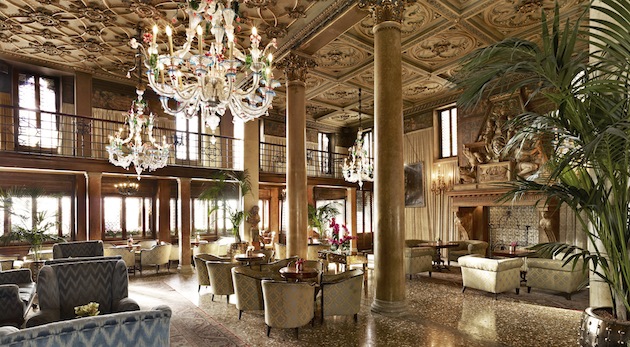 Standards haven't slipped. The Danieli is sumptuously OTT. Murano glass chandeliers light up ceilings that are painted and carved. Gilded cherubs smile down above priceless paintings. Exquisite antique carpets from all parts of the east scatter themselves nonchalantly across marble floors. Bedrooms are lined in damask. The drawers in the bedroom's antique chest of drawers are lined in damask. Even the lift is lined in damask. Bathrooms are Carrera marble. Massive gilded mirrors reflect light through stone glassless windows that previously looked down upon an open courtyard and now open on to hundreds of orchids hanging below a stained glass ceiling.
History and connections are enthusiastically celebrated and, of course, just about everyone has stayed here – Chaplin and Garbo, Proust and Balzac, Dickens and Wagner. George Sand and Alfred de Musset lived a legendary love story here (room 10 if you're a romantic – though be warned, it didn't last). Marco Polo (local boy made good) prompts treasures from China. Maria Callas' favourite room has a framed page from Bellini's original manuscript of Norma.
In the evening, it's back up to the terrace for dinner. Chef Gian Nicola Colucci (with a pedigree that includes top restaurants in London, New York and New Delhi) has devised a tasting menu that offers seasonal and Venetian specialities – amberjack carpaccio and langoustine tartare, risotto with scampi and courgette flavours, baked turbot, vanilla star anise parfair. A piano plays. A big orange moon rises.
Yes, definitely the best view in Venice.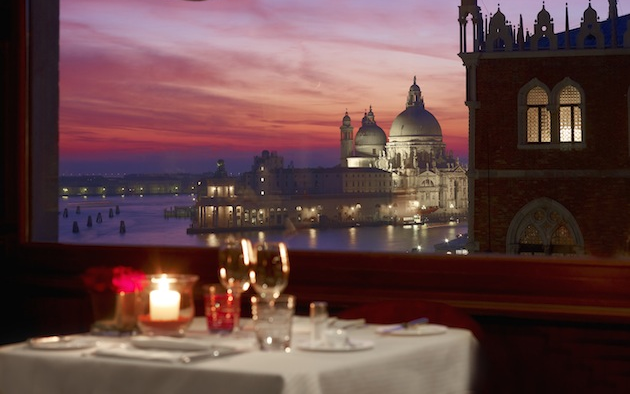 View Hotel Info, Rates & Availability
Images by Matthew Shaw.