The Double Red Duke in Oxfordshire might look like a classic Cotswold stone inn architecturally, but the dashing red and white stripe parasols in the front garden give a hint of the chic interiors that lie within, and you'd expect nothing less from the Cubitt House team that brought you the likes of The Grazing Goat, with artworks, comfortable furnishings and log fires lending the rambling 17th century property the character you crave during the colder months in England, with cosy design touches aplenty that make you want to linger by the fireside and book an additional night – or two!
When hospitality duo Georgie and Sam Pearman acquired the Cotswold Plough (once a 17th century wool merchant's house) in 2020 for their Country Creatures portfolio of rural establishments, they spent lockdown turning the property into the 19-room individually designed boutique destination it is today. The enormous amount of attention to detail makes Double Red Duke (a name taken from local lore about a philanthropic farmer who gave away his double red corn) an instantly welcoming venue, with aesthetically pleasing and cheerful accents of red, from the Roberts Radio, mini cafetiere and 'Do Not Disturb' sign in our room to the leather key fobs, matchboxes and flowers on the restaurant tables.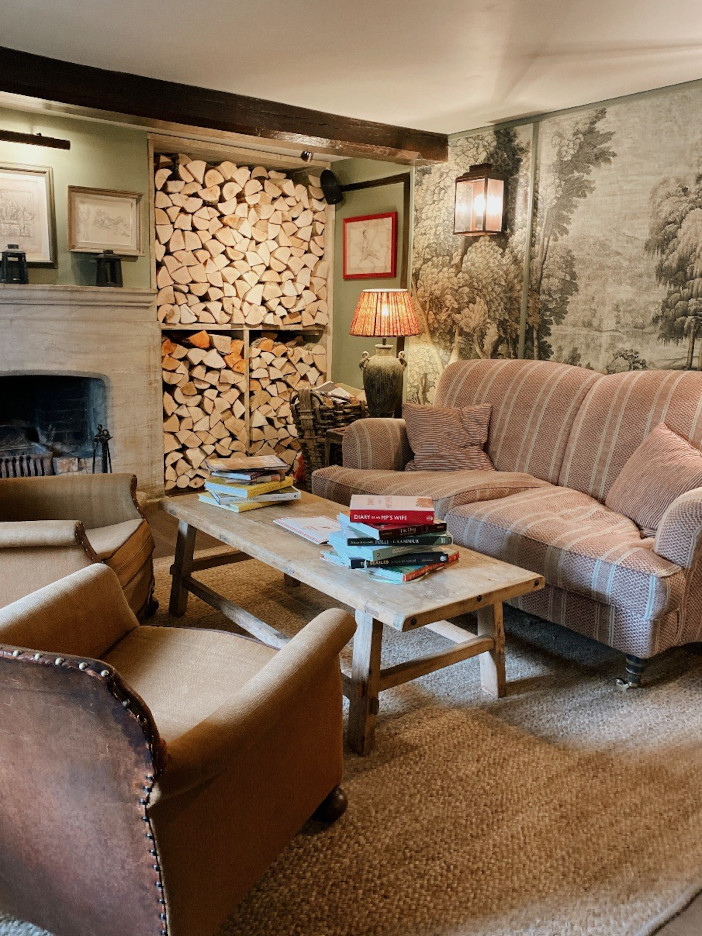 Our family room featured a comfortable king size and curtained enclave with double bunk, while our Cavalier King Charles Spaniel, Clemmie, was suitably impressed with the pillowy dog bed, bowl and generous supply of treats awaiting her. More importantly, she was welcome in all areas of the hotel save for the Garden Room restaurant, not an issue when the bar area which the restaurant spills onto is as jovial as it is. So many hotels claim to be dog friendly whilst banning your sidekick from pretty much every public area, but here Clemmie was treated like the cherished member of our family she is.
It goes without saying that the Cotswolds is the ideal getaway to enjoy with your four-legged friend, while you'll find wellies by the front door and a beautifully illustrated walking map in your room to act as local guide, pretty enough to save as a souvenir of your trip. Kelmscott, the former country home of Willliam Morris, lies nearby but sadly wasn't open, so we headed to Bampton just two miles east, which fans of Downton Abbey are bound to recognise as the fictional village of Downton – just as idyllic in real life, with its glorious Cotswold stone properties, old pub and traditional butcher.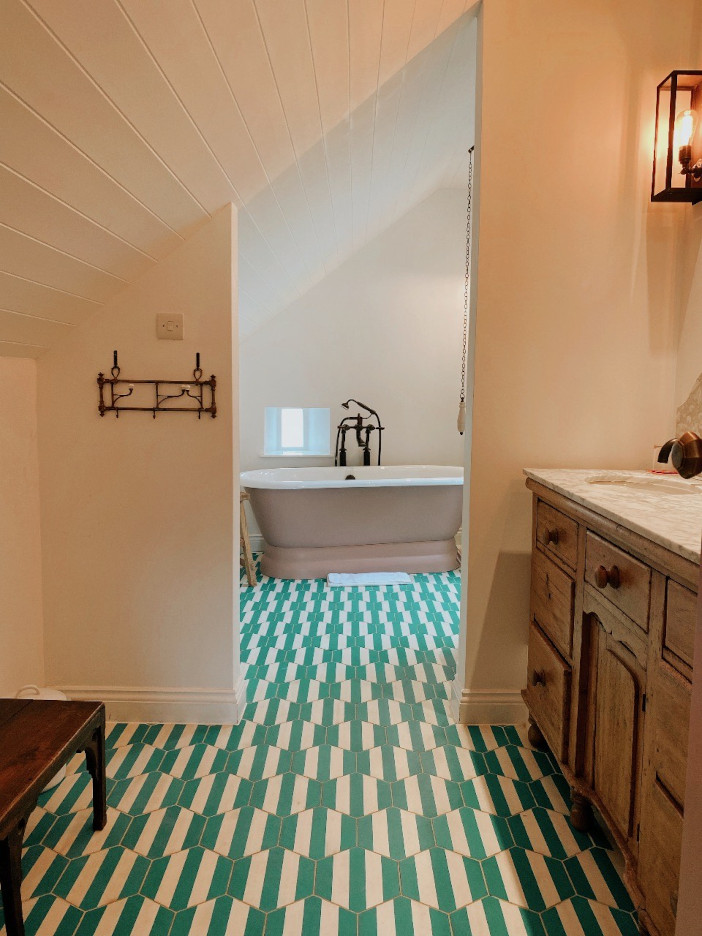 If you're an avid walker with aching muscles to go alongside the pedometer miles accrued and boasted of, take advantage of Double Red Duke's shepherd hut spa located in the garden and offering a variety of treatments featuring the luxurious 100 Acres natural products – a brand founded by Georgie Pearman. Our large ensuite with fabulous twin walk-in shower and roll top was stocked with full-size toiletries (not bolted to the wall in a charming show of trust), giving me an enticing relaxation prospect before dinner, with fluffy bathrobes and all the luxuries you expect from a five star rather than a small country inn. I even discovered a top brand hairdryer and straighteners in the antique wardrobe.
But never mind fixing my hair after walking the dog in a near-gale (cementing my love affair with autumn in the Cotswolds forever) if you're half as much of a tea and book addict as I am, you'll be glad to know that our room featured a comfy sofa to curl up on, plenty of cushions and blankets, along with a stack of interesting reads to dip into while waiting for the kettle to boil and fresh milk to arrive – in a dinky red flask naturally. The divine homemade chocolate cookies beside the kettle had me at hello and would have had me dialling on the red telephone for extra supplies if I hadn't been saving myself for dinner.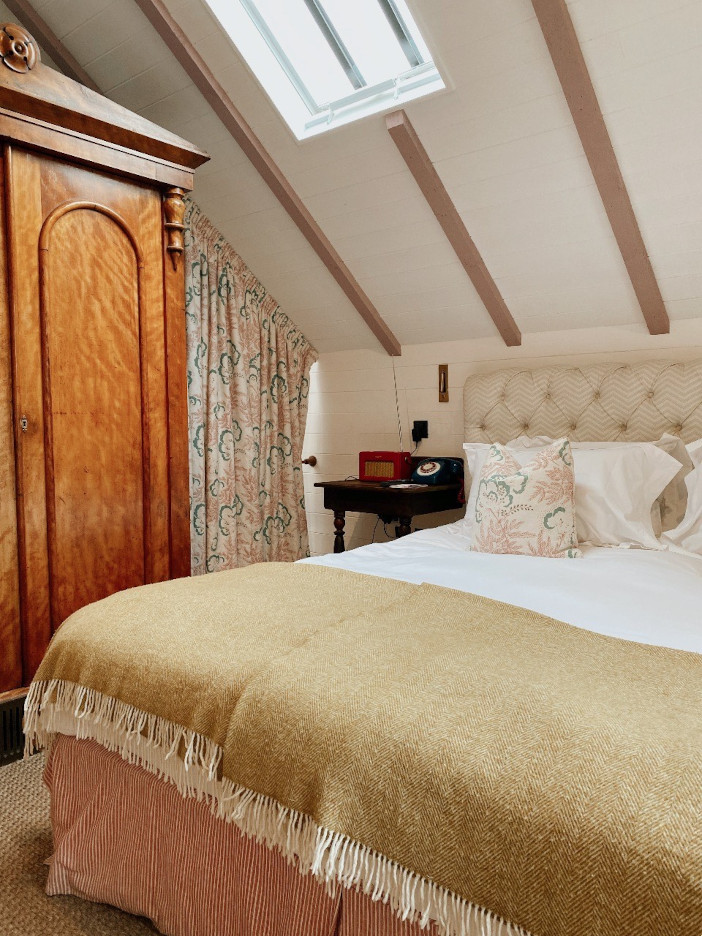 The stylish entrance to the Double Red Duke restaurant is the slick Chef's Counter where Henrik Ritzén presides over open flames ensuring, Pied Piper-like, that all who enter are welcomed with hunger-inducing aromas. Keen foodies who like to see the action up close are encouraged to reserve a place at the counter itself, where red leather stools offer a ringside seat. The counter is also where guest chefs delight diners in an ongoing series of events (including renowned chef Phil Howard) – another testament to just how seriously Double Red Duke takes its food, whether they're preparing a hearty Full English breakfast or the classics we know and love on their 'Pub Grub' menu. The full restaurant menu centred around open flame cooking offers just the kind of unpretentious, impeccably prepared, seasonal cuisine you want on a blustery autumn day.
My husband will only share food if we order it as an additional item, so he was more than content to sample the tapas-style 'Snack' of delightfully smoky bacon rib croquettes before tucking into the wood-fired mushrooms with rye brioche. I opted for the salad of black fig, goat's curd, olive crumb and treacle dressing, ingredients which shouted decadence rather than virtue, with the perfect sweet and salty balance and harmonious textures. When you start raving about a salad you know you've got a good chef in the kitchen.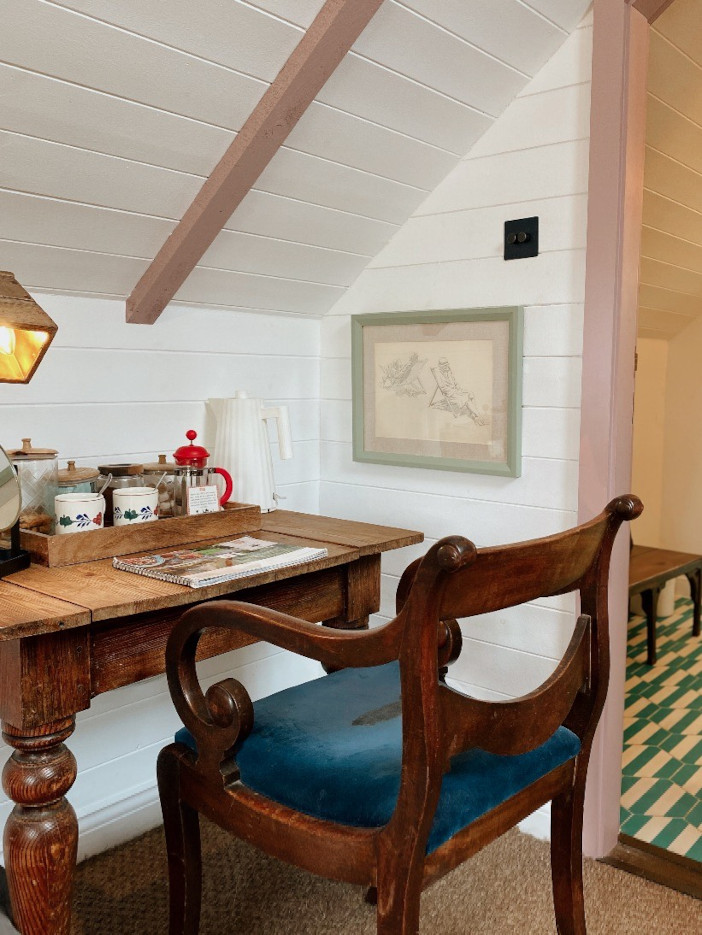 Neptune could hardly have served me a more appealingly fresh and milky plaice (filleted on request) with brown shrimp butter and samphire, while the accompanying triple cooked chips made me grateful that my husband isn't, and never will be, a sharer! The mister's rump steak was also provoking grunts of pleasure, while below the table a certain pooch was whining whilst sitting pretty in the hope of alerting anyone who'd listen that she was being subjected to animal cruelty in not being dished up at least a sliver of her father's juicy prime cut.
The evening was rounded off nicely with good coffee and dessert – a damson Bakewell with vanilla ice cream and an unnecessary but 'go on then' slathering of double cream, while if that wasn't greedy enough, I didn't turn down the spoonful I was reluctantly granted of the old man's hot chocolate cake with salted caramel ice cream before the dish was speedily whisked away and polished off. Experiences are for sharing, food here isn't.
The Double Red Duke, Bourton Rd, Clanfield, Bampton OX18 2RB. Double rooms from £150 including continental breakfast. Dogs an additional £25 per night. For more information and reservations please visit the website.