I keep being drawn back to the Cotswolds this summer. First, it was a weekend break to Minchinhampton, where I learnt to dry stone wall and forage for wild garlic and nettles (don't pick anything that looks like a chive, it could kill you). Then there was the trip to Daylesford Foodie festival, where 'I'm a Celebrity Get Me Out of Here' winner Christopher Biggins was judging the dog show and featured talks on tea which boosted collagen made from mushrooms, and cakes cost seven quid a slab. Not quite me, and no sign of Jeremy Clarkson who lives just up the road at Diddly Squat.
Up and down and up and down the M4, I have grown to know and love the blissful bubble of hills and curves in the A419, of tractors being driven like Formula One race cars, and the occasional whiff of the most stinking manure. This wide-open countryside triggers a wave of relief, a long sigh, and my shoulders lower a decent inch as I enter the green and pleasant land which has inspired poets, artists, novelists over the years.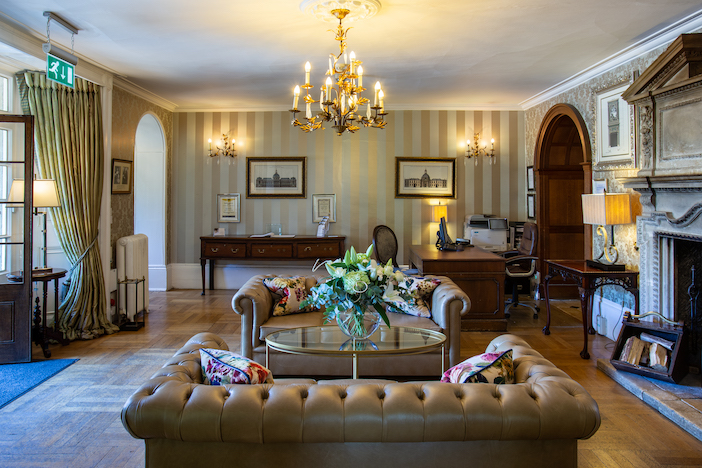 And now to The Greenway Hotel & Spa, in the quixotically named Shurdington, a mere ten minutes from Regency Cheltenham. I remember places like this on romantic breaks where all you saw was the inside of the bedroom, walks round the gardens and the dining room. Now, as a single woman, not on the look-out for men or connection, nor for shops for a new frock or the latest treatment to remedy lines on my face, which are now far too deep to do anything with. I simply take the joy where I can find it.
I arrived in the dark and found my way down a long drive, well lit, to a house which dates to a charming Elizabethan manor dating from the 1600s. I could make out nothing but the façade, and walking in I was shown to Poplar, my room – they all bear the names of trees – past ornate grandfather clocks, a chaise longe and old suitcases piled in nooks and crannies along narrow corridors with oversized gilded bevelled mirrors. I was walking into an Agatha Christie novel. They organise a plate supper for late comers and left me to my room with the words 'Just wait till the morning and that view'.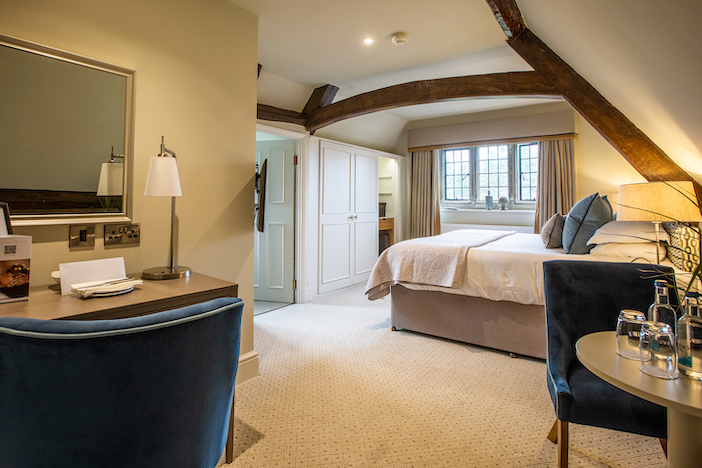 That view is a vista which looks as though Darcy and Elizabeth Bennett should be pouting at each other under the grand oak, and a fallen tree which looks like nature's Henry Moore sculpture. It's the sort of view I use as visualisation in my yoga sessions. You get the idea from the photo at the top of this article. Set in eight acres of ethereal countryside, guests are able to walk around these gardens, past fountains and lakes, herb gardens, and even an orchard of what looked like young Christmas trees.
For all its traditional charm, there has been extensive renovation throughout the property, all sensitively retaining the fabric and character of the original, and including the bathrooms, which feature deep baths and Temple Spa products, also used in the adjacent spa, where Patricia, one of the senior therapists, did her best to alleviate decades of two much sun and too much air travel with a much-needed facial.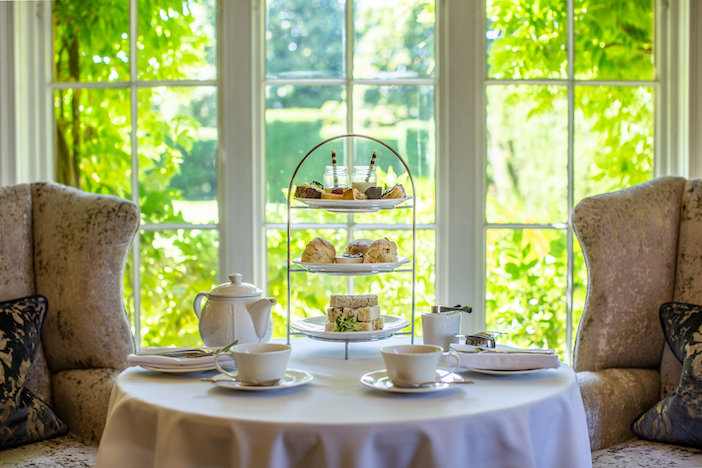 Afternoon tea is an excellent time to people watch, and if you are alone – as I was – I met so many lovely elderly ladies, all with interesting stories to tell, of lives well-lived. The dining room is set out so you are able to gaze at the view over your cake stand or, when the weather is fine, take tea outside on a series of verandas. A croquet lawn completes the picture, with a multitude of hedged arches leading to secret gardens of rose trellises, honeysuckle and jasmine. This is England, pure and simple.
And then in the evening, when the maitre d', George (he's not mentioned on the hotel website as one of the staff, but should be), tells me this is such a beautiful place to live and work. Many places have suffered post-lockdown with their cooking, but this appears to have ridden the tsunami, and has an award-winning chef in Abhijit Dasalkar, who uses seasonal and local ingredients to make some delicious and easy-on-the-eye dishes, serving me a wonderful sea bass.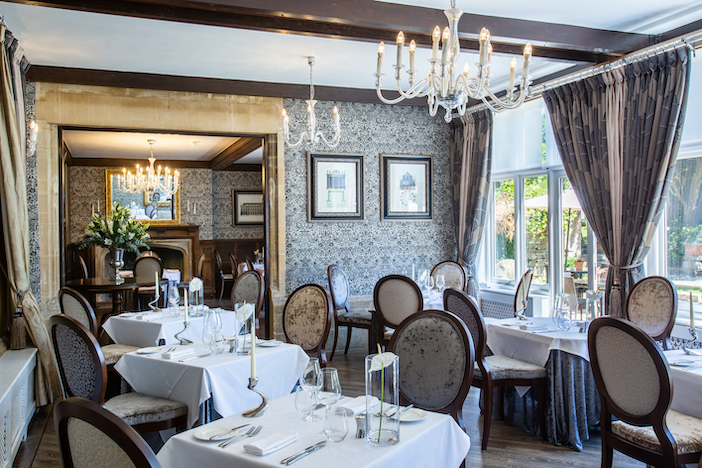 There is an overwhelming sense of space and place around The Greenway Hotel. The majesty of the mature trees, the narrow-hedged corridors in the gardens mirroring the narrow, mirrored corridors of the hotel, all encouraging exploration. I am told in the winter most guests do not leave the confines of the hotel, as there is an ample and cosy sitting room with oversized fireplace, but in the summer many venture out along the country lanes or take a drive to Cheltenham with its architecture and parks and shopping.
Time your visit right and you might take in a festival.  While I was there, just under twenty minutes away, the annual Barn on the Farm was underway. I've become an avid festival goer in my dotage, with no young children or grumpy husband in tow, and I took myself down to Over Farm, in Over, near Gloucester, where day-long music, from bands such as Sigrid, Wunderhorse, the Staves and Holly Humberstone, played out on a farm with ostriches running by, speciality pigs, goats, donkeys, ducks and rabbits and tortoises, and pick-your-own strawberries. Could a weekend in the country, in summer, be any more idyllic?
The Greenway Hotel & Spa, Cheltenham, Gloucestershire GL51 4UG. Prices during summer start from £224 per room per night for a Deluxe Room with breakfast. For more information, including details of offers and upcoming events, please visit www.thegreenwayhotelandspa.com.