Cornwall was baking, the hedgerows alive with the chirping of birds and the buzzing of arthropods. As we sliced through the twisting country lanes in the old convertible, I could almost hear my skin peeling under the commanding rays of an unexpected summer sunbath. I couldn't wait to get to our sea view room at The Llawnroc Hotel, throw open the windows and have the fresh sea breeze cool my shiny complexion.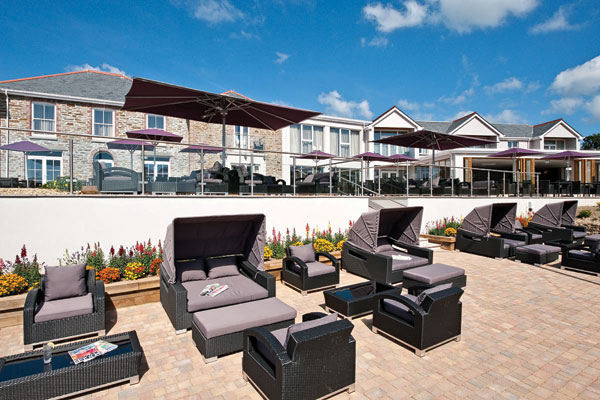 The Llawnroc is a modern affair and not what one expects to find in a sleepy Cornish village. Upon entering our room on the first floor we were greeted to something of a greenhouse effect as the floor-to-ceiling windows had reaped every UV ray since sunrise. I attempted to cool the room by harnessing a refreshing sea breeze, but found that it was only possible to open one small hatch in the window to an angle of 45 degrees; the curse of the health and safety inspector perhaps? (rather than preventing us from tumbling out of windows to an untimely death, the inspector wants us to bake alive instead). With beads of sweat now running down my forehead, I dashed over to the aircon unit and set it to what I thought would equate to 'snow storm' mode. The machine grumbled a little and sighed, but barely gave me an icy whisper.
Now panicking for fear of being poached in my own sweat, I scampered into the bathroom and stripped off all my clothes, frantically splashing cold water over my face and body in an attempt to cool down. I padded back into the room with dripping hair like the creature from the Black Lagoon, to be greeted by an excitable shriek from Her Ladyship: "Darling! Everyone can see you!" I glanced out of the large picture window and noticed that our fellow guests on the terrace could see me in all my natural glory. They could see every inch…of our room. I dived back into the bathroom and sheepishly wrapped a towel around my glistening torso; even lying flat on the bed we were clearly visible to everyone enjoying drinks and food on the terrace, and they all appeared to be watching us intently. "Bunch of bloody perverts!" I grumbled.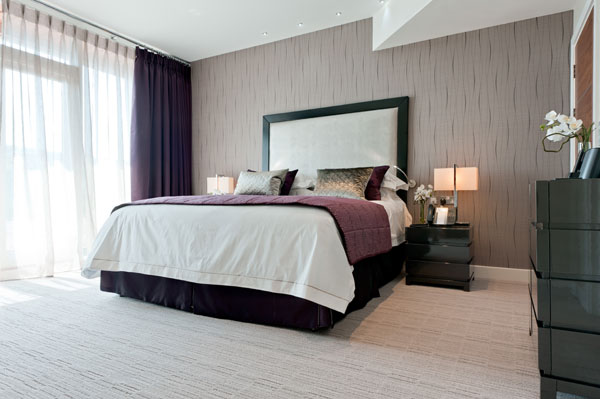 I reluctantly drew the curtains and we lay in the darkness, baking in the gloom and wondering what sort of misanthrope had designed a hotel where every 'sea view' room is so overlooked by the terrace that one must keep the curtains closed at all times (either that, or don't walk around naked, but I dislike having my wardrobe choices narrowed by an architect), rather rendering the 'sea view' element of the room's selling point completely redundant.
We resolved that the best course of action was to leave the hotel and saunter down to the beach instead, and a few minutes later we found a cosy spot by some rocks in a small cove where I toddled about exploring rock pools and crevices in the cliff face in the hope of finding some hidden treasure (all I found was a piece of rusting wire, hardly 'pieces of eight').
As the sun began to dip, we headed back to our dark sauna of a room to get ready for dinner, only to find that the tide had cut off our path back to the main beach, leaving us to climb a hundred stairs straight up the cliff face as our only means of escape. We took consolation in the fact that it would be a good calorie burn before what we hoped would be a hearty meal.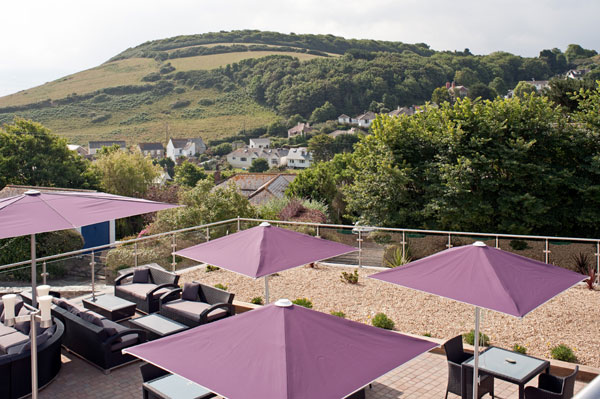 The main dining room at The Llawnroc – Gwineas Bistro – is a tiled, clattering affair, so we took a more serene table outside on the terrace where we enjoyed a glass of wine while observing our fellow guests in their goldfish bowl rooms, all of them with the curtains closed (no exhibitionists in residence that evening).
Fortunately the food was our saviour, and a starter of well fed scallops in a deliciously unctuous garlic butter sauce set the mood for a tasty meal of local produce, followed by freshly caught fish and sensitively treated pasta, all cooked with the love and attention that any chef working in this area is bound to bestow on such fine ingredients. After some comfortingly indulgent chocolate desserts, we nestled up on one of the outdoor sofas below a heated canopy and observed a strange series of what looked like camera flashes from a distant house on the hillside, prompting a curious debate about what was going on there. We decided it was a local fisherman who'd regretfully netted an electric eel.
The next morning we had a hearty and tasty breakfast served in our room (at no extra charge, though oddly they do charge for a newspaper). As I chomped away on the B and E in full view of the seagulls and the peckish guests on the terrace, I wondered if the Llawnroc might consider installing some Venetian blinds for people who'd like to recline in relative privacy without completely obscuring the sea views. It seems a shame that the hotel's premium rooms come inclusive of an odd design flaw, but if privacy of this kind isn't an issue for you (nobody on TripAdvisor appears to have complained about this – so perhaps I'm in the minority), then this might just be the perfect location for your Cornish break next summer.