Ten years in the making, this dazzling newcomer on the outskirts of Marrakech has the power to heal. Bold statement, I know. But I'm living proof. I arrived at the hotel thoroughly exhausted and depleted in Vitamin D, and left a completely new person – after just three nights.
But first, a confession. When it comes to Marrakech, I'm biased. The ancient Red City is one of my all-time favourite destinations. It's easy to get to, exotic and is home to some of the hottest hotels on the planet – just ask Anna Delvey. Over the past decade, I've been lucky enough to stay at La Mamounia, the Royal Mansour, Amangena, Mandarin Oriental, The Selman and Palais Namaskar, and I can say with hand on heart, the Oberoi is my new favourite. Why? It's got wow factor. Tons of it. It's got character. Warmth. It has amazing gardens. All guest villas come with their own private pool. Best of all, wellness is a focus from the moment you step into the hotel's grand mosaicked courtyard – look carefully and you'll see the words 'El Afia El Bakia' (eternal health) carved into the plasterwork.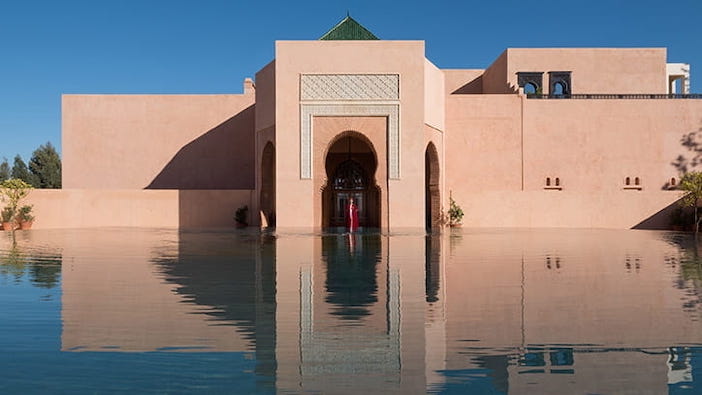 Architect Patrick Collier deserves a standing ovation for what he's achieved. The buildings – geometric, symmetric, majestic – are inherently uplifting. It's impossible not to say wow when you turn a corner or descend a flight of steps to be greeted by a view of snow-capped mountains or an ornamental pool that stretches to the horizon.
The hotel is built on the site of a 28-acre olive and citrus farm and, as a result, the gardens are outstanding. Bougainvillea and jasmine burst from guest villa trellises. White roses number in their thousands. There's a field of lavender and wild absinthe that you can get lost in. Apparently, more than 3,500 olive trees were dug up and transplanted to meet landscape designer Madison Cox's vision for the hotel and, this being an Oberoi, Indian touches abound: colourful tasselled sun umbrellas by the pool, aromatic dishes on the menus and wonderful saffron hues in the bedrooms. It's totally joyful.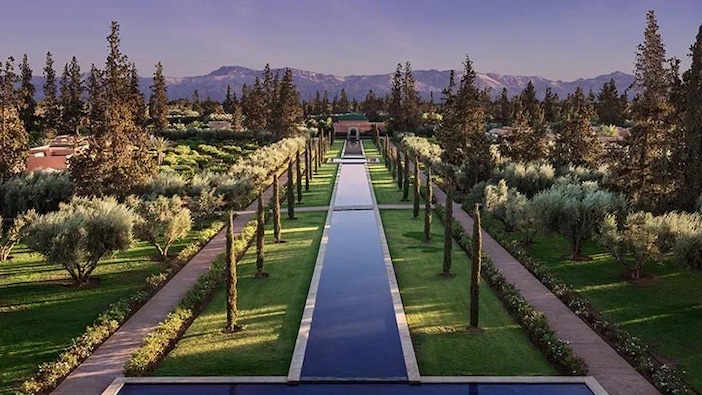 But back to the hotel's healing powers. My schedule was arranged several weeks in advance, and while it had felt arduous filling out the forms, the investment paid off. My days panned out just how I like them: early lung-busting cardio sessions followed by an hour's yoga/stretching then free time to laze/graze and lounge by the pool before an afternoon spa session. Arduous, I know.
The light-filled spa is on the outer fringes of the estate. Built over a natural pond – a magnet for herons and dragonflies – it's everything the rest of the hotel isn't: calm, understated, minimalist. It's a come in, strip off, get-on-with-it kind of place. Nothing woo-woo. Not even any music during treatments. The idea is to encourage maximum concentration. Three, five and seven-day SAHA programmes designed to help with sleep, weight loss and better health but of course when in Morocco, a hammam is a must. I saved mine until my last day and after eking out every last moment in the sun, was led into the prettiest hammam I've ever seen.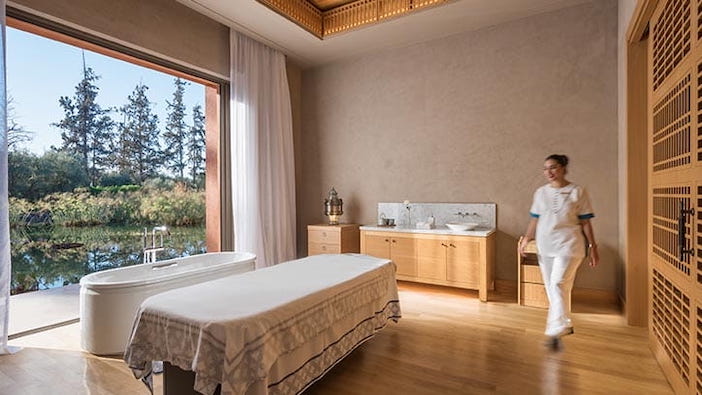 Now, I'm no novice when it comes to hammams. I can handle the heat, the vigorous scrubbing, the jugs of water poured over the head – usually – but when my strong-handed therapist informed me I had a further 15 minutes of steaming on a boiling marble slab, I begged her for release. She showered me off dutifully, wrapped me in towelling and deposited me on a warm bed overlooking the spa's lily pond. Someone kind and gentle brought me a cup of mint tea. Another hammamee arrived quivering and shell-shocked and took her place next to me.
Lying there, sun streaming onto our legs, we watched turtles bob and blink. I gave the woman a nod of solidarity and we laughed, and that's when it happened – the miracle. I realised that not only was I feeling cleaner and more relaxed than I had in years, I was also happier. I'd had three days of sun, sublime food, heavy sleep, gentle movement and hardcore pampering. It was exactly what I needed to shed my Covid chrysalis once and for all.
And all this, just three hours from London.
Rooms at the Oberoi Marrakech start from £709 including 24-hour butler service and breakfast. For more information, including details of experiences and offers, please visit oberoihotels.com.
Follow Leo on Instagram @leonorabear