Excess. It's on the mind of any British traveller to New York. In a space smaller than London's Zone 1, the 1.6 million inhabitants of Manhattan carve out a living based on excess. Portions are huge, bills are inflated, life is loud, buildings and architecture are relentlessly, almost mockingly, vast. As a Brit, I find myself compulsively leaving gargantuan tips to avoid ending up in some Curb Your Enthusiasm-style public tip-shaming. This is a city where it's perfectly acceptable for a public park to float a couple of stories above street level. It's not that everything here aspires to be bigger than everywhere else; that's for upstarts like Dubai and Doha, desperate to prove their elite status by planting architectural flagpoles in the desert. No, New York's always been this way – it's the rest of the world that's aspirant.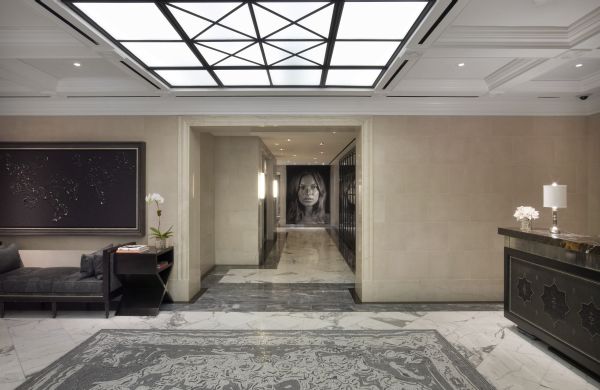 Hoteliery options are legion and can deliver whatever New York experience you're hoping for. The challenge of each is to manage the level of excess in which their guests are happy to indulge. The Hilton will drop you right on top of the technicolour mayhem of Times Square; Donald Trump's newest Apprentice-influenced Soho tower features a herb garden, 100% renewable energy and a seasonal boccia court; over on Park Avenue, the Waldorf's boutique Towers offer extremes of art deco splendour with an eye-watering price tag to match. The adventurous reveller might consider the meatpacking district's Standard High Line, with its much-flaunted unobstructed skyline views, floor-to-ceiling windows, impish, raincoated doormen and a celebrated nightspot perched on its roof.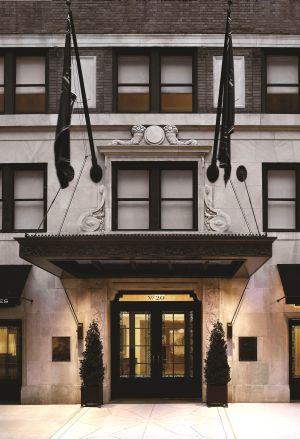 However, all that clichéd 'energy' people associate with New York has to come from somewhere. New York is exhausting in all the right ways, and I need somewhere to plug myself in and recharge. This brings us to The Surrey. An Upper East Side fixture, the Surrey emerged from a $60m redevelopment chrysalis in 2009, with 189 salons and suites, and a top-to-bottom redesign by Lauren Rottet. It was subsequently invited to become the only New York representative of the prestigious Relais & Chateaux group. In another architectural setting it would tower over its neighbours, but happily in the context of Manhattan it can be properly described as nestling discreetly in a 14-storey brick building on East 76th Street. Bar Pleiades and Café Boulud, the Michelin-starred eatery, flank the entrance through which we're ushered, glad to escape the snow and bitter wind that followed us to New York. Even the weather's a bit excessive.
We enter the lobby and Kate Moss is staring at us. She looks beautiful, ghostly almost. Unfortunately it's Chuck Close's enigmatic tapestry, not the real thing, although the hotel and the neighbourhood would be comfortable with that crowd; galleries colonise the streets around us. There's a sizeable Christian Louboutin across the street. The hotel itself is heavy on design, and if that sounds obtrusive, it isn't; Rottet Studio's palate for the hotel is tastefully monochrome throughout. Candles flicker gently in the corner of the lobby while we check-in; a calming presence, and perhaps a nod towards the luxury Cornelia spa up on the second floor.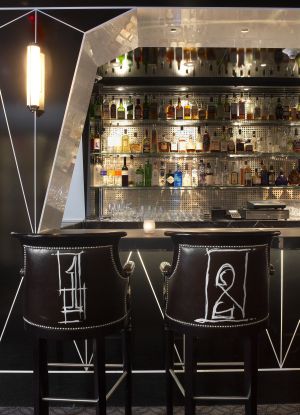 After a leather-bound lift ride, we approach our room on the 8th floor. Entering a New York hotel room can be a fraught experience. Received wisdom holds that city-wide, rooms are universally tiny as space is at such a premium. Who cares, you're encouraged to tell yourself – you're never going to be in it.
Well, I care. Regardless of size, there are no cheap hotel rooms in the city and I want space to recharge. Thankfully The Surrey obliges, with a pleasantly excessive room and a generous marble bathroom to match. The room maintains the hotel's monochrome aesthetic, but serious thought has gone into the furnishings: a white, stencilled armoire hides a huge TV and an iPod dock; an octagonal coffee table hosts a few art books in the lounge area; the rich, dark writing desk reveals a mirrored recess.
There's a business-friendly feel to the room – its telephone is an austere black obelisk with an unfailing blinking red light, eerily reminiscent of a BlackBerry – but the little touches (not to mention the biggest touch of all, the plush, abundant bed) put us at our leisure. Beyond a fine selection ranging from single malts to champagne, the minibar offers two varieties of locally distilled Hudson Baby Bourbon, and a Laguoilé pocket knife with which to access your bottles. The hairdryer, the iron and even the morning newspaper come discreetly packaged in dark velvet bags. A long cushion in front of the window (Louboutin-facing) reads 'Through these windows lies the soul of the city, across Madison and down 5th Avenue'.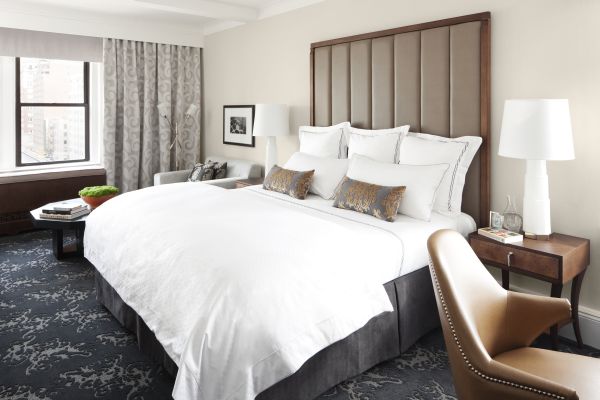 I like the sentiment but we opt to leave through the doors. Across Madison or up 5th, the advantages of The Surrey's location reveal themselves. A hop takes you to the Whitney, a skip to the Met and a jump to the Guggenheim. The latter is the most architecturally renowned, and certainly the busiest, but during our visit the Whitney offered five floors of fascinating collections, including Jay DeFeo's stunning 'The Rose'. The hotel is a block from Central Park, for the discerning jogger; however if, like us, your visit coincides with snow, you won't leave the hotel without its doormen conjuring a cab from the ether for you.
By this point we were happy to stay in the hotel – my travelling companion is celebrating a birthday and has no patience for cold weather – and the options are just impressive. Daniel Boulud's longstanding association with The Surrey yields the marvellous Café Boulud on the hotel's ground floor; best of all, the Michelin fare extends to the room service, with an extensive menu including exquisite cocktails. For the pre or post-dinner tipple, Bar Pleiades' moody, angular art deco stylings gave it a dark, furtive feel as I wandered through in the early afternoon; staff had compared its clientele to the characters of the CW's Gossip Girl, with some pride, and when I stop by after dinner, beautiful people have indeed monopolised the black-and-white lacquered surfaces to sup the Boulud-inspired cocktails. The PXco Punch includes sage-infused pisco, an alcoholic slug of allspice and Pedro Ximénez sherry. But my battery is blinking red and I need the 8th floor's comforts to recharge for another assault on the frosted Apple outside.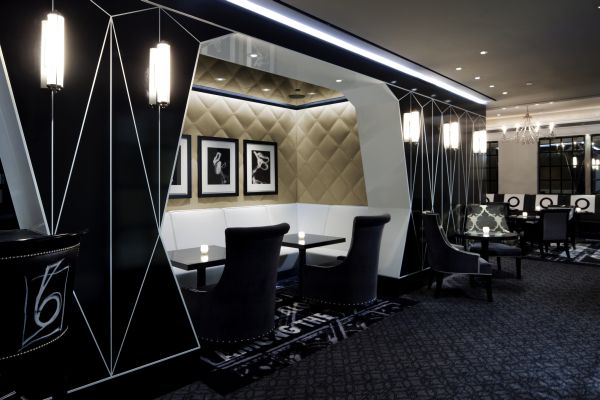 Travelling home after such a heady trip, I reflect on The Surrey's ability to know when to indulge in excess, and when to moderate. If you want a hotel so knowingly trendy that you'll have to present your room key to bouncers at the lifts, for fear that you're a sneaky reveller trying to steal a free ride into a rooftop nightclub, then The Surrey isn't for you. Instead, this is a place where the bathroom is so capacious that its shower head has a tributary, a secondary mobile spout that can run in parallel to its parent. At the risk of sounding like Alan Partridge, it's sublime. You can't spill out of your hotel into thickets of tourists thronging around Times Square; instead you can walk a few minutes to one of the finest collections of art on the planet. If it all gets too much for you – and this is New York, so if it doesn't, you're not doing it right – stay inside and sink into a banquette in Café Boulud for fine dining, followed by gossip and cocktails across the lobby.
The Surrey gives in to wonderful, unyielding excess in its ability to relax and recharge, and that's one indulgence to which I'd happily return.