Seymour Street in London's Marylebone is the second location in the Zetter Group's distinctive Townhouse boutique hotel family and the moment you step through the faux flower decorated arch and inside the quirky Seymour's Parlour, which acts as entrance hall, drawing room and bar, you know your city break is going to be memorable.
It couldn't be more of a shock from nearby Oxford Street if it tried. An eccentric and eclectic anti-minimalism show-piece which immediately put me in mind of the Sir John Soane Museum (I later discovered that this was indeed the inspiration behind the interior design), there is hardly a bare inch of wall that isn't adorned with architectural models, mirrors, clocks, vintage crockery, paintings or prints, while the intentionally mismatched cushions, chintz drapes and old Indian rugs immediately make you feel like ordering a pot of tea and draping yourself on the velvet sofa by the fire, illustrating how modern interior designers have gone wrong. It's rather like staying in an antiques shop and you half expect to find price tickets on the object d'art. I for one would like a souvenir of this utterly bonkers hotel, one I've been longing to experience since they opened their blue door in 2015. What took me so long?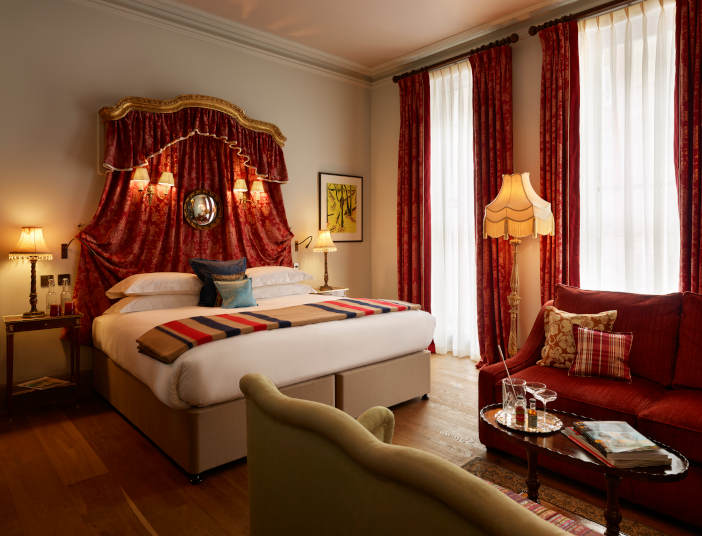 Overwhelming for some, perhaps, but personally I adore the theatrical, Victorian-inspired crimson ground floor décor, offering a unique and sumptuous setting for first time London visitors, UK staycationers like myself, or even locals looking for a drinks venue crammed (literally) with character. Far from finding it a bit much, to me it was a relief after all the sterile contemporary city hotels I've had the misfortune to endure on business trips, utterly devoid of personality and which are guaranteed to make absolutely no impression on you from the moment you check in to the moment you fast-check-out without so much as anyone bidding you adieu, save for the beastly automated email asking you for 'feedback'. As Oscar Wilde, a lover of unusual hotels said, "Consistency is the last refuge of the unimaginative." Surely it's a wasted opportunity to visit a city and not stay somewhere which offers a flavour of the country's heritage or culture? Well, you'll find plenty to be going on with here.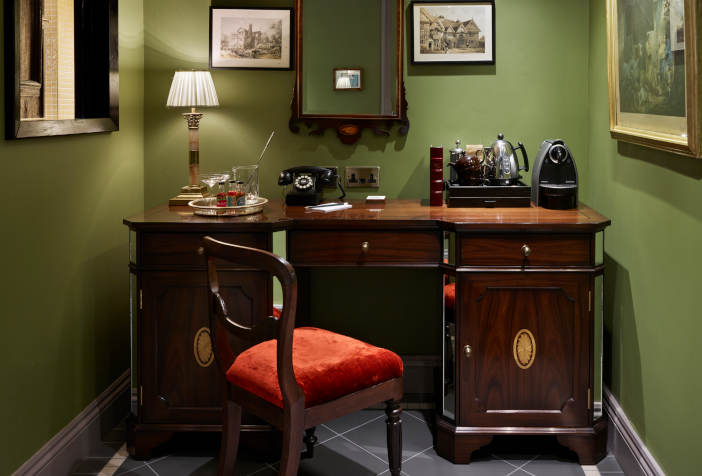 As you'd expect, every one of the 24 rooms, from the entry level Deluxe Double (from £400 per night) to the premium Lear's Loft with a terrace featuring an outdoor bathtub, is individually designed. My light and spacious Junior Suite overlooking pretty Seymour Street offered a more calming atmosphere than the flamboyant Wildean public interiors, with adjustable chandelier, lamp and bedside reading light (so many top hotels fail abysmally on this point) antiques and books aplenty, a 2-sofa sitting area large enough for entertaining a few friends, along with tea and coffee making and fridge to chill the necessaries, a comfortable silk-canopied Hypnos bed dressed with fine linens and a red, white and blue throw (should you happen to have forgotten you're location) and an elegant black and ivory vintage map-styled bathroom stocked with White Company toiletries.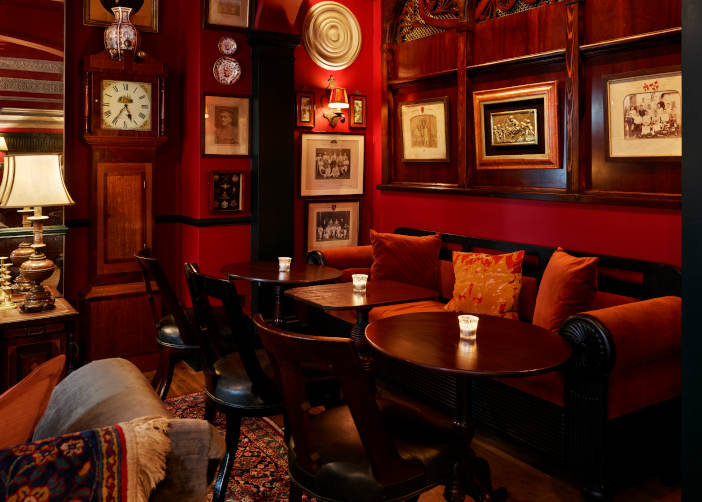 Other thoughtful touches included a Roberts Revival radio, (I didn't feel brave enough to touch the gramophone) and a writing desk – otherwise known as a 'Work Station'; alas I only found a notepad and pencil rather than writing paper and postcards or I should have boasted about my (all too fleeting) Zetter vacation to my pals and relatives – not on social media God forbid, but in the spirit of the 19th century! Breakfast can be enjoyed in your room or in Seymour's Parlour where a good continental selection lines the bar, including cheese, ham, smoked salmon, fruit, fresh pastries and divine chocolate muffins. Further indulgence lies in the cooked dishes; an exemplary Full English with Cumberland Sausage or brioche French toast topped with crispy smoked streaky bacon and dowsed in maple syrup.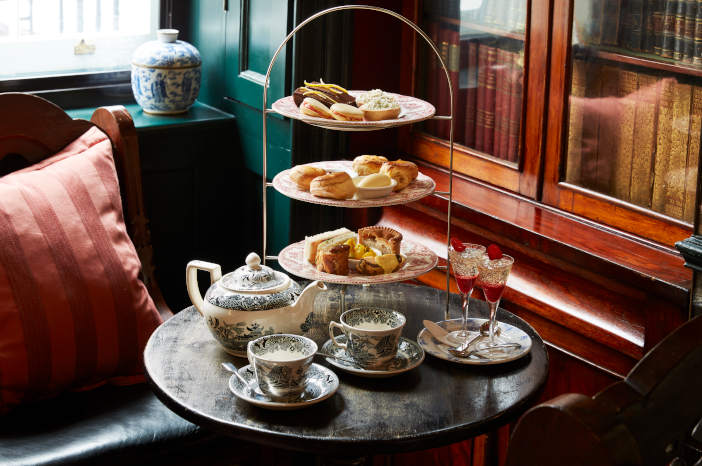 After reluctantly checking out and taking in the Wallace Collection for a few hours I returned to sample the elegant Afternoon Tea, also served in Seymour's Parlour and presented on a traditional 3-tier stand with the Zetter's signature blue and white crockery. Before this arrives, you're offered a choice of Newby leaf teas (I recommend the black Wild Cherry) and either finger sandwiches or a selection of warm 'gentlemanly' savouries including haddock, saffron and fennel tart, truffle sausage roll and crispy pork croquette. While the hotel doesn't have a restaurant per se, these were a good indication of the quality of 'Plates & Nibbles' on offer in the parlour or via room service, essential sustenance if you're intending to work your way through the famous Zetter cocktail list. Just as expertly mixed, my alcohol free cocktail featured the botanical 'Mountain' aperitif by Everleaf and proved just the tonic I needed as I braced myself for normal life with a tear in my eye.
The Zetter Townhouse Marylebone. 28-30 Seymour St, London, W1H 7JB. Traditional Afternoon Tea, served Wednesday-Sunday, is priced at £45 with teas, £55 with a glass of Champagne or a cocktail. For more information and reservations please visit the website.