The Vineyard Hotel at Stockcross, Newbury, has attracted gallivanting gourmands and oenophiles from around the world since its re-launch in 1998 as a luxury 5-star hotel. Established by the Panama-wearing bon vivant, Sir Peter Michael, founder and chairman of Classic FM and owner of a Californian winery, the hotel boasts a cellar of over 30,000 prestige wines to choose from, and a restaurant serving modern French haute cuisine from the kitchen of talented Executive Chef Daniel Galmiche.
Built around a former 19th century hunting lodge, the hotel styles itself as a 'restaurant with luxury suites and spa', and is very much geared towards guests looking to excite their palates. Each of the 49 individually-named rooms, bearing the label of a famous wine, are designed with ultimate comfort in mind, boasting large bathrooms, giant beds and plush furnishings; a most suitable environment in which to collapse in a heap after a rich, wine-infused meal that would make Dionysus proud.
The restaurant is a glamorous affair that is reminiscent of a grand dining room on a 1940s ocean liner, with a sunken circular section where one could imagine Bogart and Bacall enjoying a cocktail and intimate chatter while a jazz pianist tinkles the keys.
A number of interesting food and wine pairing menus are offered by Galmiche throughout the year, featuring seasonal produce sourced primarily from the south of England. One of the most tempting offerings is the Judgement of Paris menu, which includes a selection of 6 French and 6 Californian wines to be sampled side by side per course, and is inspired by one of the most scandalous wine tastings in French history.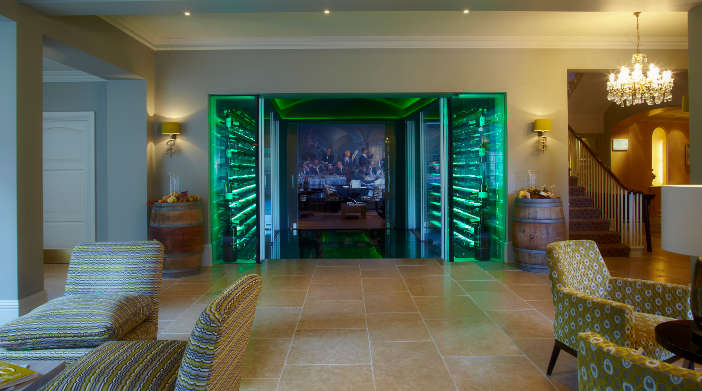 On 24th May 1976, an Englishman, Steven Spurrier, staged a competitive blind tasting of French and Californian wines in a Paris hotel. The 12 judges were a collection of the most eminent wine experts in France, including Odette Kahn, editor of La Revue du Vin de France, George M. Taber of Time Magazine, Patricia Gallagher of L'Academie du Vin, Pierre Brejoux, inspector general of the AOC Board, and Jean-Claude Vrinat of Taillevent, one of the oldest fine dining restaurants in Paris. At the time, New World wines were a dirty word in France (and they still are), so one can imagine the scandal this tasting caused when it was revealed that the superior wines of the evening turned out to be obscure and unknown bottlings from California. The French didn't find this amusing and some of the participants lost their jobs over the affair, with others hounded by threatening phone calls and letters for having given French wines a bad name.
Sir Peter found this débâcle so pleasing that he commissioned a large fresco for the hotel called 'After the Upset', depicting the judgement tasting in a Last Supper scenario. The painting can be seen from reception, hiding just beyond the impressive glass walkway that spans the wine cellar beneath it. With such a fun theme for a wine pairing menu, it was the clear choice for our gastronomic adventure. France vs USA. Who would win tonight?
To begin proceedings, a luscious wild garlic velouté with a rich, oozing quail's egg and a savoury parmesan cream was paired with a zingy Taittinger Les Folies de la Marquetterie (Brut, Champagne, France NV), and a Schramsberg, Blanc de Blancs (Brut,  Napa Valley, CA, 2010) as the Californian rival. Diners are encouraged to sample both wines with each course and to decide upon which they prefer. To add a dash of excitement to the evening, the sommelier only revealed the wine labels partway through each dish, allowing us to conduct a truly unbiased blind tasting. In this case, we both preferred what turned out to be the Californian Blanc de Blancs, which somewhat shocked Her Ladyship who is a firm fan of the Champagne region and its many incarnations.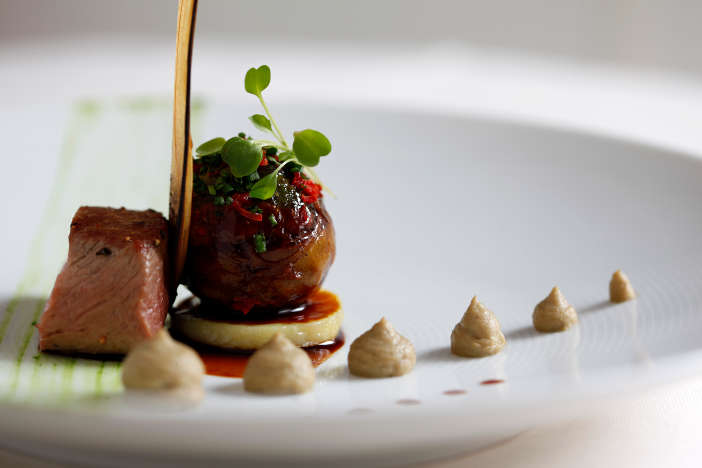 A delicate Lyme Bay skate wing with parsnip, cima di rapa and capers was accompanied by a Bordeaux blanc, Clarendelle, Clarence Dillon Wine (Bordeaux, France 2011) and a Peter Michael Winery L'Après Midi, Sauvignon Blanc (Knights Valley, CA, 2005). An excellent choice of wines for this superbly executed dish, and again, my palate was more inclined towards Sir Peter's New World offering, while Her Ladyship this time veered towards the Old World Bordeaux.
Galmiche's food was that ideal combination of rich and flavoursome yet somehow light at the same time, and with so much attention being paid to the wine, food this good had no trouble holding its own. South Coast brill with celeriac, chow chow and watercress came with a Givry1er Cru, Domaine Thenard, Les Bois Chevaux (Burgundy, France, 2009) and a delicious Benovia, Pinot Noir, Cohn Vineyard (Sonoma County, CA, 2010). The Californian Pinot Noir was always going to win this contest, but the French opposition put up a good fight.
A tender corn-fed duck breast with butternut squash, curly kale and wild rice, was paired with a Bordeaux Rouge, Clarendelle, Clarence Dillon Wine (Bordeaux, France, 2007) and a Notre Vin, Cabernet Sauvignon (Napa Valley, CA, 2005). The Bordeaux was a tad more refined than the Cab Sav when sampled with the duck, though the Cab Sav proved to be a firm contender when tasted on its own with a clean palate.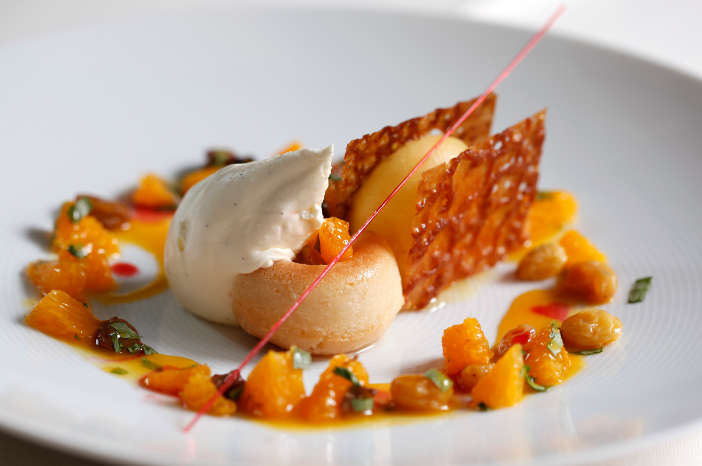 A sharp Yorkshire rhubarb savarin poached in thyme and served with heavenly hazelnut cream awoke me from my wine stupor somewhat, which pleased me no end as dessert wines are among my favourite tipples, and in this case we were treated to a fabulous Charles Hours, Uroulat (Jurancon, France 2008) and a Eisrebe, Joseph Phelps (Napa Valley, CA, 2010). Both were excellent but the Jurancon slightly pipped the Californian offering.
We compared score cards over coffee and petit fours, and concluded that it was quite an even contest. In some cases we preferred, for example, a French wine on its own, but when paired with food, we preferred the Californian offering. Which only seems to prove the point that wine tasting is a thoroughly subjective experience which can be heavily influenced by whatever you're consuming alongside it.
Whatever the outcome, it was a delightful way to sample a wine pairing menu and is probably the most fun I've had over a meal in a long time. The only thing left to do was stagger back to our room in as elegant a fashion as possible, pop on Classic FM and drift off to the relaxing requiems of Gabriel Fauré…or would we choose Capital Gold and the Beach Boys instead?
The Vineyard Hotel at Stockcross, Newbury, West Berkshire RG20 8JU. Tel: 01635 528770. Website. The Judgement of Paris tasting menu is available year-round at a price of £95 per person for a flight of paired wines plus £89 for 7 courses or £99 including a cheese course.
Wine Festival Weekend – 14th & 15th November 2014 : Over 150 wines will be available to taste at The Vineyard's annual Wine Festival this November. Guests can deepen their wine knowledge, speak with suppliers and winemakers, and attend The Vineyard masterclasses throughout Saturday 15th November. Guests are invited to taste and enjoy wines from Peter Michael Winery, Schramsberg, Rudd Estate, Champagne Taittinger, Nyetimber, Les Caves de Pyrene among other suppliers. Wine tasting ticket £25 per person, Wine masterclass ticket £5 per person. B&B priced from £299.00 based on two sharing.