A 'scene' isn't something you expect to find on a coral-encrusted island in the middle of the Indian Ocean but now that Zuma has arrived in the Maldives, that's all set to change. Zuma Maldives is the hot table. The place to be seen. Impossible to get a reservation. So naturally, we had to give it a try.
The private island resort of Waldorf Astoria Ithaafushi in the South Malé atoll was the natural pin-drop for this latest addition to the modern Japanese restaurant chain because it's easy to get to (45mins from Malé by boat) and sexy as hell. Like the other Zumas dotted around the globe (Miami, NYC, Bodrum), this new outpost has all the familiar trademarks: blood-red banquettes, boisterous open kitchen and plenty of theatre.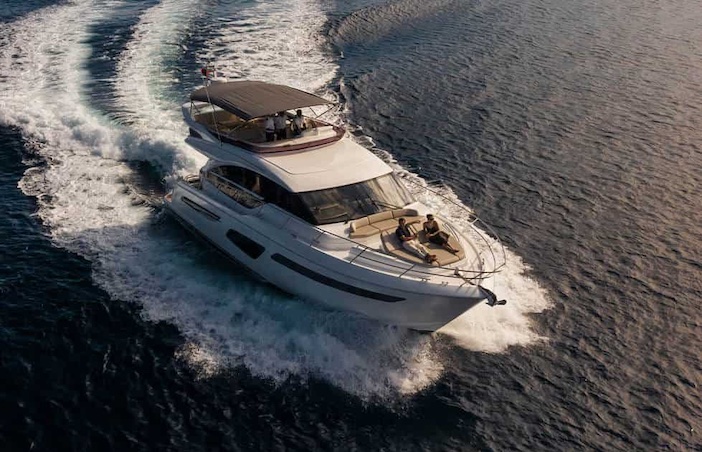 A rousing chefs' cheer accompanies all new arrivals, so no matter how good the beef tataki is, you're bound to look up. And here, you'll want to. You might see Paris Hilton striding in (she's a regular). Or some other version of her in hot-pants and sky-high heels anyway. Did we mention the restaurant is over-water? Yep. Suspended over a shimmering moonlit lagoon, it might well be the most seductive 'date night' on the planet.
But first, let's rewind. Arrival to the Waldorf Astoria is by yacht. Not any old yacht. A vast gleaming super-yacht (best in the harbour) with a special licence that allows passengers to sip Bollinger en route to their paradise digs. No other resort in the Maldives has this, I'm told. You get the picture. This hotel is in a league of its own.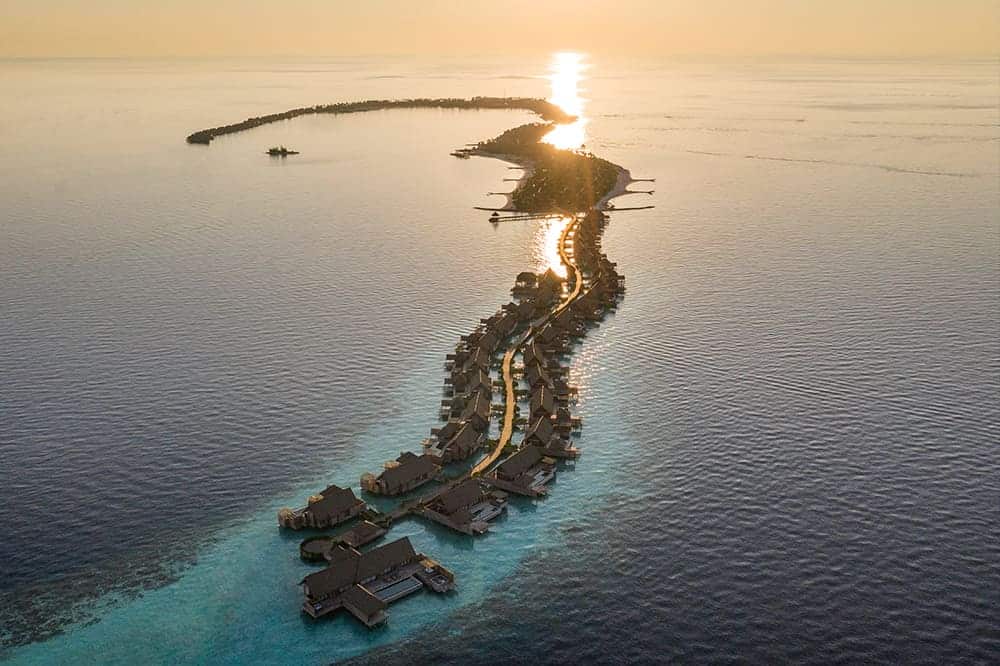 Comprising three islands joined by wooden bridges, Waldorf Astoria Ithaafushi is one of the largest resorts in the Maldives. Jog from one end to the other and you'll clock up a solid 3.5km. With 119 villas (all with pool) sprinkled among the beaches and lagoons, it takes an army to keep the place running – 700 members of staff at the last count – and with most of them zipping around on some kind of motorised buggy or scooter, it's essential to employ the green cross code the moment you step out of your villa.
Despite the 'traffic', nature is in abundance. I noticed more varieties of flowering plants here than on any other island I've been lucky enough to visit in the Maldives. So floral and fragrant is the landscape, it summons scenes of French Polynesia. The coral is coming back too. It will take years, decades even, to fully recover from the mass bleaching event of 2016 but there are sprigs of hope; branches of colour.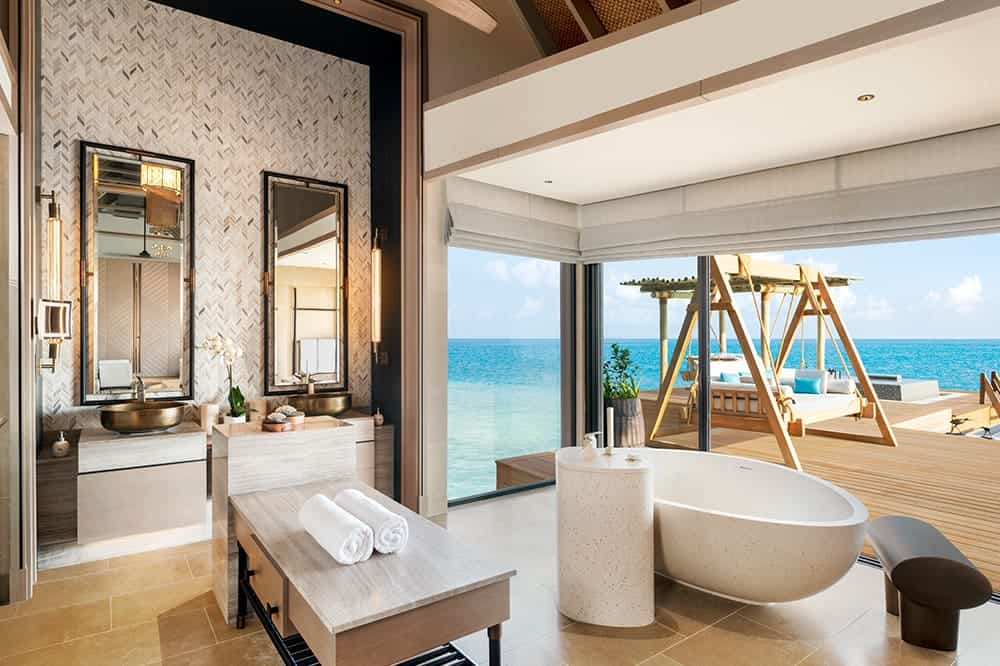 Villas are vast and elegant and meet every possible guest requirement: minibars the size of wardrobes. Gargantuan infinity pools. Full-size Aesop products next to the bath. Nothing feels over-grand or over-formal though. Lanterns, shells and rattan panels keep the look soft, and once you figure out how to turn off all the different sets of lights (inside and out), you'll sleep like a log.
Now back to the food. Including Zuma, there are 11 bars and restaurants to choose from. It would take too long to go through each of them in turn, so instead I'll highlight the most exciting. The buffet breakfast is the best this writer has ever had anywhere, by a long shot. Parma ham on a carving block. Asian noodle station. A full-scale juicing depot. Stacks of coconut and frangipani croissants. Pyramids of cappuccino-cube cronuts and caramel cruffins. Aisles of assorted dairy ensembles. Walls of refrigerated cheeses and exotic fruits. When the choice is this wide-ranging, there's only one way to go about it: allow the hand to reach for whatever it wants. Instinctive breakfasting, if you like. Did I mention the cold-pressed coffee station? Set on a plinth and manned by a highly caffeinated steward, it's about five foot tall and made entirely from glass with an ice-filled chamber at the top, a coiled loopy bit down the middle and a bubble vial at the bottom to catch the good stuff. It's totally Willy Wonka and totally inspired.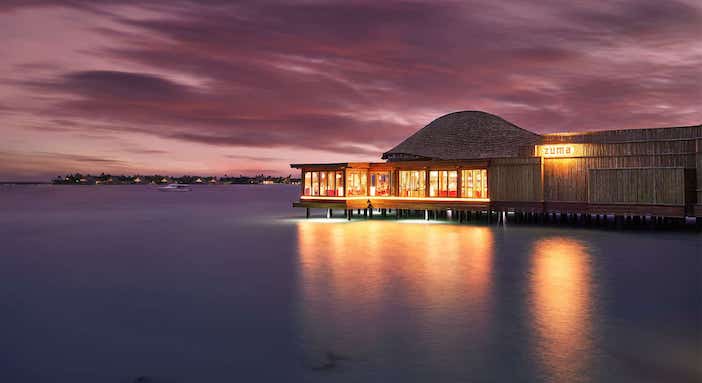 At lunchtime, lobster, burgers and every other type of machismo meal is served at The Ledge by Dave Pynt (think high-end Aussie grill). Opt for the Mexican Brisket Taco or the Tuna Tartare with Avocado and Yuzu and you won't be disappointed. Alternatively, by popular demand, a heavenly fresh pasta and pizza pop-up has been installed next to the pool.
Dinner is a dress-up event whether or not you're booked into Zuma. There's a fine-dining Chinese restaurant that wouldn't look out of place in a Bond film, a rustic Middle-Eastern eatery, a nesty pod-style haven up in the trees and, for anyone who leans towards food of the 'clean and green' variety, GLOW. Set within the island's veggie gardens, it's The Goop Lab meets The Secret Garden with an ultra-nutritious, largely plant-based menu. Knock yourself out.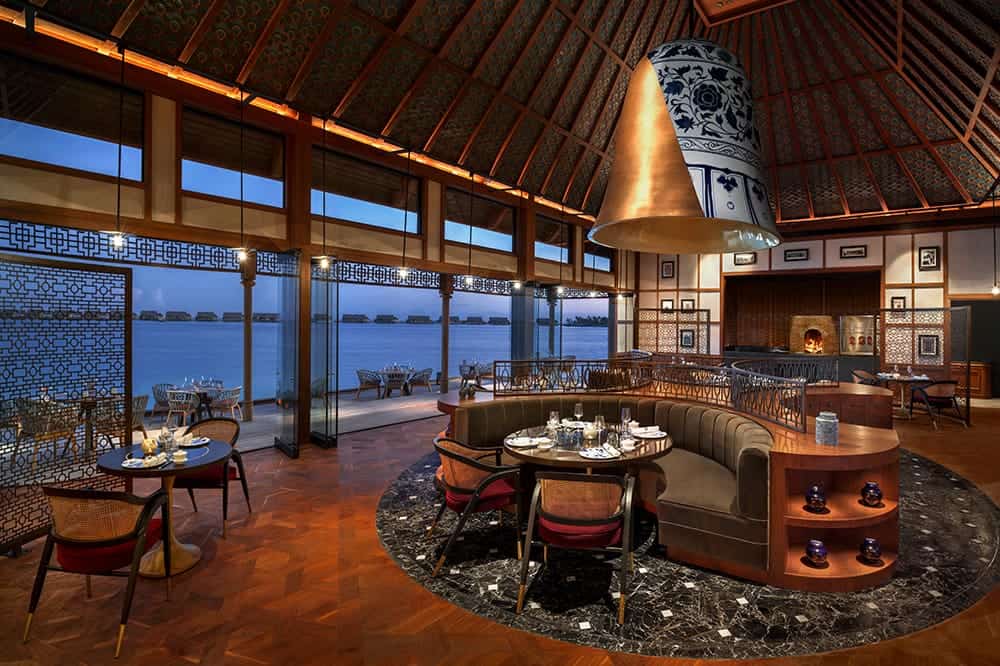 In between feasting, there's no shortage of things to do. Tennis and Padel are popular but if you can't get a court, there's always pétanque or beach badminton. Or jetski-ing. Or you can launch yourself into the air on a hoverboardy thing. That said, I was perfectly happy lounging on a daybed at the hotel's beach club sipping from a fresh coconut. The people-watching was off the charts.
Save time for the spa. At least a half day. The al fresco hydro-circuit (a brand-new addition) is likely to be the best hour you'll spend all year. Under the watchful eye of an Uzbekistani bombshell by the name of Anastasia, I waded through the 30m maze of circulation-boosting jets and, I have to admit, the intense calf pummelling combined with shoulder-burning levels of sunshine had me close to ecstasy. The setting is second to none, too. Tropical birds call to one another from their treetop perches. Reef-tip sharks wriggle and glide past. All sessions are totally private, which means you can properly relax.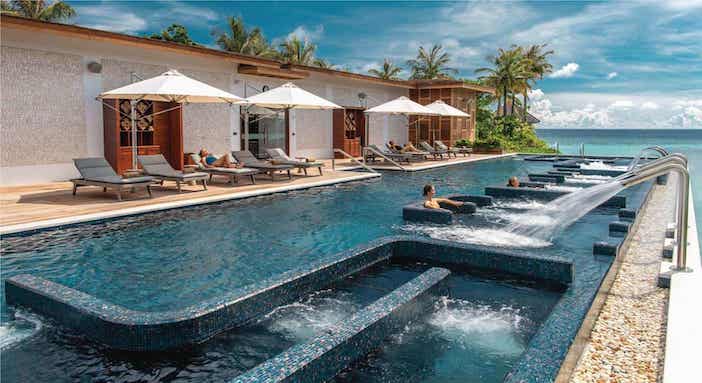 One guest I spoke to said the circuit was better than any massage he'd ever had for the simple reason he could guide the jets to the exact spots requiring attention. And he's right. It's a cure-all. Even for nausea-inducing levels of jet-lag. I could easily harp on and on about the spa… About the beautiful glass-floored treatment rooms (I spotted a manta ray during my massage), the expansive pergola-strewn tropical gardens, the visiting Indian practitioners, the zen-like marvellousness of it all – but there simply isn't space here.
I'd heard plenty of rumours about the Waldorf Astoria before stepping foot on its pristine shores. "The whole resort is man-made," whispered one hotel insider. "Little robots go up and down the beach cleaning the sand each morning," said another. Hogwash. All of it. It's a perfect paradise. And now with Zuma, it's got something none of the other resorts can replicate. Put simply, as Paris Hilton would say: "It's hot."
Villas at Waldorf Astoria Maldives Ithaafushi start from £2,753 for a King Overwater Villa with pool for two adults including breakfast and taxes.
Follow Leo's travel adventures on Instagram @leonorabear or Twitter @leobear