"Loafing needs no explanation and is its own excuse," the American writer and poet Christopher Morley once said. Wise words Mr Morley, words I kept in mind when I booked a signature massage at the Hotel Le Bristol's Spa Le Bristol by La Prairie, in Paris. I arrive at the famed palace hotel one unseasonably cool Friday afternoon after reluctantly resisting the neighbouring boutiques on the rue du Faubourg Saint-Honoré.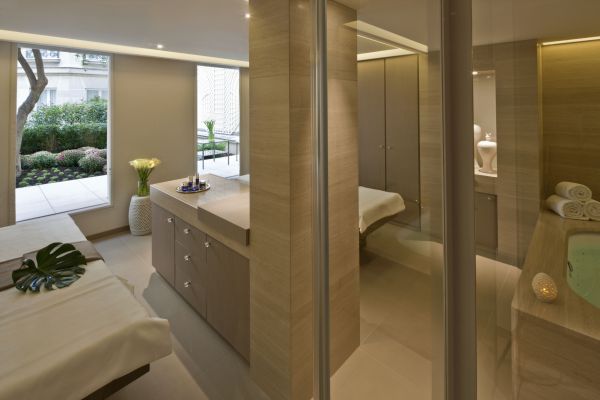 Located on the first floor, the spa reception is small and understated (I admit I was expecting a little more wow factor), but its light and streamlined décor is nevertheless a classic example of l'élégance française. I'm 15 minutes early for my appointment so am led to a cosy waiting area known as 'la rotonde'. With treatment rooms hidden away down corridors and stairways, the facility appears limited, but after a guided tour I come to the conclusion that architects and designers did their best given the space available, in a city notorious for not having much of it.
Occupying three floors, the spa features eight treatment rooms. A handful over look a peaceful garden with their own private terraces, the remainder are street-side but benefit from triple-glazed windows. The jewel in the crown is the Russian Room, a traditional banya (Russian wet room) with Vichy shower, heated marble slab and private hammam.
The treatment room I'm in is scented with a subtle citrus fragrance and provides direct garden access. The therapist is eager to get me settled in and comfortable: would I like heated cushions placed under my ankles? (yes), my knees? (please), the garden-side door open or closed? (slightly open if possible?). The warmth of the heated massage table washes over me as the therapist presents me with the Joya crystal rollers that she'll use during my 50 minute massage.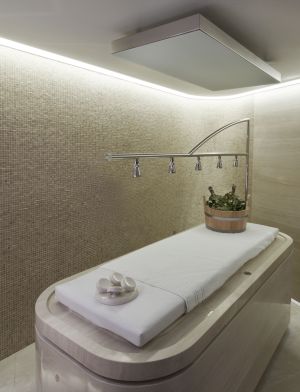 Consisting of a freely rotating semi-precious stone encased in a wooden sphere, Joya rollers supposedly allow for a deeper massage. Different stones are used for different purposes; in my case amethyst, the 'stone of meditation', is said to promote healing and spiritual alertness.
I shudder when the hard, cold Joya make contact with my skin. But as they roll across my back and shoulders they rapidly heat up and the sensation quickly turns pleasant. "Is the pressure OK?" the therapist enquires once she swaps the Joya for more traditional techniques. After attending to my arms, hands, legs and feet, I am somewhat surprised when the massage finishes with my stomach, and I instantly regret indulging at lunch.
The not-quite-an-hour flies by, and although I am feeling relaxed and invigorated, a light scalp or facial massage would have truly completed the treatment. Inspired to keep the fun going into the weekend I hastily arrange to meet a few friends in a fancy cocktail den. "What's the occasion?" they ask curiously. Thinking of Mr Morley and recalling his wisdom I reply with, "do we need one?"