There does come a point when what you need from a holiday is simply to relax – when fly and flop seems like the only option. Must-haves in this situation include a beach, a pool and guaranteed sunshine. And, if you're a family, you need entertainment for the kids if there's going to be any hope of that relaxation.
The Acapulco Resort on the North Cypriot coast (on a clear day you can see the mountains of Turkey) ticks all of these boxes. There's a golden sandy beach with loungers and sunshades and all kinds of water sports on offer. There are several enormous pools, some for families, one vast infinity pool that overhangs the beach and is adults only. There's a kids club for all ages with plenty of activities as well as playgrounds, a fun fair and a water park. For adults, there's an amphitheatre with concerts in the evenings and they have their own on-site casino.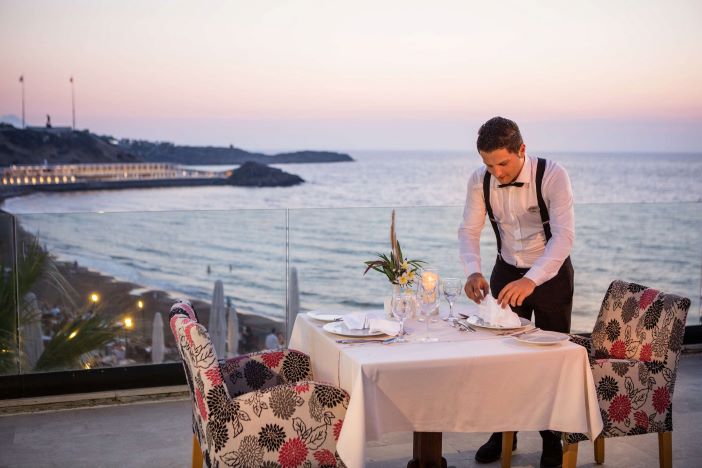 There are a variety of cafés and restaurants but I would recommend you avoid the main restaurant (it can be a buffet bun fight at peak times) and go a la carte. They do have an all-inclusive offer but this is best avoided. Instead, there's a very pleasant inside/outside restaurant called Maza that serves breakfast, lunch and dinner and is pretty laid back. Given the plummeting Turkish lira (this half of the island uses the Turkish currency, not the Euro) you can get a very nice meal for two with a bottle of wine for around £30!
Tucked into the easternmost part of the Med, sunshine here is pretty much guaranteed. Just to be on the safe side, they have a couple of indoor heated pools, too, but from March through to November, sunshine is something you can take for granted. The only caveat is that you can get too much of a good thing – expect 40C in July and August.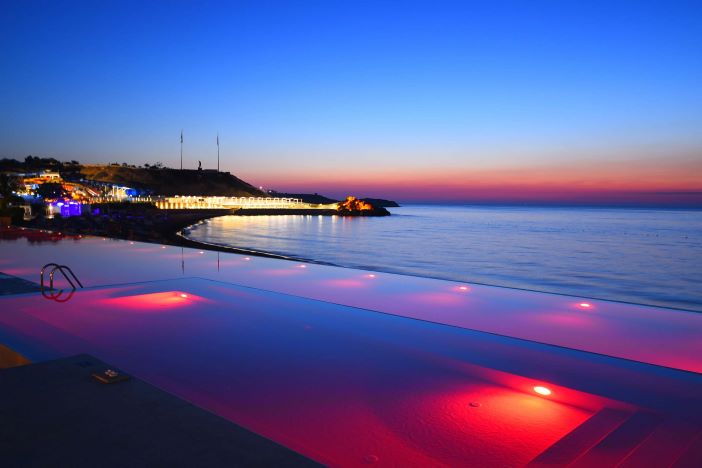 And then there is the Ocean Spa. This is a vast space decorated in soothing natural colours and materials – wood, sand and the local golden, glowing stone. There's a wide range of treatments from exotic imports such as Ayurveda – they have a special room devoted to this, complete with copper bowls hanging over the beds for Shirodhara, that mesmerising treatment that trickles a stream of oil back and forth from temple to temple across the forehead. There are special baths for thalassotherapy, packages for couples (there's a wonderful hen party in the hammam complete with belly dancer) and all kinds of massage from hot stones to Thai as well as an impressive array of beauty treatments.
While the massages are traditional here, the facials are distinctly high tech and there's a doctor on site, too, if you want injectibles. All of the products are the Spanish brand, Mezoestetik, which specialises in both medicalised cosmetic treatments (those injectibles) and non-invasive ones. I went for the latter.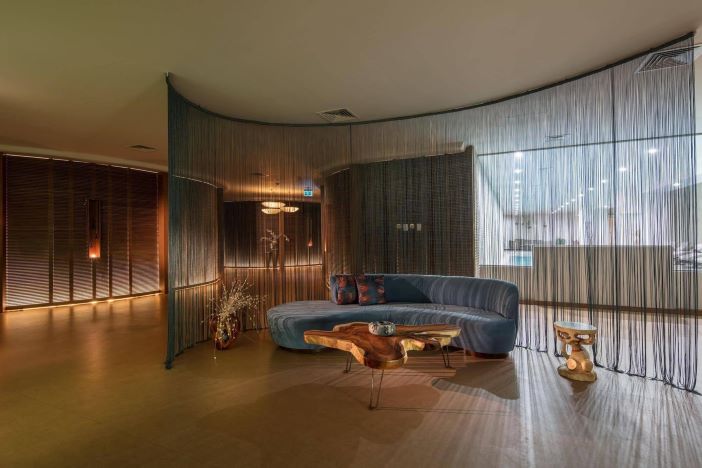 It all kicks off with the closest of inspections under the brightest of lights. This is not a touchy feely relaxing kind of facial, this is a facial that means business. So there is cleansing to start, of course, and a scrub, but for extra depth, there is a powered rotating brush. Next the thinnest of tissue paper masks is applied over my face and a collagen gel on top of that, first massaged in by hand, then using a roller and – with yet more collagen – by hand again focusing finally on facial pressure points.
While this is left to soak into my skin, I have a hand massage, first with a cream, then with a cool gel – and the results of this were, incidentally, astonishingly good. Vitamins and serums are applied in quick succession, and again massaged in with hands or machine. Finally, there's a sunscreen and I'm done. At this stage, I'm a bit flushed, but the next morning I look in the mirror and the outcome is pretty impressive. My skin is replenished, with a real glow and the fine lines around my eyes have softened and virtually disappeared.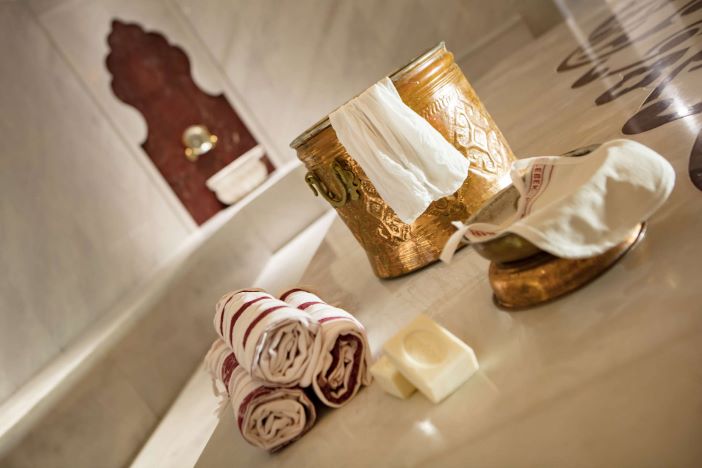 There was, though, the traditional side of the spa to experience and, for this, I decided to start with their signature treatment. The Turkish hammam tradition is strong here and it's one that is all about heat. It may seem odd in what is already a hot country that its foremost therapy makes you even hotter! But this is a therapy that goes back a very long way and is close to the baths of ancient Rome where, on a daily basis, you would sweat, clean and scrape the skin to leave it in prime condition to be massaged and oiled. It was seen as the very basis of good health. The underlying principle is that the heat makes you sweat out dirt, impurities and toxins while simultaneously relaxing taut muscles.
I started off in a swimsuit. My therapist for the hammam peel and foam, Enna (actually from Bali), installed me in the VIP suite where I alternated between a very warm steam room and sauna for about 20 minutes. Then we moved into the hammam where I changed into disposable underwear. The hammam here is modelled on traditional Turkish baths – essentially, a marble room – walls, floor and a raised central dais, all marble.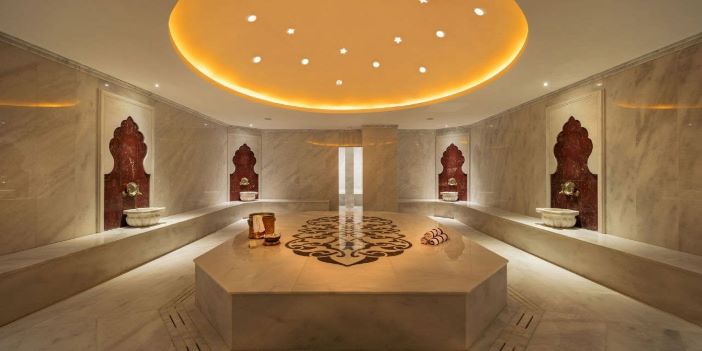 Enna arranged me on top of a thin towel on the central dais and proceeded to throw a couple of buckets of water over me before getting to work with a loofah-type mitt, first on my face then with more vigour as she sets about removing all that dirt, sweat and the toxins making their way to the surface in the heat. They knew they were beat. Every now and again, I am sluiced down again with a couple of buckets of water and, when the heat gets too much for her (frequently), my therapist pours a couple over her own head.
This is the peel stage and it's very thorough – as well as my face, Enna scrubs my entire body even getting rid of the hard skin on my feet. Then comes the foam. Imagine being in the most bubbly bubble bath you can – then take away the bath. Using something not dissimilar to a pillow case, Enna dips it into a soapy bowl, swings it around her head like a lasso a few times then wrings so much foam over me I am invisible under the bubbles.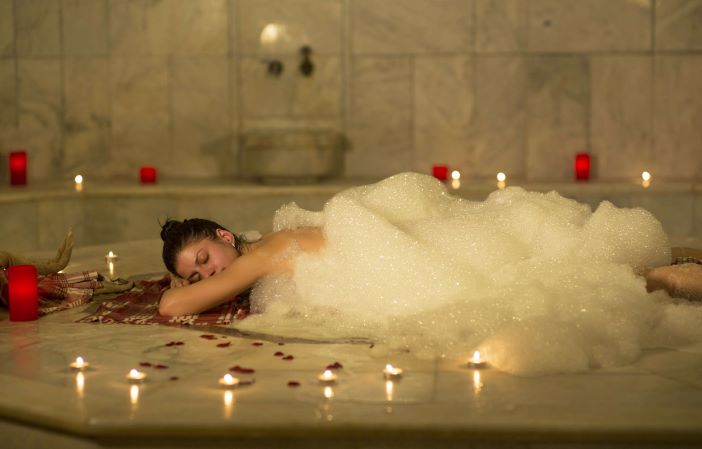 Then she massages me through the foam, the heat still penetrating upwards from the dais below. Rendered helpless by the massage and the heat, my muscles start to dissolve. It must be affecting my mind, too. Part of me would giggle (if I were able to do something so exhausting) at feeling rather like a baby in its bath. My ears (inside and out), in between my toes, my face are all washed. I dimly remember applying mascara this morning – there's no trace of it now.
Enna helps me across to the marble seat next to the basin – I'm not sure I'd have made it on my own – and throws a few buckets of cooler water over my head. In spite of momentary feelings of water boarding, I am strangely grateful at this antidote to the heat. She then sets about washing my hair sluices me off once more and I'm done. She wraps me in a dressing gown and leads me outside to a lounger where I collapse and drink water. I am limp with the heat and it takes about two hours, I think, before my body regains its normal temperature. My skin and my muscles have softened in the process and I am, without doubt, the cleanest woman in Cyprus.
So I am still quite warm when Enna takes me through to another room for my massage, a combination of aromatherapy and the Balinese techniques of her own culture. As she stretches out my leg from ankle to thigh in one smooth movement, I know this is going to be an expert massage. Balinese massage contains so many different elements. There is that wonderful cat-like tread as she uses her body weight to move up and down my legs or back.
Her thumbs separate and open up the bones of my hands and feet. She generates heat between her palms and applies it to my spine that seems to open up under the touch. And while she can attack knotty muscles across my shoulders, she can swiftly change to a movement so subtle it feels like a flower unfurling against my skin. At turns she works through a towel, on dry skin and then with oil, scented with orange – a fragrance that fills this whole island in season. Sweet, with citrus notes that mean it can never be cloying, it is the final blissful layer to my massage.
For more information about Acapulco Resort and Spa, North Cyprus, including details of facilities, activities and the Acapulco Sports Park, please visit www.acapulco.com.tr.