One of the joys of going to a spa is having someone else pamper you. That, at the moment, is out of the question so perhaps it's time to recreate your own spa treats at home.
A few years ago I wrote a book called Home Health Sanctuary. The underlying idea was that you give yourself a weekend (from a Friday to a Sunday evening) to devote to yourself. There were three weekends to choose from – detoxing, relaxing, energising. There were exercises, recipes, treatments, meditations. And there were also facials – and this really is something can do for yourself.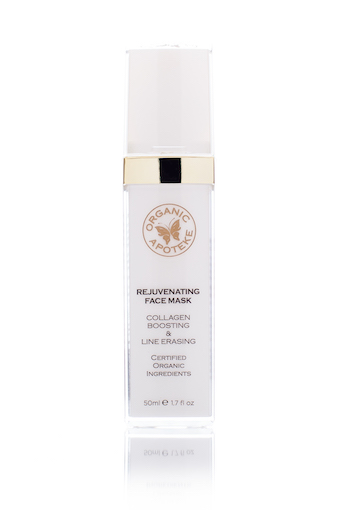 To make it special, you need to find the right products. I have just tried out a lovely new range called Organic Apoteke. As the name suggests, the products use only certified organic ingredients, created by Dr Nitasha Buldeo, who is not only a skincare doctor but also an ayurvedic practitioner, acupuncturist and yoga teacher. It's taken over 15 years of research and development to create Organic Apoteke and Dr Buldeo explains that her research into skin physiology was influenced at the same time by her grandmother's traditional remedies as an ayurvedic doctor which she knew got results. So she decided to discover why, scientifically, they worked. The resulting range reflects both her science-driven approach and her grandmother's spiritual inspiration all in one.
Simply put, a facial is, of course, a way to cleanse and feed the skin. It can, though, be so much more. Many people don't realise how much tension is storied in the muscles of the face. Frowns, stressed eyes, rigid jaws can all be eased by facial massage and, because massage stimulates circulation, it improves the tone of the skin and makes it glow. So prep the room so you have a pleasant, quiet (and uninterrupted) space for yourself and begin…
You'll need a comfortable chair, a mirror, the products you plan to use, plus a bowl of warm water and a couple of face cloths with a hairband to keep the hair off your face. Begin with a few long, slow breaths and try to get in sync with your pulse. This is the right speed for your massage movements.
1 Begin by cleansing your face thoroughly. Gently massage Organic Apoteke Buttermilk Cleanser onto dry skin using small circular movements. Remove with a warm damp cloth.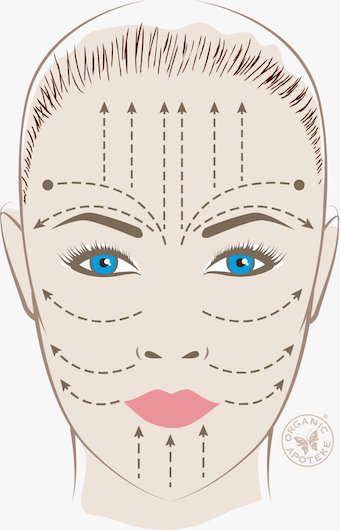 2 Apply a generous amount of the OA Rejuvenating Face Mask (you need about the size of a walnut) onto the face and neck, taking care not to get any of the product into your eyes. Start on the forehead between the brows and follow the arch above them, massaging in small circles as shown on the diagram. Then massage from the brow in upward vertical lines towards the hairline. Repeat each massage stroke at least three times.
3 Massage below the eyes in descending semi-circles (see diagram) out from the nose, across the cheeks and towards the ears. (Again, at least three times.)
4 Massage the chin, vertically towards the mouth (see diagram). Then place your middle fingers against the jawline just below the ears and make small circles as you work your way towards the centre. Repeat with gentle pinching movements along the length of the jaw. Finally hold your earlobes between your thumbs and forefingers and gently rub, working your way along the outer edge of your ears. (Repeat each step three times.)
5 Relax for another 10 minutes (or longer) before removing the mask with warm water and a cloth. Then gently apply OA Rejuvenating Face Cream.
Now, relax …
The products recommended here are for dry or sensitive skin. See Organic Apoteke's website for their range for oily, breakout-prone skin. www.organicapoteke.com.