There are quite a few people who think "Fuerteventura" means something along the lines of "strong winds" and there's certainly good reason for this as the wind blows all year round. This is incidentally quite a good thing as it means it keeps the temperatures to a rather balmy spring like level all year round, too. Others, however, translate the name as "big adventure" or maybe "brave adventure" and this may well have had something to do with the early sailors who probably found it quite an adventure to land here. Along with the winds come very big waves, so it's surfer heaven (wind surfing and kite surfing a speciality here) but for small wooden ships trying to make safe harbour, a bit of an undertaking.
Though Fuerteventura is the second largest of the Canary Islands, it's one of the emptiest. This makes it a very different proposition from somewhere like, say, Gran Canaria. The population here is around 100,000 so people are almost outnumbered by goats (80,000). There is tourism but it tends towards the laidback and it's much, much quieter than most of the Canaries. If you're looking for nightlife, this is probably not the place for you. But if you're after guaranteed winter sun and relaxation, it should go on the list.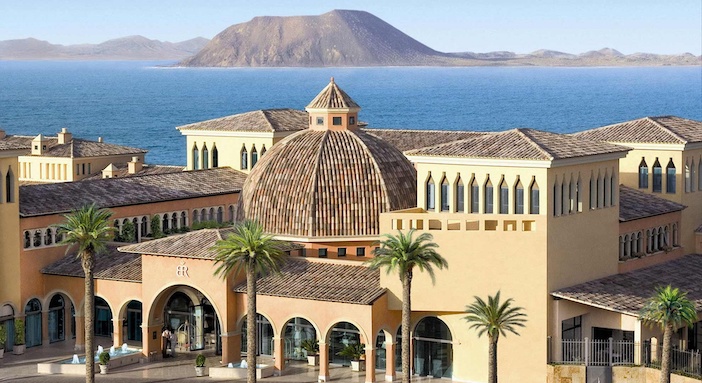 The island is just 62 miles off the coast of Africa and in the winter, the temperature is rarely less than 64F (18C) and often much warmer. There are around 14 days of rain during the entire year and, flying from the UK (four and a half hours), there's no jetlag as you're on the same time zone. The air and environment are so pristine, the entire island is a UN Biosphere reserve and there are some of the most beautiful white beaches and sand dunes you'll find anywhere. So if you need some easy winter R&R by a white coral beach, look no further…
I was staying very nearby the Corralejo sand dunes at the Gran Hotel Atlantis Bahia Real, right on the beach but with two outdoor pools (one heated, one refreshing!) which is something you need on Fuerteventura. The ocean looks marvellous but it's pretty chilly and there are some rollers that while perfect for surfers are less than comfortable for swimmers. There's another huge pool in the spa itself (Bahia Vital) with numerous hydrotherapy stations, complemented by saunas and steam baths, hydrotherapy showers, solarium, foot spas and an invigorating ice fountain.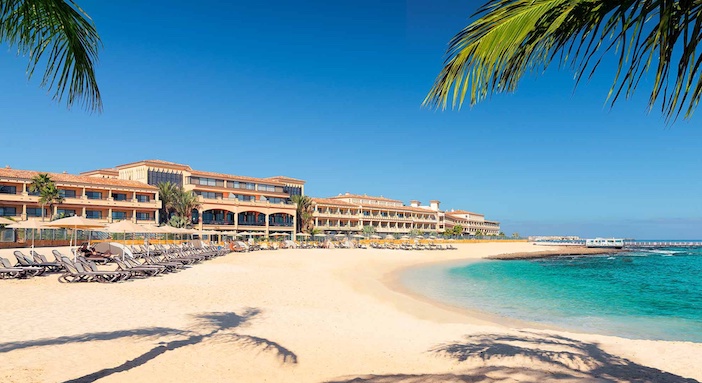 There's a big state-of-the-art gym with fitness trainers on hand together with plenty of yoga, Pilates, Zumba and meditation classes as well as a daily Aquagym in the pool. The spa has an extensive menu. Facials are based on Natura Bissé, a skincare range from Barcelona that uses amino acids in all its products. Some come with added diamonds! Or you can add radio frequency to improve the efficacy of the treatment. Body treatments use the same brand and offer firming, anti-cellulite, hydration and exfoliation. There are massages and beauty rituals, therapies (sacro-cranial, lymphatic drainage, reflexology, spinal balance and more) and a handful of special treatments that are all the spa's own.
In the interests of research, I decided to try – not just any old facial – but one of these very special ones. Japanese lifting was, indeed, like nothing I'd ever experienced before. It is described as a "deep massage on the face, neck and neckline" but this doesn't begin to do it justice. The lift is accomplished by a combination of reflexology and shiatsu. It's vigorous. Make that very vigorous.
So, it begins with a gentle enough cleansing and toning but then the strongest ever facial massage begins. It sneaks up on you with the first pulsing pressure on various points around the jaw, cheekbones, foreheads, eyes, above and down the sides of the nose and finishing with a squeezing together of the lips. Round Two repeats the same circuit but a bit stronger, then by Round Five, you're definitely feeling it. This, however, is just the warm-up. What follows is a combination of hacking and cupping. And something not unlike plain slapping, all happening at incredible speed. Think of it as HIIT but for the face. Or maybe several rounds with Mike Tyson.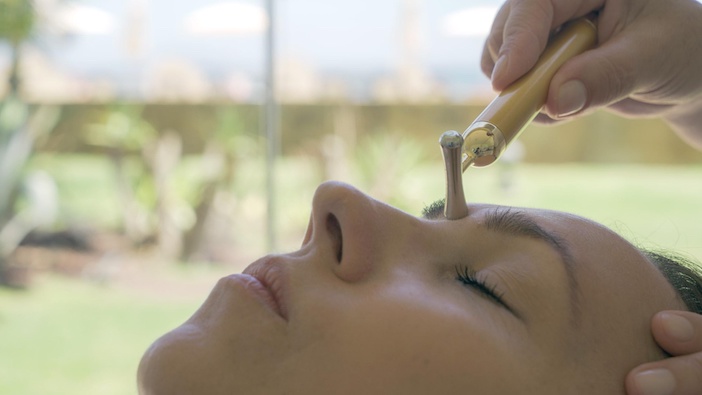 Either way, I think my skin is probably now an unbecoming shade of beetroot but it's cooled down by the next stage which is a cold stone massage (the same volcanic stones you'd use hot on your back, but for this facial very cold). Then it's time for the anti-ageing mask which covers not just the face but the whole of the throat and neck area. While this sets, I have first a hand, then a scalp and shoulders massage. This is followed by a far gentler massage with an oil that (to me, anyway) smells of honey. The effect is remarkable. When I get back to my room, my face seems to have changed shape with a firmer jawline, plumped out cheeks and eyes wide open.
The next day I return to the spa for a Ritual Alqvimia Treatment – another Spanish company with a very holistic approach to skincare, incorporating Chinese and Indian approaches to healthcare combined with perfumery and even astrology. It turned out to be almost two hours of exfoliating and massage, hydrotherapy and "moxa". This is the spa's most treasured range of treatments and they have appropriately exotic names: The Rite of Ra; Queen of Egypt; Feminine Sensuality; Seductive Man! The mind boggles. I'm having the Feminine Sensuality ritual and its aims are not just skin regeneration and relaxation but creating energy and confidence.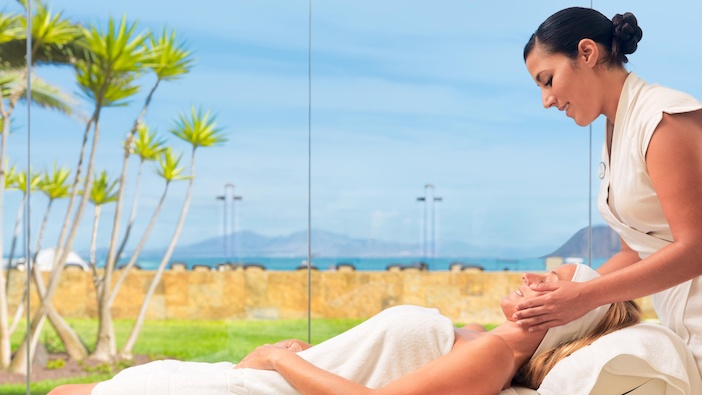 We begin with a body exfoliation using Dead Sea Salts then I'm wrapped up in a layer of plastic and covered with towels while the facial begins. My face is cleansed first with floral water and wheat germ oil, then again with ylang-ylang emulsion. After that, I'm sprayed with a mist of orange blossom water (this is delicious and, luckily, happens at intervals throughout the treatment). More Dead Sea Salts follow (a gentler version for the face) and, once removed the firming mask is applied – warming and detoxifying.
Once the mask comes off, I'm into a hydro-massage bath. By this time, the Dead Sea Salts have become oily on my skin and any residue dissolves in the hot water which simultaneously relaxes the muscles ready for the next stage. Dry and back on the bed, it's now time for a massage with Sensuality Body Nectar, followed by a moisturising algae mask for the face. Previously mixed with a drop of essence of Bulgarian roses this is, they say, good for female emotional harmony. While this is doing its stuff, there is a final massage with sesame oil and Bulgarian rose essential oil and the moxa. The what? It looks a bit like a cigar but it is used to apply heat and essential oil to chakras on the face and body, bringing mind, body and spirit into balance. Quite an experience…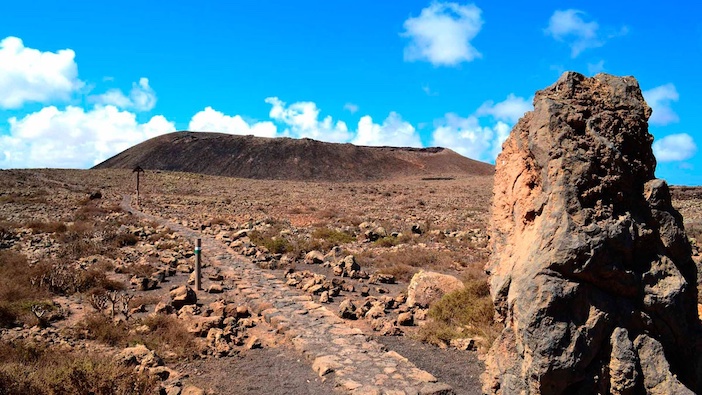 Beyond the spa, there is the gorgeous white coral beach (it's covered with what the locals call "popcorn" – actually tiny pieces of coral polished smooth by the sea). A little further on are the dunes, one of the most beautiful nature reserves you'll ever see, the sands shifting in the winds and another perfect 10km long white sandy beach (great for wind and kite surfing, too). It's worth venturing inland for a day up into the mountains, long extinct volcanoes sculpted smooth by the wind. It's a favourite spot for film-makers – I didn't spot Angelina Jolie but I did see her film set for The Eternals. There are lots of pretty traditional villages (I recommend Betancuria and Pajara) and you'll probably spot a few camels – trekking is available.
You're bound to see some of those goats, too, and goat cheese and yoghurt both local delicacies. At the Bahia Real, they offer these and other local specialities – don't come here if you want to lose weight, it's all too delicious. The hotel has a variety of restaurants. I loved the Coco Bahia which sits on stilts over the beach and specialises in seafood (octopus with guacamole, salt cod croquettes, garlic prawns). There is also Yamatori, a Japanese Sushi Bar, the Spanish Las Columnas, and fine dining at La Cupula, overseen by Michelin-starred chef Carles Gaig. And if you want a cocktail by the sea, spend the afternoon at Coco Bahia Chill Out, on a curtained Bali bed overlooking the ocean…
EasyJet flies from London Gatwick to Fuerteventura up to five times a week with fares from £32.99 per person, one way including taxes and based on two people travelling on the same booking. For more information about Gran Hotel Atlantis Bahia Real, including spa packages, visit www.atlantisbahiareal.com.