Staying in San Giuliano Terme at the Bagni di Pisa (literally Baths of Pisa), it would be strange if you didn't feel a sense of history. It was, after all, built by the Grand Duke Francesco di Lorenzi, (aka the Holy Roman Emperor and husband of Austrian Empress Maria Theresa). The exterior is, of course, yellow – Maria Theresa's favourite colour, a special deep tone of which is named after her. There are frescoes, vaulted ceilings and marble everywhere, not to mention terracotta floors and loggias set among olive trees. My vast room was the size of the average London flat.
In the spa for which it is named, though, the sense of history goes back an awful lot further. Around 2000 years, in fact. The Romans and the Etruscans used the thermal waters here and, so prized were they, that their motto was Salus per Aquam – health through water.
So just what is so special about these waters? They come out of the springs at 38C so rich in minerals (sulphur, calcium, magnesium) that they have an anti-inflammatory effect on the cardiovascular system, joints and muscles, the respiratory tract and the skin. They are naturally antibacterial and come through at such a rate that no chemical treatment of them is needed and they are fed into a series of pools – indoor, outdoor, with hydromassage – and treatment rooms to be used alongside mud, seaweed and salts.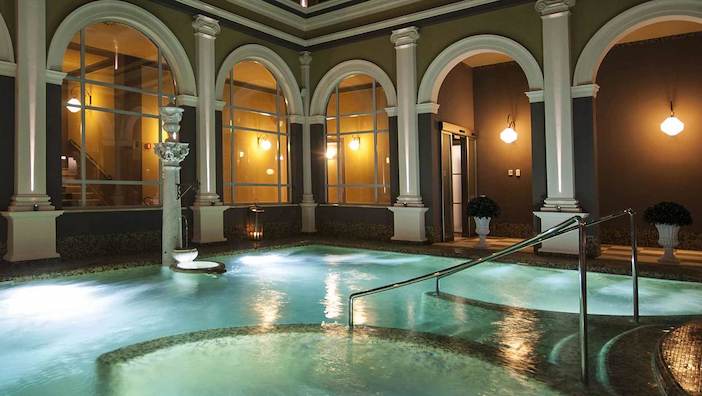 In their Equilibrium Programme, Bagni di Pisa combines the traditional use of the water with the latest findings in the field of PNEI (psychoneuroendocrimeimmunology) to balance both the psychological and the physical. Very simply, the underlying principle of PNEI is that the psyche, nervous, endocrine and immune systems are inter-related on the deepest level. So, your diet or your mood, fitness level or environment can trigger stress that results in an unseen internal inflammation, undermining the body's immune defences and ability to cope with everything from disease to pollution. This ability to cope can be measured by the level of free radicals (bad oxygen molecules) in the blood and antioxidants (good oxygen molecules) and an appropriate restorative programme produced based on your own levels of oxidative stress.
So my stay began with a visit to Laura, the nutritionist, who did various tests (eg muscle v fat content) as well as going through a detailed assessment of my diet, lifestyle and psychological state. This was much more fun that it sounds – you are, after all, in Italy and nothing feels like pressure. Then we went next door to Dr Damiano who took some blood (thankfully just a couple of pinpricks in a finger), mixed up solutions in various test-tubes and whizzed them around in a centrifuge.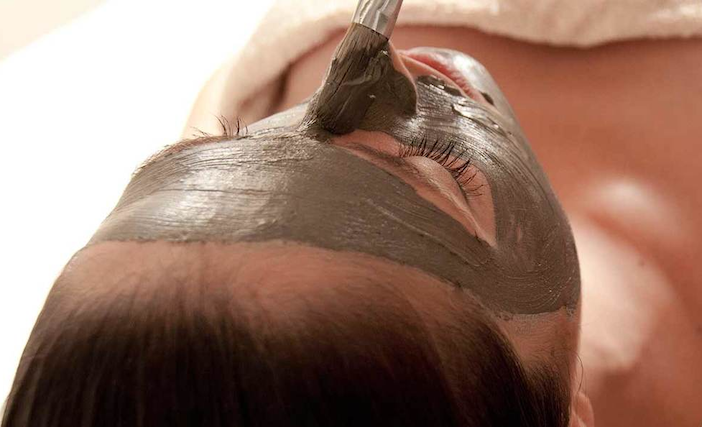 After that, I was completely in their hands with treatments and diet all worked out, even down to a particular tisane to have after dinner. And my first treatment was mud. This is no ordinary mud, though. It uses natural clays mixed with thermal water and it matures for six months before it comes squelching out of the pipe at 47C (and that's hot) to be applied directly to the areas of the body recommended by the doctor. The mud seeps through my muslin sheet, then I'm wrapped in plastic and covered in blankets – and left to cook. I am complimented on the amount I've been sweating before I slither off to the shower to wash it all off.
Day Two and I'm with Rossella for the seaweed treatment. I had naively assumed that this would be a bath with some seaweed floating in it. How wrong I was. It began with the application of what Rossella described as "seaweed water" – but the fluid that the kelp has been is more like a jelly which she massages all over my body then applies salt to turn it into a scrub. And then the kelp itself is applied. This comes in long, wide strips and is wound, mummy-fashion, around and around my body, arms and legs, having first been taken out of the bucket and warmed up in the shower – "Or it's too cold," explains Rossella. Then I'm wrapped in two layers of plastic and more towels and, while the seaweed is mineralising and detoxing, Rossella does a wonderful face massage.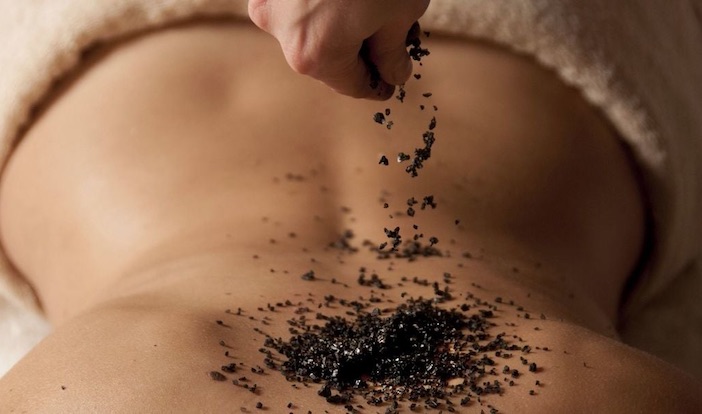 Then I'm back in the shower – sticky stuff, seaweed – and there is a final massage with citrus oils, based on lymphatic drainage, moving toxins towards the lymph nodes and the body's natural waste disposal system. By this time, my skin is super-soft and I'm almost tingling with energy. The effect was remarkable.
And not just on my skin. The diet Laura has devised is not just incredibly calming, alkaline (like most people, my tests showed my system was too acidic) and detoxifying, it's delicious. After 48 hours, I've lost a kilo and a half and my blood pressure is reduced by 25/10 (it's now somewhat on the low side, rather than being slightly high).
This is no doubt aided by sessions in the thermal pools and especially aquagym with Elina for an hour in the morning. This is not like any aquagym class I've experienced where the teacher stands on the side shouting instructions over blaring music. Elina is in the water checking every position and counting so softly in Italian that at first I thought she was singing! It later turned out she was a dab hand at deep and vigorous massage.
I only had three days of the Equilibrium Programme but seven are recommended and I imagine would be hugely beneficial given the results I had in less than half the time. Or you can even spend some time in the spa and use this as a haven after visiting the local perfect (if hectic) Renaissance cities nearby – Lucca, Florence and of course Pisa are all short train journeys.
That is, of course, if you don't want to focus all of your energy on achieving your ideal weight, blood pressure and a complexion the cherubs on your ceiling would be proud of …
For more information and bookings, visit www.bagnidipisa.com, email booking@bagnidipisa.com or call +39 050 88501.