The summer heatwave was reaching its peak when I visited Barnsley House – and what a relief it was to be in the Cotswolds instead of London. And this is picture perfect Cotswolds. Barnsley House (in the village of Barnsley, surprise, surprise) is built on a grand scale and reached by a drive that sweeps uphill through gorgeous gardens (more of these later). Its golden stone glows in the sun with some grandeur but the atmosphere is laidback. We're in Cotswold cool territory here.
My own room was not in the main house but in one of the many surrounding buildings created from stables and workshops and forming private, quiet squares filled with flowers (I even had roses growing round my door). Did I say room? More like a house. On the ground floor was a vast bedroom with a free-standing bath and a separate bathroom with a shower. Upstairs was a mezzanine sitting room with a chill-out L-shaped sofa, a TV and high windows for stargazing. The colours were whites and creams, the materials natural, the vibe relaxed. Vitally, with this heat, it had quiet, gentle air-con. And breathe…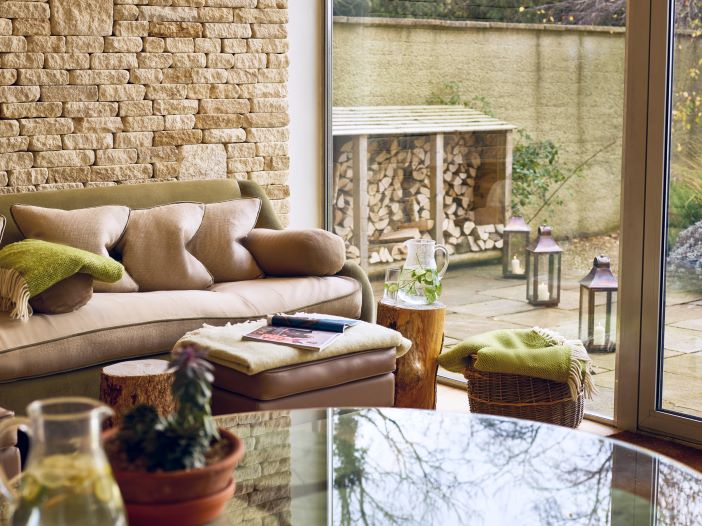 You reach the spa through the gardens – and these are pretty therapeutic in themselves. Designed in the 1950s by the acclaimed gardener Rosemary Verey, there are lawns and impressive herbaceous borders, shady trees and ponds backed with pergolas, an extensive kitchen garden, bee hives and (they have their own garden) the chickens. They pride themselves on their eggs at Barnsley House.
The spa itself is small but, as they say, perfectly formed. There's a sauna and a steam room inside (not much needed on my visit) and outside a heated hydropool with various underwater massage and a lovely courtyard garden with loungers.
My treatment was called the Garden Ritual, though it didn't take place in the garden itself (this is, in fact, something that is on the cards as a future development. A must I would have thought if we are going to have such hot summers.) Rather, it was inspired by the gardens and the scents of the herb garden.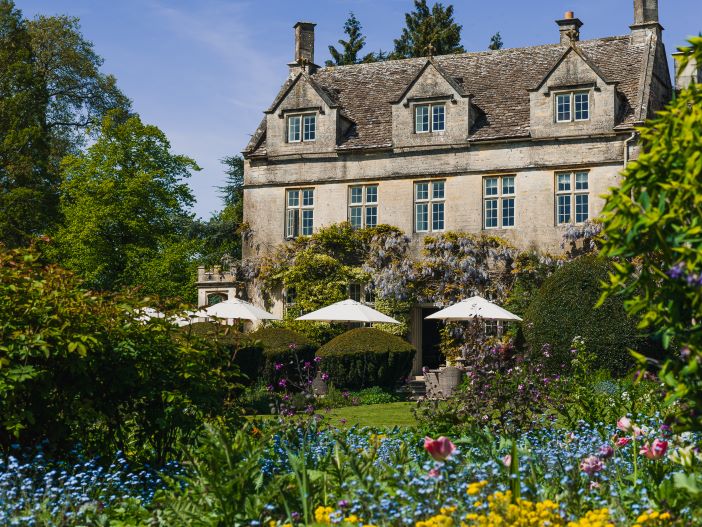 First of all, my therapist Charlotte explained, I had to make some choices. The treatment begins with a foot scrub and there was a choice of lime and ginger (ginger is a smell I usually can't resist) or frangipani (but this one I can never resist, the scent of the South Seas). The next decision was about the oil for the main back massage. Rather than a single aromatherapy essence, they go for blends at Barnsley House with names based on the effect you want. The choice was Clarity, Calm or Fortitude. To my own surprise, and going by the scent alone, I chose Fortitude (I was expecting to go for Calm, expecting rose and lavender, but it's always better to follow your senses and let your body tell you what you actually need).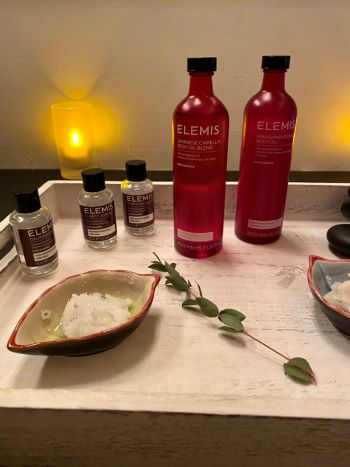 I began lying face down on the heated bed (wasn't sure about this given the heat outside but I think it helped with the unwinding process.) We began with the foot scrub followed by a foot massage using the Fortitude oil with some reflexology, too. Then Charlotte moved on to the back, neck and shoulder massage. I'd already told her about having some lower back pain but it wasn't till she started on my shoulders that I realised how stressed I'd got. Knots? I was human crochet. (That's where moving house gets you.) As well as the manual massage, there were also hot stones and some of these were left on during the next stage, the head and scalp massage.
To be honest, I can't tell you a great deal about this stage as I kept almost drifting off – I really did achieve quite a deep state of relaxation. So much so, that when I got up off the bed, I was positively light headed and was guided to the darkened relaxation room. This is all wood and willow (including the walls) and the screen shows grasses blowing in the breeze (the sound is just the wind in the grasses, too). I was very glad I wouldn't be driving back to London tonight.
Instead, there was dinner at the Potager, Barnsley House's restaurant. They also have their own pub, the Village Pub, across the road where you can eat and stay but the Potager promised some rather fine dining. And it didn't disappoint. The kitchen garden plays a big part here and the vegetables and herbs are all freshly picked, they infuse their olive oil with rosemary, bake their own bread and create deceptively simple, elegant dishes from produce that is overwhelmingly locally sourced.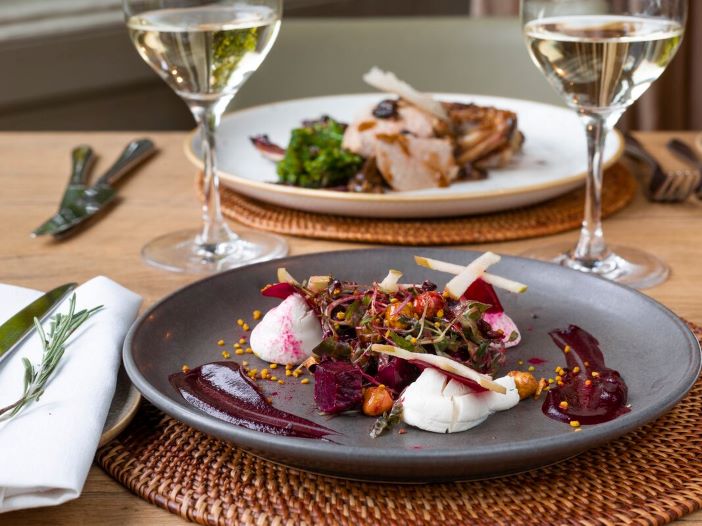 The Major (who was having a rare spa visit) chose a gazpacho with watermelon, pepper, basil, pineapple and cucumber which he almost swooned over. I had mackerel carpaccio with smoked eel and nasturtium (I love nasturtiums). There were some very tempting mains – Gloucester old spot pork loin, stone bass with saffron potatoes and lobster bisque, Vienna kohlrabi tart tatin. We chose pea, courgete, mint and mascarpone risotto with truffle; and Downham hill lamb with smoked aubergine, caper and anchovy jam and rainbow chard. Both utterly delicious. And a pud? After all that, we decided to share a Valhrona chocolate delice with raspberry sorbet – meltingly good.
All in all, a perfect summer escape.
Barnsley House, Barnsley, Cirencester, Gloucestershire, GL7 5EE. For more information, including details of spa treatments and special breaks, please visit www.barnsleyhouse.com.