Buxton Crescent opened in 1789. It was built by the fifth Duke of Devonshire to provide accommodation and entertainment for visitors attracted by the thermal spring to "take the waters". Designed by John Carr, it was a Georgian leisure centre intended to rival the Royal Crescent at Bath and it housed two hotels, apartments, shops, coffee and card rooms and a magnificent Assembly Room. Facing the Slopes Gardens and built in the gorgeous local grey-gold stone, it was a fitting rivalry. Unlike Bath, though, it wasn't much cared for over the centuries. It became at different times a hospital, a library and council offices before falling into disrepair in the 1990s when it closed down.
Fortunately, the Ensana Hotel Group saw its potential and took it over with an all-encompassing refurbishment of both the original baths and the hotel. Less fortunately for them, they were ready to open just in time for Covid. Having weathered that storm, however, they are now up and running and have on offer treatments that those Georgian and Victorian visitors would have relished.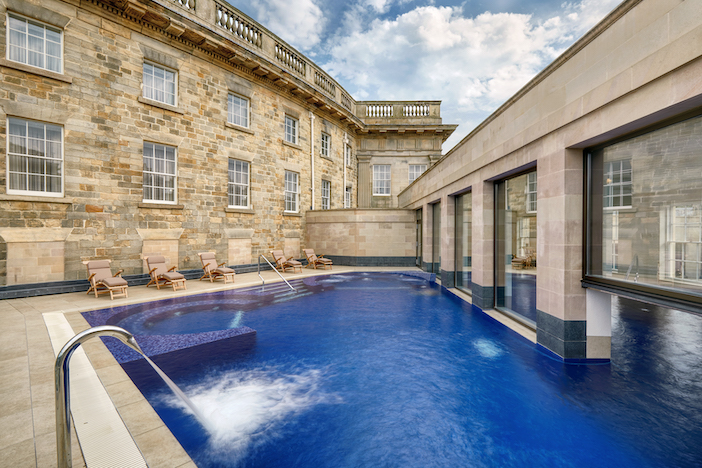 Just like Bath, too, it was the Romans who were here first and, again, it was the thermal waters that brought them. The waters spring up at a constant 27.5C and the Pump Room was built next to them. "Taking the waters" was, of course, the principal preventative (and curative) medicine employed by the Georgians and, to a lesser extent, the Victorians. The thermal waters were for both drinking and bathing and, being mineral rich, they certainly had (and have) therapeutic powers. The Ensana group (their motto is "the healing power of nature") are great believers in this and they are based principally in eastern Europe where naturopathy is still highly regarded (as indeed it is in Italy, Austria and many other European countries). So their first hotel in the UK is very appropriately built around the mineral spring in Buxton.
The waters rise up from around 1km below ground level and produce 1 million litres of water a day. The water has a high mineral content – most notably magnesium – and this is pumped into the main thermal bath within Buxton Crescent's huge spa. You don't try to swim in this – 27C is pretty warm – you just sit in the warm waters and absorb. It's all very pleasant and the surroundings are gorgeous: there's a coloured glass roof (looking a bit Art Nouveau to me), slender iron columns and a constant blue twilight. There is, too, a slightly cooler pool where you can swim and up on the roof a wonderful inside/outside pool where the steam rises from the water on chilly days and evenings are particularly special as you relax in the warm water while looking out across the rooftops of Georgian and Victorian Buxton.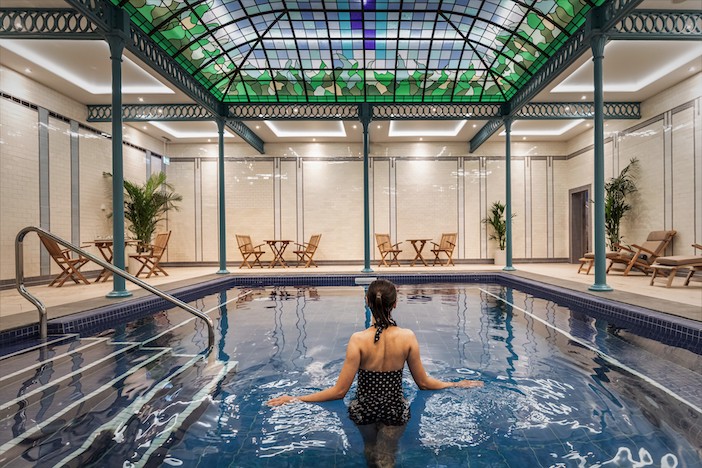 As you would expect, there is an extensive hydro area with different kinds of saunas and steam including an infra-red sauna (particularly good for back pain), a bio-sauna (less hot but more humid), a hot Finnish sauna, aromatherapy steam, and an ice fountain. Added to this, there's a salt cave (you just sit and breathe – it's beneficial for asthma and any lung-related problems) and numerous mud rooms. The therapeutic mud is imported from Lake Heviz in Hungary where it carpets the bottom of the lake, in places 7 metres thick after millennia of geological and biological processes. It is used for swollen joints, muscular tension, and supplies nutrients to the cartilage and connective tissue. It's also thought to have an anti-ageing effect on the skin, stimulating cell metabolism and generating collagen. It's applied very hot, gradually hardening and cooling while you're wrapped up in towels. I could feel the heat for hours afterward. There are also various kind of therapeutic baths, some with added CO2, others with underwater massages.
My favourite treatment was the Detoxifying and Nourishing Body Wrap. It was, you might say, good enough to eat, starting with an exfoliation using a coffee scrub, then a chocolate-based "wrap" – while this was absorbing, I had a blissful head massage from therapist Hannah. Then, having showered everything off, Hannah applied a thin layer of cacao-scented candle melt (you get to take the rest of the candle home for later applications).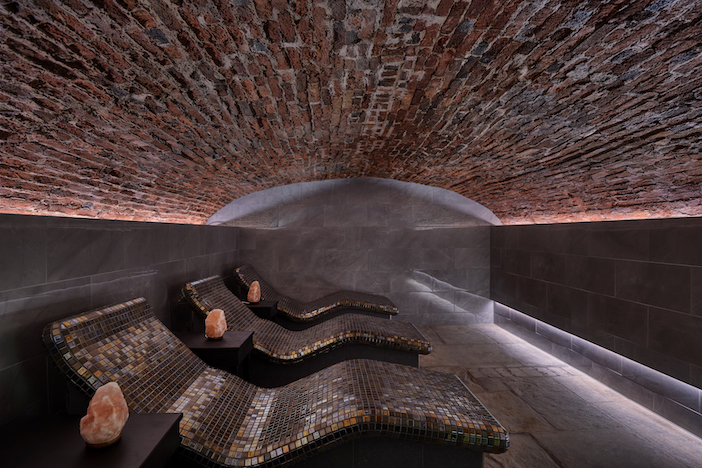 Afterwards, you can relax in one of the two relaxation rooms. The larger of the two has curtained-off loungers with a video of a wood fire on a stony beach at sunset, the only sound the crackling of the wood: all very calming. Even better and deep in the bowels of the original building is the "warm relaxation room". In a former storage vault you lie beneath an arched brick ceiling on mosaic tiled heated beds (and I do mean heated – you need a towel and a robe between you and the surface). They are curved to follow the natural shape of the body at rest and perfect for relaxation.
Buxton Crescent is a formidable addition to the UK's spa industry and, hopefully, a sign of things to come with a revival of naturopathy in all its forms and an emphasis on preventative health therapies. The hotel is in one of the country's most beautiful Grade I listed buildings and it's been restored to its former glory with plenty of Georgian-style panelling and contemporary four posters in the rooms – mine had a roll-top bath in the bedroom as well as a huge modern shower room. The original Assembly Rooms form part of the hotel's crescent and have been restored fully to their former glory.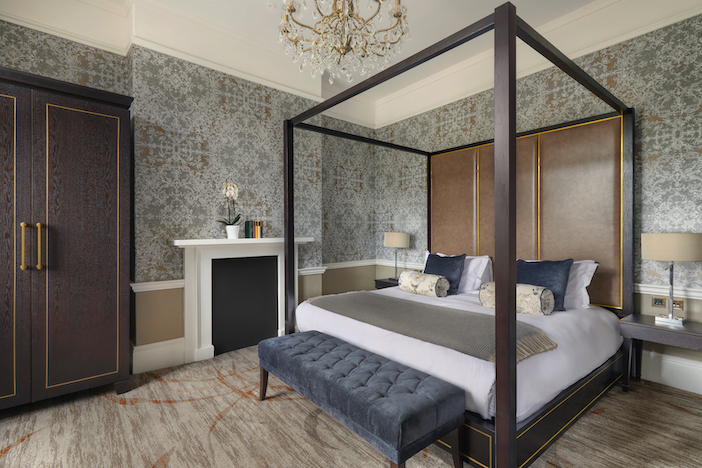 Just across the road from the hotel is the former Pump Room and, next to it, St Ann's Well (named after the mother of the Virgin Mary), the original drinking well for the town. The curative powers of the drinking water were widely reported and a regular visitor was a certain Mary Queen of Scots and, during the Victorian period, several respected clinicians analysed the water and gave scientific credibility to its curative powers. Even before that, in 1779, the Buxton Bath Charity was founded for the poor to be treated with the waters – by 1822, there were around 800 patients staying for up to five weeks. You might not want to stay quite that long, but if you're curious to try the curative power of water, look no further.
Buxton Crescent Hotel & Spa, The Crescent, SK17 6BH Buxton. For more information, including details of treatments and Spa Day packages, please visit 
www.ensanahotels.com
.