As you'd expect from the place that was built as a palace in St Tropez in tribute to Brigitte Bardot, the spa at Byblos doesn't stint on luxury. It's not huge but there is a feeling of space. All the rooms, even the treatment rooms, are a generous size and there are rare marbles and exotic woods, gardens and tiled Moorish courtyards, where you can relax and sip a herbal tea. As well as the usual pools and hydro, you'll find "Eaux Revees" – a water journey with Turkish baths and waterfalls.
My first stop was a massage with Argon oil – one of my favourites anyway but recommended by Cherie-Lyn for my dry skin. There were other alternatives that sounded very enticing though – I remember one scented with lemongrass, always a favourite but fortunately that came later anyway in the facial.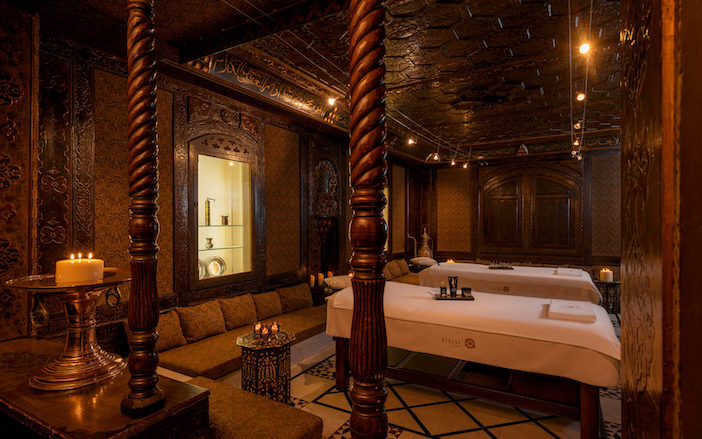 The massage was quite wonderful, Cherie-Lyn adjusting the bed – it seemed to have a multitude of possible shapes – to fit where she was working on. I began face down as we'd already decided by back was where I needed most work and, anyway, finishing face up, I'd be positioned ready for my facial. There were lots of rolling strokes and long sweeping movements – all very relaxing – but also some more intense work on unexpected places, such as my shins. Who knew I could store tension there?
Cherie-Lin used her forearms, too, and her bodyweight – there was definitely some Thai massage influence in there and a lot of stretching, something that would continue throughout the entire session. Yes, even in the facial. In the meantime, the massage included a lot of balancing and opposition work, where she worked on one shoulder and the opposite arm or side at the same time. It may sound lopsided but this actually has a wonderfully harmonising result.
When I turned over, she worked on my legs (those shins) and arms and very gently on the abdomen (this part on top of the towel). Then she did the front of my shoulders and across the top of my chest and moved seamlessly into the facial, beginning with a cool gel on that area that then went up to my neck and face.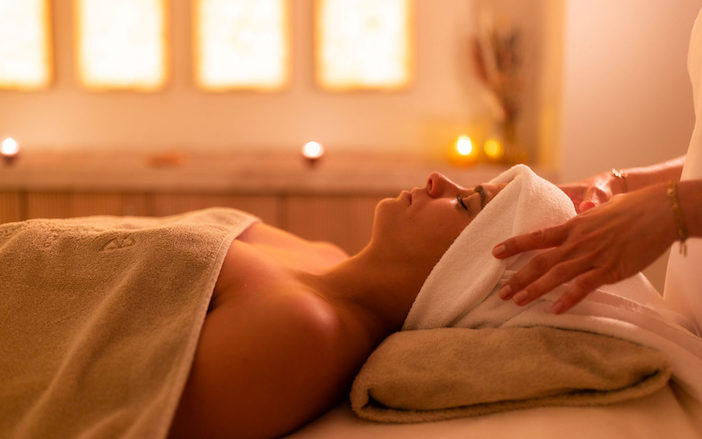 The spa uses the wonderful Sisley products and, for me, Cherie-Lin chose the Black Rose range. She began with that cool gel, the first of many of their cleansers with lots of alternating cold products and hot steaming towels to remove them. The exfoliant was a kind of gommage – you rub it off and it takes with it any impurities and dead skin. While this was absorbing, there was a further foot massage and a long stretch from my feet that repositioned my back to be at its longest and straightest.
This was followed by numerous different cleansers and toners and, once the skin surface was completely clear, it was time for the oil massage. And what a massage. One of the longest and most intense I've ever experienced both on the face itself, the scalp and a stretching out of the whole area of neck and shoulders too. Then there was a serum for each of the lips, eyes and face before that too was removed and the final touches in readiness for the outside world.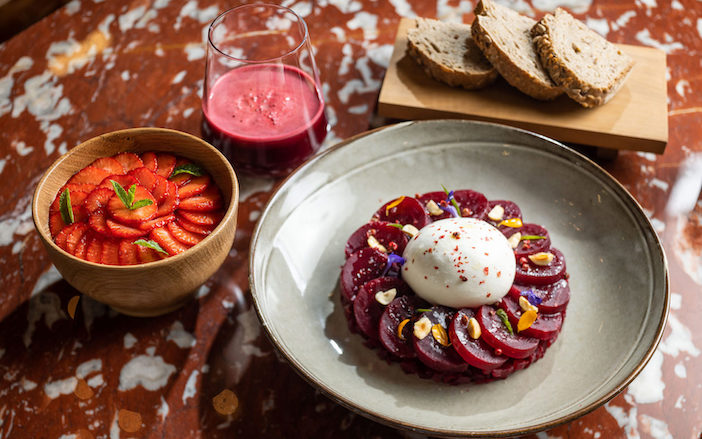 The Byblos is obviously a hotel rather than simply a spa and its restaurants offer all kinds of gastronomic wonders but you can eat extremely healthily, not least because there is a strong emphasis on fresh, local ingredients. Indeed, many of them are so local they're five minutes' walk away. Chef Nicola Canuti has created the hotel's kitchen garden and will show guests around with obvious pride. There are around ten different kinds of mint (one is flavoured with chocolate). In the Provencal sun, tomatoes ripen to perfection a few weeks after planting. Most gardeners can only dream.
And most foodies will dream about Canuti's cooking long after their visit. There is super-fresh fish from the Med (there's a fish market in the old part of town), the chef's signature "petits farcis" (tiny stuffed vegetables) and (vegetarians look away now) suckling lamb marinated in goat's milk yoghurt and crusted with thyme. Or you could really push the boat out and go for the Discovery Menu. I guarantee you won't regret it.
Hotel Byblos opens for the new season in April 2024. For more information about Hotel Byblos, including details of Sisley treatments and holistic experiences, please visit www.byblos.com.
Photos by Adrien Daste and Alexandre Chaplier