It was back in 2019 that I visited Carbis Bay down in Cornwall, just outside St Ives. Since then, this previously quiet spot has found itself in the spotlight – the chosen location for Boris's upcoming G7 summit. It is a rather lovely place – tranquil seaside (blue flag beach for 15 years), excellent restaurant and a spa, ideal for all those stressed negotiators.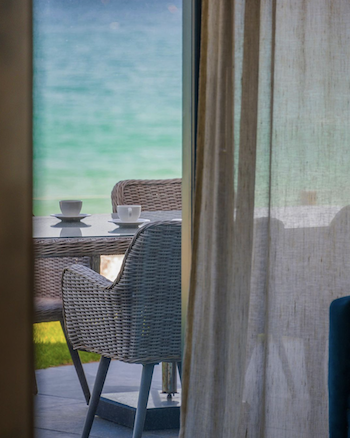 The only fly in the PM's ointment is that Carbis Bay has recently become the subject of a protest song. Local singer Bailey Tomkinson, 21, has just beaten Kylie and Miley to top the iTunes video charts and is now singing about what she calls "the paving of the bay" in her new song Bright Red, just in time for the summit (11th-13th June). Apparently, the hotel has felled trees and bulldozed scrubland without planning permission. The reason? Nine new meeting rooms. Oh dear, it doesn't chime too well with the avowed theme of the meeting: "to help the world fight, and then build back better from coronavirus and create a greener, more prosperous future."
This, only slightly edited, was my view back in 2019 of Carbis Bay when it featured as my Spa of the Month.  And, if you can fight your way past the politicians and protesters, I still reckon it's worth a visit.
The Carbis Bay Estate is not so much a hotel but more of a village. The original hotel has been extended with conservatories and decking to spread out over the hillside while behind it they have created cottages and suites in the woods and, in front, built beach houses (two bedrooms) and lodges (three or four bedrooms) right on the waterfront – these are pretty much brand new with floor-to-ceiling windows and sea views to die for, and they're the epitome of seaside cool. There's a restaurant on the beach, too, (known as The Beach, funnily enough), a shop, café, changing huts and an extension of the spa featuring a couples suite with a hot tub on the deck over the beach. So, a pretty extensive set-up.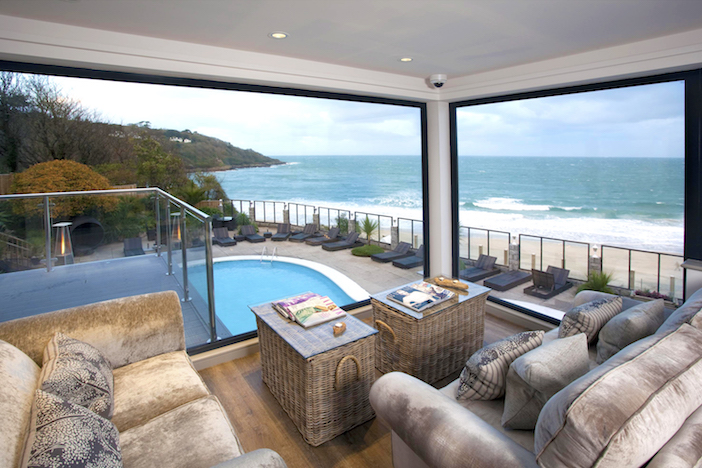 The setting isn't bad either. It's in an idyllic spot, just outside St Ives (you can walk there along the coastal path). Most importantly, it has one of Cornwall's most beautiful beaches – 25 acres of fine golden sand and warm (well, for the UK) shallow water. This makes it a good place for families with small children but also anyone keen on water sports. Even on a chilly early June day, there are people swimming (not all of them in wet suits), as well as paddle boarders and kayakers, sailing boats and even a Hawaiian canoe. Carbis Bay has its own yacht charter where you can spend a day fishing, crabbing, sight-seeing and sipping champagne (you can book the chef, too).
All this and you don't even have to drive here. Carbis Bay has its own train station and the railway goes over a bridge that is an extraordinary feat of Victorian engineering just behind the hotel. Don't worry about the noise, though, as even the train seems to roll by as quiet as a mouse. Calm? Relaxing? You bet.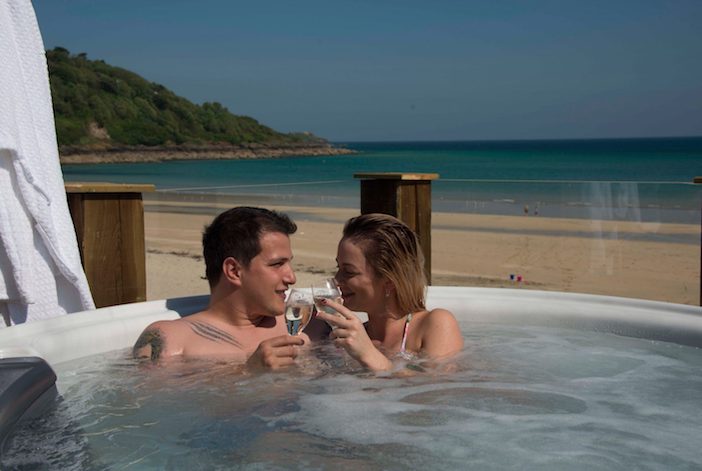 You will find all stresses and strains unravelling in this ambience but, just in case, they do have a spa. The C Bay Spa is not huge and it is mostly outside with great sea views. There's a pool surrounded by loungers, a hydrotherapy pool, a sauna and various relaxation spots (that double up as outdoor treatment rooms) up the terraced hillside. Inside there are just four treatment rooms including the new one down on the beach. This is mostly used for couples and includes a shower and a hot tub on the deck where you can have champagne and strawberries delivered during your session. Inside, treatments include a variety of facials using the marine based Irish range, Voya; a choice of massages using the Aromatherapy Associates range of oils; scrubs, wraps and bathing rituals.
On my arrival day, I had a Head in the Clouds treatment – this turned out to be based around a back massage using Aromatherapy Associates products, so great smells guaranteed, starting with a "Breathe Easy" inhalation (mint and eucalyptus). Therapist Enya then began my back massage that extended from the hips (who knew you could store so much tension there?) to the nape of the neck. And, to be honest, there was tension stored just about everywhere having unfortunately notarrived by train but having spent the previous three days driving around Cornwall and Devon. The massage was firm, deep and stretched out all those taut connections, finishing up with my favourite – a scalp massage – surely the most relaxing treatment of all.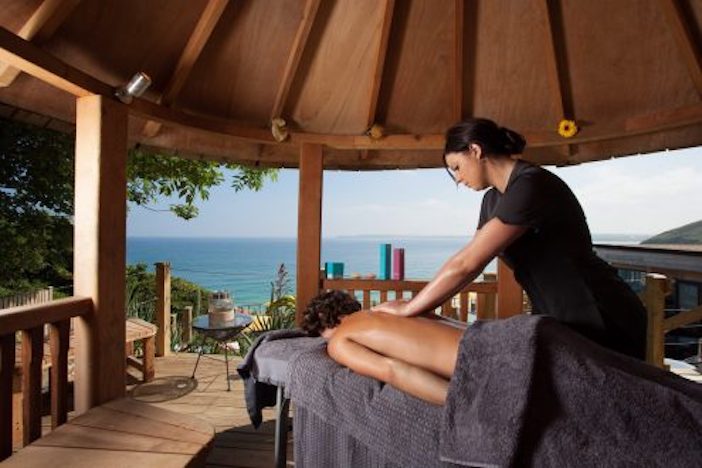 The next morning I met up with Gilia down at the spa beach hut for my facial. The light down here is startling, diffused through wafting curtains and, on a heated bed that rises under your knees and head, while you listen to the waves on the beach, it's pretty difficult to stay in the here and now. So, though I very nearly drifted off, I was aware of a double cleanse, toning, a mask, layers of hot towels and eye masks, a serum, and a wonderful face and shoulder massage.
I should have had another scalp massage but this time I had to decline as I was leaving immediately afterwards and there is a limit to how much you want to look like a haystack while travelling. Instead, Gilia paid particular attention to my forehead and eye area because she found so much tension there. And at that point, I really did drift off…
Carbis Bay Hotel and Estate, St Ives, Cornwall, TR26 2NP. For more information, including details of offers and breaks, visit www.carbisbayhotel.co.uk.